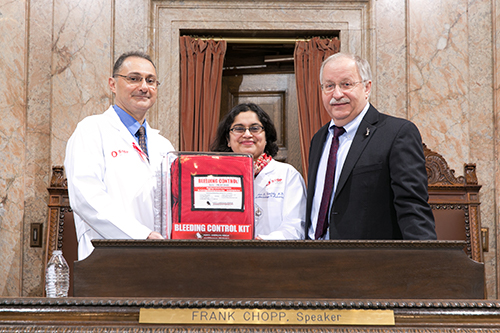 On Jan. 10, the Washington State Legislature was one of the safest places in Washington.
More than 40 nurses, EMTs, first responders and doctors from across the state gathered at the capitol campus in Olympia for Stop the Bleed WA Legislative Day. The day was spent training legislators, staff and visitors about Stop the Bleed Washington and raising awareness of this vital campaign.
From Harborview Injury Prevention and Research Center, Director Monica Vavilala, M.D., Injury Care section lead Saman Arbabi, M.D., MPH, and senior research fellow Robert Tessler, M.D., assisted at training stations and met with legislators and their staff to discuss the program, which is led by HIPRC core member and incoming Chair of the American College of Surgeons Committee on Trauma Eileen Bulger, M.D.
Stop the Bleed focuses on training community members to respond to life-threatening bleeding injuries. If someone is seriously injured, an immediate response from a bystander can mean life or death in the precious minutes before medical help arrives.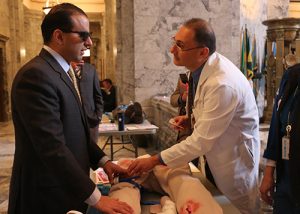 Interdisciplinary teams managed training stations throughout the Legislative Building to give abbreviated versions of the Stop the Bleed course. Participants got hands-on practice applying tourniquets and packing wounds, and trainees included Washington's Lt. Gov. Cyrus Habib.
Immediate first response from bystanders has saved lives in several high profile mass casualty events, including last year's Amtrak train derailment near DuPont, Washington in December or the Las Vegas shooting in October. While the national campaign was originally developed in response to mass shootings, the skills taught in Stop the Bleed can also be useful during natural disasters, after motor vehicle crashes or after accidents at home.
Stop the Bleed is a national initiative to equip as many people as possible with life-saving first aid skills and to place bleeding control kits in public buildings and gathering places. Like CPR, Stop the Bleed is a valuable skillset that the general public can and should learn.
The volunteers at the Stop the Bleed WA Legislative Day included representatives from Harborview Injury Prevention & Research Center, Harborview Medical Center, Providence Regional Medical Center Everett, Spokane Surgery, King County, Cascade Medical Center, Confluence Health, Olympic Medical Center, Airlift Northwest, Skagit Valley Hospital, Madigan Army Medical Center, North Kitsap Fire & Rescue, Mary Bridge Children's Hospital, Harrison Medical Center, EvergreenHealth Medical Center, PeaceHealth Southwest Medical Center, King County Medic One, St. Clare Hospital – CHI Franciscan Health, Redmond Fire and Rescue, St. Anthony Hospital – CHI Franciscan Health, Pierce County Emergency Medical Services, MultiCare Tacoma General Hospital, Kittitas Valley Healthcare, Providence Holy Family Hospital and Deaconess Hospital.
To learn more about Stop the Bleed, visit www.StoptheBleedWA.org. For more photos from the Stop the Bleed WA Legislative Day, visit HIPRC's Facebook photo album.