Dr. Brad McDavid
Director of Athletic Bands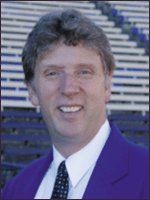 University of Washington
Dr. Brad McDavid is in his 19th year as Director of Athletic Bands at the University of Washington. His primary duties as director of the 240-member Husky Marching Band includes principal field conductor, show coordinator, and program administrator.
A native of Centerburg, Ohio, he has previously taught at the elementary, middle school and high school levels while teaching in the public schools of Central Ohio and Tempe, Arizona. Brad received his Bachelors Degree in Music Education from The Ohio State University and Masters of Music Degree from Arizona State University. In 1999 he received his PhD in Music Education also from Ohio State. He has also received additional graduate studies while serving as graduate assistant director for the Purdue University band program.
McDavid is in demand as a clinician, adjudicator and guest conductor and has led the Husky Marching Band on performance tours of Australia, China, Scandinavia, Japan, France and Italy. In 2008 he was selected to serve as the head artistic director for the Beijing Olympic Orchestra which involved coordinating the 1700 member international marching band for the Beijing summer games.
In addition to currently serving as the northwest chair for the National Band Association, Dr. McDavid is also on the selection committees for the John Philip Sousa Foundation's Sudler Trophy and Sudler Shield recognizing outstanding high school and collegiate marching bands throughout the world. He is also the founder and director of the Washington All-State High School Marching Band which gave its inaugural performance this past summer in Hawaii's King Kamehaha Parade.
Lisa Buchheit – Director of Operations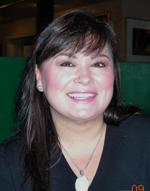 Lisa Buchheit was born and raised in Seattle; she attended Shoreline public schools, Shoreline C.C., and the University of Washington. She began working for the UW in the Scandinavian Department and eventually made her way to the Program Coordinator position for the Husky Marching Band in 2006. After a leave of absence, Lisa returns to the Husky Marching Band as the Director of Operations. While not a musician herself, Lisa's affinity with Husky Band & Cheer is through her musician children and her years as a high school and college cheerleader. Lisa lives with her husband Marcellus Buchheit in Richmond Beach. She is the mother of four grown children, one of whom is a 3rd generation Husky, and six furbabies; two dogs and four cats.
Dan McDonald – Graduate Assistant Director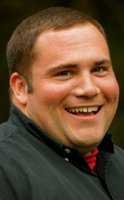 Dan McDonald is a Doctor of Musical Arts student in instrumental conducting with Timothy Salzman and serves as a Graduate Assistant Director for the Husky Marching Band. Dan earned both a B.A. in Music (Saxophone) and M.M. in Conducting (Instrumental) from the University of Connecticut where he studied with Jeffrey Renshaw, David Mills, Michelle Holt and Marvin McNeill. Prior to his graduate work, Dan taught grade 4-8 band and lessons in Ashford, CT and was Director of Instrumental Music at The Norwich Free Academy in Norwich, CT. At NFA, he directed the award-winning Concert Band, Orchestra, Jazz Ensemble, Percussion Ensemble, Chamber Ensembles, Pep Band, and the "Wildcat" Marching Band. At UConn, Dan was assistant conductor for the Symphonic Band and Concert Band, as well as assisted in undergraduate conducting. He was a graduate assistant for the UConn Athletic Bands who performed at the 2011 Tostito's Fiesta Bowl and conducted the pep band at the 2011 NCAA Men's Basketball Championship in Houston, TX. Currently, he is an assistant conductor of the University of Washington Wind Ensemble and conductor of the Campus Band.
Cory Meals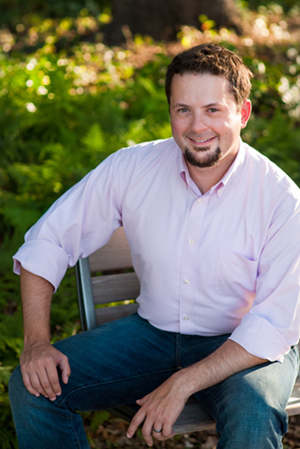 Cory Meals is very excited to begin his first year on the staff of the UW Husky Marching Band. A native of western Pennsylvania, he most recently served as a Graduate Teaching Assistant for the University of Houston Band program, earning a Master of Music degree in Instrumental Wind Conducting with Prof. David Bertman and Mr. Eddie Green.
Previously, he served as Director of Bands for Waller High School (2006-2010), northwest of Houston, TX. During his tenure there ensembles received numerous 'Superior' ratings and UIL "Sweepstakes" awards, and advanced each year eligible to the prestigious UIL 4A Texas State Marching Contest (2007, 2009). He has also held instructional positions in Klein ISD (TX), and Keller ISD (TX), and holds a Bachelor's Degree in Instrumental Music Education from VanderCook College of Music (IL) where he studied under Dr. Charles Menghini.
He spent his early performing career as a member of the Lake Erie Regiment (1994-1996), graduating to membership in The Rosemont Cavaliers Drum and Bugle Corps (1997-2001). During that time, he also worked with many Chicago-area high school marching bands, including Lake Park HS (2000) and Wheaton-Warrenville South HS (1998-2001). As a pageantry-arts educator he has also had the privilege to serve on the brass instructional teams of both The Cavaliers (2002-2006) and the Santa Clara Vanguard (2011).
While at UW, Cory will be pursuing his Ph.D. in Music Education. In addition, he also maintains an active schedule as a visual designer, program consultant, and ensemble clinician.
Don Sabo – Field Instructor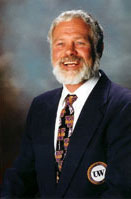 Don is a part-time assistant to the band and has been affiliated with the group for five decades. He marched with the Husky Band as a cymbal player from 1965 to 1969 and again from 1976 to 1978. In July 1984, Don married Adrienne Frank, the band's 1983 Undergraduate Assistant, now teaching elementary music at Blackwell in the Lake Washington School District. He and Adrienne have two children, Paige and Shanley.
Respected throughout the band as the definition of TOC and the 'guru' of Husky Band marching style, Don's work with the Husky Band includes on-field help and troubleshooting difficult maneuvers. Don received his Bachelor's Degree in Building Construction from the UW in 1978 and currently owns and operates a residential design and construction service in the greater Seattle area.
Frazer Cook – Announcer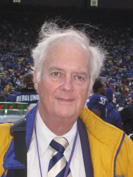 "Ladies and Gentlemen, the University of Washington Department of Intercollegiate Athletics proudly presents…the Husky Marching Band!"
This pre-game announcement has been a Husky Stadium staple for over 40 years. As the 'Dean of Pac-10 Announcers,' Frazer Cook's years of experience and knowledge of the band business make him one of the top band announcers in the nation. He has called every bowl game the band has performed at and has never missed a single home or away game since first picking up the microphone!
Frazer is involved with investment, business and communications consulting.
Don Curtis – Field Assistant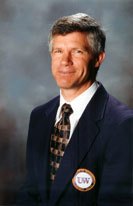 Don begins his 16th year as band staff. He is a 1973 graduate of the UW with a Bachelor of Arts degree in Business Administration/Accounting and was a member of the Husky Band's Drumline for 4 years. Don has performed each fall in the annual varsity/alumni show since the tradition began in 1978. 2009 marks his 32nd consecutive appearance. Don has now marched in a Husky Band uniform over a span of 5 decades for 3 of the 4 UW band directors. He served four years on the Board of Directors of the Husky Marching Band Alumni Association. He is the owner of Don A. Curtis & Associates PLLC, a certified public accounting firm in Kent where he resides with his wife Kathy.
Kathy Curtis – Videographer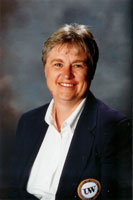 Kathy begins her 18th year as a member of the band staff, 16 as videographer and 2 as student staff in the 70's. She is a 1974 UW graduate with a BA degree in Business Administration/Accounting and was a member of the Husky Band's saxophone section. She also played basketball and is a member of the Big W Club. In 1977 Kathy and husband Don were instrumental in creating and organizing the Alumni Band which entertains tailgaters at all home football games. Kathy served as Treasurer of the Husky Marching Band Alumni Association for six years. She is a part of the Kentwood High School football staff and serves as a trainer for all of Kentwood's athletic programs. Don and Kathy have been married 35 years and have two sons who also attended the UW.
Ben Gary – Equipment Repair Technician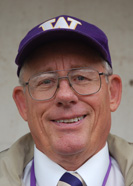 Ben came to the Seattle area in 1969 as a band teacher in the Shoreline School District where he retired in 1994. Upon retirement, he successfully completed the instrument repair program at Renton Technical College. He spent several years repairing band instruments before being offered the opportunity to set up a repair shop and maintain the Husky Marching Band instruments.
Ben and his wife, Jackie live in Bothell.
Garry Nakayama – Press Box Photographer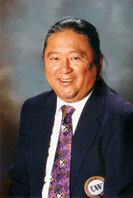 Garry has been with the HMB for over 30 years, serving as a student, an assistant band director and now a staff photographer. He first served as Assistant Director under former director Bill Bissell and has also been a high school conductor in the greater Seattle area for 30 years. He was an inaugural member of the Washington Music Educators Association Hall of Fame.
Garry resides in Kent, Washington.
Louis Figueroa – Field Photographer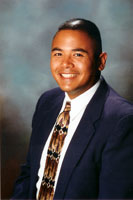 Born and raised in the Seattle area, Louis is entering his 22th year with the Husky Marching Band, his 17th as the band's Field Photographer. Louis earned his Bachelor of Science in Mechanical Engineering during his five seasons playing sousaphone in the Husky Marching Band. During his marching seasons, the band accompanied the football team to the 1989 Freedom Bowl as well as the 1991, 1992, and 1993 Rose Bowls. In the 1991 National Championship season, his peers voted him "Most Spirited Bandsman."
Louis works as an engineer for The Boeing Company. He lives in North Seattle with his wife, Tera, and their two young children, Marcus and Katie.