Pacific Northwest Botanical Artists show opens April 6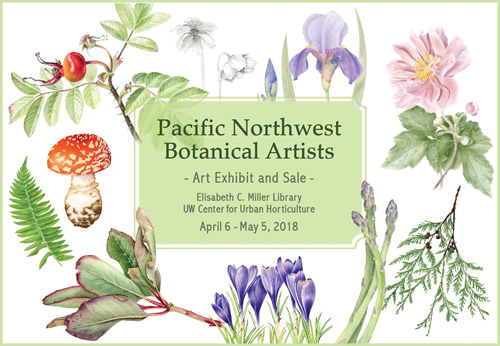 Miller Library staff are very excited to welcome back the
Pacific Northwest Botanical Artists
, our local chapter of the American Society of Botanical Artists. Their group show and sale featuring prints, cards, and original works opens April 6, the day of our Garden Lovers'
Book Sale
Opening Night Party, with some of the artists on hand that evening to answer questions about their work.
The show continues through May 5.
Back issues fill in gaps in Australian Plants

reported by Jessica Anderson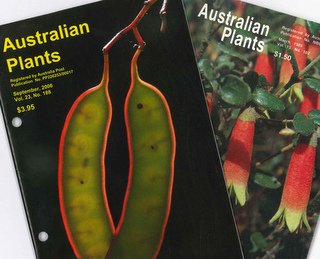 As the Serials Librarian, I am often found scratching my head over why we didn't get a particular issue of a journal in our collection. It turns out that we obtain many missing and important issues from kind donations.


Recently, we acquired a substantial donation of over 100 issues of the journal Australian Plants. This journal, published by the Australian Plants Society New South Wales, promotes knowledge of Australian native plants.


Previously, we had a smattering of issues in our collection, with a bit of a gap in the middle. This donation allowed us to close the gap in issues substantially. We now have an almost up-to-date collection of this historically important publication.


We have over 200 active subscriptions and many of our magazine and journal sets are complete, but we do have missing issues from some of the rarer publications. If you have any sets of magazines/journals relating to horticulture that you no longer need, please contact me at
anderjl@uw.edu
, and I can check whether we could benefit from a donation of your publications.
Saving Tarboo Creek by Scott Freeman

reviewed by library volunteer Priscilla Grundy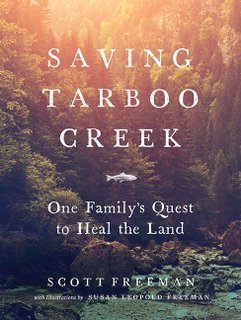 Saving Tarboo Creek
is a local book – by local authors about a local place. Tarboo Creek empties indirectly into the Hood Canal. Scott Freeman teaches biology at the University of Washington. His wife Susan, an artist, is also the granddaughter of Aldo Leopold, whose
Sand County Almanac
is a bible for ecologists. The book is partly a narrative – a description of how the Freemans have labored over a number of years to restore a patch of land along the creek to its natural state – the one before the pioneers straightened the creek and harvested most of the trees to create farm land. The book is also a call to arms to those who can act to save and restore natural landscapes.
One of my favorite chapters, one that exemplifies the Freemans' approach, deals with beavers. Of course beavers can be disastrous to any tree planting effort, and the Freemans have planted thousands of young trees. The chapter describes clearly, and with some sympathy for the beavers, how the animals live and build and move into new territory like that around Tarboo Creek. Killing them wouldn't help, even if one thought it a good idea, because more beavers would soon show up. Furthermore, beaver dams help make the creek an ideal place for young salmon, a positive effect for the Freemans. So the Freemans (and friends) have painstakingly wrapped trees near the creek with protective wire, and each year they wrap more and more. They expect "an intense beaver chew-down" each March or April, and do the hard labor of saving their young trees.


Each chapter places an aspect of restoration work, such as tree planting, in its historical and ecological context. In the final chapter, directed especially at young people, the Freemans call for a return to a "natural life," giving four criteria: be engaged, be simple, be real, be present. The book conveys an urgent sense of hope.
Editor's note: readers interested in the life and work of Aldo Leopold may want to peruse Stories from the Leopold Shack: Sand County Revisited, recently added to our lending collection.
The Miller Library is open for browsing and research 49 hours each week.
You'll find the full schedule and information for visitors on our
website
.
© 2018 University of Washington Botanic Gardens