Volume 5, Issue 7 | July 2018

Incredible Edibles by Matthew Biggs
Reviewed by Brian Thompson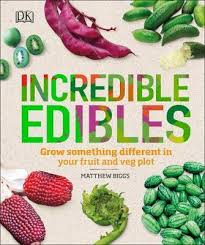 My favorite publisher of travel guides is DK (Dorling Kindersley Limited). They do very well with gardening books, too, creating visually rich yet uncluttered plant encyclopedias.
Here is the opportunity to expand your palate. While many of the plants are exotic, others are already familiar to gardeners. Fuchsia berries, daylily flowers, and the leaves and flowers of your hosta border all provide tasty treats. Most surprising (for me) was learning that dahlias are edible.
The author typically points out the horticultural value of his subjects and has a knack for taste-tingling imagery. He describes Chilean guava (Ugni molinae) as being a favorite of Queen Victoria because the fruits have little crowns. In addition, "the aromatic fruits are the size of blackcurrants, but taste like wild strawberries and bubblegum. It really should be more widely grown."
Northwest natives, such as camas and Oregon grape, are included. Never taken a class on cooking camas? A sidebar of "cook's tips" will get you started. We purchased this fun book with a grant from the Washington State Nursery and Landscape Association.
Country Notes
by Vita Sackville-West
reviewed by Priscilla Grundy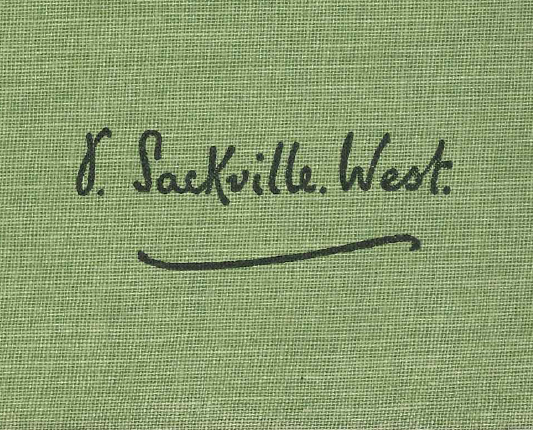 Editor's note: A recent review by Dorothy Crandell asked readers "When is the right time to reread a classic?" In the spirit of that question, we're taking a fresh look at some books that have been available here at the Miller Library for many years.
Country Notes
is a collection of charming short articles, most of them originally published in New Statesman and Nation magazine in 1938 and 1939. They describe life on the farm as seen by Sackville-West from her estate, Sissinghurst, in Kent, England. She has a knack for description of botanical detail. For example, of the witch hazel she says the "dark brown twigs look as though some child had amused itself by tying them up with bunches of yellow ribbons, and then snipping the ends short." The articles describe farm events such as harvesting hops and dealing with animals, including the horses still pulling plows. She also introduces local characters, like her gardener and the seasonal workers who camp out on the property during harvest time.
It is particularly intriguing to read this book in the context of its times. By the end of 1939, England was at war. In only one or two spots does the author mention "Herr Hitler" or the threat of conflict. But a cloud of worry must have hung over her writing. In addition, Sackville-West herself, in spite of her protesting that she loves the old ways, was part of the very modern Bloomsbury group, and was herself somewhat infamous for her multiple lovers, including Virginia Woolf. Beyond that background, Sackville-West was a well-known gardener, and wrote several books on gardening, including some in our library. A recent account of the history of her garden appears in
Sissinghurst: An Unfinished History
, by her grandson Adam Nicholson, also in our collection. So there is much to think about while enjoying these sketches of the Kentish countryside.
Planted: Finding Inspiration & Pollination in Public Spaces
Robby Wrench photography exhibit opens July 5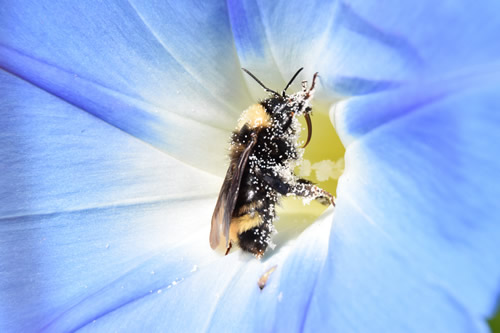 University of Washington Bothell gardener,
Rare Plant Care and Conservation
volunteer, and Environmental Horticulture graduate student Robby Wrench shares his passion for gardening and pollinators with evocative and beautiful images captured in public parks and green spaces, including at the Center for Urban Horticulture. His photographs will be displayed through July 30.
You are invited to meet Robby Wrench at a reception July 5th from 5 to 7 pm in the Miller Library.
The Miller Library will be closed Saturdays this summer. We will be open 12-8 pm each Monday now through September 17. The library will be closed July 4 and Labor Day (September 3). We will stay open until 7 pm on July 5 and August 2. You'll find the full schedule and information for visitors on our
website
.
© 2018 University of Washington Botanic Gardens