VOLUME 5, ISSUE 7 | July 2018

Planted: Finding Inspiration and Pollination in Public Spaces
Robby Wrench photography exhibit opens July 5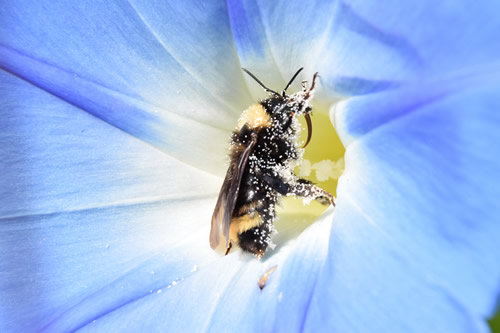 University of Washington Bothell gardener and Environmental Horticulture graduate student Robby Wrench shares his passion for gardening and pollinators with evocative and beautiful images captured in public parks and green spaces, including at the Center for Urban Horticulture. His photographs will be displayed through July 30.
Readers of Leaflet for Scholars are invited to meet Robby Wrench at a reception July 5th from 5 to 7 pm in the Miller Library.
From the Plant Answer Line: Weigela, Kolkwitzia or Dipelta?
by Rebecca Alexander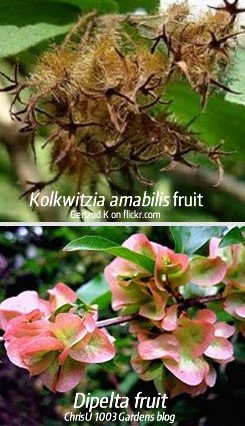 Q: How can I tell the difference between Weigela, Dipelta, and Kolkwitzia?

A: All three of these opposite-leaved shrubs are in the honeysuckle family, Caprifoliceae. However, some taxonomists split Kolkwitzia and Dipelta (along with Abelia and Linnaea) into Linnaeaceae, while Weigela joins Diervilla in Diervillaceae.


Although spring is the time when most plant lovers notice these flowering shrubs, it is easier to tell them apart when they develop dry fruit. Dipelta floribunda and Kolkwitzia amabilis produce achenes (dry, single-seeded fruits that do not split open), whereas Weigela florida fruits are capsules (clustered together like a tiny bunch of bananas, and developing from green or red to brown as they mature). Dipelta bracts are ornamental, papery, and colorful before they dry to brown. Kolkwitzia bracts are weird-looking, like bristly chicken feet.

If you are eager to know what you are looking at while the shrub is still in flower, it is easy to rule out Dipelta and Kolkwitzia if the flowers are red or yellow, in which case, it's Weigela. Bear in mind that Kolkwitzia and Weigela are common in home gardens, while Dipelta is much less so. Dipelta and Kolkwitzia have pale pink to whitish flowers with markings on the petals; Weigela lacks such markings. Weigela petals also differ from the other two genera in that they are all about the same size (radially symmetrical, or actinomorphic), while in Dipelta and Kolkwitzia, the lower petals are larger than the upper two (that is, bilaterally symmetrical, or zygomorphic). The bristly characteristics of Kolkwitzia that are so notable in the dried fruit are also visible in the white bristles at the flower's base. The Dipelta flower's base is concealed between a pair of circular bracts. To summarize: Bananas? Weigela. Bracts? Dipelta. Bristles? Kolkwitzia.

Sources:

To see pictures of the nearly-identical flowers of
Kolkwitzia
and
Dipelta
, see the Gardening Answers Knowledgebase entry for this question.
The Quiet Extinction by Kara Rogers
reviewed by Brian Thompson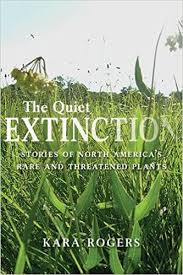 While the topic is grim, author Kara Rogers has a knack for telling compelling stories, while still presenting good science. She wisely concentrates on a handful of species to drive her narrative, explaining that these are bellwethers of a much greater problem.
Some of these have special interest for Pacific Northwest readers. White bark pines (Pinus albicaulis) are a key species in the ecology of the Olympic and Cascade Mountains. They are facing a double whammy from white pine blister rust and outbreaks of mountain pine beetles. Hikers at high altitudes may recognize the problem, "but the real tragedy is that few people are aware that the region's iconic tree and beautiful plants are disappearing and that they are doing so rapidly."
As with many of these plants, their interaction with animals, including pollinators and herbivores, and with naturally occurring phenomena such as fire, are important parts of the story. This is an excellent book for anyone interested in the interconnections within North American ecosystems, as well as those fighting to reverse the plight of endangered plants.
The Miller Library will be closed Saturdays this summer. We will be open 12-8 pm each Monday now through September 17. The library will be closed July 4 and Labor Day (September 3). We will stay open until 7 pm on July 5 and August 2. You'll find the full schedule and information for visitors on our
website
.
© 2018 University of Washington Botanic Gardens