For educators developing emergent curricula:
Hey Kids! Out the Door, Let's Explore! by Rhoda Redleaf
reviewed by library volunteer Dorothy Crandell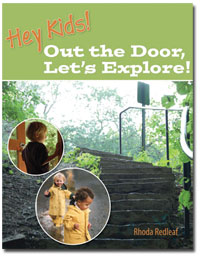 Editor's note: An emergent curriculum builds on the interests of students, developing as they learn. Rather than being entirely set in advance, emergent curricula grow naturally from the chosen environment (indoor or outdoor), the curiosity of children, and the instructor's knowledge and experience. Based on the philosophy of Loris Malaguzzi, who was born in Reggio Emilia, Italy, and founded a system of internationally influential preschools there, this method is a blend of theory and practice that challenges educators to see children as competent and capable learners in the context of group work. It can be practiced at any grade level.
A good walk stimulates both mind and body and provides the invigorating theme and energizing structure of
Hey Kids! Out the Door, Let's Explore
by Rhoda Redleaf. Walking is free, easy, and can be done almost anywhere. The walks are grouped into three categories: Nature Walks, Community Walks, and Concept Walks. Nature Walks include
Cold Day
,
Windy Day
,
Trees Walk
, and more. Community Walks can be
Hardware Store Walk
,
Market Walk
, or other walks in the neighborhood. Concept Walks might be
What's It Made Of? Walk
,
Color Walk
, or
Light and Shadow Walk
, as examples. Redleaf includes appendices in her book to help teachers organize the excursions.
At the early childhood level, Rhoda Redleaf's approach is emergent curriculum, with an emphasis on human relationships and language development while exploring common everyday experiences that are engaging and meaningful to children. "The most important learning task of young children remains constructing their own knowledge to make sense of the world. You, the adults in their world, provide the bridges from the unknown to the known," writes Redleaf.


The book is full of ideas to explore and to build on, involving flexibility and creativity on the part of the adults as well as an openness to seeing where the learning takes the children. Both adults and children take initiative and make decisions. Children's thinking and learning are documented with suggested activities related to the walks.
Hey Kids! Out the Door, Let's Explore
is a very valuable resource for teachers with both preschool and primary school children.
Plant Conservation Science and Practice:
the Role of Botanic Gardens
reviewed by Brian Thompson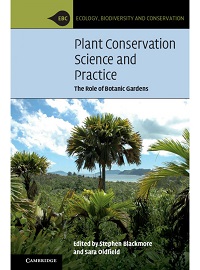 Plant Conservation Science and Practice: The Role of Botanic Gardens
is an in-depth study of botanic gardens, arboreta, seed banks, and similar institutions and the responsibility they have in the conservation of plants on a global scale. Editors Stephen Blackmore and Sara Oldfield have included the input of an impressive list of botanists, primarily at botanic gardens, to observe what is being done, and to consider improvements, especially through international cooperation.
Education and demonstration is an important function of public gardens in the promotion of
in situ
conservation. The know-how that researchers and staff of these gardens have developed in ecology, horticulture, and systematics also contribute to these efforts.

Ex situ conservation is supported by plant collections – many plants exist only in cultivated settings – and by seed banks, that both preserve and make seeds available for research. This research includes searching for solutions to food and fuel security. Demonstrating that these solutions do not come at the loss of biodiversity is another important message that botanic gardens teach.

In conclusion, the editors look to botanic gardens to continue their public outreach and education, but they expect more. They admonish these institutions to use their special expertise to "take their place as key agents for undoing much of the damage we have inflicted on our planet."

Molly Hashimoto exhibit opens November 6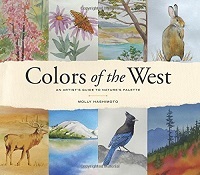 Local artist
Molly Hashimoto
returns to the Miller Library displaying original paintings and prints from her new book
Colors of the West: an artist's guide to nature's palette.
The chapters are organized by color with essays on watercolor technique, plants and animals, and notable places in nature, such as Petroglyph National Monument in New Mexico.
Meet the artist at a free reception open to the public this Thursday, November 9th, from 5 pm to 7 pm at the Miller Library. Molly will read from her book and share a slide show starting at 5:30.

A portion of proceeds from the sale of artwork will benefit the Library.
The Miller Library is open for browsing and research 49 hours each week.
You'll find the full schedule and information for visitors on our
website
.
© 2017 University of Washington Botanic Gardens