Gardening Answers Knowledgebase
Recommended Websites
Plant Answer Line Question
Keywords: Arboretums and botanical gardens--Pacific Northwest, Arboretums and botanical gardens--Washington, Xeriscaping
Where in Washington State can I find examples of public gardens designed to be drought-tolerant xeriscapes?
Answer:
There are Master Gardener Demonstration Gardens around the state, such as Riverfront Park Demonstration Garden and others in Wenatchee. There is also a WaterWise demonstration garden in Woodinville.
There is a water-wise garden in the Bellevue Botanic Garden.
There is a native plant garden maintained by the Tacoma Garden Club at Point Defiance Park.
Seattle Tilth maintains several demonstration gardens, including the Good Shepherd Center in the Wallingford neighborhood in Seattle and Bradner Gardens Park at 29th Ave. S. and S. Grand Street, in south Seattle. While not exclusively xeriscapes, their gardens employ water-saving techniques.
Date 2017-06-08
Link to this record only (permalink)
Reviewed by: Brian Thompson on 2011-10-01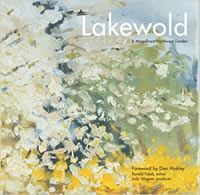 Among my favorites of recent new books is Lakewold: A Magnificent Northwest Garden. It reminds me of a well-crafted exhibit catalog, beginning with detail from an oil painting of the garden on the cover.
Inside a rich history of photographs--dating from the early 20th century and drawing from most decades since then--tell the story of a dynamic garden. As a gardener, I appreciated seeing the old and the new, the changes and what stayed, and the large scale, formal plantings that gave way to simpler plans.
The style and quality of the book is not surprising as the editor is Ronald Fields, Emeritus Professor of Art History at the University of Puget Sound, who has been a docent for Lakewold since it opened to the public in 1989. The choice and layout of photographs is quite engaging, and includes unexpected hardscape details, many close-ups of signature plants, and the people who shaped the garden--primarily Eulalie Wagner and Thomas Church.
Several short essays provide their own history, including those written by local horticultural luminaries Valerie Easton, Dan Hinkley, and Steve Lorton, recounting visits to Lakewold early in their careers. Other sections highlight the vitality of the garden that continues today and its importance amongst the great estate gardens in the country.
If nothing else, this book will make you want to visit Lakewold. We are very fortunate to have this garden close-by, open to the public, and continuing the vision and spirit of those who developed and shaped it.
Excerpted from the Fall 2011 Arboretum Bulletin.
Link to this review (permalink)
Reviewed by: Brian Thompson on 2007-10-01
The authors of this book were nurtured and informed by the well-known Northwest Perennial Alliance Borders at the Bellevue Botanical Garden. Here, Marty Wingate tells how the Borders are part of a much greater whole brought together by a diverse group of plant lovers. The detailed history is followed by descriptions in word and photo that highlight features and plants in each of the nine gardens, augmented with short profiles of key players. A Garden promotion, yes, but there's also some good history and enough about the individual plantings to take some ideas home, especially if this book accompanies your next visit to Bellevue.
Excerpted from the Fall 2007 Arboretum Bulletin.
---
Didn't find an answer to your question? Ask us directly!
August 01 2017 12:36:01