Gardening Answers Knowledgebase
Recommended Websites
Plant Answer Line Question
Keywords: Arborist, Hillside planting, Slope stabilization and soil erosion, Conifers
I live in a condo. The conifers on the site are beginning to obstruct the view of the neighbors. Our covenant with these neighbors says trees must not exceed a height of 25 feet. Last year several of the conifers were topped and others removed. Our concern now is that we may have to either top or remove more trees. We don't want to block the neighbors' view but we also don't want to destabilize the ground - we all live on a hillside. What can we do over the next 5, 10, 15, 20 years to decrease the number of conifers and replace them with other trees that will be neighbor-friendly and keep our hill stable?
Answer:
The short answer is to plant shrubs and groundcovers.
The long answer is that slope stabilization is a serious concern and deserves expert advice. Get started in your research by reading the articles on the WA Dept. of Ecology site:
Controlling Erosion Using Vegetation.
Your condo association may want to hire a consulting arborist and/or a civil engineer ("To locate technical experts such as experienced registered engineers specializing in geotechnical and/or drainage projects, use local telephone directories or call the Seattle or Kitsap branch of the American Society of Civil Engineers (ASCE) for membership references." from DOE site)
For an arborist referral try:
Plant Amnesty
The Pacific Northwest chapter of the International Society of Arboriculture has information about hiring an arborist.
The International Society of Arboriculture can also help to narrow the search to your area.
Date 2016-10-27
Link to this record only (permalink)
Plant Answer Line Question
Keywords: Tree roots, Conifers
Can you suggest any larger growing conifers (ex. Lawson's cypress) whose root systems are not invasive? The area I'm interested in planting is near water lines.
Answer:
There are a number of conifers listed on the locally developed web pages of Great Plant Picks.
I would suggest looking at some of these, and then checking the web page of SelecTree, where you can select trees for low root damage potential.
For instance, if you are interested in planting a fir tree such as Abies grandis or Abies pinsapo, you would find out from SelecTree's full tree record that both of these have moderate root damage potential. Calocedrus, Picea orientalis, Sequoiadendron and Cryptomeria are also rated as moderate. Cephalotaxus fortunei is rated low, as are Pseudotsuga menziesii, and several Chamaecyparis species. The following conifers rated as having high root damage potential:
Picea abies NORWAY SPRUCE
Picea brewerana BREWER'S WEEPING SPRUCE
Pinus cembra SWISS STONE PINE
Pinus nigra caramanica CRIMEAN PINE
Pinus taeda LOBLOLLY PINE
Date 2016-09-02
Link to this record only (permalink)
Plant Answer Line Question
Keywords: Tree planting, Conifers
The nursery recommended waiting to plant a Cedrus deodara until after the first hard frost. As we are in USDA Zone 7 (the lower limit for a deodar), I'd think we would want to get it in the ground as early as possible. Any idea what the rationale is behind this advice?
Answer:
I am really not sure what their rationale might be. I agree with you that planting in the fall is preferable. Here is information which supports this:
Excerpt from Brooklyn Botanic Garden booklet on conifers:
"Across most of the country, spring (early or late, depending on how far north you are) and early fall, when temperatures are cooler and rainfall more abundant, are the best times to plant conifers. To reduce transpiration or water loss from the tree, plant on an overcast day when there is ample soil moisture."
I don't know if your tree was a bare-root specimen or container-grown. Here is what Keith Rushforth says in his book Conifers (Christopher Helm, 1987):
"Bare-rooted stock can only be planted during the dormant season. This restricts planting to the period November to April. Planting during midwinter is better avoided, because cold, dry winds during the winter can desiccate the young plants before the roots have been able to make new growth. Planting after April is only feasible if the plants have been held dormant in a cold store.
Container-grown stock can be planted out during most of the year, although the period of maximum growth from late May to early August is better avoided unless watering is no problem. A check should be kept on whether winter-planted stock needs watering; it is very easy for the compost to dry out during dry periods in the winter."
Based on the above, it seems like a good idea to plant now (fall).
Date 2016-09-22
Link to this record only (permalink)
Plant Answer Line Question
Keywords: Effect of storms, Pruning, Conifers
There's a self-described tree service knocking on doors in my street, trying to get people to pay them to do "wind sail reduction" on their trees. My neighbor just agreed to have them prune 17 of her conifers. Bad idea, right? Can you point me toward resources so I can dissuade her from going ahead with this plan?
Answer:
Yes. The Washington Department of Natural Resources published an article, "Trees Don't Wind Sail, Do They?," in their online newsletter, Ear to the Ground, 12/20/2011. Here is an excerpt:
"Some people claiming to be tree experts will tell you that 'wind sailing' is a great way to protect your trees from wind damage. You may have heard this fabricated notion of thinning limbs from trees in order to make them stable during wind storms. This improper pruning technique is promoted to supposedly make trees safer in the wind by allowing wind to pass through the canopy of a tree, thus reducing movement and strain on a tree. Not so!
"This may sound reasonable and may even seem to have some logic behind it. But beware--the truth is, there is no scientific study that shows thinning is wise or safe way to decrease resistance during a wind storm. "Actually, many studies have shown that the outside limbs can divert some wind from the center of the tree and act as a buffering shield. Aggressive thinning, on the other hand, can make the remaining branches more vulnerable to failure; left isolated, these limbs must take on the elements alone. Pruning out a major portion of a tree's canopy for the sake of staying upright during a wind storm harms most trees in the long run."
The DNR has another, similar article from 12/6/2012 in their Tree Link News entitled 'Windsail Reduction:' A Northwest Controversy.
You can also suggest that your neighbor speak to someone at Plant Amnesty, a local organization dedicated to teaching the community about proper pruning techniques (as well as informing them about ill-advised methods!).
Date 2016-12-23
Link to this record only (permalink)
Plant Answer Line Question
What makes the blue color on some conifers?
Answer:
I am by no means an expert on plant physiology, but I believe it is the waxy coating (cuticle) on the needles that makes them look blue, as confirmed in this article about a variety of Colorado blue spruce by Edward Gilman and Dennis Watson on the website of University of Florida Extension:

"[....] the wax coating on the needles of Blue Spruce which give the blue color can be washed off by some pesticides."
Here is similar information from Montana State University Extension (page 14):
Excerpt re: Colorado blue spruce:
"The bluish color of the leaves of some of the trees results from a wax (cutin) accumulation, which is genetically controlled. This doesn't satisfactorily explain why blue conifer needles would be any different from those of green conifers (whose needles are also waxy), though."
The following article by John Clark and Geoffrey Lister in Plant Physiology, vol. 55, 1975 has a complex technical explanation:
Excerpt:
"The observed differences in relative pigment complements can, therefore, partially account for the differences between the action spectrum for red alder and those of the conifers as a whole. In particular, the increasing carotenoid-Chl ratios determined for red alder (0.38) and the two green conifers, Douglas fir (0.54) and Sitka spruce (0.67) would seem to be the factor responsible for the differences between their action spectra. The same explanation, however, cannot alone account for the range of differences seen in the action spectra for the four conifers. No evidence was found to support differential degrees of screening by an extrachloroplast blue-absorbing pigment reportedly present in some conifer needles (2). One is therefore led to believe that an additional factor must be responsible for the differences between the green and 'blue' spruces. Differences in apparent leaf coloration, arising from changes in relative spectral reflectance attributable to varying leaf cuticle structure, seems to be the most plausible explanation."
Date 2017-04-14
Link to this record only (permalink)
Garden Tip
Keywords: Plant and garden societies, Chamaecyparis, Picea, Tsuga, Abies, Dwarf conifers and shrubs, Conifers
The Pacific Northwest is an excellent climate for growing evergreens because our winters are generally mild. We can grow far more species than just Douglas Firs and Red Cedars, and in city gardens dwarf conifers are much more suitable. Explore the wide world of conifers, plants that produce cones, by joining the American Conifer Society. Membership costs $25 per year which includes a nice quarterly journal with color photos. Their website has a database with descriptions and photos, as well as information on becoming a member. Call (410) 721-6611 to join.
Favorite four conifers as voted on by members of the American Conifer Society:
Picea orientalis 'Skylands'
Abies koreana 'Silberlocke'
Tsuga canadensis
Chamaecyparis obtusa 'Nana Lutea'
Date: 2007-04-03
Link to this record (permalink)
Reviewed by: Brian Thompson on 2014-03-12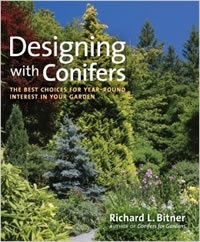 Richard Bitner has written three books about conifers in the garden; I think the best is the most recent, "Designing with Conifers." Organized by notable features such as shape, color, or bark, the author uses his own photographs to illustrate a wide range of planting options. He clearly detests foundation plantings: "Why this mandatory dress code? It is time to break free of this tradition and change our practices."
Specialty situations such as hedges and topiary are included, along with some unexpected chapters on recommended Christmas trees, dwarf cultivars for garden railways, and--the most curious--traditional plantings for German graveyards. Although the author is from the East Coast, I thought his best work was a case study of a garden near Eugene, with a photographic dissection of the different purposes for the plants used in the landscape--quite instructive.
Link to this review (permalink)
Reviewed by: Brian Thompson on 2012-06-01
Conifers of California is a delightful introduction to many of our native conifers, as well as the incredible diversity of these cone bearing trees to be found further down the coast. Author Ronald M. Lanner writes what could be best described as a biography of each tree, telling the natural history and the interaction of each with humans and animals. While there are helpful descriptions, (including "At a distance", "Standing beneath it", and "In the hand"), this is not primarily a field guide.
The photographs are excellent, but a bigger visual draw are the botanical paintings by Eugene Otto Walter Murman (1874-1962), which besides being beautiful, clearly show the distinctiveness of the cones, cone scales, seeds, needles in a single bundle, and a growing tip. Adding to the history are quotes by some of the great describers of trees, including Charles Sprague Sargent, John Muir, and, one of my favorites, Donald Culross Peattie.
I'm adding Lanner to this list. His descriptions of the relationship between the Clark's nutcracker and whitebark pine (Pinus albicaulis), or the unusual combinations of factors that lead to the long, long lives of the bristlecone pine (Pinus longaeva), are detailed and lengthy but totally engaging.
Of incense-cedar (Calocedrus decurrens) he explains how forestry practices have led to a population explosion of this tree little valued by the timber industry. This is "...good for those Americans who eschew the use of greasy-inked ballpoint pens, because incense-cedar is the unrivaled champion of available domestic pencilwoods. It may not be so good for those...who must past through thickets...for those thin dead, lower limbs seem always positioned to welt a cheek or poke an unsuspecting eye."
Many of the rarer California conifers can be found in the Arboretum and this book is a good introduction. Look for the Coulter pine (Pinus coulteri) but don't stand under its eight pound cones "with talonlike appendages", while from the Siskiyou Mountains comes the weeping Brewer spruce (Picea breweriana) with "long, dark-foliaged, pendulous branches."
Edward Anderson was for 30 years a biology professor at Whitman College in Walla Walla before finishing his career at the Desert Botanical Garden in Phoenix. The Cactus Family is the culmination of his life's work as, sadly, he died shortly after publication, but more importantly because it will be a long-time standard reference for these popular plants.
While not a gardener's book--a chapter on cultivation is included but is by a different author--this provides a superb view of the remarkable diversity of cacti, well captured by excellent photographs, most by the author and many in situ. Highly recommend, too, are the chapters on ethnobotany and conservation of cacti, which illustrate how important these plants have been and continue to be throughout their range in North and South America.
Excerpted from the Summer 2012 Arboretum Bulletin.
---
Didn't find an answer to your question? Ask us directly!
April 11 2017 13:50:16