Gardening Answers Knowledgebase
Recommended Websites
Plant Answer Line Question
Keywords: Rhododendron macrophyllum, Native plants--Washington
I have some native rhododendrons that have tan or reddish leaves every spring. The red leaves are new leaves, and they are red for about two weeks. They are under some 100 year old Douglas fir trees, and get some shade and some southern light. They were moved to my garden from and altitude of 4000 feet to my altitude of about 1850 feet. What causes the red leaves?
Answer:
New red shoots and bronze leaves are not uncommon in Rhododendrons. In fact, some are grown purposely for their colorful new growth. The creator of Paghat's Garden, a local website writes enthusiastically of a Rhododendron 'Hill's Bright Red':
"When it is first finishing with its bright red blossoms, it begins producing new leaves, that are at first bright red themselves! ...The new red leaves mature to green.."
She also has written specifically about the Pacific rhododendron, Rhododendron macrophyllum.
As to why this coloration sometimes happens, it is possible that the reddish-brown pigment seen in young [Rhododendron] leaves affords tender foliage some protection from sunburn. This is important because too much ultraviolet radiation can destroy chlorophyll in plant leaves. Plants avoid getting too much UV radiation by producing red pigments called anthocyanins, which can absorb UV radiation and thus prevent it from damaging other parts of the leaf. Because the pigment "accumulates in the cell sap, and is usually located in the epidermal and subepiderma cells," its presence vividly changes the color of the leaves (Levitt, p. 294). This, and more information about anthocyanins is available in a book available at the Miller Library called Responses of Plants to Environmental Stresses, volume 2, by J. Levitt (New York: Academic Press, 1980). In effect, your plants are producing their own sunscreen for the tender new growth!
You can also find more information about anthocyanin in the article "Nature's Swiss Army Knife: The diverse protective roles of anthocyanins in leaves," by Kevin S. Gould, hosted by PubMed Central.
Date 2018-03-01
Link to this record only (permalink)
Reviewed by: Brian Thompson on 2011-10-01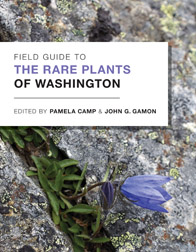 Most field botany guides help with identifying the most common trees, shrubs, and wildflowers. Field Guide to the Rare Plants of Washington takes a very different approach by choosing as its subjects over 300 of the rarest plants, ferns, and lichens in the state.
Why do this? Editors Pamela Camp and John G. Gamon, and the many contributors, anticipate that by helping both professional and amateur botanists in recognizing and identifying rare plants, this will promote conservation of these plants. The hope is also to engage more "...nature enthusiasts, opening a window into the beauty and diversity of Washington's rare flora."
That said, this book takes a solid base of botanical knowledge to appreciate. Selections are arranged alphabetically by genus within four broad plant types (lichens, ferns, dicots, and monocots). This means you must identify an unknown plant to the genus level before you can make use of the detailed plant and habitat descriptions to determine if you've found something rare. Most entries have line drawings and both close-up and site photographs, but these are for fine-tuning identification and not for the beginner.
Besides its value to the keen botanists, this book makes an important contribution to keeping pace with changes in taxonomy and nomenclature, and in linking different resources for this information. For example, each entry includes the name (if different) used in the standard reference Flora of the Pacific Northwest (Hitchcock and Cronquist, 1973). It also preserves in a book format much information that was only available in "...earlier loose-leaf and online treatments of many the species included..."
Excerpted from the Fall 2011 Arboretum Bulletin.
---
Didn't find an answer to your question? Ask us directly!
May 16 2018 11:15:37