Gardening Answers Knowledgebase
Search Results for ' '
PAL Questions: 854 - Garden Tools: 352 - Recommended Websites: 638
Display all answers | Hide all answers
---
[1] « 5 | 6 | 7 | 8 | 9 | 10 | 11 | 12 | 13
Keywords: Reviews
Garden Tool: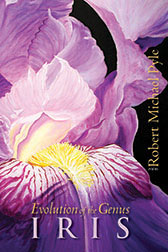 Evolution of the Genus Iris by Robert Michael Pyle (Lost Horse Press, 2014)
The title of Robert Michael Pyle's most recent book might fool readers into supposing it a scholarly treatise aimed at the ultra-specialist in the Family Iridaceae. Look inside the cover of Evolution of the Genus Iris and all will become clear: these are poems of everyday life from the particular perspective of a Pacific Northwest naturalist.
The Miller Library has several other books by Pyle (including Wintergreen about the ecology of the Willapa Hills, and The Butterflies of Cascadia : A Field Guide to All the Species of Washington, Oregon, and Surrounding Territories). These plain-spoken poems feature garden perennials, reflections on the Palouse Giant Earthworm, longhorn beetles, butterflies, banana slugs, and how could I resist mentioning a paean to librarians.
One of my favorites in this first collection of poems is "Botany Lesson: Cleome." It begins, "He called it bee balm, but I heard bee bomb." The poet and his friend are on a butterfly-collecting trip, encountering specimens of wild Cleome. Pyle points out that Theophrastus's coinage of Cleome was based on a mistaken notion that the plant was related to mustard, when it is actually "a caper called spider plant, or bee / plant, for the love of honeybees but never bee balm." It's a poem of friendship and reminiscence as well as an observation about the complexities and accidental poetry of naming things.
Reviewed by Plant Answer Line Librarian Rebecca Alexander
Season: All Season
Date: 2014-07-23
Link to this record (permalink)
---
Keywords: Plant diseases--Control, Tools and equipment, Pruning
Garden Tool:
Wondering when is it necessary to clean or sterilize your pruning tools, and how to do it? Washington State University Extension horticulturist Linda Chalker-Scott offers excellent "how-to" advice. Make sure there is no excess dirt or debris on your pruners before you clean them. There are quite a few impractical or inadvisable methods (formalin? chlorine bleach? no!); her preference is to use ordinary household cleaners.
Another factsheet discusses when to sterilize your tools. Chalker-Scott says that first you must know which pathogen is causing the disease. Then,

"if it's a virus or viroid, disinfect your tools.
if it's a vascular fungus or bacteria, and/or forms oozing cankers, disinfect your tools. Avoid cutting active, oozing cankers; wait until they dry.
if you are pruning irreplaceable plants, disinfect your tools.
choose a disinfectant treatment that has been shown to be effective through published research; I would probably not use alcohol but one of the common household cleaners at full strength."
Season: All Season
Date: 2014-10-17
Link to this record (permalink)
---
Keywords: Reviews
Garden Tool: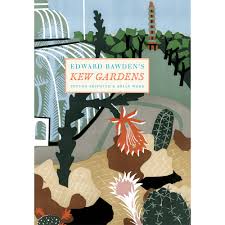 Edward Bawden's Kew by Peyton Skipwith and Brian Webb (V & A Publishing, 2014)
This book defies easy categorization. Bawden was a renowned British illustrator, graphic artist, and painter who served as an official War Artist during World War II. He and his contemporary Eric Ravilious studied with surrealist landscape painter and engraver Paul Nash, and his influence can be felt in Bawden's lively calligraphic line, and his modernist approach to landscapes and cityscapes. Until exploring this book, I was most familiar with his posters for London Transport, depicting sights and scenes around London.
The first section of the book reproduces Bawden's very early manuscript (created when he was just twenty), A General Guide to the Royal Botanic Gardens Kew, Spring and Easter 1923. The second section is a brief but eccentric sociocultural history of Kew, incorporating Kew-inspired illustrations, verse, and humor. The third section is a selection of Bawden's wry illustrations for Robert Herring's Adam and Evelyn at Kew. The last section summarizes his lifelong artistic fascination with Kew. Those who are interested in 20th century art and the history of Kew will find it a fascinating book to read and savor.
Season: All Season
Date: 2015-06-06
Link to this record (permalink)
---
Keywords: Reviews
Garden Tool: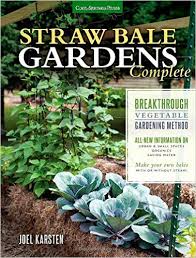 I was surprised to learn that there is a new way to grow vegetables. Inside straw bales. Yes, that is what I said, inside straw. This new book by Joel Karsten, Straw Bale Gardens Complete (Cool Springs Press, 2015), explains a method of growing and harvesting crops which is useful for increasing productivity while reducing labor. The chapters thoroughly cover planning your straw bale garden, and making straw bale greenhouses. There are extensive pages of garden layouts, including single, two, and three-bale gardens with tomato cages, trellises, and suggested plants. This approach to container gardening is using the straw bale itself, held together with two or three strings, with the outside crust of the bale serving as the container. The straw inside the bale will decompose, making it "conditioned" and ready to plant. The author gives step by step instructions for conditioning to create a warm, moist and nutrient rich rooting environment for seedlings. The author points out that straw bale gardens are ideal if you can't do heavy lifting, can't bend over, have poor soil, or limited space.
One thing to keep in mind is the difference between hay and straw, which often are confused. Straw comes from one of the cereal small-grain plants. Most common are oats, wheat, barley, rice, flax and rye. Hay is green, more coarse and wiry than straw. Hay can be baled alfalfa or any dozens of different grasses. Hay is fed to livestock as fodder. It contains all the seed heads inside the bale. But hay is not desirable for bale gardens. The book explains how to find and maintain the best straw for growing plants. If you are looking for a source for straw in the Seattle area, I've been able to supply my chickens with straw from The Grange in the University District. I also recommend using organic straw for vegetable gardening because you will want straw that has not been treated with herbicides or pesticides. Organic bales are usually sold at about the same prices as conventional ones.
reviewed by librarian Jessica Anderson
Season: All Season
Date: 2016-02-13
Link to this record (permalink)
---
Keywords: Reviews, Vegetable gardening
Garden Tool: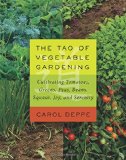 The Tao of Vegetable Gardening by Carol Deppe (Chelsea Green Publishers, 2015)
Carol Deppe is a witty and engaging writer based in western Oregon. Her third book on vegetable gardening, The Tao of Vegetable Gardening, is particularly valuable if you are growing tomatoes in our maritime climate, hoping to maximize your output of salad greens, or passionate about seed saving. Infused throughout are her philosophies on life and gardening, and you can read about the amazing adventures of Garden Woman, while learning some great weeding techniques, too!
Reviewed by Miller Library manager Brian Thompson
Season: All Season
Date: 2016-02-25
Link to this record (permalink)
---
Keywords: Reviews, Heirloom varieties
Garden Tool: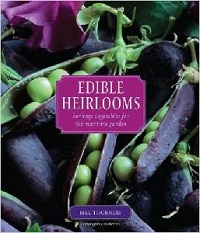 Edible Heirlooms: Heritage Vegetables for the Maritime Garden by Bill Thorness (Skipstone, 2009)
Edible Heirlooms is a great little book! Little only in dimensions and number of pages, as the author carefully defines his purpose and limits his scope, but within those parameters shows you how to grow an outstanding vegetable garden in the maritime Pacific Northwest.
Most important, he sees this endeavor as part of a larger picture. "The challenge for me is to somehow integrate my vegetable-growing practices into a diverse ecosystem and, if possible, enhance biodiversity." The key for this is to use heirloom varieties that can be regrown from collected seeds. Besides the mouth-watering descriptions, you will also get an excellent history lesson.
Reviewed by Brian Thompson, Miller Library manager
Season: All Season
Date: 2016-02-26
Link to this record (permalink)
---
[1] « 5 | 6 | 7 | 8 | 9 | 10 | 11 | 12 | 13
Didn't find an answer to your question? Ask us directly!
We are continually adding new questions, so be sure to keep coming back.
July 27 2016 15:17:37