Gardening Answers Knowledgebase
Search Results for ' '
PAL Questions: 842 - Garden Tools: 348 - Recommended Websites: 654
Display all answers | Hide all answers
---
[1] « 32 | 33 | 34 | 35 | 36 | 37 | 38 | 39 | 40
Keywords: Reviews
Garden Tool:
"Gardening for Sustainability" is almost two books in one. The first part takes you on an intimate tour of the Albers Vista Gardens near Bremerton, approximately four acres lovingly crafted by author John Albers and his wife Santica Marcovina over the last 15 years. I kept a post-it note on the garden map for frequent reference as I walked page-by-page through the 14 garden rooms; the history, purpose, and plantings of each made very real by the considerable descriptive detail and excellent photographs
.
"As visitors stand among the Three Islands dreaming of distant lands, they have the choice of proceeding through the open sea of crushed granite or continuing up Madrona Lane." Transitions like this hold your interest as you continue your tour, while picking up ideas to use for your own garden such as, "...the underutilized Chaste tree [Vitex agnus-castus]...is an ideal substitute for the [invasive] butterfly bush [Buddleia davidii]."
The author's enthusiasm is especially apparent in a chapter on special collections, including dwarf conifers, striped-bark and Japanese maples, and viburnums. Much of his interest in the latter genus was sparked by the collection at the Washington Park Arboretum, which he studied and described while taking classes through the Center for Urban Horticulture in the 1990s.
The second part of the book is a concise essay on landscape sustainability--excellent reading for any gardener. These principles and practices are the basis for the design and maintenance of the Albers Vista Garden, but despite best intentions the author freely admits that errors do happen. He concludes that it is best to "...learn from your mistake and move on to the next joyful garden project."
The garden is open to visitors by appointment or for special events. More information is available at www.albersvistagardens.org.
Reviewed by Curator of Horticultural Literature, Brian Thompson. Excerpted from the Fall 2013 Arboretum Bulletin.
Season: All Season
Date: 2013-10-21
Link to this record (permalink)
---
Keywords: Reviews
Garden Tool:
Jim Fox is a consumer advocate. More specifically, a gardening consumer advocate. His goal is "...to educate you to be a savvy consumer so you can be confident that your gardening dollars are well spent." To achieve this goal, he has written a shopping guide: "How to Buy the Right Plants, Tools & Garden Supplies."
Many general gardening books touch on plant buying or tool selection, but typically at the back of the book, or in a brief introduction that the reader hastily skims over to get the real excitement--an encyclopedia of plants in glorious color. Fox recognizes how critical this basic information is for all gardeners, experienced or not, and uses clarity, broad experience, and considerable wit to engage the reader, leaving the colorful photos and plant bios to the several other books that he recommends.
I found the author's insights into the process of buying and selling plants particularly engaging, demonstrating his perspectives as both an avid collector of specialty plants, and as a long-time nursery worker. "To get good service, you need to be a good customer," he strongly recommends. For example, spouting your own expertise is a quick way to shut down any helpful advice you might have received from the true expert.
After reading this book, I have a much better appreciation for the dedicated men and women who own and run nurseries and must be skilled at managing both plants and people. All so that we can have the cool plants we really, really want.
Reviewed by Curator of Horticultural Literature, Brian Thompson. Excerpted from the Fall 2013 Arboretum Bulletin.
Season: All Season
Date: 2013-10-21
Link to this record (permalink)
---
Keywords: Reviews
Garden Tool:
Jim Pojar and Andy MacKinnon became household names, at least among those households interested in native plants, with the publication in 1994 of "Plants of the Pacific Northwest Coast". It has been the most popular field guide in the Miller Library ever since its introduction because of its clarity, organization, plant keys, and many features that give it added value.
Now, the two British Columbia authors/editors have matched their earlier work with a new title, "Alpine Plants of the Northwest". While the previous work was a comprehensive study of all plants west of the Cascades, this book extends to the alpine and subalpine areas from the coast east to the Rockies, including north to the Yukon and Alaska. This is a large region, but as the number of plants that thrive above the timberline is limited it is a quite manageable guide, especially for those who hike in these areas. Like the earlier book, the Lone Pine publication has a soft but weather resistant cover, making it worth having at least one copy in your hiking party.
This model for field guides anywhere is a good blend of information for a broad range of competencies. Detailed keys required by the knowledgeable are nicely matched with photographs, drawings, and descriptions that will aid anyone in identification. Vexing, hard-to-distinguish species have additional aids, such as a conspectus with descriptive comparisons of both leaves and flowers of the many Potentilla, or leaf silhouettes of the members of the Carrot Family (Apiaceae).
But even if you are not a high country traveler, there is much to recommend in this book. The extensive introduction is much more than a how-to-use-this-guide as it provides an excellent background to the geology and climate (both historical and as changing) of the area of study, and the adaptations of the plant life. Throughout the body of plant descriptions are short sidebar essays to supplement the introduction.
Some of these are just for fun, such as the authors' top ten favorite alpines, chosen by "flower size relative to the entire plant; appearance and colour; impact factor; plant chutzpah or elan." What is number one? The Mountain Sapphire (Eritrichium nanum). Elsewhere, all five contributing authors describe their favorite alpine areas of the region.
This sense of fun is present throughout all the writing, but typically with a thoughtful point to make. "In past books, we've argued that scientific names are worth learning because they are generally more stable over time[...]it's becoming more and more difficult to make that argument with a straight face." This leads to a discussion of the changes brought often by genetic analysis in the plant genera and families. They conclude, "You can also learn scientific names to impress people", with the tabloid quality tidbit that singer/model Carla Bruni married former French president Nicolas Sarkozy partly because "he knows all the Latin names" of plants!
Reviewed by Curator of Horticultural Literature, Brian Thompson. Excerpted from the Fall 2013 Arboretum Bulletin.
Season: All Season
Date: 2013-10-21
Link to this record (permalink)
---
Keywords: Reviews
Garden Tool:
Audrey Lieberworth enjoyed an active, outdoor childhood in Seattle, but not until she left for Scripps College did she realize "...just how much the connections I made with these [Seattle] landscapes as a child had shaped the person I had become." The result of this revelation is her senior thesis, "Seattle's Orchards: A Historic Legacy Meets Modern Sustainability."
The heart of this work is a survey of eleven orchards--some historical, others recently planted--including their history, their setting in the neighborhood, and types of trees. Also reviewed are the communities supporting each orchard, broad-based programs that support the preservation of trees throughout the city, and the role of the Seattle Department of Parks and Recreation. This engaging report is available in print at the Miller Library, but also online from Scripps.
Reviewed by Curator of Horticultural Literature, Brian Thompson. Excerpted from the Fall 2013 Arboretum Bulletin.
Season: All Season
Date: 2013-10-21
Link to this record (permalink)
---
Keywords: Reviews
Garden Tool: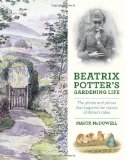 Beatrix Potter's Gardening Life by Marta McDowell
Part biography, part garden photo essay, and part ventriloquist's act, Marta McDowell's Beatrix Potter's Gardening Life (Timber Press, 2013) provides a window into Potter's world. If you have read her children's books, you will have a lasting impression of the charming adventures of rabbits, hedgehogs, kittens, and ducks but you may not think of Beatrix Potter as a botanical illustrator. I was surprised to discover that the highly accomplished sketch of foxglove and periwinkle on page 27 was made when she was only ten. The best feature of this book is the gathering together of selected drawings and watercolors of plants, fungi, and landscapes. Potter's natural history illustrations (particularly of mushrooms) are featured in Ambleside's Armitt museum.
Potter was also a certifiable plant addict, and was not averse to gathering cuttings and seeds in gardens not her own. Royalties from her publications enabled her to acquire property and land, so she ended up with several gardens in England's Lake District. The weakest part of the book is McDowell's attempt to channel Beatrix (as she takes the liberty of calling her) by paraphrasing from her journals and letters to feature aspects of the gardens through the seasons. The accompanying photos are glorious (I am captivated by Hill Top garden's green-painted wrought-iron gate rimed with frost), but it would have been better simply to quote Potter directly.
Reviewed by Plant Answer Line librarian Rebecca Alexander
Season: All Season
Date: 2013-11-16
Link to this record (permalink)
---
Keywords: Reviews, Citrus limon, Edible plants, Palms
Garden Tool: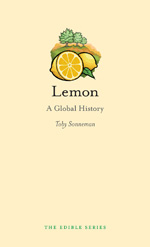 Lemon: A Global History by Toby Sonneman (Reaktion Books, 2012
I've always wondered about the warty etrog (citron, or Citrus medica) used as part of the Jewish observance of Sukkot (etrog represents one of The Four Species mentioned in the Biblical description of this festival; the others are palm, myrtle, and willow): what purpose did the fruit serve beyond the ritual, and how was this odd-looking fruit related to lemon? The answers to these and many other citrus-related questions may be found in Toby Sonneman's Lemon: A Global History, a volume in the Edible series from Reaktion Books (2012). It was a surprise to discover the important role of the citron (probably a wild species from northeast India) in the development of a 'citrus culture' that eventually gave rise to the lemon we use for its flavor. Citron, thick-skinned and inedible, was valued for its fragrance (mentioned in a Hindu text from before 800 B.C.E.). Its centuries-old use in Jewish ritual would eventually lead to cultivation in different parts of the world after the fall of Jerusalem in the year 70 C.E., when so many Jews dispersed across North Africa, into the Aegean, Spain, and Italy.

The lemon was probably an ancient natural hybrid, and its route to the Mediterranean is difficult to trace because of the confusion in written and visual depictions: lemons and citrons are hard to distinguish, and common names can be unreliable. Lemons hold an important place in Arab culture, and were also prized in Persia. Because of the lemon's need for water, farmers developed ingenious irrigation canals with stone tiles to regulate and direct water flow, these methods were widely adopted.

The first recipes using lemon appeared in a 12th century Egyptian treatise called On Lemon: Its Drinking and Use by Ibn Jumay, a Jewish physician in the court of Saladin. He devised a way of preserving lemons with salt, and mentions the fruit's medicinal uses for a wide range of conditions. Ibn Jumay's writing was translated, and lemon's culinary and medicinal fame spread.

Other points of interest:

Lemons were scarce and costly, and therefore a status symbol, in Northern Europe. You will find them in many 17th century Dutch still life paintings.
Cosimo III de'Medici grew 116 varieties of citrus in his gardens. The name Medici is possibly related to the name for citron, Median apple (Media being the Greek name for ancient Persia).
It took a long time for sea voyagers to figure it out, but lemons were an essential preventive against scurvy. (If you think about the term 'ascorbic' acid—something which is found in lemons and other citrus--you can see that it is anti-scurvy!) British English does not use 'lemon' in the pejorative sense of American English, perhaps a bow to the fruit's life-saving properties.
Harvesting lemons is a thorny business but the Meyer lemon has fewer thorns.
This pocket history reaches from antiquity to the present time, and is packed with colorful details and illustrations. You may also want to try making Ibn Jumay's preserved lemons, included along with several other more recent recipes.
Dates: A Global History by Nawal Nasrallah is another title in the Edible series from Reaktion Books. An unusual aspect of the fruit (technically a berry) of the date palm tree is that it may be harvested at three different stages of ripeness—the ultrasweet dates one usually finds for sale in groceries are at the final stage, when they have sun-dried on the tree and the skin has begun to wrinkle and darken. Dates have been used as a food staple for centuries. Once called 'bread of the desert' and 'cake for the poor,' dates are still considered of vital importance in combatting world hunger.
The date palm's botanical name (Phoenix dactylifera) derives from the tree's origins in Phoenicia (now Lebanon, Syria, and Israel), while the species name might refer back to the Semitic roots of the word for palm (dekel in Hebrew, diqla in Aramaic, etc.) or could refer to the finger-like (dactylos) shapes of clusters of fruit, or more: it's shrouded in mystery and confusion, as with so many names. You will also learn of a connection to the firebird or phoenix of myth and legend, which built a nest of cassia twigs and frankincense in the top of a date palm.

Other aspects of the date palm:

Once a full crown of leaves has developed, the trunk does not widen with age—there are no annual growth rings if one cuts a cross-section. Leaves which die off protect the trunk with their bases that remain attached. The tree's roots are fibrous, and secondary roots grow out of the bottom of the trunk. Both a male and female tree are needed to produce fruit. Trees must be hand-pollinated in spring (this has been common knowledge since the days of Mesopotamian agriculture!).
Even in the days of Pliny the Elder, there were numerous varieties of dates. The ones American consumers will probably recognize are medjool and deglet noor, but there are nightingale's eggs (beidh il-bilbil), khalasa (quintessence), and even an Obama date named for our president.
Although we mainly think of date palms for their edible uses, the hollowed trunks were made into aqueduct pipes for irrigation, and were used in building (the first mosque in Medina, built in about 630 C.E., was reportedly made of palm trunks, thatched with palm leaves, with prayer mats of woven leaves).
Indio in Southern California is the date capital of the U.S., and holds an annual date festival.
The book ends with several tempting recipes (sweet ones such as a 13th-century recipe for date syrup, and a personal favorite—a filled cookie called ma'moul, as well as savory uses).
Like the other books in this series, this title includes footnotes, bibliography, and index.
Review by Plant Answer Line librarian Rebecca Alexander
Season: All Season
Date: 2013-11-27
Link to this record (permalink)
---
Keywords: Reviews
Garden Tool:
The moment I opened this massive, two-volume set, I was immediately engaged. Page after page of high quality photographs show the seemingly endless variety of cultivated forms of conifers--it's mesmerizing.
"Encyclopedia of Conifers" illustrates nearly 5,000 different cultivars, along with the species they are derived from--often with multiple photos from different times of year, or at different ages, or in various horticultural presentations. The variety of cones alone could fill its own book. While these trees are popularly known as evergreens, the rich variety of blues, silvers, golds, and browns along with the rich reds and purples of cones belies that name.
While the photographs are stunning, this is not just a picture book. The authors have notable credentials: Aris Auders maintains one of Europe's largest collections of conifers cultivars in Latvia, while Derek Spicer is the chairman of the British Conifer Society. Their goal was to create a reference work that is both comprehensive in its listing of cultivars and well-illustrated, a combination lacking in earlier publications on this subject.
The result will be the standard for years to come. While the photographs would stand on their own, the text provides description of each species in the wild, including range, elevation, size, notable characteristics, a description of the cones and hardiness zone (using USDA standards). For each cultivar that follows there is a description, origin if known, synonyms, misspellings, and citations to the name in older books, nursery catalogs, websites, and arboretum holdings. This piece too, could stand on its own.
Reviewed by Curator of Horticultural Literature, Brian Thompson. Excerpted from the Winter 2014 Arboretum Bulletin.
Season: All Season
Date: 2014-03-12
Link to this record (permalink)
---
Keywords: Reviews
Garden Tool:
It is a nice balance that a publication of equal stature to the RHS encyclopedia on cultivated conifers has been recently published on conifers in the wild. "Conifers around the World" authors Zsolt Debreczy and István Rácz have been working together since 1975. The predecessor to this current title was published in 2000 in their native Hungarian; Kathy Musial of the Huntington Botanical Gardens provides valuable editing skills to this much expanded English edition.
The result is massive (again, in two volumes), but very manageable. The authors' intention is to "…present photographs of conifers in their natural habitats in a consistent format." These larger images are breathtaking, and are supplemented with close-up photos of cones, leaves, and any distinguishing features. The accompanying text is concise but unlike some botanical descriptions is very readable and reflects the authors' sensitivity to conservation, local culture and ethnobotany.
The focus is on temperate species, and the layout is by broad geographical areas with a detailed description of the geological, vegetative, climatic and human history of each. Maps are used liberally to show topography, sites of major conifer forests, floristic provinces, and the ranges of species. The extensive introduction is a joy to read despite covering some pretty dense subjects, including taxonomy, conifer identification, morphology (lots of drawings help the reader with these), and the history of the earth's climate and other factors that have impacted the distribution of conifers we find today.
The appendix is also fun, with various essays that didn't quite fit elsewhere, and a "bark gallery" giving eye level close-ups. The Pacific Northwest is clearly dear to these Europeans, as the two photos that accompany the Preface are from Washington State, including the authors' portrait standing in front of a giant Sitka spruce (Picea sitchensis) in Olympic National Park. On the inside of the back cover of Volume 2 is the "Sell the Land?" speech attributed to Chief Sealth; a suitable closure to this very rigorous but also very passionate and personal publication.
Reviewed by Curator of Horticultural Literature, Brian Thompson. Excerpted from the Winter 2014 Arboretum Bulletin.
Season: All Season
Date: 2014-03-12
Link to this record (permalink)
---
Keywords:
Garden Tool:
"A Handbook of the World's Conifers," by Aljos Farjon, was published in 2010 and is described by the author as "…not a monograph purely for taxonomists. Its content aims at a much wider audience." This is accomplished in part by discussing the ecology, conservation, and uses of all species along with the etymology of the botanical name and vernacular names in local languages. Calling this a handbook diminishes its stature; this is a set of two hefty volumes with entries more typical of an encyclopaedia.
It includes all tropical species (about 200, which accounts for nearly one-third of all known conifers in the world) and an emphasis on description including--despite the author's stated intentions--extensive taxonomic notes. The images and illustrations that are included are of good quality, but are comparatively few and collected on photo pages separated from the related text.
The introduction to "Handbook" is relatively brief, but that's because Farjon regards his 2008 publication, "A Natural History of Conifers," as the real introduction. This is a book to be read cover-to-cover, and is a selection of essays on subjects "…sometimes communicated at the coffee table in the staff room of your institute, but that would not have been allowed through by the editor of a scientific journal." This suggests light reading, and the author does show a flair for storytelling, but he also chooses pretty meaty subjects. If you are confused by cladistics, phylogenetic relationships, and other concepts of modern taxonomy and systematics, these terms are explained in language that a lay reader can--with a bit of work--understand.
Reviewed by Curator of Horticultural Literature, Brian Thompson. Excerpted from the Winter 2014 Arboretum Bulletin.
Season: All Season
Date: 2014-03-12
Link to this record (permalink)
---
Keywords: Reviews
Garden Tool:
James Eckenwalder graduated from Reed College in Portland, making him a one-time Pacific Northwest resident, although he is now on the faculty at the University of Toronto. "Conifers of the World: The Complete Reference" is an ambitious effort that was years in the making. It is an excellent reference book in a single volume.
Tropical species are given equal treatment to temperate and the A-Z presentation emphasizes descriptive text--there are only a few photos and those are mostly in black and white. The introduction includes a very readable discussion of taxonomy; the author is clearly captivated by the subject but is able to make his points in terms for a general audience. "My overriding motivation behind all of these considerations, however, is to share my fascination and enthusiasm for these wonderful plants."
Reviewed by Curator of Horticultural Literature, Brian Thompson. Excerpted from the Winter 2014 Arboretum Bulletin.
Season: All Season
Date: 2014-03-12
Link to this record (permalink)
---
Keywords: Reviews
Garden Tool:
Richard Bitner has written three books about conifers in the garden; I think the best is the most recent, "Designing with Conifers." Organized by notable features such as shape, color, or bark, the author uses his own photographs to illustrate a wide range of planting options. He clearly detests foundation plantings: "Why this mandatory dress code? It is time to break free of this tradition and change our practices."
Specialty situations such as hedges and topiary are included, along with some unexpected chapters on recommended Christmas trees, dwarf cultivars for garden railways, and--the most curious--traditional plantings for German graveyards. Although the author is from the East Coast, I thought his best work was a case study of a garden near Eugene, with a photographic dissection of the different purposes for the plants used in the landscape--quite instructive.
Reviewed by Curator of Horticultural Literature, Brian Thompson. Excerpted from the Winter 2014 Arboretum Bulletin.
Season: All Season
Date: 2014-03-12
Link to this record (permalink)
---
Keywords: Reviews
Garden Tool:
Melany Vorass Herrera is an enthusiastic and experienced forager who lives in Seattle. In "The Front Yard Forager" she identifies 30 common weeds found in North American cities that she recommends we add to our regular diet. I found her presentations, including recipes, beguiling--especially as my own garden is filled with several of her selections that until now I've tossed into yard waste.
Before heading to the garden or the vacant lot, however, the author has several cautionary topics to consider to keep you--the foraging consumer--safe and to ensure your collecting doesn't disrupt the ecology or social harmony of the neighborhood. Further caveats fill each plant entry, including "Poisonous Look-Alikes" and "Who Should Avoid It" warnings.
While most of the selections, such as dandelions (Taraxacum officinale), have general consensus in the literature as safe to eat, some of Vorass Herrera's other choices are less certain. This makes as a good companion book the new edition of "The North American Guide to Common Poisonous Plants and Mushrooms" by two University of Victoria authors, Nancy J. Turner and Patrick von Aderkas.
The wild sweet pea (Lathyrus latifolius) illustrates the value of consulting at least these two sources before consuming any wild plant. Vorass Herrera recommends it when identification is certain and when eaten only in moderation. Turner and von Aderkas state that "all species of Lathyrus should be regarded with caution. However, a strong case is made for the edible qualities of…wild sweet pea (L. latifolius) by wild food expert John Kallas." A discussion of the arguments by Kallas follows, leaving you--the now well-informed forager--with three distinct opinions on the safety of putting this plant on your dinner table.
The importance of this is best summed up by Vorass Herrera: "The bottom line? A good forager needs to be willing to spend a little time digging for accurate information."
Reviewed by Curator of Horticultural Literature, Brian Thompson. Excerpted from the Winter 2014 Arboretum Bulletin.
Season: All Season
Date: 2014-03-12
Link to this record (permalink)
---
Keywords: Reviews
Garden Tool:
In "The Mushroom Hunters" , Seattle author Langdon Cook asks what professional foragers get for their efforts: "An itinerant life on the road, continually moving with the seasons? A low hourly wage and no chance for health insurance? A garden variety of potential wilderness pitfalls, including injury, exposure, even wild animals?"
The answer is: all of the above, but that doesn't stop this from being a very big business. The collectors, those who buy from collectors, the distributors, and even the celebrity chefs who are at the top of this commercial food chain weave in and out of these pages much like in a high-energy, first-person novel. The settings, from the Yukon to California are evocative, too, but mostly somewhat vague--the secret locations of valuable hunting grounds are not to be shared.
This is Cook's second book on foraging. The Miller Library also has "Fat of the Land" from 2009. In addition to mushrooms, this book highlights the collection practices for fiddlehead ferns, dandelions, huckleberries, and a selection of animals including clams, crabs, and various fish. Several recipes will set your mouth watering.
Reviewed by Curator of Horticultural Literature, Brian Thompson. Excerpted from the Winter 2014 Arboretum Bulletin.
Season: All Season
Date: 2014-03-12
Link to this record (permalink)
---
Keywords: Reviews
Garden Tool:
"Backyard Roots" is a collection of vignettes about urban dwellers motivated to have a closer connection to their food and their communities. There are many ways to do this, and the strength of this book is its breadth of inspiring ideas that have already been realized. Making it even better, the individuals and families profiled all live on the West Coast, from British Columbia to northern California.
Author/photographer Lori Eanes has a career in food photography and her original intent was a photo essay but, she says in her introduction, "…as I learned people's stories their dedication inspired me to write about them too." While the writing is good, her camera is particularly effective at bringing out her subjects' personalities--both human and animal.
While some of the topics, such as raising ducks or goats, are addressed in detail in other books, there are several more adventuresome projects. These include raising tilapia in an aquaponic garden and grafting food fruits onto ornamental street trees, guerrilla style. I gave a copy as a Christmas gift and I recommend it highly, especially to anyone with the spirit and resourcefulness of a homesteader.
Reviewed by Curator of Horticultural Literature, Brian Thompson. Excerpted from the Winter 2014 Arboretum Bulletin.
Season: All Season
Date: 2014-03-12
Link to this record (permalink)
---
Keywords: Reviews
Garden Tool:
Vanessa Gardner Nagel is a Portland-based landscape designer who has written two books recently added to the Miller Library. The first, "Understanding Garden Design," (published in 2010) is so well organized and structured it could easily be used as a textbook, but that may unfortunately imply dullness to what is a very readable and engaging book.
To get the best out of this book, however, the author does expect work on the part of the reader, leading you through the steps that a professional designer would follow. Much of this work is required before you reach the fun part of choosing plants. These aren't discussed until Chapter 8, and then only as elements of structure, using the analogy of punctuation to describe the different selections (some plants are commas, others are parentheses, etc.).
Building with each chapter is a hypothetical garden design using the principles discussed that effectively ties all the concepts together. Even if you decide to hire a designer, this book will help you speak and understand the language and be better at expressing your desires. You will also find very useful a whole chapter on working with contractors.
Nagel's newer book, "The Professional Designer's Guide to Garden Furnishings," identifies its primary audience in the title, but there's much here for the discriminating homeowner, too. Especially valuable are the detailed, chapter-length analyses of the many materials that can be used in furnishings, including wood, metal, textiles, and even wicker, glass, or stone. Each chapter includes the industry standards for high quality, finishing options, best maintenance practices, and the sustainability of each material.
The author is at her best in both books when--after carefully presenting a concept--she explains how she will bend the rules. In a section from "Furnishings" on Scale and Proportion, she states, "The old concept of small things in a small space simply isn't true. A couple of large objects in a small space can work splendidly…" and she goes on to explain why this works.
Reviewed by Curator of Horticultural Literature, Brian Thompson. Excerpted from the Winter 2014 Arboretum Bulletin.
Season: All Season
Date: 2014-03-12
Link to this record (permalink)
---
Keywords: Reviews
Garden Tool:
As a boy, I did not embrace the hobby of making models. Yes, I had a train set, but no desire to create a world of villages, forests, and the like to surround the tracks. Instead, I wanted to be outside in the garden and working with full-sized plants.
This makes me feel a bit inadequate to review "Gardening in Miniature" by Seattleite Janit Calvo. However it turns out that at its heart, this is a gardening book, with sound design advice and cultural tips, just all at 1:12 (one inch = one foot) scale, or even smaller.
"Using the basic garden tenets of anchor point, balance, layers, texture, color, and focal point, you can plan your miniature garden with confidence," the author states encouragingly. Step-by-step, fully planned projects provide lots of guidance for the beginner. I worried that plants would not stay to scale, and indeed they might not, but it's easy to swap plants in and out.
I learned from this that while there is some overlap in principles and techniques between miniature gardening and bonsai, they are largely distinct pursuits. However, they can be combined by making a bonsai the centerpiece of your miniature garden. Will I take up miniature gardening? Probably not. But my eyes have been opened to a whole new--and quite small--world.
Reviewed by Curator of Horticultural Literature, Brian Thompson. Excerpted from the Winter 2014 Arboretum Bulletin.
Season: All Season
Date: 2014-03-12
Link to this record (permalink)
---
Keywords: Reviews
Garden Tool:
Constance Sidles has written her third book of essays and observations on the Union Bay Natural Area titled "Fill of Joy: More Tales from Montlake Fill". Like her previous books, this includes many excellent photographs and other artistic interpretations of the site (in paintings, poetry, and even dance) and an updated bird list, now counting 255 species recorded since the 1890s.
The heart of the book remains Connie's self-deprecating humor and philosophies about life. While the bird life is her focus, she spots humans and other visitors, too. "When the joggers wheeze by…they smile and say hello. I don't know their names, but I know them. The dog walkers who keep their dogs leashed stop to chat while I ruffle their friends' ears; the dog walkers who let their dogs run free usually head the other way…my gimlet eyes are giving them the Look."
Reviewed by Curator of Horticultural Literature, Brian Thompson. Excerpted from the Winter 2014 Arboretum Bulletin.
Season: All Season
Date: 2014-03-12
Link to this record (permalink)
---
Keywords: Reviews
Garden Tool: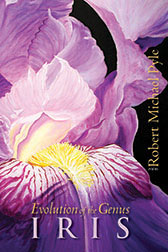 Evolution of the Genus Iris by Robert Michael Pyle (Lost Horse Press, 2014)
The title of Robert Michael Pyle's most recent book might fool readers into supposing it a scholarly treatise aimed at the ultra-specialist in the Family Iridaceae. Look inside the cover of Evolution of the Genus Iris and all will become clear: these are poems of everyday life from the particular perspective of a Pacific Northwest naturalist.
The Miller Library has several other books by Pyle (including Wintergreen about the ecology of the Willapa Hills, and The Butterflies of Cascadia : A Field Guide to All the Species of Washington, Oregon, and Surrounding Territories). These plain-spoken poems feature garden perennials, reflections on the Palouse Giant Earthworm, longhorn beetles, butterflies, banana slugs, and—how could I resist mentioning—a paean to librarians.
One of my favorites in this first collection of poems is "Botany Lesson: Cleome." It begins, "He called it bee balm, but I heard bee bomb." The poet and his friend are on a butterfly-collecting trip, encountering specimens of wild Cleome. Pyle points out that Theophrastus's coinage of Cleome was based on a mistaken notion that the plant was related to mustard, when it is actually "a caper called spider plant, or bee / plant, for the love of honeybees—but never bee balm." It's a poem of friendship and reminiscence as well as an observation about the complexities and accidental poetry of naming things.
Reviewed by Plant Answer Line Librarian Rebecca Alexander
Season: All Season
Date: 2014-07-23
Link to this record (permalink)
---
Keywords: Plant diseases--Control, Tools and equipment, Pruning
Garden Tool:
Wondering when is it necessary to clean or sterilize your pruning tools, and how to do it? Washington State University Extension horticulturist Linda Chalker-Scott offers excellent "how-to" advice. Make sure there is no excess dirt or debris on your pruners before you clean them. There are quite a few impractical or inadvisable methods (formalin? chlorine bleach? no!); her preference is to use ordinary household cleaners.
Another factsheet discusses when to sterilize your tools. Chalker-Scott says that first you must know which pathogen is causing the disease. Then,

"if it's a virus or viroid, disinfect your tools.
if it's a vascular fungus or bacteria, and/or forms oozing cankers, disinfect your tools. Avoid cutting active, oozing cankers; wait until they dry.
if you are pruning irreplaceable plants, disinfect your tools.
choose a disinfectant treatment that has been shown to be effective through published research; I would probably not use alcohol but one of the common household cleaners at full strength."
Season: All Season
Date: 2014-10-17
Link to this record (permalink)
---
Keywords: Reviews
Garden Tool: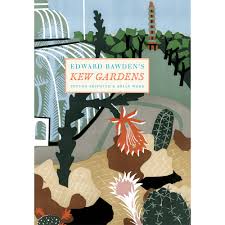 Edward Bawden's Kew by Peyton Skipwith and Brian Webb (V & A Publishing, 2014)
This book defies easy categorization. Bawden was a renowned British illustrator, graphic artist, and painter who served as an official War Artist during World War II. He and his contemporary Eric Ravilious studied with surrealist landscape painter and engraver Paul Nash, and his influence can be felt in Bawden's lively calligraphic line, and his modernist approach to landscapes and cityscapes. Until exploring this book, I was most familiar with his posters for London Transport, depicting sights and scenes around London.
The first section of the book reproduces Bawden's very early manuscript (created when he was just twenty), A General Guide to the Royal Botanic Gardens Kew, Spring and Easter 1923. The second section is a brief but eccentric sociocultural history of Kew, incorporating Kew-inspired illustrations, verse, and humor. The third section is a selection of Bawden's wry illustrations for Robert Herring's Adam and Evelyn at Kew. The last section summarizes his lifelong artistic fascination with Kew. Those who are interested in 20th century art and the history of Kew will find it a fascinating book to read and savor.
Season: All Season
Date: 2015-06-06
Link to this record (permalink)
---
[1] « 32 | 33 | 34 | 35 | 36 | 37 | 38 | 39 | 40
Didn't find an answer to your question? Ask us directly!
We are continually adding new questions, so be sure to keep coming back.
December 12 2014 11:33:49