Gardening Answers Knowledgebase
Garden Tip
Keywords: Vegetable gardening, Fruit--Care and maintenance, Chickens
Kitchen Garden
from Great Britain is the only magazine devoted to growing fruits and vegetables. The glossy monthly magazine includes growing tips from readers, articles on growing techniques and new cultivars, plus a monthly feature on small-scale chicken rearing. Subscribe for a mere $73.00 dollars a year
at their website,
or read it for free at the Miller Library.
Date: 2003-03-05
Link to this record (permalink)
Reviewed by: Brian Thompson on 2013-01-01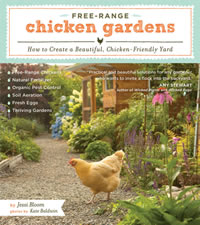 Jessi Bloom is a strong advocate for chickens in almost any garden setting, and in "Free-Range Chicken Gardens," she provides detailed information on compatible plantings--including those that provide food for chickens--and structures that meet the multiple needs of fowl and flora. There is a lot of well-organized information in these pages on all other related topics, too, making this of value to chicken keepers at any experience level. But you can also just enjoy the profiles of gardeners and their chickens (many are local) or the many superb photographs (by Kate Baldwin) of contented hens in their gardens, proving their value as a natural compliment.
Excerpted from the Winter 2013 Arboretum Bulletin.
---
Didn't find an answer to your question? Ask us directly!
May 31 2018 13:14:08