Gardening Answers Knowledgebase
Recommended Websites
Plant Answer Line Question
Keywords: Garden design, Children's gardens and programs
I am interested in information about gardening with children and gardens designed for children. Can you recommend some relevant web sites and articles?
Answer:
Below are some useful web sites about children's gardens. They include actual children's garden web sites which may have garden maps or plans as well as information about how the garden was designed, and horticulture sites with information about gardening with children.
Magnuson Park Children's Garden
The Helen & Peter Bing Children's Garden
Children's Garden at the Morton Arboretum
The Midway Plaisance Children's Garden
Each year, the National Children & Youth Garden Symposium, takes place at varying locations.
You may wish to visit the Miller Library and search the Garden Literature Index, which has an article about past years' symposia (see abstract here: 2006 Youth Garden Symposium. Robbins, Heather American Gardener; Sep/Oct2006, Vol. 85 Issue 5, p12-15 The article presents the highlights of the 2006 annual American Horticultural Society's National Children & Youth Garden Symposium held in Saint Louis, Missouri. It cites the implications of the high number of participants in the event. The issues discussed at the educational sessions in the symposium include building children's gardens and community gardening. Attendees were given the opportunity to explore the Missouri Botanical Garden, the event's host garden.)
Below is just a sampling of other articles from the "children's gardens" search results:
1. Gardening on the curriculum? Why not? By: West, Cleve. Garden, Jan2007, Vol. 132 Issue 1, p13-13, 1/2p; (AN 23649207)
2. Lewis Ginter Botanical Garden. By: Day, Susan. Birds & Blooms, Oct/Nov2006, Vol. 12 Issue 5, p54-55, 2p, 1 map, 4c; (AN 22575160)
3. SCAPE'S GARDEN OF DISCOVERY. HD: Hospital Development, Mar2006, Vol. 37 Issue 3, p6-6, 1/4p; (AN 20303088)
4. The Best Backyard In The World. By: McGuire, Leslie. Landscape Architect & Specifier News, Mar2006, Vol. 22 Issue 3, p58-65, 8p, 1 map, 8c; (AN 20532564)
5. THE ACTIVITY MATRIX. Landscape Architect & Specifier News, Mar2006, Vol. 22 Issue 3, p60-63, 4p, 8c; (AN 20532565)
6. Children's Garden Consultants: A New Model of Engaging Youth to Inform Garden Design and Programming. By: Lekies, Kristi S.; Eames-Sheavly, Marcia; Wong, Kimberly J.; Ceccarini, Anne. HortTechnology, Jan-Mar2006, Vol. 16 Issue 1, p139-142, 4p, 2 charts; (AN 20620955)
7. Duke Garden. By: Stewart, Joann. Daylily Journal, Winter2005, Vol. 60 Issue 4, p414-415, 2p, 4c; (AN 19479979)
8. Cultivating gardeners. By: Benson, Sally D.. American Nurseryman, 9/1/2005, Vol. 202 Issue 5, p4-4, 2/3p; (AN 18031480)
9. Fall for Fun: New Children's Garden. By: Sherman, Marilyn. Chicagoland Gardening, Sep/Oct2005, Vol. 11 Issue 5, p78-79, 2p; (AN 18096223)
10. Kid's paradise. By: Patrick, John. Gardening Australia, Apr2005, p22-26, 5p, 9c; (AN 16593169)
There are also articles available in landscape architecture and urban planning publications which we do not have in our library, but which you might find at the University of Washington Libraries. I searched the Avery Index to Periodicals and came up with quite a few potentially useful results. Here are some examples:
Child's play: the Ian Potter Foundation Children's Garden is a new component of the very successful observatory precinct at the Royal Botanic Gardens Melbourne [Australia] / Bruce Echberg. :photos., site plans. Landscape architecture Australia 2006 Nov., n.112, p. 49-52, ISSN 1833-4814.
Footprints of school gardens in Sweden / Petter kerblom. photos., drawings, plans, site plans. Garden history 2004 Winter, v.32, n.2, p.[229]-247, ISSN 0307-1243.
We also have many books available here at the Miller Library on gardens for children. Our annotated booklist (129 pages)may be of interest.
Date 2017-05-26
Link to this record only (permalink)
Plant Answer Line Question
Keywords: Poisonous plants, Children's gardens and programs
We are a fairly young landscape design company, and we are trying to come up with a protocol for dealing with projects that include families with children who want to plant non-toxic plants. In doing some research on the topic, we have discovered that the definition of "toxic" can vary. Some toxic plant lists include plants that others do not, and different kids are allergic to different plants, etc., so we are trying to come up with the best way to handle these types of projects and the best information to give those clients. It seems that these lists can be fairly extensive, leaving us to wonder what is left to plant that is COMPLETELY safe?!
Answer:
This has been an issue of concern for me as well, as I supervise volunteers in planting and maintaining a school garden. Concerns often arise about toxic plants, some founded and some not. For instance, playground supervisors "erred on the side of caution" (and hysteria) by warning students that our evergreen huckleberries and saskatoons, carefully chosen for their edibility, were "poison berries," while some parents expressed concern about foxgloves that reseeded from neighboring gardens, knowing that they are toxic. A common sense approach seems to work best. It is easy enough to exclude the plants which seem most likely to cause problems, such as nightshade, yew (the lantern-like berries are attractive and toxic), vetch, sweet pea (the seed pods resemble peas but the seeds are not edible), castor bean, and digitalis from your garden plans, while encouraging parents to supervise their children and provide some edible plants (mint, chives, raspberries, etc.) that children can easily identify and enjoy eating. Toxic plants such as daffodils and rhododendrons seem to me less likely to cause problems because children are not likely to eat them.
We have a good book on this topic, Plants for Play by Robin C. Moore. He points out that the age of the children is an important consideration in choosing which plants to omit. Where babies and toddlers will play, it's important to "avoid placing highly toxic plants, particularly plants with poisonous fruits and plants that can cause dermatitis, within reach of these age groups." He also says, under the heading of Educational Benefits, "children will come across poisonous plants at some point during their childhood. If they are unaware of what those plants look like and the dangers they represent, there is a greater possibility that they may expose themselves to those dangers." Education of the individual child and early supervision are really key.
Our State Poison Control agency has the following fact sheet on this issue. They also keep statistics about which toxic substances cause the most problems locally (plants are not high on most lists). I understand that actual deaths from toxic plants are extremely rare ("It is very rare for plants to cause life-threatening symptoms," as the fact sheet says), but the worry is something one wants to eliminate.
Date 2016-12-22
Link to this record only (permalink)
Reviewed by: Laura Blumhagen on 2015-06-01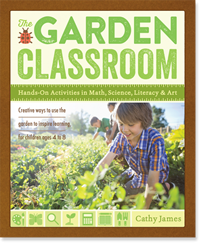 "Anything you can teach in an indoor classroom can be taught outdoors, often in ways that are more enjoyable for children." This bold assertion opens Cathy James' new book, and she proves her point with simple steps anyone who teaches children can take to enhance the curriculum outdoors. The projects are flexible, affordable and practical for small or large groups, aged 4 to 8. An invaluable resource for early education!
Published in the June 2015 Leaflet Volume 2, Issue 6.
Link to this review (permalink)
Reviewed by: Laura Blumhagen on 2016-05-04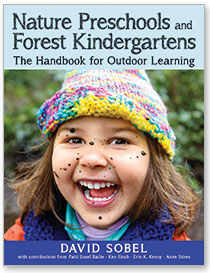 Reading David Sobel's latest book feels like attending a national conference on outdoor early childhood education. Each chapter draws on the expertise and experience of key decision-makers working with young children in nature programs all over the country. The format also gives a sense of history and progress over time, with Sobel's journal entries from his work in outdoor education in the 1970s and his personal parenting journals from the 1990s presented alongside his contemporary research and observations from visits to today's outdoor preschools.
Sobel first distinguishes forest kindergartens from nature preschools, explaining how they differ in genesis, mission, philosophy, curriculum, and focus, and how both types of programs in North America differ from the European Waldkindergarten schools which arose in the late 1960s in Germany and have influenced similar programs in Scotland and other European countries.
A central theme is the developmental case for a style of outdoor education where instructors act as mentors and guides as children experiment, choose activities and learn to work together, not only solving their own problems but deciding for themselves what questions they will ask and what games and projects to invent on the spot. These experiences, he argues, lead young children to develop initiative, perseverance and creativity as well as a richer vocabulary, a love of nature, and social skills that will serve them (and their communities) well in later life. Sobel's reasoning is persuasive and the examples he gives are diverse and fascinating.
The chapter entitled "The Dollars and Sense of Business Planning and Budgeting," contributed by Ken Finch, covers factors to consider when starting or expanding such a school. This detailed information seems particularly useful in a field that is growing quickly and likely attracts idealistic people who aren't predisposed to draw up balance sheets and strategic plans. Whether a school is a non-profit organization or a for-profit business, it will be essential for founders to understand how to budget, how to attract staff, donors, families, and investors, and what rules and regulations affect such schools.
Sobel and his coauthors use stories, photos, and dialogue gathered from fledgling and more established nature preschools and forest kindergartens around the United States to highlight best practices in curriculum, focus, staffing, administration and funding. The book closes with a chapter by Erin K. Kenny, the cofounder and director of Cedarsong Forest Kindergarten on Vashon Island. Kenny details the events of a fall day there to illustrate some of the ways the school supports scientific inquiry, language learning, and emotional development for the children who attend. This book will intrigue anyone with an interest in outdoor education for young children.
Link to this review (permalink)
Reviewed by: Laura Blumhagen on 2016-12-01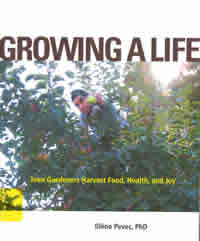 For anyone who would like to understand more about the empowering effect of programs like Seattle Youth Garden Works and the UW Farm, I highly recommend Illène Pevec's Growing a Life: Teen Gardeners Harvest Food, Health, and Joy. The author transcribes her face-to-face interviews with 90 youth gardeners participating in twelve different programs across the country. Her goal is to discover how growing food at their school, community center, or non-profit organization affects these teens' health as well as the attitudes, job prospects, and hopes for the future they share. The result is inspirational!
Published in the December 2016 Leaflet for Scholars Volume 3, Issue 12.
Link to this review (permalink)
Reviewed by: Laura Blumhagen on 2010-06-05
The authors, who are members of the San Francisco Green Schoolyard Alliance, recognize a fact that is becoming clear in schools across the country: if we are to have school gardens in this era of tightening budgets, increased academic testing and expanding class sizes, parents must step up and offer their time and energy to establish and maintain them. My own personal experience with this process as a volunteer in the garden at my neighborhood elementary school indicates that while a few parents at each school might have the necessary time and energy to devote to this, it is rare to find anyone at all with the practical knowledge, patience and understanding that are necessary to make such a garden flourish. That's why this book is so important and useful. Not only does it empower parents and teachers to get something growing, it educates them about the planning, funding, building, maintenance, use, and enjoyment of such a garden. Valuable topics include dealing with vandalism, training students in basic garden tasks, preparing for garden lessons, scheduling class activities in the garden, and planning for summer watering. This book is a must-have for any gardening library.
Link to this review (permalink)
Reviewed by: Laura Blumhagen on 2011-05-20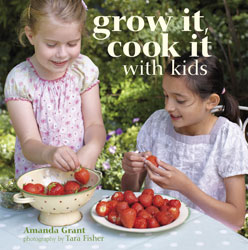 Parents of enthusiastic young gardeners, and farmers' market shoppers alike will love this useful guide to home-growing and cooking. It features easy, photo-illustrated recipes grouped by their main ingredients, so that chocolate zucchini cake is right next to zucchini salad and stir fry, allowing cooks to choose a recipe based on what they have on hand. Better yet, each chapter begins with step-by-step instructions for growing children's favorites like herbs, peas, beans, and berries.
Link to this review (permalink)
Reviewed by: Dorothy Crandell on 2017-03-01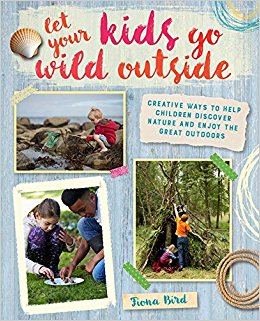 Teacher Laurie Rubin weekly features nature study in her elementary school classes in Ithaca, New York, in part based on an idea developed by Jon Young and instructors at the Wilderness Awareness School in Duvall, Washington. Rubin's child-centered program integrates critical thinking skills in science, mathematics, and language arts across the seasons of the year in the great outdoors.
In her program, once a week the students investigate a particular place, in whatever weather, in the natural environment near the school – a creek. Students discover that the creek experience is never the same twice. They have grown and developed, and the creek environment keeps changing over time. They keep journals of their observations, looking closely at plants, birds, insects, weather, and more. Stewardship of the natural world inspired at an early age is destined to last a lifetime.
Link to this review (permalink)
Reviewed by: Dorothy Crandell on 2017-10-04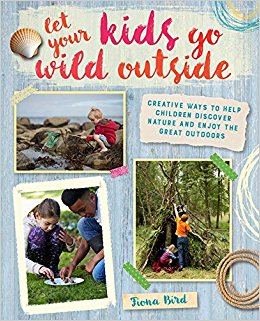 Fiona Bird is a true champion of appreciating the wild outside world. Her work inspires deeply breathing fresh air, opening up the mind, and enjoying the excitement and mystery of the world we live in, starting early in life. Let Your Kids Go Wild Outside: Creative Ways to Help Children Discover Nature and Enjoy the Great Outdoors encourages children to appreciate their countryside. This Scottish author writes with strong feeling as a mother of six: "With encouragement a child will develop a personal relationship with our natural world, one that stretches way beyond facts assimilated in a classroom."
The introduction of the book emphasizes the value of a mentor and highlights the importance of the environment. Chapters include: Into the Woods; Meadows, Hedgerows, and Hills; Seashore; Water and Wetlands; and My Wild Garden and Kitchen. Each chapter describes and explains the particular environment and the wild plants and animal treasures that can be discovered there. Activity suggestions are rich exercises that are realistic, local, and impress all the senses of young citizen naturalists – blossoming conservationists.
Published in the October 2017 Leaflet Volume 4, Issue 10
---
Didn't find an answer to your question? Ask us directly!
August 01 2017 12:36:01