Gardening Answers Knowledgebase
Plant Answer Line Question
Keywords: Cactus and Succulents, Opuntia, Native plants--Washington, Cactaceae (Cactus family)
Does the Opuntia fragilis in the Puget Sound carry a vernacular name of dune or shore prickly pear?
Answer:
The most common vernacular name of the cactus Opuntia fragilis in Washington is brittle prickly pear. When I searched for dune or shore prickly pear, I found these common names connected with other species of Opuntia.
For more information about Opuntia fragilis, see the Washington Flora Checklist and the USDA Plant Profile.
Date 2017-05-26
Link to this record only (permalink)
Plant Answer Line Question
Keywords: Native plants--Washington, Natural landscaping, Native plant gardening
I'm looking for a good publication on plant communities for my area, Whatcom County in northwest Washington. We want to encourage plant communities that will do well here, and have about 5 acres to work with. Can you make a suggestion, please?
Answer:
If you are interested in plants native to Washington, I recommend these two books:
Kruckeberg, Arthur R., Gardening with Native Plants of the Pacific Northwest, University of Washington Press, Seattle, 2nd edition, 1996.
Pettinger, April, and Brenda Costano, Native Plants in the Coastal Garden - A Guide for Gardeners in the Pacific Northwest , Timber Press, Portland, OR, revised edition, 2002.
The Washington Native Plant Society is also a good resource.
If you are interested in plants that will grow well in your area, but are not necessarily native to Washington State, please check out the Miller Library's booklist about gardening in the Pacific Northwest.
Date 2018-04-21
Link to this record only (permalink)
Plant Answer Line Question
Keywords: Native plants--Washington, Calocedrus, Quercus
Is incense cedar native to Washington state? And is the Garry oak native to Kitsap County, Washington?
Answer:
Although incense cedar, Calocedrus decurrens, grows in Washington State, it is not native. According to the Sunset Western Garden Book (2001), incense cedar is native to south and central Oregon, California, western Nevada, and northern Baja California.
The Washington Native Plant Society does not include Garry oak, Quercus garryana, on their list of plants native to Kitsap County, but this tree will grow there.
A list of plants native to Kitsap County

More information on Garry oak at this link

Both of these links are part of the Washington Native Plant Society website.
Date 2017-09-27
Link to this record only (permalink)
Plant Answer Line Question
Keywords: Native plants--Washington, Native plants--Care and maintenance
Where can I buy plants native to the Pacific Northwest?
Answer:
The Miller Library website has information on sources for native plants - see the section on finding northwest native plants.

Below is a list of nurseries close to Seattle:
1. MsK Rare and Native Plant Nursery (and lots of NW natives) in Shoreline
2. Washington Native Plant Society plant sales and native plant and seed sources
3. Woods Creek Wholesale (and Retail) Nursery in Monroe, WA

King County's Native Plant Guide has a list of sources, as does PlantNative.
Date 2018-06-14
Link to this record only (permalink)
Plant Answer Line Question
Keywords: Native plants--Washington, Ground cover plants
I am looking for a native groundcover to grow as a walkway along side my house. It is a shady spot and it would need to be a hardy plant that could be walked on.
Answer:
Regrettably, there are not any native, shade-loving, walkable ground covers available unless you are interested in mosses. If that is appealing, you can check in the book Plants of the Pacific Northwest Coast by J. Pojar. The following websites may help you find native plants:
King Conservation District
King County Native Plant Guide
Washington Native Plant Society
For information on growing mosses, see "Encouraging Mosses" from Oregon State University, based on the writing of George Schenk.
If your heart isn't definitely set on natives, there are some good alternatives:

In her book Big Ideas for Northwest Small Gardens, Marty Wingate recommends Mazus reptans. It is semi-evergreen to evergreen with tiny blue flowers from late spring through summer. It takes full sun to part shade and is delicate looking, but takes foot traffic. It requires some fertilizer to stay perky. (Note: I use it in my garden--it is versatile and pretty)
Another source of ideas is the website http://stepables.com/
Click on plant info, then plant search.
A ground cover that I have found useful (it can take car traffic a couple times a day) is Leptinella gruveri Miniature. You're almost certain to find it at the website above.
Date 2018-04-11
Link to this record only (permalink)
Plant Answer Line Question
Keywords: Carex stipata, Ledum glandulosum, Juncus ensifolius, Juncus effusus, Deschampsia cespitosa, Sambucus racemosa, Athyrium filix-femina, Native plants--Washington, Carex, Rubus spectabilis, Allium
I am an Ecologist with Adopt-A-Stream Foundation, a non-profit stream restoration organization. I am creating a planting plan for a golf course in Snohomish County. My constraints: Low-growing native shrubs with extensive root systems to help filter out the golf course irrigation water before it enters the stream. Willow would be an obvious choice, but it would grow too tall and out of control. I was looking at such species as Snowberry (Symphoricarpos), Nootka Rose (Rosa nutkana), Salmonberry (Rubus spectabilis), etc. It would have to be a FAC+ (streams and wetlands). Any thoughts?
Answer:
FAC+ is a wetland indicator status term meaning "Facultative," i.e., more likely to occur in wetlands but also found in non-wetlands.
I found a list in Restoring Wetlands in Washington Publ#93-17 and picked out the FAC-identified ones, eliminating all the tall trees and shrubs. Symphoricarpos (Snowberry) would be a good option, but Rosa nutkana (Nootka Rose) and Rubus spectabilis (Salmonberry) get too big for your purposes. A different rose I could recommend is Rosa gymnocarpa (Baldhip Rose). Many of the following recommendations are grasses of one sort or another. (See the USDA Wetland Indicator status definitions.)
Allium geyeri (non-native) FACU
Athyrium filix femina FAC
Carex aperta (non-native) FACW
Carex stipata FACW
Deschampsia caespitosa FACW
Juncus effusus and ensifolius FACW
Ledum glandulosum FACW
Sambucus racemosa var. melanocarpa FACU
Spirea douglasii FACW
You might also try the Snohomish County Conservation District website.
Date 2017-06-09
Link to this record only (permalink)
Plant Answer Line Question
Keywords: Hydrangeaceae (Hydrangea family), Native plants--Washington, Philadelphus lewisii
What is the specific habitat of the Philadelphus lewisii (wild mock orange)?
What does this plant need from the habitat in order to survive?
What range does the Philadelphus lewisii grow in?
What family is it in?
What other plants does it often grow around?
What specific habitat does it need?
Where does it grow?
Is it an annual or a perennial plant?
Answer:
Philadelphus lewisii is a Northwest native, a common shrub east and west of the Cascades. According to Trees and Shrubs for Pacific Northwest Gardens, 2nd edition by John A. Grant and Carol L. Grant, it will "thrive in almost any garden soil in either full sun or partial shade, and are of the easiest possible culture. The hybrids respond noticeably to generous cultivation , fertilizer, and water. (It belongs to) the group of summer-flowering shrubs that are best pruned immediately after flowering."
Philadelphus lewisii is a deciduous shrub (in other words, it is not an annual and, although it has a long life span, it is not like an herbaceous perennial that completes its life cycle and starts over the next spring--it is a woody deciduous plant which loses its leaves in winter). (Source: The Royal Horticultural Society A-Z Encyclopedia of Garden Plants, edited by Christopher Brickell; Dorling Kindersley, 1996).
Here is a link to a page from the Washington Native Plant Society about Philadelphus lewisii and its habitat.
It is a Northwest native (state flower of Idaho), and grows throughout Western North America (from British Columbia south to Oregon), southern Europe, and eastern Asia.
The genus Philadelphus grows in rocky woods, semi-desert, and open areas in wet forest. In gardens, it prefers loamy soil and moderate sun.
The genus Philadelphus belongs to the Hydrangeaceae family.
Date 2017-06-09
Link to this record only (permalink)
Plant Answer Line Question
Keywords: Rosa gymnocarpa, Rosa nutkana, Pruning shrubs, Native plants--Washington
What do the experts recommend regarding time(s) to prune the native roses, Rosa nutkana and Rosa gymnocarpa? I am interested in controlling their growth without losing bloom and/or rose hips. Do either or both of them bloom on second year wood?
Answer:
Peter McHoy's A Practical Guide to Pruning says that the pruning method would follow that of vigorous species roses, which produce flowers on old wood. He says to remove any dead wood in early spring (similar to 'late winter').
The Royal Horticultural Society A to Z Encyclopedia of Garden Plants (edited by Christopher Brickell, Dorling Kindersley, 1996) says to prune species roses as needed only, cutting out one fifth to one fourth of the oldest stems. A Pacific Northwest native wildlife gardening source on the web recommends only pruning out dead wood, and otherwise leaving it be.
Since Rosa gymnocarpa is also once-flowering, it should be pruned--if you need to prune it at all--just after flowering. The following is a general guide on rose pruning in the Northwest, from the Olympia Rose Society.
Date 2018-03-01
Link to this record only (permalink)
Plant Answer Line Question
Keywords: Ornamental grasses, Festuca rubra, Poa macrantha, Lathyrus littoralis, Glehnia leiocarpa, Carex macrocephala, Convolvulus soldanella, Abronia latifolia, Elymus mollis, Native plants--Washington
I live in a community on Camano Island. We have some communal beach front property and would like to plant some native beach grasses that are about one foot high. What species do we have to choose from and where can we purchase them?
Answer:
I found a list of native Northwest beach grasses in an online symposium moderated by Alfred Wiedemann of Evergreen State College in Olympia. (The symposium was about an invasive species, Ammophila arenaria, or European beach grass, which has been crowding out native species.) Here are some of the plants he mentioned:
Elymus (Leymus) mollis (Dunegrass)
Abronia latifolia
Convolvulus (Calystegia) soldanella
Carex macrocephala
Glehnia leiocarpa
Lathyrus littoralis
Poa macrantha
Here is a Seattle Times article from May 1, 2005 about beach plants by Valerie Easton that may be of interest to you. The Miller Library has the book that is mentioned in the article, Native Plants in the Coastal Garden by April Pettinger (Timber Press, rev. and updated, 2002), and it includes a list of native grasses. These two grasses were specifically recommended for beachside gardens:
Elymus or Leymus mollis (also listed above)
Festuca rubra (Red fescue)
Washington Native Plant Society might also be a good resource for you. They provide a list of nurseries in our area which specialize in native plants. King County's Native Plant Guide also has a list of sources.
Date 2017-05-05
Link to this record only (permalink)
Plant Answer Line Question
Keywords: Native plants--Washington, Green roofs (Gardening), Sedum
I am trying to find a Sedum expert to help figure out better uses for this plant as a green roof material. Can you help point me in the right direction? Also, are there native Sedums?
Answer:
Here is a list of the books the Miller Library has on this subject, including the following titles:
Planting green roofs and living walls by Nigel Dunnett and Noel Kingsbury (Timber Press, 2004)
Ecoroof: questions & answers by Portland Environmental Services (Portland, Or. : Environmental Services, 2004)
Note: Portland's Ecoroof Program is a cooperative effort of the Bureau of Environmental Services and the Office of Sustainable Development. The program promotes ecoroofs by researching ecoroof technologies an providing information and technical assistance to community members.
Green roofs: their existing status and potential for conserving biodiversity in urban areas by Ecoschemes Ltd (Peterborough: English Nature, 2003)
An article by Jessie Keith from The American Gardener (March/April 2005, pp. 38-41) mentions different types of Sedum appropriate for a green roof, which I will list here:
Sedum album 'Coral Carpet'
Sedum 'Green Spruce'
Sedum lydium
Sedum rupestre (syn. S. reflexum)
Sedum sexangulare
Sedum spurium 'John Creech'
Sedum telephium 'Matrona'
You might also want to speak with someone at the Cascade Cactus and Succulent Society of Washington State.
There are some Sedum species native to the Northwest.The Sedums that are native to the Pacific Northwest, according to The Encyclopedia of Northwest Native Plants for Gardens and Landscapes by Kathleen Robson, (Portland, OR: Timber Press, 2008)include:
Sedum divergens Cascade stonecrop
Sedum laxum Roseflower stonecrop
Sedum oreganum Oregon stonecrop
Sedum oregonense Creamy stonecrop
Sedum spathulifolium Broad-leaved stonecrop
Sedum stenopetalum Wormleaf or narrow-petaled stonecrop
Two additional species are listed in Plants of the Pacific Northwest Coast, edited by Jim Pojar and Andy MacKinnon (Richmond, WA: Lone Pine Publishing, 1994):
Sedum integrifolium Roseroot
Sedum lanceolatum Lance-leaved stonecrop
Date 2017-07-18
Link to this record only (permalink)
Plant Answer Line Question
Keywords: Leaf color, Native plants--Washington, Acer circinatum
We planted a clump of vine maple last fall and because we were in a hurry (landscaping a new home), we just put in without amending the soil. It is dealing with extremely sandy soil, though we did give it fertile mulch, and gets full sun all day long. It looks okay, but the leaves have been very red all summer, basically what I would expect it to look like in the fall. We've been watering a lot to make up for the sand. What's the story on vine maples? We had a lot of them at our old house, but they were mostly under fir canopies or at least were not in full sun. Any tips on helping this one out?
Answer:
I wonder if the leaves on your Acer circinatum are evenly red, and if they look scorched at all. Leaf scorch is a problem for maples in conditions of stress. See this information from the HortSense database of Washington State University. Excerpt:
"Leaf scorch on maple has many possible causes. Plants that are under stress, such as drought or heat stress, may not provide sufficient water to the leaf margins, causing the edges of the leaves to turn brown and dry. In some cases, scorch may spread to areas between veins or entire twigs may die back. Trees placed near heat-reflecting surfaces, such as buildings or pavement, often suffer from heat stress. Excessive salts from overuse of chemical fertilizers may cause leaf scorch. Scorch may also be a symptom of damage to the roots or stem."
If the leaves are not scorched in appearance, it is possible their early coloring is the result of some other type of stress, or perhaps the leaf coloration has to do with their being in full sun, in an exposed site. You may find this information from University of British Columbia Botanical Gardens interesting: "The formation of red pigments in the autumn provides protection, preventing the too-rapid breakdown of chlorophyll which could occur in exposed (read: excess light) areas. As you can clearly see in the leaf in the upper right, the bottom-right corner has the pattern of the leaf above. Where the leaf above shaded this leaf, no red pigments were produced. Where the leaf was exposed, bright red anthocyanins were formed. To take this to a broader perspective, vine maple trees in shaded forests and under low light conditions have little need to produce red pigments, as the breakdown of chlorophyll can occur at a modest pace. However, vine maples in exposed sites turn flame orange and red, so that the pigments produced will slow the rate of chlorophyll breakdown."
An article (no longer available online) from Minnesota Department of Natural Resources discusses premature fall color in maples. Excerpt:
"Each August brings a few trees that begin the fall color frenzy ahead of schedule. In addition to signaling the change of seasons, these trees are sending a clear signal that they are suffering from some form of stress. Stress can have a wide variety of causes, be mild or severe, or, benign or fatal. In any case, professional tree 'care givers' should be aware that the trees are talking to you. Are you listening?
"Maples are probably the group of trees that most commonly exhibit premature fall color. Sensitive to changes in their environment, maples commonly show early color in years when summer rains are heavier than normal and raise soil moisture to or above field capacity during the period from mid to late summer. The maples that show this characteristic the best are the several species of soft maples (silver and red) that commonly inhabit the shrubby areas around wetlands. These trees commonly begin to show deep, rich purples as early as the first week in August. Maples in communities also commonly display early color due to stress mechanisms more common to the urban environment. Sugar maple, in particular, shows early color due to the stress induced by infection from Verticillium wilt. This disease may occur in nursery grown stock in commercial trade. It is difficult to detect because it is soil-borne, difficult to culture, and commonly not tested-for in the nursery. In addition, Verticillium wilt is a relatively weak pathogen that does not do well on young, vigorous nursery stock. Trees can be infected for many years without showing external symptoms of the disease. When they do begin to show symptoms, one of the first is premature fall color followed in succeeding years by a progressive, if not slow, crown decline and dieback."
Maples in communities that are planted 'just-a-little' too deep often show premature fall color. Again this is more pronounced in years with wet summers. The likely mode-of-action is decreased soil oxygen content. Planting too deep 'smothers' roots reducing oxygen in the root zone. So does over watering whether natural or artificial. The bottom line is stress-induced premature fall color. Remember that stress is (1) caused by many factors, (2) cumulative, and (3) potentially fatal if left untreated.
Date 2018-05-23
Link to this record only (permalink)
Plant Answer Line Question
Keywords: Native plants--Washington, Seed companies and seed sources, Seeds
Where can the public, not agencies, purchase seeds of Pacific Northwest plants? A Missouri school teacher would like to sprout them in her classroom.
Answer:
Once the teacher has a list of plants she is seeking (a list which could be developed by looking at books on Pacific Northwest native plants, or by visiting some of the sites linked below), there are a number of ways of finding sources, shown below.
Washington Native Plant Society's list of plant and seed sources
More lists of plants:
Native Plant Resources for the Pacific Northwest
Native Plant List - Western Oregon and Western Washington
Pacific Northwest Native Wildlife Gardening
Plant Information Online - search once you have specific plants in mind.
Businesses which specialize in native plants:
Native Plant Nurseries in Washington State
Date 2018-07-12
Link to this record only (permalink)
Plant Answer Line Question
Keywords: Rhododendron macrophyllum, Native plants--Washington
I have some native rhododendrons that have tan or reddish leaves every spring. The red leaves are new leaves, and they are red for about two weeks. They are under some 100 year old Douglas fir trees, and get some shade and some southern light. They were moved to my garden from and altitude of 4000 feet to my altitude of about 1850 feet. What causes the red leaves?
Answer:
New red shoots and bronze leaves are not uncommon in Rhododendrons. In fact, some are grown purposely for their colorful new growth. The creator of Paghat's Garden, a local website writes enthusiastically of a Rhododendron 'Hill's Bright Red':
"When it is first finishing with its bright red blossoms, it begins producing new leaves, that are at first bright red themselves! ...The new red leaves mature to green.."
She also has written specifically about the Pacific rhododendron, Rhododendron macrophyllum.
As to why this coloration sometimes happens, it is possible that the reddish-brown pigment seen in young [Rhododendron] leaves affords tender foliage some protection from sunburn. This is important because too much ultraviolet radiation can destroy chlorophyll in plant leaves. Plants avoid getting too much UV radiation by producing red pigments called anthocyanins, which can absorb UV radiation and thus prevent it from damaging other parts of the leaf. Because the pigment "accumulates in the cell sap, and is usually located in the epidermal and subepiderma cells," its presence vividly changes the color of the leaves (Levitt, p. 294). This, and more information about anthocyanins is available in a book available at the Miller Library called Responses of Plants to Environmental Stresses, volume 2, by J. Levitt (New York: Academic Press, 1980). In effect, your plants are producing their own sunscreen for the tender new growth!
You can also find more information about anthocyanin in the article "Nature's Swiss Army Knife: The diverse protective roles of anthocyanins in leaves," by Kevin S. Gould, hosted by PubMed Central.
Date 2018-03-01
Link to this record only (permalink)
Plant Answer Line Question
Keywords: Morella californica, Arbutus unedo, Trachelospermum, Osmanthus, Native plants--Washington, Screens, Wisteria, Viburnum
A friend asked me about screening two large propane tanks that, unfortunately, have had to be placed in front of their home on Camano Island. She mentioned wisteria to me and I shuddered. I've seen this plant do a lot of damage to trellis and home alike. Can you recommend, instead, an evergreen solution to this problem?
Answer:
I am not familiar with the size and shape of propane tanks, but perhaps evergreen shrubs might work to screen them. A concern would be the proximity to the house, and any needed clearance for paths, doorways, and windows. I think you are right to avoid Wisteria. Does your friend prefer the idea of planting vines, or would shrubs be acceptable?
Here are a few suggestions for evergreen shrubs, with links from the local web site, Great Plant Picks:
Some good information is also available about plants for screening (from Virginia Cooperative Extension) and vines, especially evergreen vines such as Trachelospermum jasminoides, which might be a good solution. Local garden writer Valerie Easton on has written helpfully about hedges, as well.
Date 2017-05-26
Link to this record only (permalink)
Plant Answer Line Question
Keywords: Soils, Aegopodium, Convallaria, Oxalis oregana, Lobularia, Pachysandra, Galium, Lamium galeobdolon, Sheet mulching, Euonymus, Shade-tolerant plants, Polystichum munitum, Native plants--Washington, Fragaria, Ground cover plants, Geranium
What is a good way to deal with a gravelly area with a lot of shade? Are there good groundcovers that would be low maintenance? Can the plants grow right in the gravel, or do I need to do something to the soil?
Answer:
If it's pure gravel, you can just make a border (with rocks and/or wood, preferably non-treated) and fill it with 9-12" of soil. (No need to remove the gravel.) You buy soil by the cubic yard, so to figure out how much, multiply the length (feet) x width (feet) x depth (.75 or 1), then divide by 27 to get the number of yards. One yard of soil is 3' x 3' x 3', or 27 cubic feet. My guess is that you need less than a yard, but it settles.
You can save money by buying the soil in bulk. Otherwise, you have to buy it by the bag, and they might come in cubic feet. If there is only some gravel, you may be able to get by with the soil/gravel mix that you have. See how much hardpan there is by digging around a little.
If you have lots of weeds in the gravel, cover the whole area with large sheets of cardboard or multiple layers of newspaper (about 10 sheets), overlapped to prevent light from getting through. Then put down a border and fill the area with soil. Smothering weeds depends upon complete darkness more than anything. Therefore, overlapping biodegradable stuff and deep soil is key.
Once you've done that, you can plant right away. Here are some plant suggestions. I've included links to pictures, but you can always find more on Google images or the Missouri Botanical Garden's PlantFinder.
There are also a couple of plants to avoid!
DON'T plant Aegopodium podagraria 'Variegatum': Commonly called bishop's weed, and frequently used as a groundcover, this plant is very invasive.

DON'T plant Lamium galeobdolon (formerly known as Lamiastrum), either: Yellow archangel is very invasive in Pacific Northwest forests.
Date 2017-05-25
Link to this record only (permalink)
Plant Answer Line Question
Keywords: Polystichum munitum, Native plants--Washington
What is the lifespan of our native sword fern?
Answer:
The native sword fern, Polystichum munitum, is discussed in local author Sue Olsen's Encyclopedia of Garden Ferns (Timber Press, 2007). She does not mention the plant's lifespan except to say that it will suffer and decline with excessive summer heat and humidity (more common in eastern and southern U.S.), and sometimes with long periods of freezing temperatures as well.
Sword fern has a reputation as a tough, long-lived perennial (i.e., returning year after year), and it readily self-propagates from spores, but I have not found any resources which mention the average duration of an individual plant. Most will survive in the Pacific Northwest for many years.
Date 2017-08-15
Link to this record only (permalink)
Reviewed by: Brian Thompson on 2011-10-01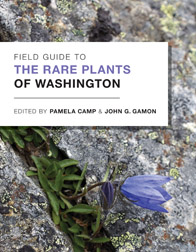 Most field botany guides help with identifying the most common trees, shrubs, and wildflowers. Field Guide to the Rare Plants of Washington takes a very different approach by choosing as its subjects over 300 of the rarest plants, ferns, and lichens in the state.
Why do this? Editors Pamela Camp and John G. Gamon, and the many contributors, anticipate that by helping both professional and amateur botanists in recognizing and identifying rare plants, this will promote conservation of these plants. The hope is also to engage more "...nature enthusiasts, opening a window into the beauty and diversity of Washington's rare flora."
That said, this book takes a solid base of botanical knowledge to appreciate. Selections are arranged alphabetically by genus within four broad plant types (lichens, ferns, dicots, and monocots). This means you must identify an unknown plant to the genus level before you can make use of the detailed plant and habitat descriptions to determine if you've found something rare. Most entries have line drawings and both close-up and site photographs, but these are for fine-tuning identification and not for the beginner.
Besides its value to the keen botanists, this book makes an important contribution to keeping pace with changes in taxonomy and nomenclature, and in linking different resources for this information. For example, each entry includes the name (if different) used in the standard reference Flora of the Pacific Northwest (Hitchcock and Cronquist, 1973). It also preserves in a book format much information that was only available in "...earlier loose-leaf and online treatments of many the species included..."
Excerpted from the Fall 2011 Arboretum Bulletin.
---
Didn't find an answer to your question? Ask us directly!
May 31 2018 13:14:08