Gardening Answers Knowledgebase
Plant Answer Line Question
Keywords: Shrubs, Garden design, Perennials
I have an asymmetrical flower bed in front of my house. It faces southeast and the house is white, with reflection of light. I purchase plants for full sun but they tend to get fried. I am interested in finding perennials to provide interest 12 months of the year. I prefer shrubs with a variety of texture. Plants that attract butterflies would be nice, and any grasses that are known not to grow out of control. What plants do you recommend that would give me a lush, year-round garden?
Answer:
You may want to plant a mixture of perennials and shrubs, particularly those which tolerate bright light. An excellent book full of lists of plants is Ray and Jan McNeilan's Pacific Northwest Gardener's Book of Lists (1997). This book includes lists such as Shrubs for Interest in Each Season (pp.62-64), and Herbaceous Perennials for Full Sun All Day (pp.138-139).
I think you may find many of the other lists in this book valuable as you design your flower beds.
The Great Plant Picks website has lists of many different plants that do well in Northwest gardens, including pictures and descriptions.
There are quite a few books which address the issue of providing year-round color and interest in the garden, such as Adrian Bloom's Year-Round Garden: Colour in Your Garden from January to December (Timber Press, 1998) and his Bloom's Best Perennials and Grasses : Expert Plant Choices and Dramatic Combinations for Year-Round Gardens (Timber Press, 2010). The Miller Library also has booklists on topics like Winter Gardening and Perennials which may be of use to you.
And, here is an article entitled "Create a Butterfly Garden" (S. Lamb et al., January 2002) from Oregon State University.
Visiting local gardens throughout the year and noting the plants that appear to be thriving may help, and a trip to your local nursery can give you lots of ideas and information. The Center for Urban Horticulture and the Washington Park Arboretum both feature seasonal plant highlights.
Date 2017-05-25
Link to this record only (permalink)
Plant Answer Line Question
Keywords: Garden design, Children's gardens and programs
I am interested in information about gardening with children and gardens designed for children. Can you recommend some relevant web sites and articles?
Answer:
Below are some useful web sites about children's gardens. They include actual children's garden web sites which may have garden maps or plans as well as information about how the garden was designed, and horticulture sites with information about gardening with children.
Magnuson Park Children's Garden
The Helen & Peter Bing Children's Garden
Children's Garden at the Morton Arboretum
The Midway Plaisance Children's Garden
Each year, the National Children & Youth Garden Symposium, takes place at varying locations.
You may wish to visit the Miller Library and search the Garden Literature Index, which has an article about past years' symposia (see abstract here: 2006 Youth Garden Symposium. Robbins, Heather American Gardener; Sep/Oct2006, Vol. 85 Issue 5, p12-15 The article presents the highlights of the 2006 annual American Horticultural Society's National Children & Youth Garden Symposium held in Saint Louis, Missouri. It cites the implications of the high number of participants in the event. The issues discussed at the educational sessions in the symposium include building children's gardens and community gardening. Attendees were given the opportunity to explore the Missouri Botanical Garden, the event's host garden.)
Below is just a sampling of other articles from the "children's gardens" search results:
1. Gardening on the curriculum? Why not? By: West, Cleve. Garden, Jan2007, Vol. 132 Issue 1, p13-13, 1/2p; (AN 23649207)
2. Lewis Ginter Botanical Garden. By: Day, Susan. Birds & Blooms, Oct/Nov2006, Vol. 12 Issue 5, p54-55, 2p, 1 map, 4c; (AN 22575160)
3. SCAPE'S GARDEN OF DISCOVERY. HD: Hospital Development, Mar2006, Vol. 37 Issue 3, p6-6, 1/4p; (AN 20303088)
4. The Best Backyard In The World. By: McGuire, Leslie. Landscape Architect & Specifier News, Mar2006, Vol. 22 Issue 3, p58-65, 8p, 1 map, 8c; (AN 20532564)
5. THE ACTIVITY MATRIX. Landscape Architect & Specifier News, Mar2006, Vol. 22 Issue 3, p60-63, 4p, 8c; (AN 20532565)
6. Children's Garden Consultants: A New Model of Engaging Youth to Inform Garden Design and Programming. By: Lekies, Kristi S.; Eames-Sheavly, Marcia; Wong, Kimberly J.; Ceccarini, Anne. HortTechnology, Jan-Mar2006, Vol. 16 Issue 1, p139-142, 4p, 2 charts; (AN 20620955)
7. Duke Garden. By: Stewart, Joann. Daylily Journal, Winter2005, Vol. 60 Issue 4, p414-415, 2p, 4c; (AN 19479979)
8. Cultivating gardeners. By: Benson, Sally D.. American Nurseryman, 9/1/2005, Vol. 202 Issue 5, p4-4, 2/3p; (AN 18031480)
9. Fall for Fun: New Children's Garden. By: Sherman, Marilyn. Chicagoland Gardening, Sep/Oct2005, Vol. 11 Issue 5, p78-79, 2p; (AN 18096223)
10. Kid's paradise. By: Patrick, John. Gardening Australia, Apr2005, p22-26, 5p, 9c; (AN 16593169)
There are also articles available in landscape architecture and urban planning publications which we do not have in our library, but which you might find at the University of Washington Libraries. I searched the Avery Index to Periodicals and came up with quite a few potentially useful results. Here are some examples:
Child's play: the Ian Potter Foundation Children's Garden is a new component of the very successful observatory precinct at the Royal Botanic Gardens Melbourne [Australia] / Bruce Echberg. :photos., site plans. Landscape architecture Australia 2006 Nov., n.112, p. 49-52, ISSN 1833-4814.
Footprints of school gardens in Sweden / Petter kerblom. photos., drawings, plans, site plans. Garden history 2004 Winter, v.32, n.2, p.[229]-247, ISSN 0307-1243.
We also have many books available here at the Miller Library on gardens for children. Our annotated booklist (129 pages)may be of interest.
Date 2017-05-26
Link to this record only (permalink)
Garden Tip
Keywords: Software, Planting design, Garden design
Most gardeners, at one time or another, attempt to get a garden design down on paper. Those of us lacking drawing skills often find the exercise yields disappointing results. We may be tempted to buy design software, but the good programs cost hundreds of dollars and have a high learning curve. Before investing in an expensive program try a simplistic, but free version from the
King County Native Plant Guide
. Whether you are a seasoned gardener wanting to go native or just getting started you can use these landscaping plans to get ideas or for a complete yard makeover. The sample plans will not work for every yard and situation but you can use them to help you get started. The main benefit from this program is having a chance to try out different designs without spending a dime. Remember, you get what you pay for!
Date: 2006-08-29
Link to this record (permalink)
Garden Tip
Keywords: Garden design, Passiflora, Phygelius, Salix, Ceanothus
Do you want that "mature garden" look, but don't want to wait a decade to achieve it? Check out Fast Plants by Sue Fisher (Fireside, $16.00) to learn about trees, shrubs, vines and perennials that will grow up in a hurry. A few suggested plants for a near instant effect include:
California Lilac (Ceanothus)
Cape Fuchsia (Phygelius)
Bluecrown Passionflower vine (Passiflora)
Willow (Salix).
The author insightfully includes information on controlling growth because there is a fine line between fast and overly vigorous!
Date: 2007-09-18
Link to this record (permalink)
Garden Tip
Keywords: Garden design, Landscape design
Wondering what plants will thrive in your challenging garden situation? What Plant Where by Roy Lancaster (New York: DK publishing. 1997) will help by showing you color photos and descriptions of plants organized by chapters on soil and light needs; by design features like winter interest and the color of the leaves; and by special features like fragrance and bird attracting.
Date: 2007-07-12
Link to this record (permalink)
Garden Tip
Keywords: Rosa, Garden design, Amelanchier, Sedum, Hydrangea
It's easy to plant a garden that is colorful and interesting in June, more difficult is designing a garden that shines in October. Read Autumn Gardens by Ethne Clark (Soma, 1999) to learn both design principles and the best trees, shrubs, perennials, bulbs and grasses to plant in fall. Oakleaf hydrangea, Canadian serviceberry, species roses, and sedums are just a few of the plants featured that will extend the garden interest beyond Labor Day.
Date: 2007-07-13
Link to this record (permalink)
Reviewed by: Brian Thompson on 2012-10-01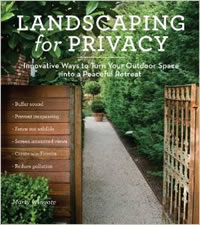 "Landscaping for Privacy" by Marty Wingate is very practical and addresses annoying issues like siting the recycle bins, and how to embrace wildlife or pets without letting them run amok, while empowering you to create a space that is very distinctly your own. Relatively few gardening books address fences and hedges in any depth, but for Wingate "screening hedges become more than shrubs planted in a line; they create a green, living wall, incorporating the design elements of sequence and repetition to pull together the landscape."
Excerpted from the Fall 2012 Arboretum Bulletin.
---
Didn't find an answer to your question? Ask us directly!
May 31 2018 13:14:08