Gardening Answers Knowledgebase
Recommended Websites
Plant Answer Line Question
Keywords: Ferns, Matteuccia
I have ostrich [deciduous] ferns [on the grounds I keep] and I was wondering if there is anything special that I should do for them for the winter. What I have been doing is putting ground up leaves in the bed, but beyond that, I'm not sure if there is anything else I should do.
Answer:
Andrew MacHugh's book, The Cultivation of Ferns (1992) says the following (from p. 47):
"In autumn, a mulch of well-rotted leafmould, peat or bark chippings should be given to ferns planted in open sites. [...] In winter the fronds of deciduous ferns can be cut back to an inch above the crown. In areas subject to frost, the decayed fronds will provide some protection to the plant and should not be removed until the spring growth of new fronds shows signs of emerging."
Date 2017-05-05
Link to this record only (permalink)
Plant Answer Line Question
Keywords: Ferns, Pteridium aquilinum, Perennials--Care and maintenance
My question has to do with the fall/winter foliage of bracken fern (Pteridium aquilinum). A friend trimmed the bracken to the ground. Will the bracken grow back next spring? This led to other questions. Does bracken lose only its leaves in the winter or does the entire plant die off? Does it spread through its roots or spores? Any information you have would be appreciated.
Answer:
Bracken is deciduous, that is, the fronds die to the ground in winter and then regrow from the rhizomes in the spring. If your friend cut her bracken down to the ground late in the year there would be no problem. Even if it was earlier in the year, the bracken would probably survive. According to the fern books I read, people have tried mowing to remove their bracken with no success. The books also warn that bracken is very invasive and not recommended for small gardens. It spreads by underground rhizomes, maybe by spores as well, and can take over a large space in a very short time.
It might be a good idea to take a look at some pictures either in books or online (just enter the name in Google and select Images above the search box) to make sure this is what your friend has. Any deciduous fern (and even some evergreen ferns) can be cut to the ground in fall, but generally it is better to wait until the new fronds appear in spring to cut out the old fronds of evergreen ferns.
The USDA Plants Database provides further information.
Sources consulted:
The Plantfinder's Guide to Garden Ferns (by Martin Rickard, 2000)
Ferns to Know and Grow (by F. Gordon Foster, 1984)
Date 2017-05-05
Link to this record only (permalink)
Plant Answer Line Question
Keywords: Ferns, Dryopteris, Pruning
My wood ferns (now about 4 feet in diameter)have fronds which are now partially brown. Can I prune all the 'old' fronds off and let the new ones take over without damaging the plant? When should I do this?
Answer:
Sources are divided on when and whether to prune wood ferns (Dryopteris). Some consider Dryopteris "self-cleaning," meaning that the old fronds will eventually disintegrate on their own (Gardening with Woodland Plants by Karan Junker; Timber Press, 2007). If you are inclined to tidy up the look of your plants, they can be pruned of their old fronds after new growth begins in the spring (be careful not to cut the new fronds), or according to other sources, in late February or early March before new growth starts. Rainyside Gardeners and Great Plant Picks, two Pacific Northwest resources, offer more information. Rainyside advocates pruning once there is new growth, and Great Plant Picks advocates pruning before new growth begins.
Date 2017-05-05
Link to this record only (permalink)
Garden Tip
Keywords: Seed dormancy, Propagation, Shrubs, Seeds, Perennials, Ornamental grasses, Herbs, Ferns, Reviews
A book by Jekka McVicar called
Seeds: the ultimate guide to growing successfully from seed
(Lyons Press, 2003, $22.95) will help you turn your seedy hopes into plant reality. Thirteen chapters are divided by types of plant including ferns, grasses, shrubs, perennials and herbs. The practical information that applies to all kinds of seeds, such as what type of soil to use, and how to break seed dormancy, is included in the last chapter. Color photos illustrate throughout. For online tips for seed starting go to:
http://cru.cahe.wsu.edu/CEPublications/pnw0170/pnw0170.pdf
from Oregon State University.
Date: 2006-03-01
Link to this record (permalink)
Garden Tip
Keywords: Polystichum, Cyrtomium, Blechnum spicant, Plant and garden societies, Polystichum munitum, Ferns
To create a
desert oasis look
plant a few hardy palms and then add evergreen hardy ferns such as Deer fern (Blechnum spicant),Big leaf holly fern (Cyrtomium macrophyllum), Western Sword fern (Polystichum munitum), and Soft shield fern (Polystichum setiferum). Growing a few ferns usually leads to growing many ferns - there are so many cool species out there. Learn more about the world of pteridology (study of ferns) by joining the locally based Hardy Fern Society. Members receive a packet of fern growing information and a quarterly newsletter; they also participate in a spore exchange and produce the wonderful Fern Festival and plant sale each June. To join the society send $25.00 to
The Hardy Fern Foundation
, P. O. Box 3797 Federal Way, WA 98063-3797.
Date: 2007-04-03
Link to this record (permalink)
Reviewed by: Brian Thompson on 2017-10-05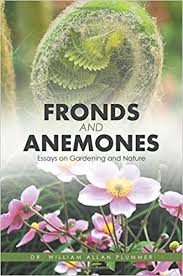 With fronds like these, who needs anemones? This old horticultural quip inspired the title Fronds and Anemones, a book of essays by William Allan Plummer. In his preface he warns, "I am an incorrigible punster, for which I make no apology."
Fun aside, these collected essays reveal the author as a keen and skilled observer of the native birds and wildflowers around his home in upstate New York. He also reflects on his discoveries as an avid gardener, with a particular interest in ferns.
This latter interest led him to join the Hardy Fern Foundation. In the summer of 2003, this organization, along with the British Pteridological Society, sponsored a "Best of the West Fern Excursion" to explore both the gardening and natural attractions found in Washington State. The emphasis, of course, was on those sites rich in ferns.
The resulting essays, which form a significant part of this book, make an outstanding travelogue to some of the best gardens of the region. These include public gardens such as the Elisabeth C. Miller Botanical Garden and the Rhododendron Species Botanical Garden, but many private gardens are featured, too.
These travel stories were originally published in the Hardy Fern Foundation Quarterly, Volume 14, No. 1 and 2 (Winter and Spring 2004). Those issues are available in the Miller Library, but I recommend reading Plummer's writings in the context of his other fine work found in this book.
Published in the October 2017 Leaflet Volume 4, Issue 10
---
Didn't find an answer to your question? Ask us directly!
May 31 2018 13:14:08