Gardening Answers Knowledgebase
Plant Answer Line Question
Keywords: Sustainable horticulture, Trifolium, Pisum, Vicia, Cover crops, Legumes
I have two raised garden beds (8 x 12 feet) in my back yard. Recently I read somewhere that having a cover crop during our wet winter months would help decrease the leaching of nutrients and would also help bind nitrogen in the soil. Three suggested cover crops were crimson clover, Australian field peas (did they mean Austrian winter peas?), and vetch. What would you suggest? Are these good recommendations? Which might be the best?
Answer:
Sustainable Horticulture: Today and Tomorrow (R. Poincelot, 2004, p. 372-377), says, "Cover crops, when managed as green manures, can supply considerable nitrogen for [vegetable] crops."
Legumes, like the pea and vetch you mentioned are good choices for increasing the nitrogen level in soils. (Hairy vetch, Vicia villosa, and Austrian winter pea, Pisum arvense). Crimson clover (Trifolium incarnatum) is almost as efficient at supplying nitrogen to the soil.
Hairy Vetch supplies 33-145 lb of nitrogen per acre/year to soil, Austrian winter pea supplies 53-100 lb/acre/year, and Crimson clover supplies 19-114 lb/acre/year.
Another species you might consider as a cover crop is Fava bean (Vicia faba), which supplies 25-105 lb/acre/year.
Additional information about growing cover crops in the Pacific Northwest can be found on Ed Hume's website.
Territorial Seed Company, in Oregon, sells small quantities of cover crop seed by mail order, including Hairy vetch, Crimson Clover, and Fava Bean.
Date 2018-05-04
Link to this record only (permalink)
Reviewed by: Brian Thompson on 2018-01-07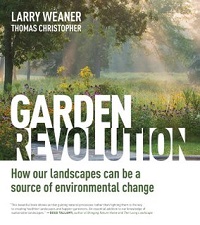 The title Garden Revolution is hype. This new book by Larry Weaner and Thomas Christopher is instead a retreat, a going back to working with nature.
Yes, it does challenge many traditional horticultural practices. Primary author and long-time garden designer Weaner uses the term ecological gardening to describe his technique. He insists on working with the existing soil, exposure, and other elements of a site, choosing plants that thrive in the given conditions, instead of amending to the needs of plants you want. He also argues against most accepted weeding practices because they disturb the soil, encouraging more weed seeds to sprout.
Most of all, he wants the gardener and anyone who carefully observes a landscape to recognize that change is inevitable, but it can and should be embraced.
Why am I recommending this book to students and researchers in restoration? Because there is a lot of good horticulture that is very applicable to restoration sites. Weaner lives in the eastern United States, but his principles are quite adaptable and applicable.
He is blunt: "Ecological garden design is not a style of garden-making for the micro-manager. To be successful, this sort of design requires letting the landscape make many of the decisions."
So perhaps this is a revolution. One that on a small scale has already proven successful.
Published in the March 2018 Leaflet for Scholars Volume 5, Issue 3.
---
Didn't find an answer to your question? Ask us directly!
May 31 2018 13:14:08