Gardening Answers Knowledgebase
Recommended Websites
Plant Answer Line Question
Keywords: Plant identification, Betula
Are there any tree identification guides online? In particular, I am interested in weeping birch.
Answer:
For several excellent images of weeping birch (Betula pendula), go to Oregon State University's landscape identification site at http://oregonstate.edu/dept/ldplants/ and click on Betula in the bright orange box.
Betula pendula is toward the bottom of the page.
Also try Virginia Tech's tree identification page.
Here are some other online tree identification guides:
http://www.oplin.org/tree/
http://www.na.fs.fed.us/spfo/pubs/silvics_manual/table_of_contents.htm
http://selectree.calpoly.edu/
Date 2017-04-14
Link to this record only (permalink)
Plant Answer Line Question
Keywords: Silene, Plant identification, Alpine and rock gardening, Annuals and biennials
I am having trouble growing Silene (do not know the species). It has magenta flowers with notched petals on two foot stems and hairy basal foliage. I have killed four plants that were planted in four different locations. I am able to keep hundreds of other plants alive in my garden, but not this one! It flowers profusely from mid April through July. Then the leaves start wilting, and before long, it is dead. The only thing I can think of is that it needs superior drainage. Could I be overwatering it?
Answer:
You may have one of the annual types of Silene, which die after setting seed. It is really hard to know for sure since there are over 500 species. You may be able to identify your Silene in the book Lychnis and Silene in the Garden, by J.L. Jones, 1999.
There are some magenta-colored species of Silene with notched petals (Silene dioica and Silene hookeri for example), as you describe. These are alpine or rock garden plants that prefer well-drained conditions and do not like highly acidic soil. It is certainly possible that you have overwatered or that the soil in which they are planted doesn't drain sharply enough or is too acidic.
Date 2017-05-30
Link to this record only (permalink)
Plant Answer Line Question
Keywords: Anaphalis margaritacea, Plant identification, Compositae (Daisy family), Botanical nomenclature
I am doing some research on daisies. I have had trouble finding out what Amaranth daisy (Pearly Everlasting) looks like, and how to differentiate it from other daisies.
Answer:
Pearly Everlasting is Anaphalis margaritacea, which is in the plant family Compositae (also called Asteraceae), according to David Mabberley's The Plant-Book (Cambridge University Press, 1997). Below are links to images and information about this plant.

The problem with common names like 'daisy' is that they may refer to a large number of different plants. 'Daisy' can refer to Bellis perennis, Gerbera jamesonii, Olearia species, Chrysanthemum coronarium, Felicia bergeriana, Leucanthemum vulgare, and many other disparate plants.
Below are web links to sites which may help you with plant identification. There are also many good books on the subject, and an excellent starting place is Roger Phillips and Martin Rix's The Botanical Garden (Firefly Books, 2002).
Date 2017-07-18
Link to this record only (permalink)
Plant Answer Line Question
Keywords: Plant identification, Seedlings
I have some seedlings coming up in my compost. They smell a bit like basil, but they could just as easily be weeds. I'd like to know if there are resources for identifying plants at this early stage of growth.
Answer:
You could wait a week or two and allow the seedlings to develop, which might make identification a little easier. However, there are various resources online for identifying plants, especially weeds, at the cotyledon (seed leaf) stage.
There are also print resources which illustrate plants at the seedling stage:

Date 2018-03-14
Link to this record only (permalink)
Plant Answer Line Question
Keywords: Dipelta floribunda, Plant identification, Kolkwitzia amabilis
I'm ready to call it quits...ia! How can I tell the difference between Weigela, Dipelta, and Kolkwitzia?
Answer:
All three of these opposite-leaved shrubs are in the honeysuckle family, Caprifoliceae. However, some taxonomists split Kolkwitzia and Dipelta (along with Abelia and Linnaea) into Linnaeaceae, while Weigela joins Diervilla in Diervillaceae.
Although spring is the time when most plant lovers notice these flowering shrubs, it is easier to tell them apart when they develop dry fruit. Dipelta floribunda and Kolkwitzia amabilis produce achenes (dry, single-seeded fruits that do not split open), whereas Weigela florida fruits are capsules (clustered together like a tiny bunch of bananas, and developing from green or red to brown as they mature). Dipelta bracts are ornamental, papery, and colorful before they dry to brown. Kolkwitzia bracts are weird-looking, like bristly chicken feet.
If you are eager to know what you are looking at while the shrub is still in flower, it is easy to rule out Dipelta and Kolkwitzia if the flowers are red or yellow, in which case, it's Weigela. Bear in mind that Kolkwitzia and Weigela are common in home gardens, while Dipelta is much less so. Dipelta and Kolkwitzia have pale pink to whitish flowers with markings on the petals; Weigela lacks such markings. Weigela petals also differ from the other two genera in that they are all about the same size (radially symmetrical, or actinomorphic), while in Dipelta and Kolkwitzia, the lower petals are larger than the upper two (that is, bilaterally symmetrical, or zygomorphic). The bristly characteristics of Kolkwitzia that are so notable in the dried fruit are also visible in the white bristles at the flower's base. The Dipelta flower's base is concealed between a pair of circular bracts. To summarize: Bracts? Dipelta. Bristles? Kolkwitzia.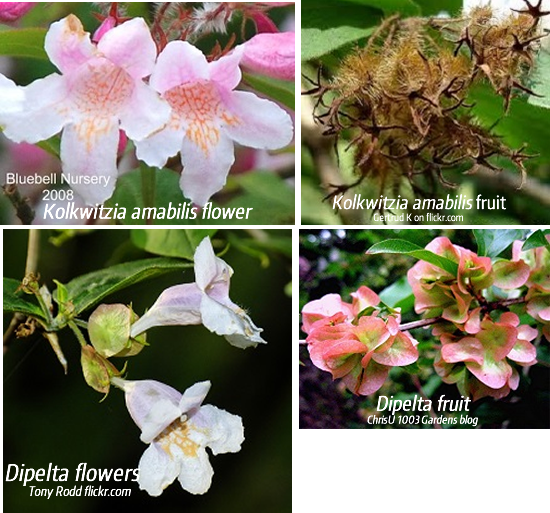 Sources:
Date 2018-06-07
Link to this record only (permalink)
---
Didn't find an answer to your question? Ask us directly!
May 31 2018 13:14:08