Gardening Answers Knowledgebase
Plant Answer Line Question
Keywords: Alcea, Plants and history
What's the origin of the hollyhock?
Answer:
I consulted The Gardener's Atlas by John Grimshaw (Firefly Books, 1998) and in the section on mallows, Alcea rosea (garden hollyhock) is described as "indigenous to the Near East." It was initially grown to be used for its fiber, like fellow Malvaceae family member Gossypium (cotton), but it didn't work well for that purpose, and has been used as an ornamental plant in Europe since the Middle Ages. Its seeds may have been taken to northern and western Europe by returning Crusader soldiers. "The soldiers added 'holy' to hoc, the Anglo-Saxon word for a mallow." All the doubles and strains with variegated flowers were cultivated in European gardens. There is a smaller species, Alcea rugosa, which is native to the Ukrainian steppes.
Date 2017-05-04
Link to this record only (permalink)
Garden Tip
Keywords: Anemone, Plants and history, Ethnobotany, Cyclamen
Cyclamen start blooming in the fall. Diana Wells, in her book 100 Flowers and How They Got Their Names (Algonquin Books, 1997) reports that Cyclamen's common name is "sowbread" because they were supposedly used to feed pigs. The name cyclamen comes from the Greek "kyklo" meaning circle and probably referring to the seed stalks that curl up to a tight coil as they ripen.
Wells writes about another autumn flower, Japanese anemones. Plant hunter Robert Fortune sent seeds of the plant to England in 1844. He noted these white flowering perennials were often growing on graves in China and remarked Anemone "[a] most appropriate ornament for the last resting places of the dead."
A few other fun books on the lore and history of plants are Cornucopia the Lore of Fruits and Vegetables by Annie Lise Roberts (Knickerbocker, 1998) with colorful photos and recipes and the classic Who named the Daisy, Who named the Rose by Mary Durant (Dodd, Mead & Co., 1976) that gives a folk history of American wildflowers.
Date: 2007-04-03
Link to this record (permalink)
Reviewed by: Jessica Anderson on 2018-06-01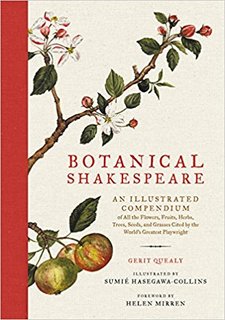 If you are attending outdoor Shakespeare plays this summer and enjoy plants, this book is for you! With the collaboration of the noted Japanese artist Sumié Hasegawa-Collins, Gerit Quealy provides an alphabetical portrait gallery of plants – The Botanicals. You can discover Shakespeare's flowers, fruits, herbs, trees, seeds, and grasses. Quotations beside the drawings of the plants themselves allow us to experience their "faces" in fascinating and helpful ways. For example, cockle, a flowering weed found in wheat fields, is metaphorically used to describe corruption. It is mentioned by the frantic Ophelia in Hamlet and the raving Jailer's Daughter in Two Noble Kinsmen.
The foreword is by Helen Mirren, who has taken on many Shakespeare roles, including switching up the male character Prospero in The Tempest. Mirren notes her love of gardening began during her time with the Royal Shakespeare Company in Stratford.
This book is pure pleasure: you can thumb through and find a quotation about your favorite plant or learn something new in Botanicals Defined: Syllabic Sketches at the back of the book. I learned that beans seem to suffer from a low reputation in Shakespeare, and are often used as horse feed or food only fit for the poor. The glossary illuminates the history of Shakespeare's era with facts, plant lore, anecdotes, and clever illustrations. For example, the entry on the "Barnacles" mentioned in The Tempest tells of a fourteenth century traveler's tale, accepted by John Gerard, about geese that developed in barnacle-like pods on a tree. We now know that barnacle goslings are hatched by mother geese on islands in the Arctic, but Shakespeare's "Barnacles" would have alluded to a strange plant/shellfish/bird chimera. The most impressive part of this book is how frequently plants arise in William Shakespeare's work.
This labor of love was inspired in part by Gerard's Herball as well as Shakespeare's Plants and Gardens: A Dictionary by Nicki Faircloth and Vivian Thomas . On our wish list, this 2014 dictionary is not currently available in local libraries. The author also cites Henry Ellacombe's The plant-lore and garden-craft of Shakespeare, which has been made available electronically at Archive.org by University College London.
Published in the June 2018 Leaflet Volume 5, Issue 6.
---
Didn't find an answer to your question? Ask us directly!
May 31 2018 13:14:08