Gardening Answers Knowledgebase
Search Results for: Reviews | Catalog search for: Reviews
PAL Questions: - Garden Tools: 5 - Recommended Websites: 3
---
Garden Tool:
Mole activity increases in the summer. If you have found you simply cannot tolerate "nature's rototiller" than take a look at the book Of Moles and Men: the Battle for the Turf by Patrick H Thompson (Aardvark Avanti, $29.95). With humorous chapters like Know the Enemy and Primitive Tools for Civilized Men Thompson details the pros and cons of mole control. Additional information on WSU.
Season: Summer
Date: 2007-06-11
Link to this record (permalink)
---
Garden Tool: MULCH IT! By Stu Campbell. Pownal, VT: Storey Books. 2001
Mulch: what is it, why use it, what kind should be used? If you have ever wondered about these questions then read MULCH IT! The author describes the pros and cons of all the various types of mulch imaginable from bark to oyster shells and poultry litter, and how to use mulch around flowers, fruits and vegetables.
Season: All Season
Date: 2002-06-19
Link to this record (permalink)
---
Keywords: Reviews
Garden Tool:

On Guerrilla Gardening: A Handbook for Gardening Without Boundaries by Richard Reynolds, Bloomsbury USA, 2008
Have you ever passed by a patch of barren, overgrown or otherwise neglected ground and thought, "Someone should plant a garden there?" Richard Reynolds not only did, he established and nurtured a garden at his housing block's previously bleak site. And then he went one better, and founded a movement that has spread worldwide. He fervently believes that gardening should not be the exclusive province of those who own property or manage to score a coveted spot at the P-patch. Instead, he advocates taking over landscape installation and maintenance anywhere it is not already being done, or done well, in public and private spaces alike.
Despite his almost comically serious reliance on the language and "lessons" of actual guerrilla warfare (the book starts out with Che and Mao, shows a photo of seed "bombs" in the shape of a 9mm pistol, and gardeners can sign up at www.guerrillagardening.com to get a "troop number"), Reynolds aims to inspire beautification, so half the book is devoted to practical advice. He addresses the myriad issues an aspiring guerrilla gardener must face, from site selection to plant choice for hardiness and maximum visual impact, the non-availability of water, how to discourage vandalism, and, eventually, perhaps legitimize the established garden.
Of course, humans have been sneaking seeds and plants into spaces that are technically not their own for millennia - Reynolds just gave their actions a name and labeled it a cause.
Reviewed by library volunteer Karen Fardal
Season: All Season
Date: 2010-06-03
Link to this record (permalink)
---
Keywords: Reviews
Garden Tool: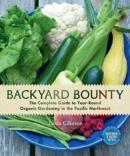 Backyard Bounty by Linda Gilkeson (New Society Publishers, 2011)
Amidst the bumper crop of new food-gardening titles, Backyard Bounty : The Complete Guide to Year-Round Organic Gardening in the Pacific Northwest by Salt Spring Island, B.C. resident Linda Gilkeson stands apart. I put three recent edible plant titles by Northwest authors to the test by trying to find answers to commonly asked questions in them. Whether you are a beginning gardener or an experienced (or jaded!) old hand, this book will neither insult your intelligence nor blind you in a blizzard of technicalities. If you want to know about soil in raised beds, what to grow over the winter, or how to protect your grapes from predacious raccoons, this is the place. Though it lacks photos of primped and prinked up fruit and veggie glamour, the information is well-organized and clearly presented. I learned enough from reading it that I may just have to own a copy.
Reviewed by Plant Answer Line librarian Rebecca Alexander
Season: All Season
Date: 2011-04-30
Link to this record (permalink)
---
Keywords: Reviews
Garden Tool: Straddling the US/Canadian border are the publications of Lone Pine, with authors from both sides. Three recent titles -- "Water Garden Plants" , "Container Gardening," and "Herb Gardening" -- are each addressed to Washington and Oregon but certainly are applicable further north, too. These are very useful titles for beginners, with the Lone Pine trademark water-resistant covers and easy, travel guide style presentation. Stock up for the new gardeners you know.

Reviewed by Curator of Horticultural Literature, Brian Thompson. Excerpted from the Fall 2008 Arboretum Bulletin.
Season: All Season
Date: 2013-08-14
Link to this record (permalink)
---
Didn't find an answer to your question? Ask us directly!
March 22 2017 13:26:25