Gardening Answers Knowledgebase
Garden Tip
Keywords: Gardening to attract birds, Birds
As spring returns, so do migrating birds. If you would like to see and hear more birds read Attracting Birds to your Backyard: 536 Ways to Turn Your Yard and Garden into a Haven for Your Favorite Birds by Sally Roth (Rodale, 1998). Roth suggests providing nesting birds with extra supplies, such as yarn, pet hair, dried grass and straw. Watch robins and other birds choose their favorite nest building items.
Identify the birds around your neighborhood with help from Chris Fisher, author of Birds of Seattle and Puget Sound (Lone Pine, 1996).
Date: 2007-03-26
Link to this record (permalink)
Garden Tip
Keywords: Gardening to attract birds, Birds
The Audubon Society has long advocated for the protection and appreciation of birds. Their website has lots of good, informative articles that advise on how to encourage wildlife in the winter garden and the impact backyard feeders make on birds. Research has disproved the fear that feeding birds creates dependency. So don't feel guilty if your feeder goes empty; birds remember how to find food on their own.
Date: 2007-04-03
Link to this record (permalink)
Reviewed by: Brian Thompson on 2008-07-01
"My father, John Bartram, is a botanist. He studies plants and trees. I help him with his work. My name is William, but everyone calls me Billy. Father calls me his 'little botanist.'"
Thus Deborah Kogan Ray begins her first person narrative of the life of William Bartram (1739-1823) in "The Flower Hunter," a book written for children that can be read with enjoyment by adults as well. Much has been written about this early American naturalist and artist -- and his equally famous botanist father, John Bartram (1699-1777) -- but none can match the charm of this 40-page book, which is richly illustrated by the author.
"The Flower Hunter" tells the story of a young boy who grows up on a farm near Philadelphia and early becomes fascinated by his father's love of plants and botanical exploration. Throughout his childhood, Billy's father leads him on field trips that range farther and farther away from the farm. Eventually their roles reverse, and the son becomes an explorer who returns home triumphantly to share his discoveries about the natural world with his aging father.
Kogan Ray places her straightforward account against a wider backdrop -- the struggles of an emerging nation and the hardships and thrills of travel through a landscape and time very different from today. New plants, animals and even peoples are waiting to be found, described and - unusual for scientific traditions of the time -- cherished in their natural state.
Why do the Bartrams remain important to us now? Together they discovered the Franklin tree (Franklinia alatamaha) in coastal Georgia in 1765; a short time later the tree became extinct in the wild. An example of this beautiful tree, that blooms in autumn while its foliage is turning bright red, can be found on the east edge of the Arboretum's Azalea Way, about 100 yards north of the Winter Garden.
While today's botanic gardens and arboreta would be duller places without the Franklin tree, the Bartrams left us far more than this one showstopper. Their farm became one of the first botanic gardens in the United States, and is open to the public. (see Bartram's Garden at www.bartramsgarden.org). And they were instrumental, along with their friend Benjamin Franklin and others, in developing an American tradition of studying the natural sciences.
Perhaps best, they both wrote detailed journals of their travels. William's "Travels," published in 1791, is still in print today and is credited by Kogan Ray with having "inspired Henry David Thoreau and Charles Darwin with its observations of the world of nature."
Excerpted from the Summer 2008 Arboretum Bulletin.
Link to this review (permalink)
Reviewed by: Brian Thompson on 2012-10-01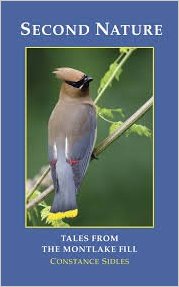 Any reader of Connie Sidles' first book, ("In My Nature: A Birder's Year at the Montlake Fill"--2009) will be delighted to learn she has written and published a second collection of her observations, insights, and quiet life lessons gleaned from her continuing visits to the landfill known officially as the Union Bay Natural Area (UBNA). The style of Second Nature is much like the first, but there are more great close-up photographs of birds, including rarities like a Lazuli Bunting or a Western Scrub-Jay.
Excerpted from the Fall 2012 Arboretum Bulletin.
Link to this review (permalink)
Reviewed by: Brian Thompson on 2015-10-01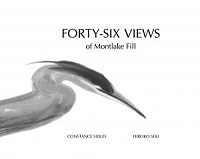 The three books by Constance Sidles about her experiences with birding in the Montlake Fill (also known as the Union Bay Natural Area) have been amongst the most circulated titles from the Miller Library. All are filled with her careful observations of the life in this urban wetland and her philosophical observations to broader life. In "Forty-Six Views of Montlake Fill" she takes a different linguistic approach: poetry.
The poems are distilled observations of this ecosystem throughout the seasons. Hiroko Seki, an accomplished artist of sumi-e, the Japanese style of ink wash or literati painting, has created paintings to accompany each poem, making for a simple but profound combination.
"In the pond,
A female Cinnamon Teal paddles with her babies,
Mother ship followed by seven little tugboats,
Fueled with green algae."
Excerpted from the Fall 2015 Arboretum Bulletin.
Link to this review (permalink)
Reviewed by: Priscilla Grundy on 2017-07-01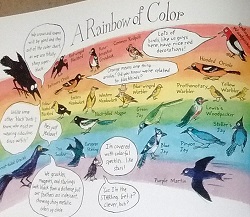 This looks like a comic book with bird commentary, but it packs a barrelful of information for budding bird watchers. Annette LeBlanc Cate lures young readers with wisecracking robins and sparrows (and people). In the page on A Rainbow of Color, for instance, the European starling explains, "I'm covered with colorful speckles . . . like stars. 'Cuz I'm a STARling. Get it?" Her goal is to encourage young readers to watch carefully, to see details, and to place birds in context. She also urges sketching birds as a way to increase focus and create a personal record. Cate begins the book by saying you don't really need equipment to begin bird watching, and if you want binoculars, they needn't be costly. By mid-book, she suggests it's time for a field guide, and she lists several in the bibliography. So she moves the reader from a boy saying that bird watching "Looks kinda boring" to several pages on rather scientific bird classification at the end. The reader (of any age) who follows the book all the way through will have a solid start on the enjoyment of birding. And if you never go beyond reading the book, you will still have had a good time.
Published in the July 2017 Leaflet Volume 4, Issue 7.
Link to this review (permalink)
Reviewed by: Priscilla Grundy on 2017-07-01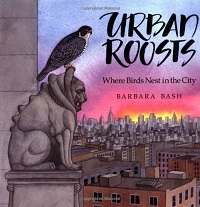 After you read this book to a child, go for a walk in the urban landscape and ask, "Where could birds roost?" Children will be eager to look up and around for the kinds of nesting spots described and pictured in Urban Roosts. Barbara Bash has chosen a dozen species and multiple city sites to tell how pigeons, finches, crows, and falcons have adapted to the city, finding tiny but sheltering niches to call home. The colors are soft, mainly pastels, and the bird sketches clearly identifiable. Although this is aimed at the picture book set, adults may find themselves searching for city nests, too, after sharing this book with a child.
Published in the July 2017 Leaflet Volume 4, Issue 7.
---
Didn't find an answer to your question? Ask us directly!
August 01 2017 12:36:01