Gardening Answers Knowledgebase
Plant Answer Line Question
Keywords: Silene, Plant identification, Alpine and rock gardening, Annuals and biennials
I am having trouble growing Silene (do not know the species). It has magenta flowers with notched petals on two foot stems and hairy basal foliage. I have killed four plants that were planted in four different locations. I am able to keep hundreds of other plants alive in my garden, but not this one! It flowers profusely from mid April through July. Then the leaves start wilting, and before long, it is dead. The only thing I can think of is that it needs superior drainage. Could I be overwatering it?
Answer:
You may have one of the annual types of Silene, which die after setting seed. It is really hard to know for sure since there are over 500 species. You may be able to identify your Silene in the book Lychnis and Silene in the Garden, by J.L. Jones, 1999.
There are some magenta-colored species of Silene with notched petals (Silene dioica and Silene hookeri for example), as you describe. These are alpine or rock garden plants that prefer well-drained conditions and do not like highly acidic soil. It is certainly possible that you have overwatered or that the soil in which they are planted doesn't drain sharply enough or is too acidic.
Date 2017-05-30
Link to this record only (permalink)
Plant Answer Line Question
Keywords: Brunnera, Stachys, Liriope, Epimedium, Lamium, Alpine and rock gardening, Shade gardening, Ground cover plants, Geranium
I'm looking to plant in a narrow strip on our retaining walls some "spiller" plants which will overhang the walls (which face north).
I'd prefer evergreen plants which would fill in fairly quickly, but I could also mix in slower-growing and deciduous plants. There's great drainage since I have gravel reservoirs behind each wall, and the part of the plant above the wall will get part to full sun, though I could overplant them if necessary for a plant that couldn't handle full sun.
I would like plants with interesting foliage and form to soften the look of the walls, and so would prefer a furry look to a spiny one. Flowers and fragrance are less important though always nice, and I'm hoping to have at least 2 or 3 different plant types with different colored foliage (shades of green are fine).
Answer:
Some of the plants that occur to me, based on the description of your site, are Brunnera macrophylla, Epimedium, Geranium phaeum, Stachys byzantina, Lamium maculatum, and Liriope. Of these, the Geranium and Lamium will trail somewhat, while the others are essentially upright.
Graham Rice's article on the Royal Horticultural Society site features a selection of recommended trailing (or spilling) plants. Here is another good list of trailing plants for walls.
You could also try entering your site requirements into the plant-finding and plant selection web pages below:
Great Plant Picks (a local site)
King County's native plant guide
Missouri Botanic Garden Plant Finder
Royal Horticultural Society Plant Finder
The Miller Library has many books on gardening in the shade, so you may wish to come in and do some research to help you in your plant selection. Here is a booklist that may be of interest.
Date 2017-12-09
Link to this record only (permalink)
Garden Tip
Keywords: Alpine and rock gardening
Alpine and rock garden plants are so cute with their pin-cushion growth habit and tiny, jewel-like flowers. The best way to try growing these specialty plants is in a container. Stone or hypertufa troughs are traditional, but any sturdy pot about 12" deep with a hole in the bottom will do. The critical element for success is very well draining potting medium. Mix in plenty of pumice, perlite or gravel into bagged potting soil. Most alpine plants prefer full sun, but there are species for every light condition. Creating and Planting Garden Troughs by Rex Murfitt and Joyce Fingerut is a great book to get started with trough gardening.
Date: 2017-06-16
Link to this record (permalink)
Reviewed by: Brian Thompson on 2013-10-01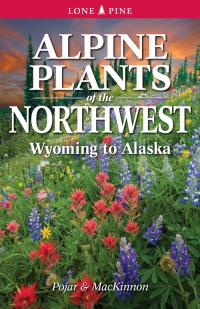 Jim Pojar and Andy MacKinnon became household names, at least among those households interested in native plants, with the publication in 1994 of "Plants of the Pacific Northwest Coast". It has been the most popular field guide in the Miller Library ever since its introduction because of its clarity, organization, plant keys, and many features that give it added value.
Now, the two British Columbia authors/editors have matched their earlier work with a new title, "Alpine Plants of the Northwest". While the previous work was a comprehensive study of all plants west of the Cascades, this book extends to the alpine and subalpine areas from the coast east to the Rockies, including north to the Yukon and Alaska. This is a large region, but as the number of plants that thrive above the timberline is limited it is a quite manageable guide, especially for those who hike in these areas. Like the earlier book, the Lone Pine publication has a soft but weather resistant cover, making it worth having at least one copy in your hiking party.
This model for field guides anywhere is a good blend of information for a broad range of competencies. Detailed keys required by the knowledgeable are nicely matched with photographs, drawings, and descriptions that will aid anyone in identification. Vexing, hard-to-distinguish species have additional aids, such as a conspectus with descriptive comparisons of both leaves and flowers of the many Potentilla, or leaf silhouettes of the members of the Carrot Family (Apiaceae).
But even if you are not a high country traveler, there is much to recommend in this book. The extensive introduction is much more than a how-to-use-this-guide as it provides an excellent background to the geology and climate (both historical and as changing) of the area of study, and the adaptations of the plant life. Throughout the body of plant descriptions are short sidebar essays to supplement the introduction.
Some of these are just for fun, such as the authors' top ten favorite alpines, chosen by "flower size relative to the entire plant; appearance and colour; impact factor; plant chutzpah or elan." What is number one? The Mountain Sapphire (Eritrichium nanum). Elsewhere, all five contributing authors describe their favorite alpine areas of the region.
This sense of fun is present throughout all the writing, but typically with a thoughtful point to make. "In past books, we've argued that scientific names are worth learning because they are generally more stable over time[...]it's becoming more and more difficult to make that argument with a straight face." This leads to a discussion of the changes brought often by genetic analysis in the plant genera and families. They conclude, "You can also learn scientific names to impress people", with the tabloid quality tidbit that singer/model Carla Bruni married former French president Nicolas Sarkozy partly because "he knows all the Latin names" of plants!
Excerpted from the Fall 2013 Arboretum Bulletin.
---
Didn't find an answer to your question? Ask us directly!
May 31 2018 13:14:08