Gardening Answers Knowledgebase
Plant Answer Line Question
Keywords: Shrubs, Weigela, Color guides, Dwarf conifers and shrubs, Nandina domestica
Can you give me some information on Weigela Midnight Wine and dwarf Nandina? Are there any plant lists of purple-leafed shrubs?
Answer:
Following is a good description of Weigela 'Midnight Wine.' The information comes from the Missouri Botanical Garden, so it is tested and accurate.
WEIGELA
'Elvera' Midnight Wine is a dwarf version of the popular Weigela 'Wine and Roses' (W760). It is a dense, rounded, low-growing deciduous shrub that typically grows to only 1.5-2 feet tall and as wide. Features profuse reddish-pink flowers and burgundy-purple foliage. Reddish-pink, funnel-shaped flowers (to 1.25 inches long) appear singly or in clusters along the branches of the previous year's growth in mid- to late spring, with sparse and scattered repeat bloom often occurring on new growth as the summer progresses. Elliptic to obovate, glossy, burgundy-purple leaves (to 3 inches long) turn very dark purple in autumn. Hummingbirds are attracted to the flowers. Original cultivar name is 'Elvera', but plants are being marketed under the registered trademark name of Midnight Wine. U. S. Plant Patent #12,217 issued November 20, 2001. Source.
NANDINA
There are several varieties of dwarf Nandina, such as 'Harbour Dwarf,' 'Firepower,' 'Nana,' and 'Nana purpurea.' University of Florida Extension has a feature on dwarf Nandina on their website. There are also plants available from nurseries such as Forestfarm Nursery and Greer Gardens in Oregon, and Whitney Gardens in Washington.
PLANT SUGGESTIONS > As far as lists of plants with purple foliage, you should find a wealth of information in the book Black Magic and Purple Passion, by Karen Platt, 2004. There are also lists online, such as this page from Iowa State University Extension, entitled "A Passion for Purple." You can also search Royal Horticultural Society's Plant Selector and other similar resources by leaf color.
Date 2017-05-11
Link to this record only (permalink)
Plant Answer Line Question
Keywords: Larix, Dwarf conifers and shrubs
I have purchased a Larix laricina 'Blue Sparkler.' It appears to be a dwarf larch but I can't find any information about it. Could you point me toward a reference?
Answer:
According to an article by Kathryn Lund Johnson in The American Gardener, volume 87, no. 6. (2008) entitled "Wicked and wonderful: witches' brooms," Larix laricina 'Blue Sparkler' is a witches' broom cultivar. It was introduced in 1993, and is a dwarf deciduous larch with "a dense habit that is reminiscent of miniature fireworks. Its blue green needles turn gold in autumn, then drop. In 10 years, it can grow three feet high and two-and-a-half feet wide."
Witches' brooms are a type of deformity that can occur for a number of reasons, according to the article, including dwarf mistletoes, fungi, viruses, bacteria, and aphids. Witches' brooms on conifers are used as a source for propagating new cultivars. The propagator takes a cutting from the broom, and this 'scion' is "either rooted directly or grafted to young conifers that serve as the 'understock.' When grafting, the wound is given a year to heal. The understock is then removed and a new plant stands in its place." This method was pioneered by Sidney Waxman, a professor of plant science at University of Connecticut, Storrs. He is responsible for developing the 'Blue Sparkler' tamarack you are growing.
Iowa State University has a page of information about the phenomenon of witches' brooms.
Date 2018-03-01
Link to this record only (permalink)
Garden Tip
Keywords: Plant and garden societies, Chamaecyparis, Picea, Tsuga, Abies, Dwarf conifers and shrubs, Conifers
The Pacific Northwest is an excellent climate for growing evergreens because our winters are generally mild. We can grow far more species than just Douglas Firs and Red Cedars, and in city gardens dwarf conifers are much more suitable. Explore the wide world of conifers, plants that produce cones, by joining the American Conifer Society. Membership costs $25 per year which includes a nice quarterly journal with color photos. Their website has a database with descriptions and photos, as well as information on becoming a member. Call (410) 721-6611 to join.
Favorite four conifers as voted on by members of the American Conifer Society:
Picea orientalis 'Skylands'
Abies koreana 'Silberlocke'
Tsuga canadensis
Chamaecyparis obtusa 'Nana Lutea'
Date: 2007-04-03
Link to this record (permalink)
Reviewed by: Brian Thompson on 2012-10-01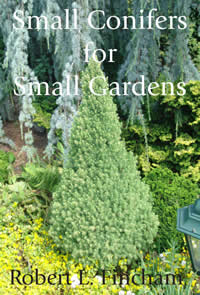 A local garden and nursery that's not well known is Coenosium Gardens in Eatonville. Owner Robert Fincham has traveled widely in his quest for dwarf conifers and the book Small Conifers for Small Gardens catalogs the many fine dwarf firs, spruce, pines, hemlocks, and assorted other species he has collected and grown. If you have considered adding conifers that won't outgrow your garden, this introduction to the merits of over two hundred choices, along with anecdotes about each, is a must read.
Excerpted from the Fall 2012 Arboretum Bulletin.
---
Didn't find an answer to your question? Ask us directly!
May 23 2018 14:32:42