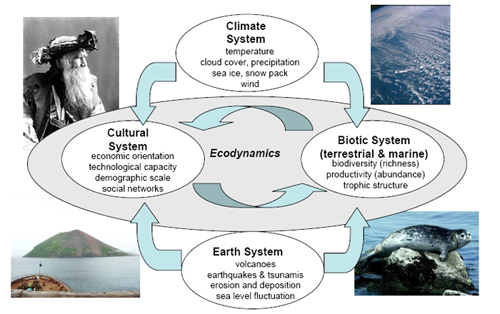 The Kuril Biocomplexity Project is a National Science Foundation-funded research project led by the University of Washington and being conducted by a team of American, Japanese and Russian scholars and students who are examining a 5000-year history of human-environmental interactions along the Kuril Island chain in the northwest Pacific Ocean.
Eruption of Sarychev Volcano - Matua Island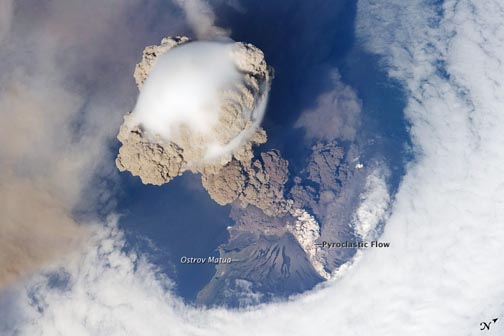 Image from NASA's Earth Observer, taken from the International Space Station on June 12, 2009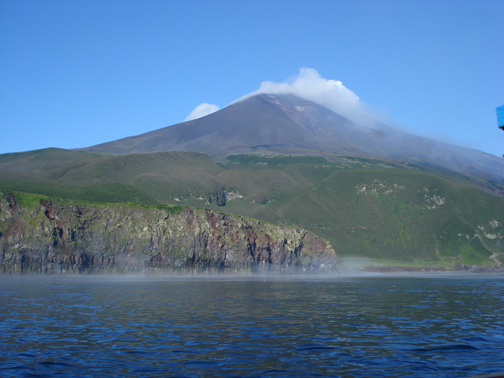 Sarychev Volcano on Matua Island on Aug. 4th, 2008 during the last KBP expedition. This image shows the eastern flank of Sarychev including a notch at the peak that appears to have been exploited by the June 12, 2009 eruption channeling hot pyroclastic debris down the eastern side of the volcano into the water near or just north of the location where this photo was taken. KBP photo credit: Laska Fitzhugh. View west.
June 12, 2009 - June 20 (date of this posting): Matua Island's Sarychev Volcano is erupting violently. The Kuril Biocomplexity Project investigated the archaeology and geology of Matua Island each summer between 2006 and 2008. Now the island is the location of a large volcanic eruption sending volcanic ash over 10 km into the air (perhaps as high as 21 km according to NASA's Earth Observer), across the Sea of Okhotsk to Sakhalin Island, and affecting international air traffic between East Asia and North America.
This is particularly interesting to our project because we are trying to understand the impacts of volcanic eruptions and similar natural hazards on the human occupation history of the Kuril Islands in the past. We are watching this event closely to be able to learn from it as an analogue from which to calibrate our expectations about the scale and duration of adverse impacts of such events in the past on people as well as plants, animals, archaeological site preservation, volcanic ash distributions, and climate - and for how long after such an event these impacts would have persisted. While we do not have plans to return to Matua after this event as part of the Kuril Project, several of our participating scientists from Russia have already planned to visit Matua in late summer 2009 to document this eruption (assuming it has settled by then). The research of our geological teams in past summers is also providing rare information about the Holocene volcanic history of the Kuril Islands, including Matua.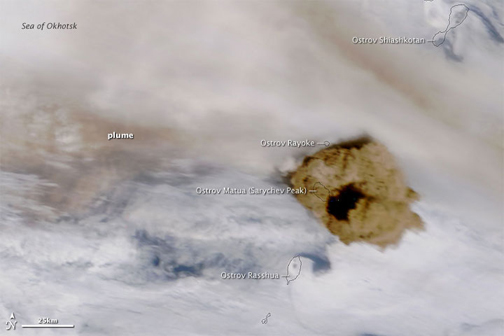 An
NASA's MODIS image of the June 15th eruption (3 days after the start of activity).
More information about the ongoing eruption:
Geological Survey of Japan (GSJ at AIST) website showcasing Sarychev Volcano as seen from KBP (and IKIP) research in 2000, 2007, 2008, porduced by KBP participant Dr. Yoshihoro ISHIZUKA.
KBP partner, Russian Academy of Sciences - Institute of Marine Geology and Geophysics on Sarychev eruption
"The Volcanism Blog" on Sarychev eruption
More on Sarychev Volcano from the Global Volcanism Program
Interesting coincidence:
In November of 2006 and January of 2007 two tsunamis generated by large earthquakes in the Kuril Trench hit the central Kuril islands, including Matua. In the summer of 2007, our paleotsunami team took advantage of the opportunity to compare the pre and post-tsunami geomorphic and sedimentary records by revisiting sites researched in 2006. This allowed us to better document the geological (and archaeological) impacts of these kinds of events. Matua was featured in these investigations, since this island's coastline had been carefully documented by our team prior to the tsunamis. Research results can be found referenced on our publication page.
Future Research on Matua:
While we do not have plans to return to Matua as part of the KBP project, some of our researchers do plan to revisit Matua independently later in the summer of 2009. In addition we are in contact with members of a long term Russian-American project who have a staffed observation platform on Raikoke Island just a few km north of Matua. They reportedly had little disruption from the first 4 days of this eruption, and saw little due to fog and clouds. From these and possibly other contacts, we are hoping to be able to document the impacts of this latest eruption on the coastal geomorphology and archaelology of Matua through these and other opportunities to observe the aftermath.
If any reader knows of other plans to visit Matua in the near future, please send us a note. We would like to discuss possible observations that could be made for comparison with our pre-eruption data. Emial: fitzhugh@u.washington.edu
---
Colby Phillips and Jeff Speakman's (2009) Journal of Archaeological Science publication on obsidian source variations in the Kurils is written up in UW News. In this research, Colby and Jeff document one of the most striking patterns so far identified in the archaeological research of the Kuril Biocomplexity Project: based on a large sample of flakes, Colby (with jeff's technical assistance) have found that obsidian from the southern Kurils comes almost exclusively from Hokkaido, while obsidian from the central and northern Kurils comes almost completely from Kamchatkan sources. This finding is especially interesting because it contradicts the pattern of cultural affiliation which appears to tie all major cultural groups of the past to Hokkaido populations. Stay tuned for an update from Colby, currently in review for publication in an edited volume on obsidian sourcing studies that strengthens the statistical power of the analysis and adds insights about what this pattern may mean for past Kuril social networks and movements. Citations for Colby and Speakman's papers and others can be found on our Publications page.