Research
Treatment of Infectious Disease, Cancer and Autoimmune Disorders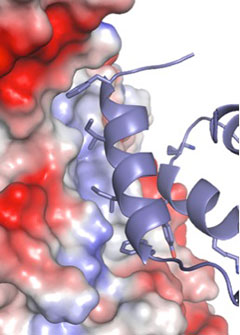 Influenza is a serious public health concern, and new therapeutics that protect against this virus are urgently needed.  Scientists at the IPD have used computational methods to design small proteins to serve as anti-flu therapeutics. The designed proteins inhibit the function of the hemagglutinin flu coat protein and prevent viral infectivity, representing a novel class of protein therapeutics for infectious diseases.
Structure of a designed protein (purple) binding to the hemagglutinin surface protein of influenza.  Image modified from Whitehead, TA et al (2012).

References
Whitehead, T. A., Chevalier A., Song Y., Dreyfus C., Fleishman S. J., De Mattos C., et al. (2012).  Optimization of affinity, specificity and function of designed influenza inhibitors using deep sequencing. Nature Biotechnol. 30(6), 543-8.
Fleishman, S. J., Whitehead T. A., Ekiert D. C., Dreyfus C., Corn J. E., Strauch E. – M., et al. (2011).  Computational design of proteins targeting the conserved stem region of influenza hemagglutinin. Science. 332(6031), 816-21.
Vaccines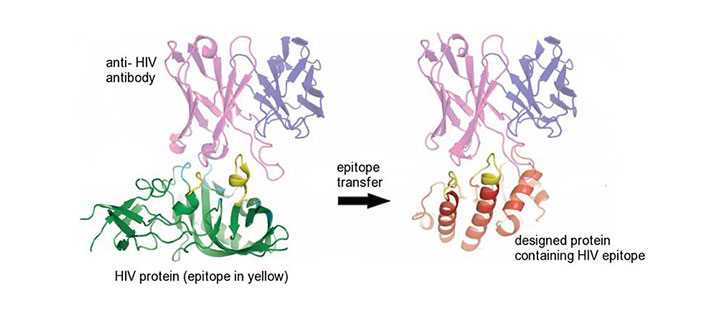 Strategy for designing a virus-free vaccine for HIV (Image modified from: Azoitei M.L., Correia B.E. et al. (2011))
Traditional vaccine technologies typically consist of delivering whole viruses that have been rendered non-infectious. While this approach has led to many successful vaccines, several viruses, including HIV, have proven to be difficult to develop vaccines against using these traditional methods. However, IPD scientists and collaborators have designed proteins that display a region of a viral protein, or epitope, that is known to be important for the function of the virus. Used as a vaccine, the designed protein will evoke an immune response against the viral epitope and block the function of the entire virus once a person is challenged with a viral infection. These techniques are currently being used to develop new vaccines for HIV and other human pathogens.
References
New Materials

Design of self-assembling protein nanomaterials (Image modified from: King N.P.  et al (2012))
Proteins have many features that make them attractive as building blocks for the development of completely new classes of advanced functional materials. However, the complexity of protein structures has, to date, held back progress in this area. Using state-of-the-art protein design software, scientists at the IPD have begun to design novel protein-based materials from the bottom up by programming protein molecules to self-assemble into large, symmetric architectures. The first designed materials were nanoscale protein cages (pictured) that could potentially be used to develop more potent vaccines or to deliver drugs. Similar techniques are now being used to make many different types of protein materials, including more sophisticated nanocages, two-dimensional layers, and three-dimensional crystals. Protein-based materials such as these could lead to dramatic improvements in drug delivery, vaccine development, more sensitive biomolecule diagnostics, novel enzyme development, and many other areas.
References
Enzyme Design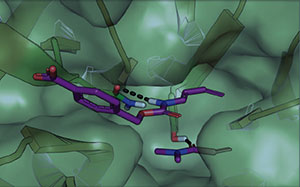 While naturally occurring enzymes catalyze a wide range of chemical reactions, many important synthetic reactions lack a naturally occurring enzymatic counterpart.  Therefore, the design of enzymes with new catalytic activities could have broad applications in biotechnology, including degradation of toxic chemicals into inert byproducts and the synthesis of biofeuls.  Using protein design methods, IPD scientists have successfully designed several novel enzymes catalyzing novel chemical reactions.
View of a designed enzyme (green) bound to its substrates (purple). Picture taken from Siegel, J.B., Zanghellini A., et al.

References
Kemp elimination catalysts by computational enzyme design. (2008) Röthlisberger, D., Khersonsky O., Wollacott A. M., et al. Nature 453(7192), 190-5;
Computational design of an enzyme catalyst for a stereoselective bimolecular Diels-Alder reaction. (2010) Siegel, J. B., Zanghellini A., et al  Science 329(5989), 309-13.
De novo computational design of retro-aldol enzymes.  (2008) Jiang, L., Althoff E. A., et al.  Science 319(5868), 1387-91)