Community involvement & education
We place priority on interacting as much as possible with the local community in order to encourage involvement in conservation issues and enhance the sense of pride towards, and ownership of, the islands' valuable natural resources. Currently our limited funds are focused on education and community projects aimed at reaching general audiences and increasing awareness of local conservation issues. In the future, we plan to devote more time and funding to improve the projects we have started as well as to develop specific educational materials and workshops that will encourage collaborations with local fishermen, members of the cattle association, park rangers, and children. We believe that promoting an understanding of interactions between nature and culture is essential to create sustainable and lasting change.

Pink-footed shearwater reserve
Local park officials alerted us to the existence of a small pink-footed shearwater colony on the edge of town (San Juan Bautista). Residents claim that historically the shearwater breeding population using this area was much greater than it is at present. We are working alongside the local municipality to establish this area as a local shearwater reserve through the Ministerio de Bienes Nacionales, a federal Chilean public land use agency. Bienes Nacionales has preliminarily accepted our proposal to protect this area, which would be one of the first reserves on municipal land in Chile.
Currently, we coordinate visits to the colony for the local community, inviting all those interested to explore the colony and examine nests with biologists, using infrared burrow cameras. The reserve is an ideal area for field trips for adults, children, and tourists, as it is close to the town center. Everyone is encouraged to visit and understand the reserve, which is a representation of their islands. Hopefully it will allow a large number of people to actively learn about local biology and conservation as well as to participate in nest and vegetation restoration and monitoring projects within the reserve.
Streetlights along the road that bisects the reserve pose a problem for shearwaters. Bright lights serve to disorient shearwaters, especially fledglings dispersing from the colonies. Though frequently uninjured, these confused birds can more easily fall prey to cats and dogs. We have worked with the mayor and the municipality to adjust the lights and diminish negative impacts on shearwaters. To this end, Acting Electric (www.acting.cl) has donated red streetlight panels for existing lights within the colony, and the municipality has graciously installed them. The emitted red light does not negatively impact shearwater orientation, as did the white light.

Education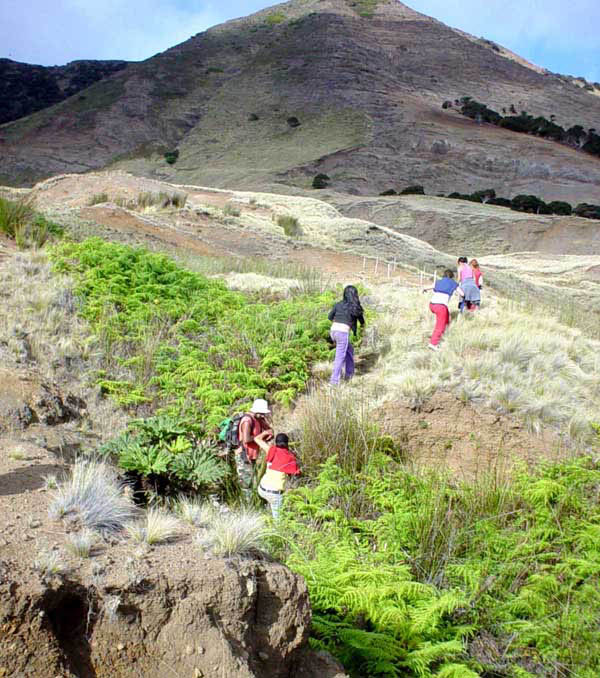 • Field courses
Field courses were offered to teenage residents during their summer vacation from school. The four courses, lasting 24 hours each, allowed local children to visit a seabird research field site, learn about conservation and ecology of their islands, collect data and experience field work alongside biologists studying local systems.
• School visits
Our research team has visited K-8 classrooms to introduce locally nesting seabirds. Discussions included themes such as basic seabird biology and island biogeography and conservation. In addition, we have provided general information about seabird natural history and our specific investigations and hope to work with the school to develop environmental education materials.
• Kites
In March 2003 primary school children had the opportunity to participate in a kite making workshop. The 30-40 children in attendance learned hands-on the characteristics of and necessities for flight while building their own kites.

• Community talks
We regularly give talks for local residents and CONAF employees to encourage understanding of, and collaboration with, scientific research projects and community programs. Attendance and interest continues to be high and encourages subsequent talks.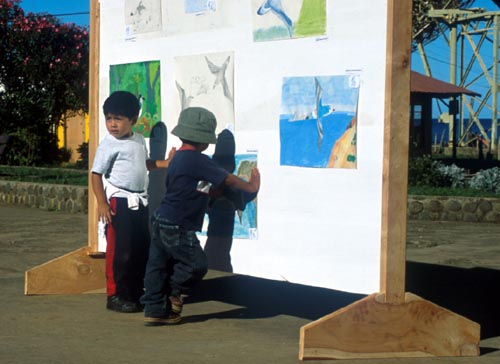 • Drawing contest
To encourage awareness and knowledge of locally nesting seabirds, adults and children were invited to submit original drawings of seabirds to a contest held in early 2002. Winners' drawings were printed on t-shirts now available for sale in San Juan Bautista, with proceeds going to the Corporación Cultural de Juan Fernández for use in local conservation projects.
• Radio show
In 2002, biologists from our program were featured on 'Zona Verde', a local radio show covering conservation and nature topics. They discussed the current seabird conservation project, and other conservation concerns on the islands.
Scientific training

We invite Chilean undergraduate students to pursue research with us in the Juan Fernández Islands. Students assist with our central research objectives while conducting supervised research for their undergraduate thesis. The students work alongside professional biologists, learning skills and techniques of field biology (including data collection, research design and execution, and teamwork), while also developing and pursuing a personal research endeavor.
We are currently seeking funds to employ local residents, to generate employment in conservation, to foster formal training of techniques in field biology, and to help us pursue our central goals as presented in our mission statement. In 2003 we were able to employ one islander to work full-time assisting us with our research objectives, and we hope that we can continue to expand these opportunities in the future.