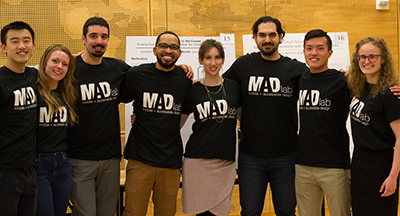 Introduction
The MAD Lab at the University of Washington comprises students in information science and computer science working with Prof. Jacob O. Wobbrock on original research projects in the field of Human-Computer Interaction (HCI). Specifically, we invent techniques, build systems, develop methods, devise models, extend theories, and conduct studies for improved input, interaction, and interfaces in mobile and accessible computing environments. We are active members of the DUB Group, the multi-departmental HCI and Design group on campus.
Objective
To create useful interactive technologies that improve people's access to and interaction with computers and information, especially for people with disabilities.
Feature Story
Read about the MAD Lab in a feature story by UW Information School News.
Values
Vision. "The world has arrived at an age of cheap complex devices of great reliability; and something is bound to come of it." — Vannevar Bush (1945)


Inclusion. "Everybody has to be able to participate in a future that they want to live for." — Dean Kamen


Utility. "The value of an idea lies in the using of it." — Thomas Edison


Support our Lab!
Please consider a philanthropic gift to help us further our research, development, and dissemination.
Contact Prof. Jacob O. Wobbrock at

.