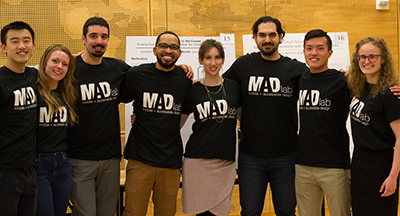 Introduction
The MAD Lab at the University of Washington comprises students in information science and computer science working with Prof. Jacob O. Wobbrock on original research projects in the field of Human-Computer Interaction (HCI). Specifically, we invent techniques, build systems, develop methods, devise models, extend theories, and conduct studies for improved input, interaction, and interfaces in primarily mobile and accessible computing environments. We are active members of the DUB Group, the multi-departmental HCI and Design group on campus.
Objective
To create useful interactive technologies that improve people's access to and interaction with computers and information, especially for people with disabilities.
Feature Story
Read about the MAD Lab in a feature story by UW Information School News.
Values
Vision. "The world has arrived at an age of cheap complex devices of great reliability; and something is bound to come of it." — Vannevar Bush (1945)


Inclusion. "Everybody has to be able to participate in a future that they want to live for." — Dean Kamen


Utility. "The value of an idea lies in the using of it." — Thomas Edison


Support our Lab!
Please consider a tax-deductible philanthropic gift to help us further our research, development, and dissemination.
Contact Prof. Jacob O. Wobbrock at

.
======= 2018-2019 News =======
•

Prof. Wobbrock has been elected to the prestigious CHI Academy and will be inducted on May 5, 2019 at CHI in Glasgow, Scotland. Along with him will be Batya Friedman (iSchool) and Jennifer Mankoff (CSE). See the UW iSchool story and the UW CSE story.
February 13, 2019.

•

The MAD Lab has three accepted papers at CHI 2019. The topics are a system for crowdsourcing elicitation studies, an algorithm for improving touch accuracy on smartphones, and a mathematical model for calculating text entry throughput, a combined speed-accuracy measure of text entry performance based on Shannon information theory. Paper links coming soon!
December 14, 2018.

•

Prof. Wobbrock is a co-organizer is an accepted workshop at CHI 2019 on "Addressing the challenges of situationally-induced impairments and disabilities in mobile interaction." Please consider submitting to our workshop.
December 14, 2018.

•

Martez E. Mott has successfully defended and submitted his final dissertation. Congratulations on completing your Ph.D., Dr. Mott! Good luck at Microsoft Research!
December 14, 2018.

•

The MAD Lab has accepted papers on gesture recognition at MobileHCI '18, crowdsourcing at UIST '18, smartphone rainwater resistance at ICMI '18, social factors in accessible design at ASSETS '18, and button labeling in Android apps at ASSETS '18.
July 30, 2018.

•

Prof. Wobbrock will give the keynote at EICS 2019 in Valencia, Spain on June 18-21, 2019.
June 30, 2018.

•

Martez Mott successfully defended his dissertation proposal on accessible touch for people with motor impairments. He presented projects on SmartTouch, MidTouch, and NeuroTouch, with the former two done and the lattermost underway. Good luck finishing, Martez!
June 16, 2018.

•

Prof. Wobbrock's article on Ability-Based Design has been published in the Communications of the ACM, volume 61, issue 6, pp. 62-71.
June 1, 2018.