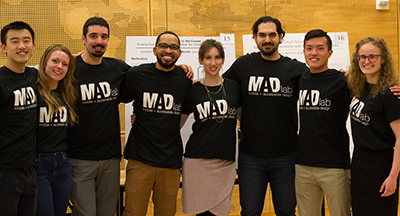 Introduction
The MAD Lab at the University of Washington comprises students in information science and computer science working with Prof. Jacob O. Wobbrock on original research projects in the field of Human-Computer Interaction (HCI). Specifically, we invent techniques, build systems, develop methods, devise models, extend theories, and conduct studies for improved input, interaction, and interfaces in mobile and accessible computing environments. We are active members of the DUB Group, the multi-departmental HCI and Design group on campus.
Objective
To create useful interactive technologies that improve people's access to and interaction with computers and information, especially for people with disabilities.
Feature Story
Read about the MAD Lab in a feature story by UW Information School News.
Values
Vision. "The world has arrived at an age of cheap complex devices of great reliability; and something is bound to come of it." — Vannevar Bush (1945)


Inclusion. "Everybody has to be able to participate in a future that they want to live for." — Dean Kamen


Utility. "The value of an idea lies in the using of it." — Thomas Edison


Support our Lab!
Please consider a philanthropic gift to help us further our research, development, and dissemination.
Contact Prof. Jacob O. Wobbrock at

.
========= 2018 News =========
•

The MAD Lab has upcoming accepted papers on gesture recognition at MobileHCI '18, crowdsourcing at UIST '18, smartphone rainwater resistance at ICMI '18, social factors in accessible design at ASSETS '18, and button labeling in Android apps at ASSETS '18. Paper links coming soon!
July 30, 2018.

•

Prof. Wobbrock will give the keynote at EICS 2019 in Valencia, Spain on June 18-21, 2019.
June 30, 2018.

•

Martez Mott successfully defended his dissertation proposal on accessible touch for people with motor impairments. He presented projects on SmartTouch, MidTouch, and NeuroTouch, with the former two done and the lattermost underway. Good luck finishing, Martez!
June 16, 2018.

•

Prof. Wobbrock's article on Ability-Based Design has been published in the Communications of the ACM, volume 61, issue 6, pp. 62-71.
June 1, 2018.

•

The MAD lab had two full papers appearing at CHI 2018 and one workshop paper. The full papers described how to use a smartphone to detect whether you're drunk (PDF, lead author: Alex Mariakakis), and how online peers could provide mental health support to each other (PDF, lead author: Katie O'Leary). The workshop paper advocated for using the Life Course Perspective when creating accessible technologies for older adults (PDF, lead author: Rachel Franz). Congrats to all authors!
March 22, 2018.

•

Abigail Evans has successfully defended her dissertation and is the newest graduate from the MAD Lab. She is currently working at Google. Congratulations, Abi!
January 24, 2018.