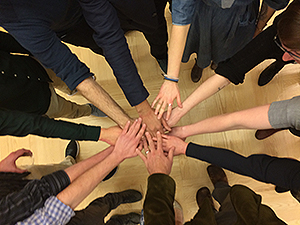 Introduction
The MAD Lab at the University of Washington comprises students in information science and computer science working with Dr. Jacob O. Wobbrock on mobile and accessible design within Human-Computer Interaction (HCI). We are active members of the DUB Group, the multi-departmental HCI and Design group on campus.
Objective
To create useful interactive technologies that improve people's access to and interaction with computers and information, particularly for impaired users or users in impairing situations.
Feature Story
Read about the MAD Lab in a feature story by UW Information School News.
Values
Vision. "The world has arrived at an age of cheap complex devices of great reliability; and something is bound to come of it." — Vannevar Bush (1945)


Inclusion. "Everybody has to be able to participate in a future that they want to live for." — Dean Kamen


Utility. "The value of an idea lies in the using of it." — Thomas Edison


Contact
============ News ============
•

Jacob Wobbrock received the 2017 SIGCHI Social Impact Award for his work on accessible computing and ability-based design. For receiving the award, he gave a keynote-style talk at CHI 2017 on Ability-Based Design. May 9, 2017.

•

MAD Lab Ph.D. Candidate Kristen Shinohara has accepted a position as an assistant professor in the Department of Information Sciences & Technologies at the Rochester Institute of Technology. Congratulations, Kristen! April 4, 2017.

•

The Smart Touch project by Martez Mott et al. was made into an interactive feature story for the UW Be Boundless campaign. There's also a nice video accompanying the story. April 3, 2017.

•

The MAD Lab made a great showing at the 2017 iSchool Research Fair, with 12 posters, demos, and/or vidoes. Check them out! March 13, 2017.

•

Paper accepted to CSCL 2017. "Teaching accessibility in a technology design course" by K. Shinohara, C. Bennett, J. Wobbrock, W. Pratt. February 13, 2017.

•

Three CHI papers with MAD Lab authors accepted to CHI 2017.

Group Touch by Abigail Evans, K. Davis, J. Fogarty and J. Wobbrock.
Improved gaze typing by Martez Mott, S. Williams, J. Wobbrock and M. Morris.
Interaction proxies by Xiaoyi Zhang, A. Ross, A. Caspi, J. Fogarty and J. Wobbrock.

December 13, 2016.
•

Dr. Wobbrock interviewed by the Huffington Post for his experience co-founding AnswerDash. December 6, 2016.