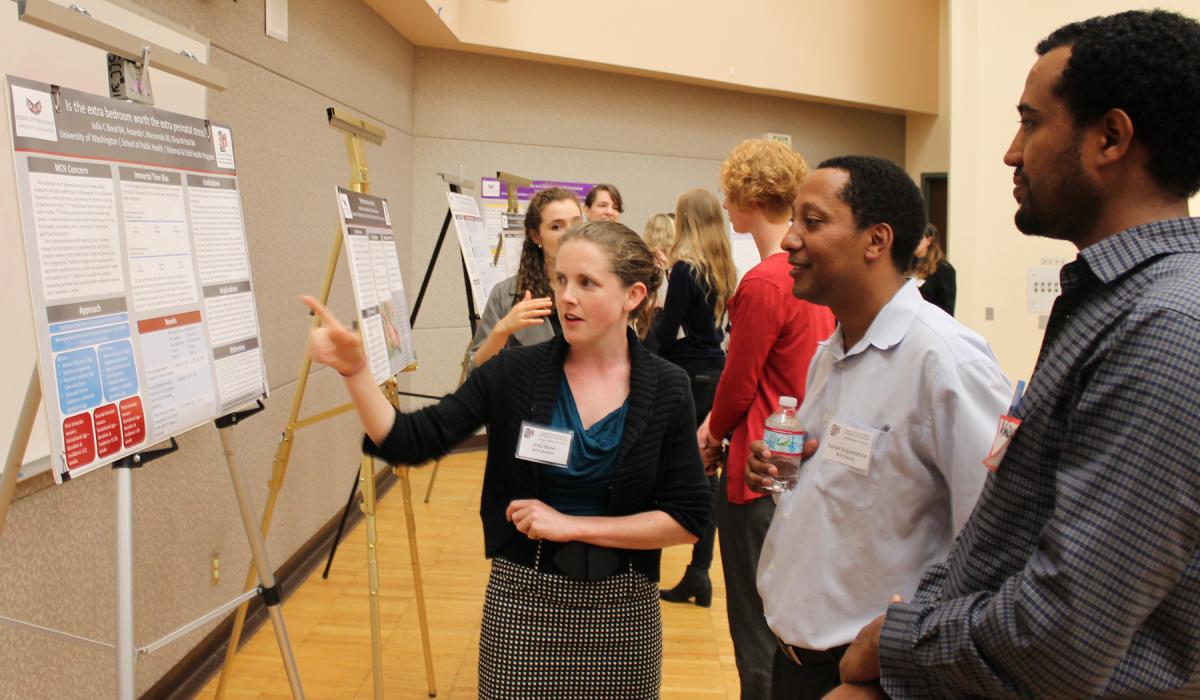 Maternal and Child Health
RESEARCH FESTIVAL
Thursday, June 7, 2018
1:30pm - 4:30pm
South Campus Center, Room 316
Graduates from the Center of Excellence in Maternal and Child Health will present and discuss their thesis research. Enjoy light refreshments during the poster session which will feature the work of first-year and certificate students.
---
Student News
Tatiana Sarkhosh (MPH 2018) published an op-ed on the benefits of breastfeeding for Iowan moms in the Des Moines Register.
Alyssa Bosold (MPH 2018) was selected by the Maternal and Child Health Bureau (MCHB) to serve as one of the ten Trainee Ambassadors of 2017 and earned the MCHB Graduate Student Epidemiology Program Award to complete her practicum with the Northwest Portland Indian Health Board doing MCH needs assessement for Northwest Tribes.
Divya Patil (MPH 2018) earned the MCHB Graduate Student Epidemiology Program Award to complete her practicum with the Hawaii Department of Health to evaluate and analyze the impact of substance use and chronic disease on birth outcomes to help inform state efforts.
Colleen Kimsey (MPH 2018) was awarded a Title V MCH Internship to work with the Bureau of Family Health in Pennsylvania to develop workforce capacity around improving health outcomes for women and children.
Ashley Scherman (MCH Certificate) co-authored a paper in Physiology Reports: "Maternal High-Fat Diet in Mice Leads to Innate Airway Hyperresponsiveness in the Adult Offspring" and will present at the Pediatric Academy Society Conference on May 6, 2017 in San Francisco: "Adverse Experiences in Childhood and Preschool Language Development"
Faculty & Alumni Updates
Stephen Hawes, PhD, MS, professor in Epidemiology, Health Services, and Global Health, and Director of the UW Strategic Analysis, Research and Training (START) Center, was named the new Chair of the Department of Epidemiology at the University of Washington School of Public Health on Feb. 16.
Daniel Enquobahrie, PhD, MPH, MD, Director of MCH and professor in Epidemiology and Health Services, won the 2017 Loretta P. Lacey Academic Leadership Award from the Association of Teachers of Maternal and Child Health.
Tracy Hilliard, MCH alumna, is a senior consultant at ORS Impact and joined the UW School of Public Health this past fall to develop a five-year strategic plan for diversity, equity, and inclusion.
Amritha Bhat (MPH 2017) recently had her thesis published in the Journal of Psychosomatic Obstetrics and Gynecology: Delivering perinatal depression care in a rural obstetric setting: a mixed methods study of feasibility, acceptability and effectiveness: