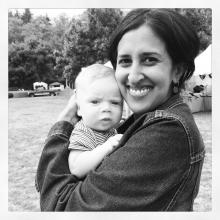 Hometown
Highland Park, East LA, but I've lived in Seattle for over 20 years
Program and Graduation Year
Concurrent degree program: Masters in Social Work (MSW) 2004, Health Services (MPH) 2005 with certificates in MCH and International Health
Research Interest
reproductive health and justice
Current Job and Location
Executive Director, Open Arms Perinatal Services in Seattle, Washington. We provide community-based support during pregnancy, birth and early parenting to over 300 low-income families in Western Washington every year through trained doulas.
---
What does "a day in the life" look like for you?
I spend a lot of time building support for our programs through fundraising, partnerships, and advocacy for our approach that centers social justice and racial equity. I am also responsible securing resources for our programs to provide the best possible support to the families we serve.
What are some of the lessons you learned at the MCH program that you are reminded of often in your current job?
The MCH program gave me a strong grounding in epidemiology as well as the social determinants of health that have such an impact on pregnant and parenting families. I learned to not just go by the statistics that are given to me; I ask about the rigor of the analyses, and the relevance of data. This is especially important because we work predominantly with women of color, who face the worst maternal and infant outcomes. My MSW helps to keep me grounded and to not lose sight of the individual trees in the forest (see next answer).
What advice do you have for students getting ready to enter the working world?
Public Health helps to train you to look at the forest rather than just the trees. But don't lose sight of the individual tree in the process. Having a MPH gives you a certain power and credibility as you go out into the world. Use it to lift up those who have less power and privilege. And stay humble. There is always so much to learn from the communities and populations you will work with.