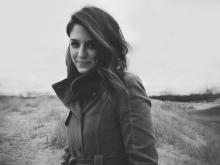 Hometown
Grand Rapids, MI
Program
Health Services, MPH
Research Interests
Early childhood development, low-income community needs, nutrition, prenatal health
---
What sparked your interest in public health?
I became interested in public health during my time working as a Family and Health Advocate for a Head Start and Early Head Start program in Chicago. I found that many families in low-income communities in Chicago lack access to the resources needed to support family well-being or the proper tools to help their children have healthy early years. Oftentimes, even families with access to resources did not have adequate support from systems of health or social services to leverage these resources in the most effective way possible. I became very frustrated by the slow progress toward change in healthcare and social services, and I decided that I wanted to work in a role that would allow me to affect change from a higher level. I learned that working in the public health sector will allow me to influence systems of health in such a way that children and families will have easy access to equitable, affordable, and practical resources to influence long-term health outcomes.
What is the most interesting project you've worked on in the MCH Program so far?
I would say that my practicum is the most interesting project I have worked on in the program so far. I am working with the Health Coalition for Children and Youth through autumn quarter, and I have learned so much from health practitioners and advocates for healthcare in the Seattle area. This experience has taught me about the practical challenges that are experienced in a career of public health advocacy and program management, and I have also learned the primary focus points and opportunities for growth that are prevalent in upcoming health related legislation. This practicum experience has also allowed me to apply classroom MPH principles, such as social determinants of health, to real life situations and develop a greater appreciation for the subjects we discuss during class time.
What do you like about living in Seattle?
There are so many things to love! I am so thankful that I can explore the city with public transportation, and there are also great places to visit just outside the city if I fee like adventuring with friends. I like the feeling of being in a big city that is a hub for innovation while still having a laid back West Coast vibe. Seattle is such a culturally engaged and progressive city, and my own perspectives have been broadened during my time here. I really enjoy the character of the different Seattle neighborhoods and all of the different food/coffee/brewery options that are found around every corner! Fun (and frequently free) events are going on every day.
What do you do in your free time?
I have always been passionate about the arts, so in my free time I love to attend art events and galleries, play the flute, and see live music at the awesome concert venues around the city (at least one show each month in 2018!). I also enjoy running on the Burke Gilman or around Green Lake, attending on-campus fitness classes, and taking advantage of the Trailhead Direct service to access some great hikes in the Seattle area. Although technically considered work, my life outside of the classroom also includes contracted research projects for a healthcare agency in Seattle, and I also put my love for fashion to good use during my part time work at a bridal salon downtown. ​