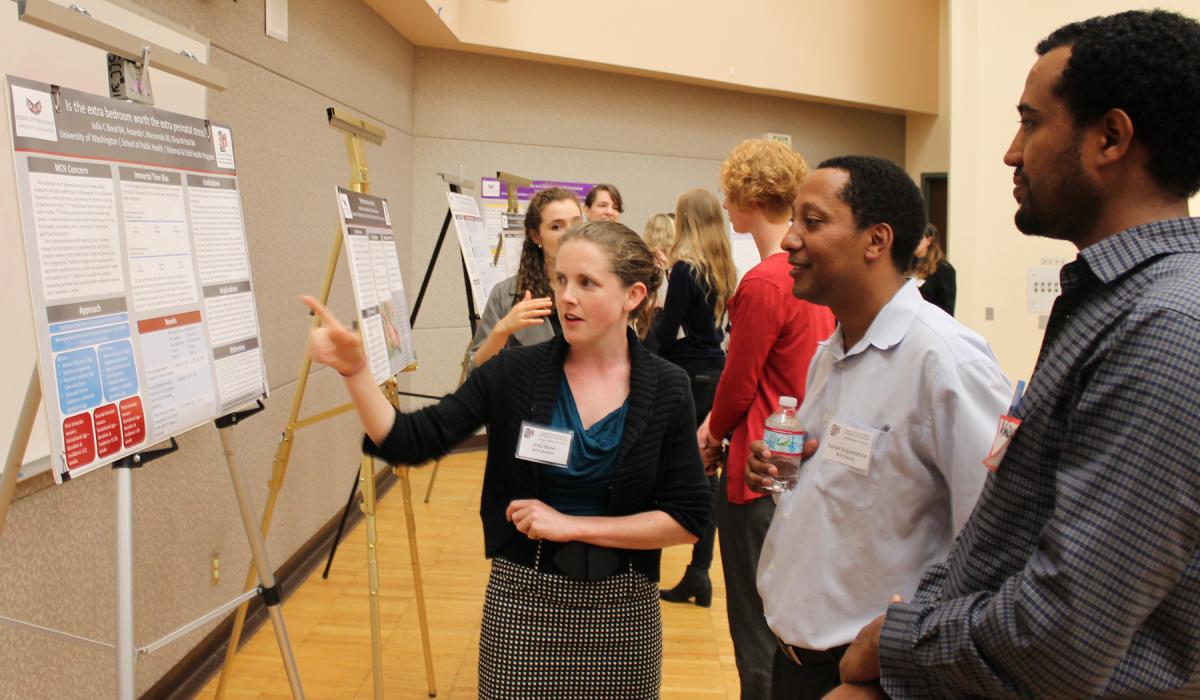 MCH Research Festival 2018
Thursday, June 7, 2018
1:30pm-4:30pm
South Campus Center, Room 316
Friends, family, and colleagues are invited to the annual MCH Research Festival. Graduates discuss their thesis research, certificate students present their capstone projects, and first-year students present posters of their Spring Projects. 
Spring Project (First-Year Students)
Spring Project
Poster Due: TBA
This project is an opportunity for you to engage in MCH-related descriptive, evaluation, or analysis work and present it during the annual MCH Research Festival in June. You may choose to do one of the following projects:
Descriptive or Evaluation Project: Identify the service goals of an organization or agency, the methods of service delivery, the assumptions or theories of change that are implied or explicit about how and why the program works, and the results. You can use multiple sources of information such as interviews with key informants, direct observation of the program in action, formal and informal presentations, and/or existing scholarly publications.
Data Analysis Project: Perform a qualitative or quantitative analysis of a specific, focused MCH-related question or problem using an existing data source such as birth certificates, hospital discharge data, or local, state or national data sources related to reproductive, perinatal, child, or adolescent public health.
For project ideas that do not fall under these categories, discuss with advisor and/or Daniel.
INSTRUCTIONS
Identify your topic. Speak with your MCH Faculty Advisor and/or with Daniel about the content of your poster project. One possibility is working with the obstetrical outcomes data. Read more about this opportunity.
Design your poster. See links to templates and sample posters below:
Upload your poster to the printer and email it to Malka by TBA. We will cover the cost of the poster printing if you use UW Posters. (We recommend you convert your poster to PDF before you upload to the printer or you may lose formatting.)


Go to uwposters.com
Choose Order Posters
Scroll down and select Protected Group Order | MCH Research Festival 2018
Enter password "mchres18"
Click Choose File  to upload your poster (the dimenstion, materials, and lamination are pre-set, pease don't change them as it will alter the cost)
UW Posters will email you when your poster is ready for pick up. It is your responsibility to pick up the poster and drop it off at the MCH office in F-351
Email a PDF of your poster to Malka the same day at malim@uw.edu

Plan to be available during the Festival on June 7 from 1:30-4:30pm. You will  present your poster, answer questions, and discuss your project.
Thesis Presentation Instructions (Second-Year Students)