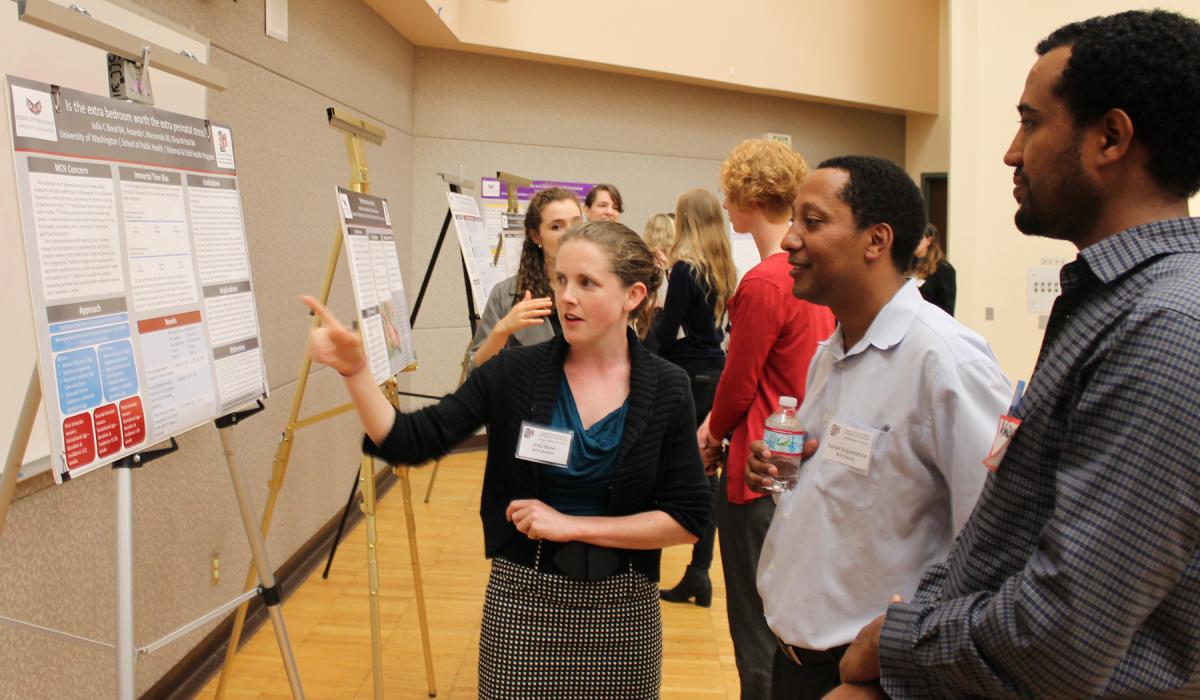 MCH Research Festival 2019
Thursday, June 13, 2019
1:00pm-4:00pm
South Campus Center, Room 316
Friends, family, and colleagues are invited to the annual MCH Research Festival. Graduates discuss their thesis research, certificate students present their capstone projects, and first-year students present posters of their Spring Projects. 
Thesis Presentation (2nd Year Students)
Due: April 30 Choose Thesis Timeslot AND Submit Thesis Title
Enter your name and thesis title into your chosen timeslot. You will have up to 15 minutes, which includes a Q&A at the end. (At 2:20pm we will break for a half hour for posters and refreshments). This is a first-come-first-served situation – you are free to discuss swapping times with your classmates, but please do so before April 30.
Due: May 27 Thesis Abstracts
Email your abstract to malim@uw.edu. Your abstracts will be included in the booklets we print for the Festival. The abstract should be no longer than 350 words. See guidelines for formatting your abstract here.
Due: June 3  Thesis Presentation Slides
Once you've finalized your presentation, email it to malim@uw.edu so I can load it onto the laptop and make sure there are no formatting issues. Guidelines for presenting your thesis can be found here.
Spring Project (First Year Students)
Poster Due: May 27 / Presentation: June 13
This project is an opportunity for you to engage in MCH-related descriptive, evaluation, or analysis work and present it during the annual MCH Research Festival in June. You may choose to do one of the following:
Descriptive or Evaluation Project Describe and/or evaluate the service goals or service delivery of an organization or agency that serves MCH populations, the assumptions or theories of change that are implied or explicit about how and why an MCH program works, or background research on an MCH question or MCH problem. Suggested poster headings include: MCH Concern, What is Needed, What is Known, Recommended Action.
Data Analysis Project Perform a qualitative or quantitative analysis of a specific, focused MCH-related question or problem. Suggested poster headings include: MCH Concern, Approach, Findings, Implications.
For project ideas that do not fall under these categories, discuss with advisor and/or Daniel.
Note: For the project, you can use one or multiple new or existing sources of information such as interviews, direct observation, formal and informal presentations, scholarly publications, or data from birth certificates, hospital records, and local, state or national data sources related to MCH.
INSTRUCTIONS & DEADLINE
Due: April 22 Identify your poster topic and submit title
Speak with your MCH Faculty Advisor and/or with Daniel about the content of your poster project. Once you've identified the topic, email your poster title to Daniel (danenq@uw.edu) and Malka (malim@uw.edu).
Due: May 27 Upload poster to printer and email PDF
Design your poster: Use these templates to create your poster Descriptive/Evaluation Project poster or Data Analysis Project poster. You can also take a look at last year's posters to get more ideas.
Convert your completed poster to a PDF and submit, we will cover the cost. 


Go to http://posters.hsa.washington.edu/ choose Order Posters
Scroll down to click on MCH Research Festival 2019
Enter password "mchres19" to open the file upload page
The dimensions, material, and lamination are pre-set, please don't change them as it will alter the cost. Upload the PDF of your poster.
THEN…email a PDF to Malka the same day at malim@uw.edu  (this will confirm you have submitted the poster for printing and also allow us to put the poster on our website).
June 13 | 1-4pm  Present your poster during the Festival
During the Festival you will present your poster, answer questions, and discuss your project.