MEDEX Seattle class 44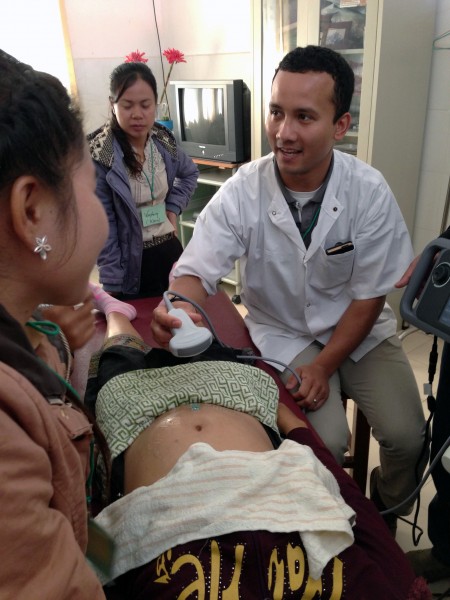 In December 2012, Andrew McIntyre, a new MEDEX graduate, had a great opportunity to join a medical education mission to the Lao PDR.  He was able to put both his new PA knowledge and his video and photography skills to use as the group delivered new ultrasound machines and trained local health personnel how to use them.
I have had the most fortunate turn of events.  When I finally received my official appointment at Harborview Medical Center as an emergency medicine PA, my start date was January 2nd 2013, giving me yet another month before I had to report to work.  Instead of watching TV and playing video games, I accepted an offer to help teach in Luang Prabang, Laos PDR.  Health Leadership International (HLI) needed some video and photo shoots, but more importantly, they needed some help teaching.  I would be working with my father, Dr. Cam McIntyre, and Dr. Bill Marks, a renowned radiologist who trains Laotian doctors and district medical personnel in ultrasound.
Susan Reba McIntyre, the founder and director of HLI, is also my mother and part-time faculty at MEDEX.  She and my father, along with other UW Medicine faculty make up the board and medical direction of HLI.  Khampho Ohno, PA-C (MEDEX Class 43), is also on the board, and will soon be an on-the-ground field director in Laos.
The success of HLI Seattle is derived from a team that is highly skilled and experienced in cross-cultural medicine, and dedicated to improve the lives of the Lao people.  HLI partners with health ministries, hospitals, universities, nongovernmental organizations and women's organizations to improve the well-being of vulnerable populations.  This fifth year has fulfilled the current memorandum of understanding (MOU) with the Laotian government, and there is already talk of extending the MOU indefinitely.
The communities with whom we work inspire the vision, initiative and implementation of each project.  HLI has developed a step-by-step Action Template for educational project planning and development. The process begins when local health leaders identify healthcare education or training needs and objectives, and then these leaders enlist the help of HLI.
I joined the team on December 9th after two days of air travel, 1½ weeks into their Luang Prabang workshop.  The workshop covered basic life support, adult and pediatric medicine, midwifery, physical exams, suturing, tropical medicine, infectious disease, and other topics.  Reba ran a tight ship, and Khampho both taught classes and was a Laotian interpreter extraordinaire!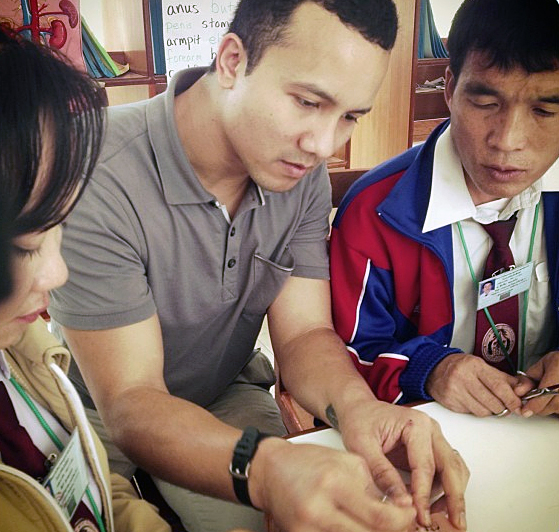 My primary task was to help orchestrate the ultrasound workshop that ran for one week from December 17th through the 21st.  The US Department of State's Office of Weapons Removal and Abatement awarded HLI funds to purchase and donate five NanoMaxx® ultrasound machines from SonoSite, and teach ten selected medical providers how to use them.  The selected provinces were deemed the most remote and most affected by unexploded ordinance (UXO), which were dropped by American warplanes during the Vietnam conflict.  About one third of these bombs did not explode.  Since that conflict, 20,000 people have been killed or injured by UXOs.  Approximately 100 are killed or wounded every year; even though 40 years have passed since the conflict.
For the training, two medical professionals including nurses, village healthcare workers, and physicians came from each selected district.  The majority of them did not have any formal ultrasound training.  Over the one-week training, we taught basic functions of the machine, maternal-fetus diagnostics and focused assessment with sonography for trauma (FAST).  My role was to learn the machine functions and help Dr. McIntyre and Dr. Marks teach this fast-paced course.  It reminded me of the common PA-school phrase: "like drinking from a fire hose", but the students understood that they had to absorb as much information as possible.  We would have daily quizzes, and by mid-week, it seemed that they were learning and retaining the information.  My other role was to document this workshop with photography and video to demonstrate to the US Department of State how the training was conducted.  I have now edited a short film for this purpose.
They day would consist of a 15-minute bike ride from our flat to the district hospital.  The morning quiz was followed by morning lecture by Cam or Bill, or Sackmon, from Vientiane.  By 10am we would then split into two groups and offer local residents free ultrasound exams.  By lunch-time, there would be a line stretching from the radiology department down to the parking area.  Many pregnant women wanted another look at their pregnancies.  The team did not conduct direct care since we did not have a local license, so Sackmon and another physician did most of the hands-on work.  Through the guidance of Cam, Bill and Sackmon we saw a great variety of pathology; some benign, some more serious.  The afternoon started with lunch, which I spent with the students learning as much of the Lao language as I could, sharing in some of the traditional food.  The day would conclude with another lecture and another beautiful 15-minute bike ride back to our flat.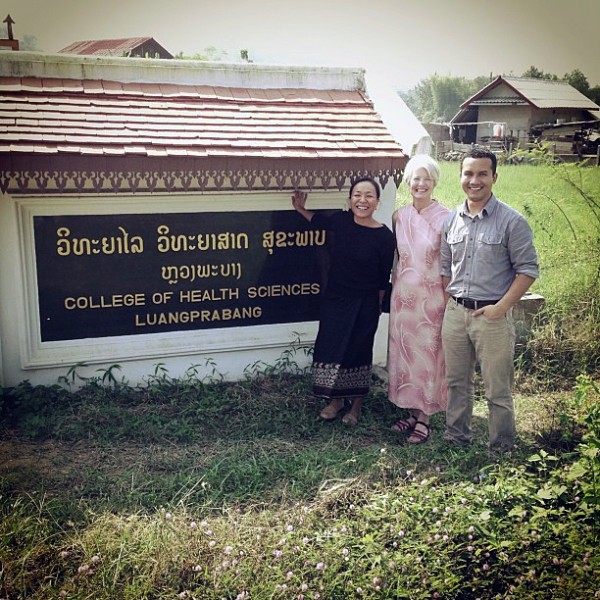 Graduation was held on Friday, December 21st.  Armed with their new knowledge and appreciation for ultrasonography, the ten students then embarked on their long journey back to their communities to continue their mission as medical providers.  We hoped that with their new diagnostic tool, they would continue to study, practice and gain facility with ultrasonography.  We concluded this workshop with a Baci ceremony, in which an elder monk blessed all of the participants and wished all safe travel, a healthy life, and good luck.  These wishes and prayers were represented by strings that were wrapped around the wrists; they would then unravel on their own over time, so that those wishes and prayers would come true.
This was an experience I'll never forget.  I plan to return next year and spend two weeks in a much more remote area to teach emergency medicine.  I'll be working closely with Khampho Ohno and other HLI faculty over the next eight months to strengthen the curriculum and develop social media formats to help teach and share our curriculum to a far wider audience of healthcare providers in Laos.