People come to the MEDEX Northwest physician assistant training program at the UW with all kinds of prior medical experience under their belt. But few can make the claim to be medical educators.
For 12 years, Stacia Reagan taught medical assistants at Spokane Community College. "I was the program director of the medical assistant program, and I wrote my own textbook," she says. At the same time, Stacia completed her Master's degree in Adult Education.  Prior to teaching, Stacia worked as a medical assistant for Dr. Richard Lambert, of Spokane Respiratory Consultants while pursuing her Bachelor's degree in Criminal Justice.
"He gave me my first job out of school, and I stayed with him all through getting my other degrees, until I eventually went into teaching at Spokane Community College, at which time he came aboard with me as the program's medical advisor," Stacia explains.
Stacia obtained her Certificate of Medical Assisting in 1999, followed by a Bachelor's in Criminal Justice Forensics, and then a Master's in Adult Education. With MEDEX Spokane Class 19, she received her Master's in Clinical Health Services in August, 2017.
We wonder what it was about Stacia's upbringing that made her so focused on education.
She was raised in Craig, Alaska on Prince of Wales Island, population 1,231. The native tribal community there was rich in Tlingit and Haida history and promoted a rigorous education program among the residents.
"There are several towns on the island," Stacia explains, "but there's one larger school, Craig High School, that the majority of the kids attend. That's how small it is. It's an amazing place to grow up."
"When I graduated from high school," she continues, "I was strongly encouraged to have a minimum of two years of a foreign language. It was very rigorous academically, which I think is surprising to a lot of people. Really, my teachers there encouraged me to go onto higher education, and I chose Eastern Washington. There was never any doubt in my mind that I would keep going to school, the only real question is when to stop," she says.
Stacia herself is part Cherokee, and her family moved to Prince of Wales Island when she was 3 years old. "My entire life is up there," she says. "My parents still live up there. My sibling, Jessica, is a teacher at Craig High School."
Growing up in a small Native Alaskan island community gives Stacia a unique perspective on healthcare delivery to remote rural areas.
"There was one clinic, and it was always a locum tenens physician," she explains. This meant that it was usually a new doctor every month, often in a rotation or residency. As a result, the most stable healthcare was community-driven. "More often it was the community elders who took care of everybody—your family and friends. They were the ones you depended on."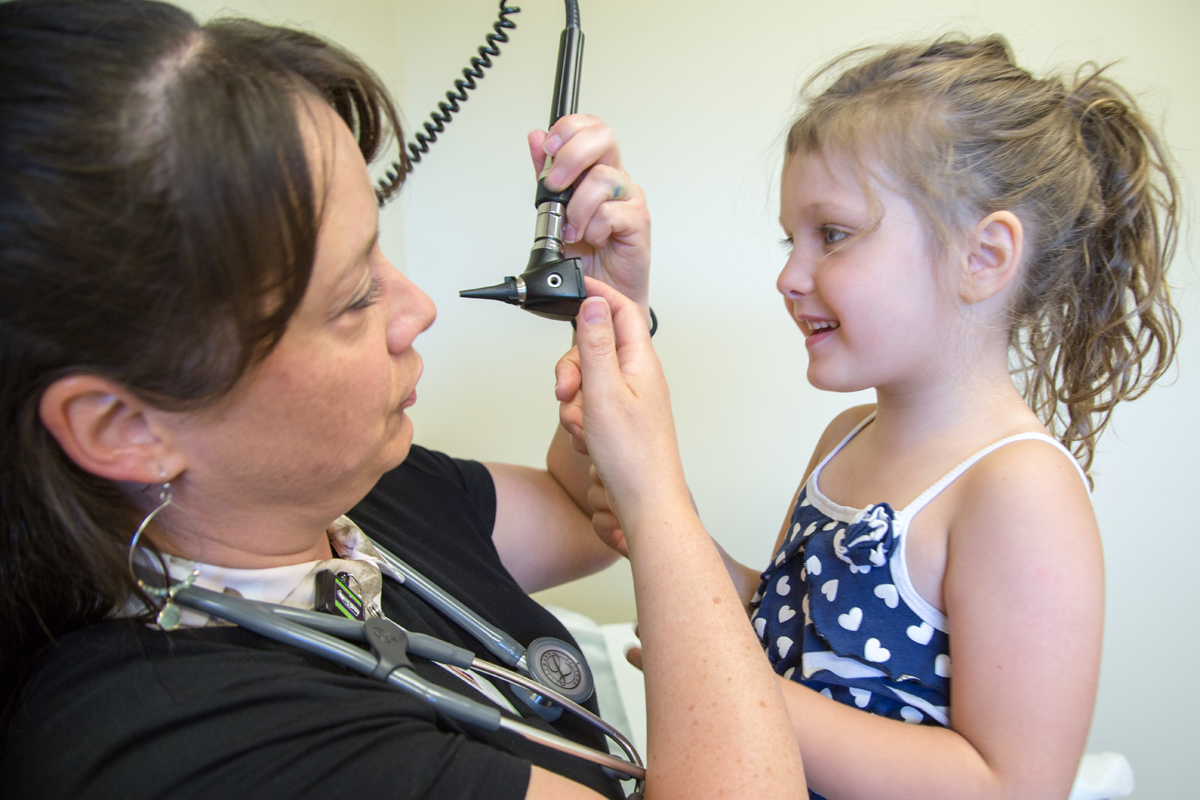 During her family medicine preceptorship at CHAS Maple Street Clinic in Spokane, Stacia Reagan works to put her young patient at ease.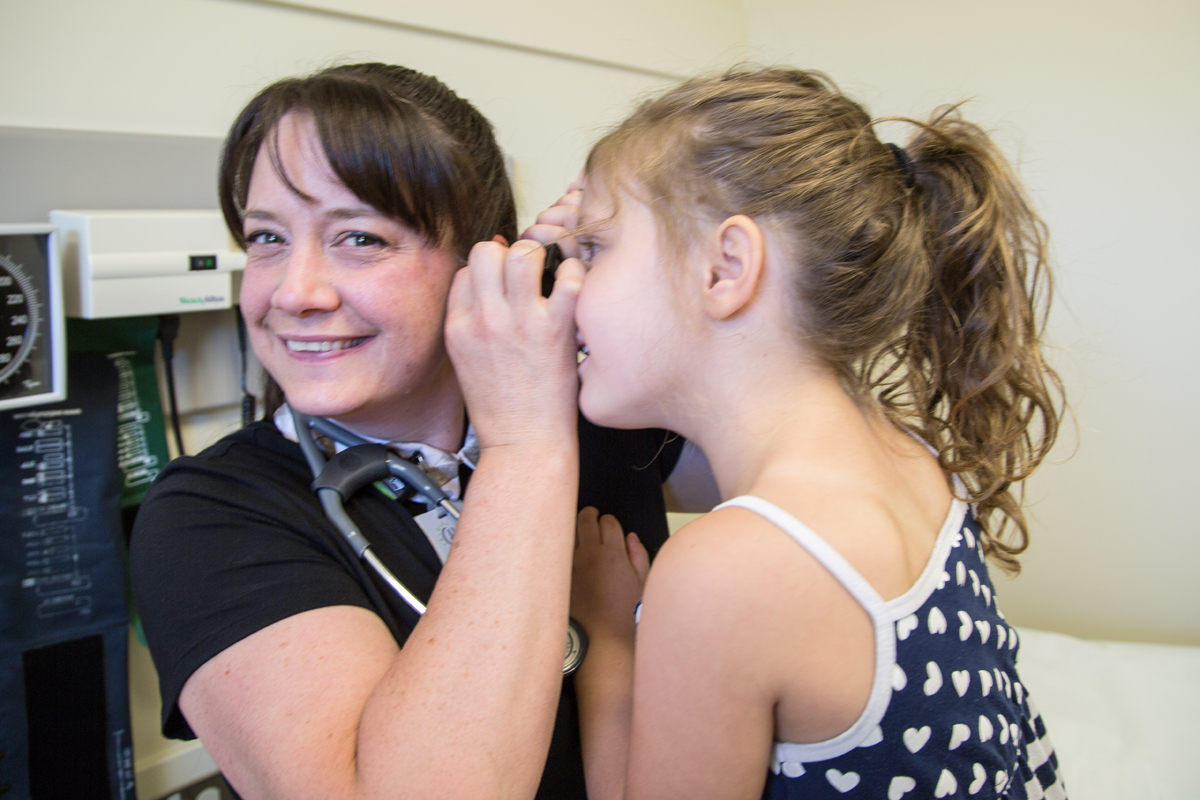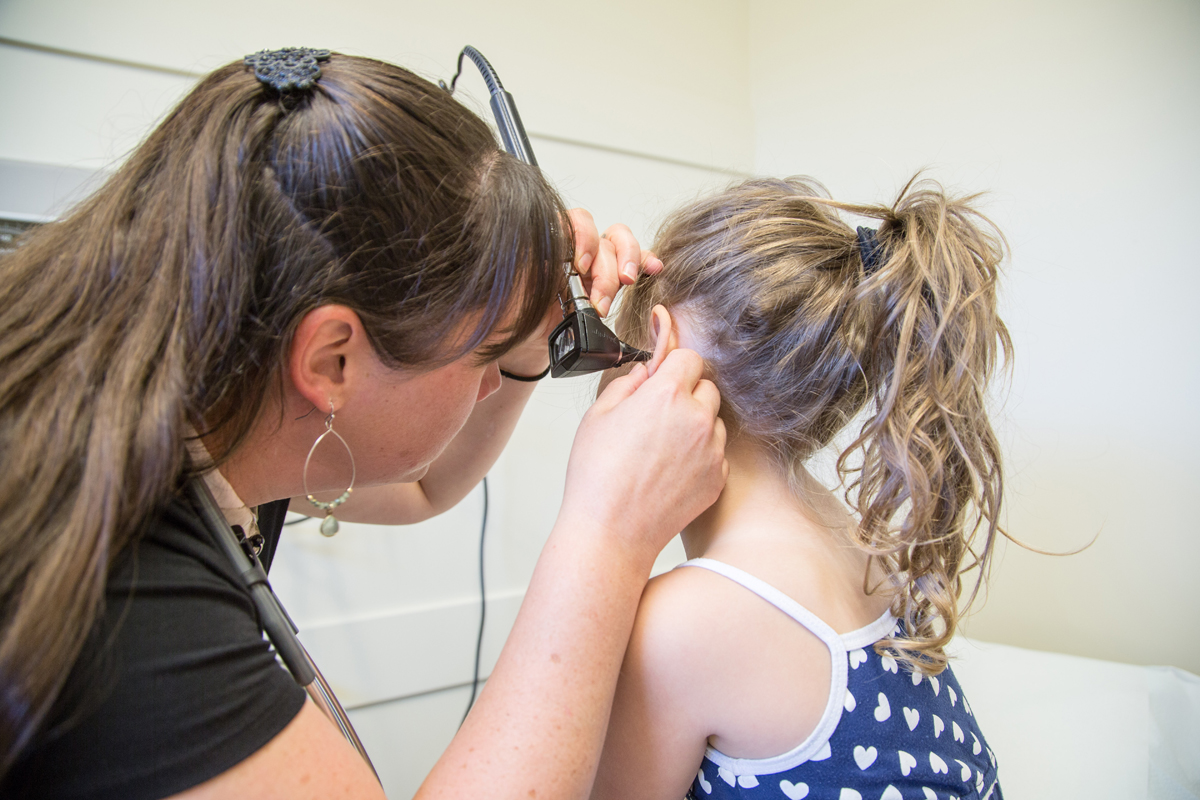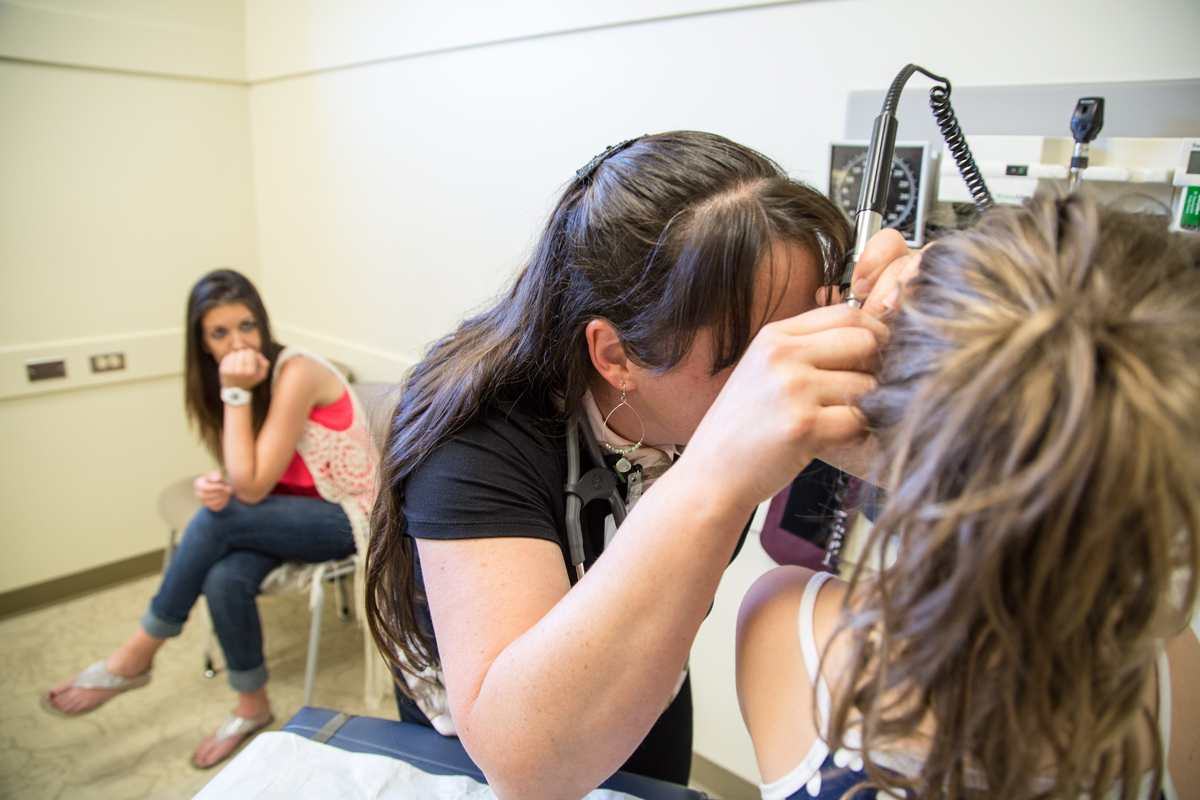 The child's mother looks on in the background while Stacia conducts an ear exam.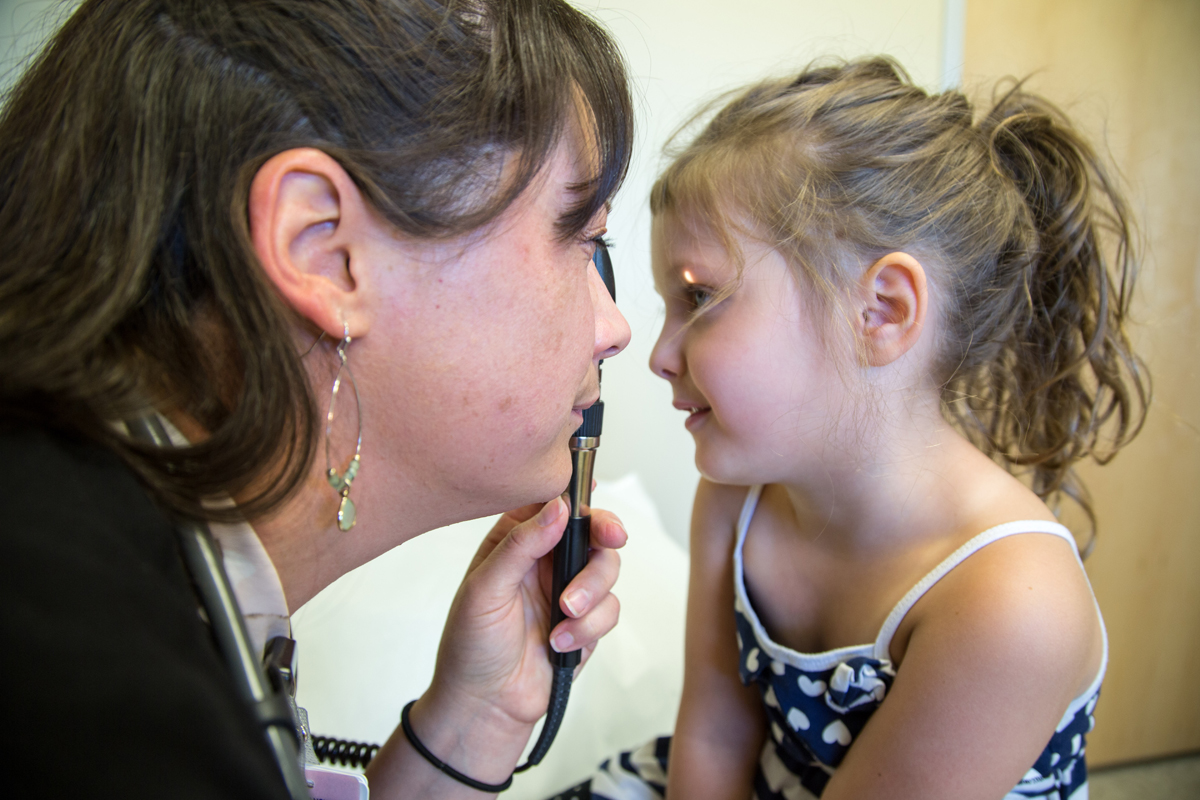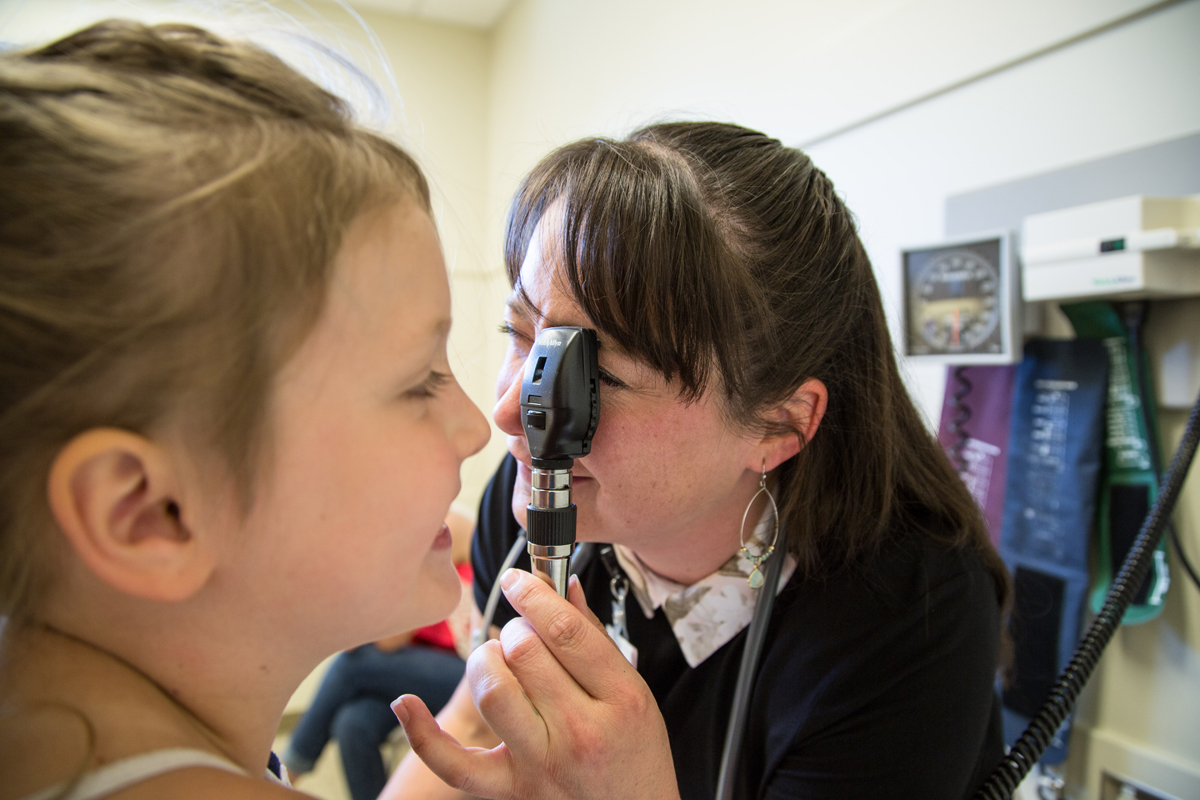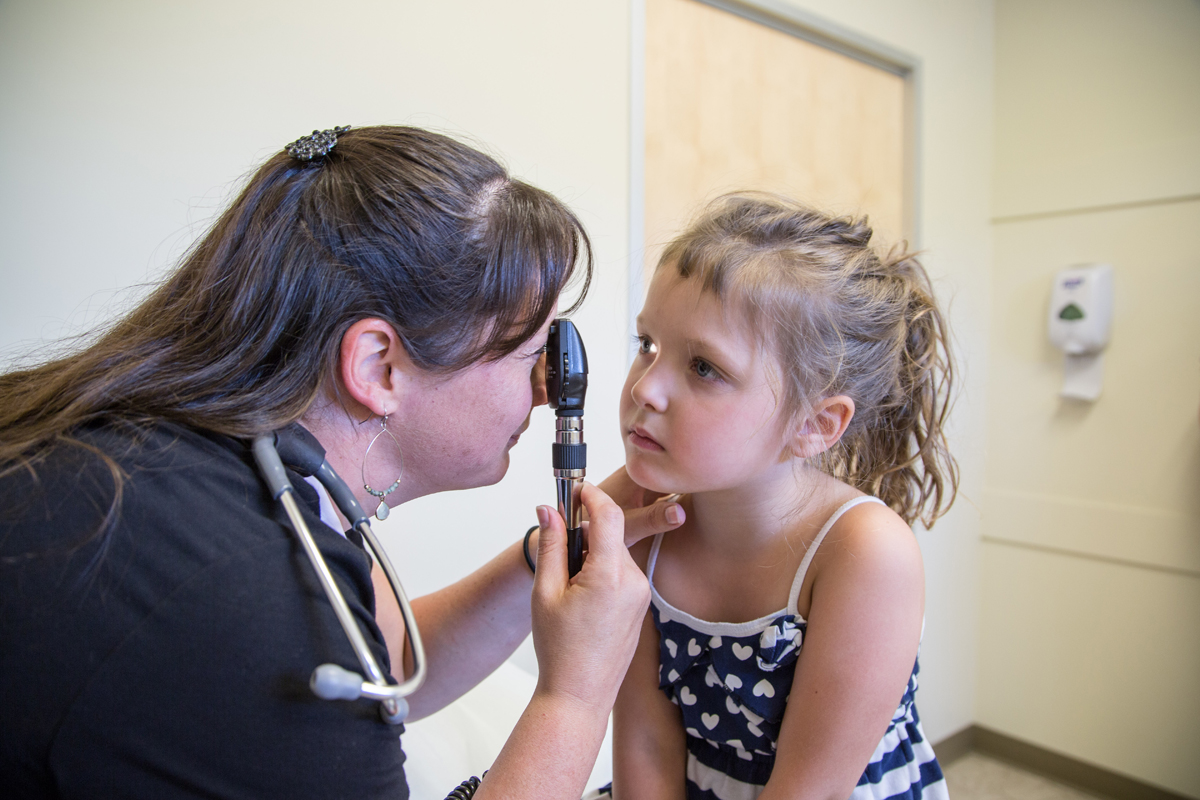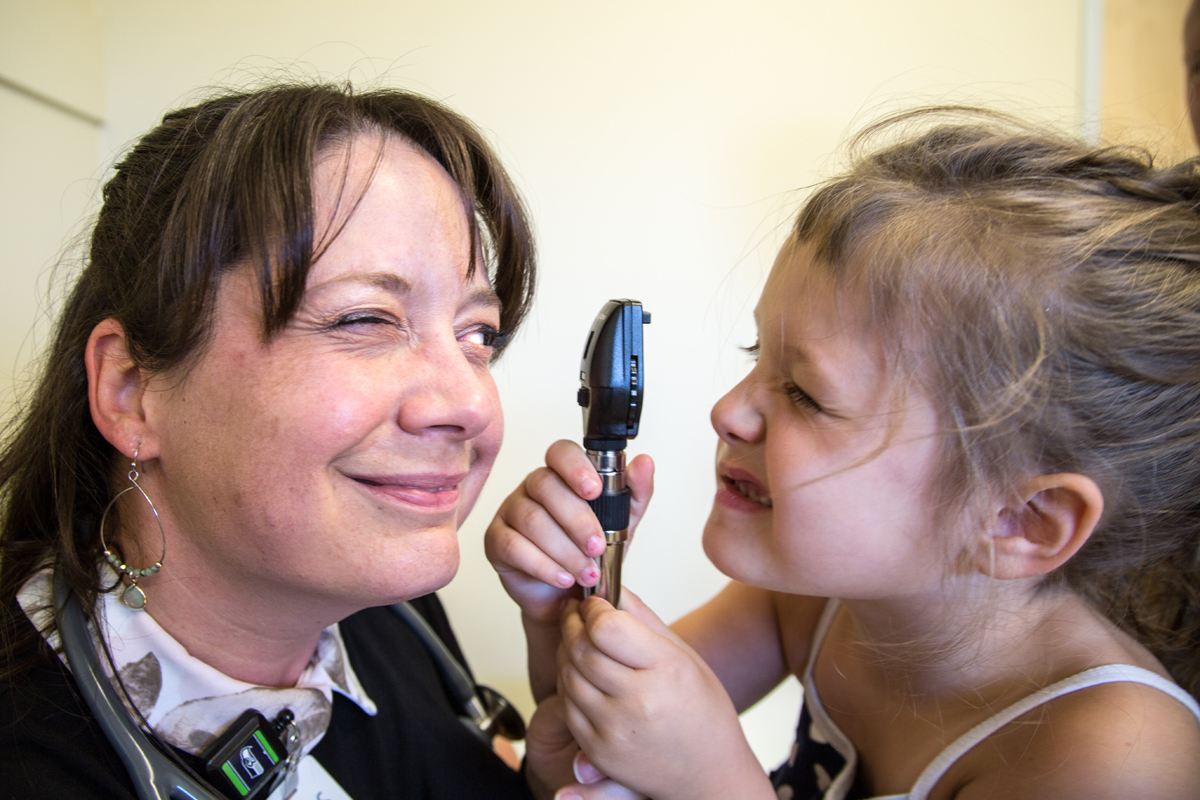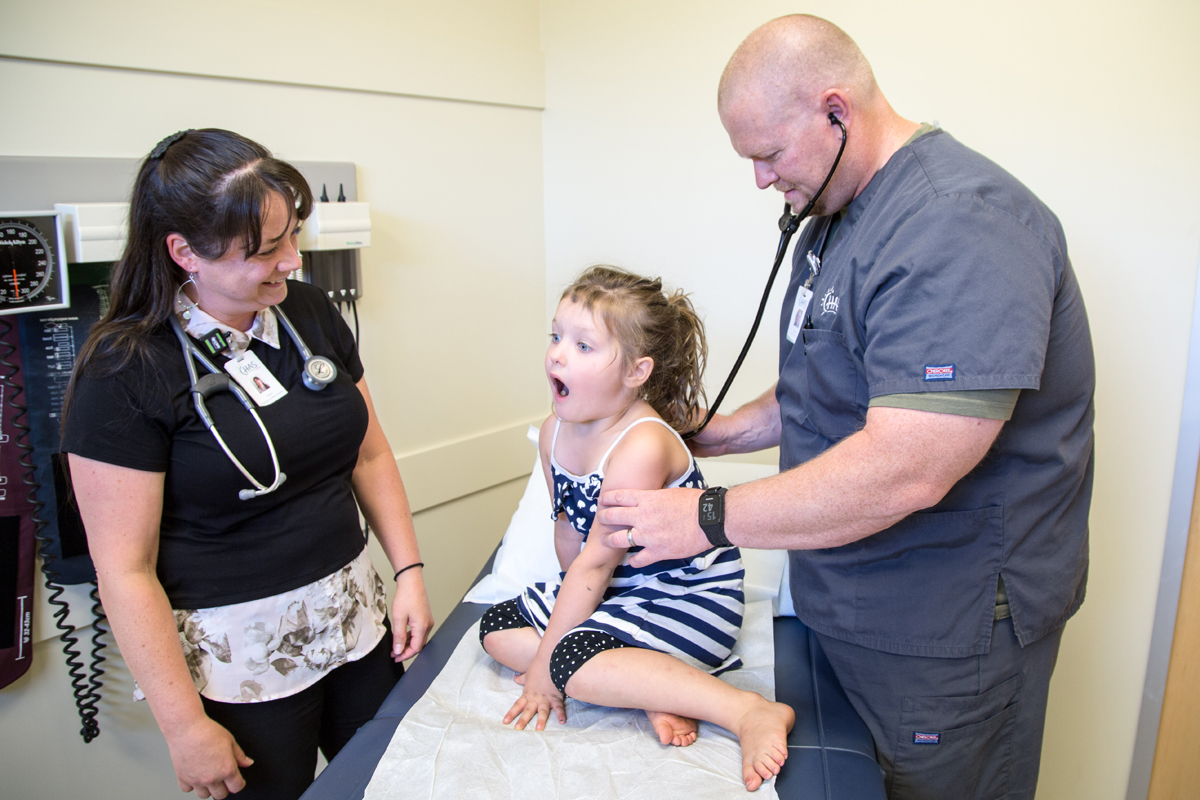 Jason Wright, ARNP for CHAS Health steps in to precept Stacia during this well child exam.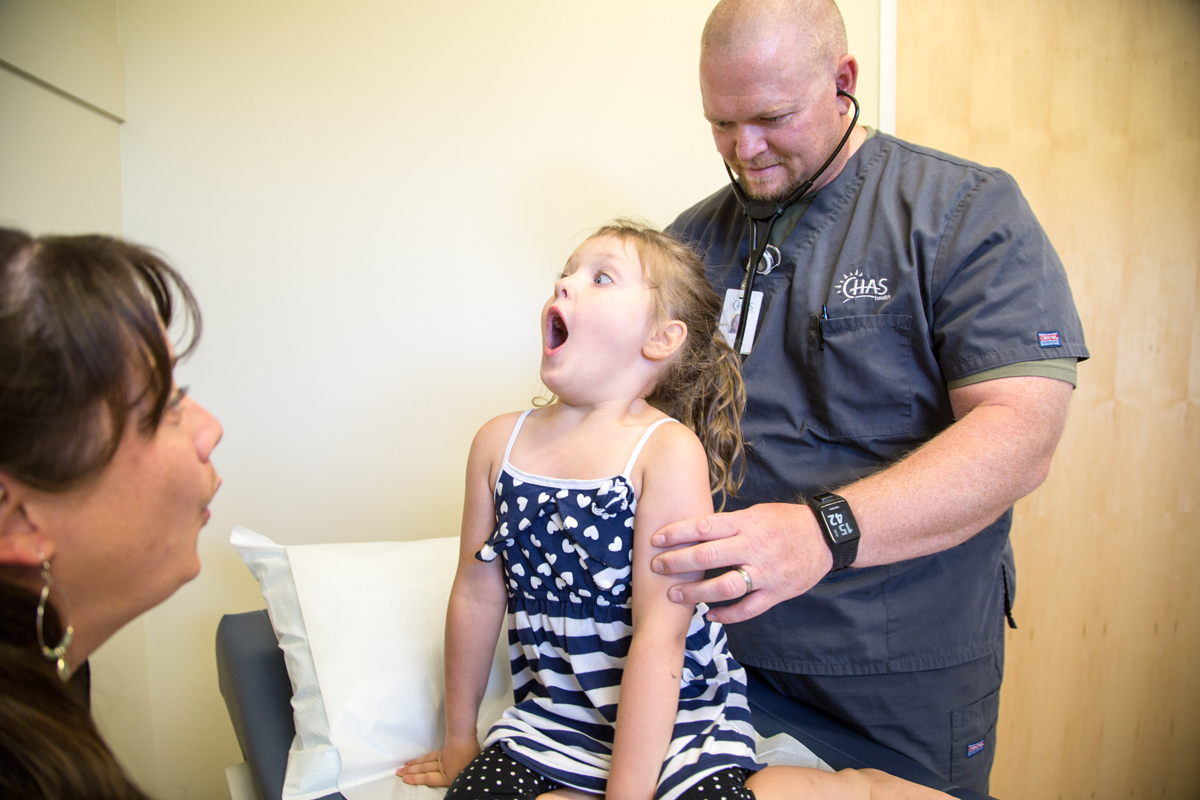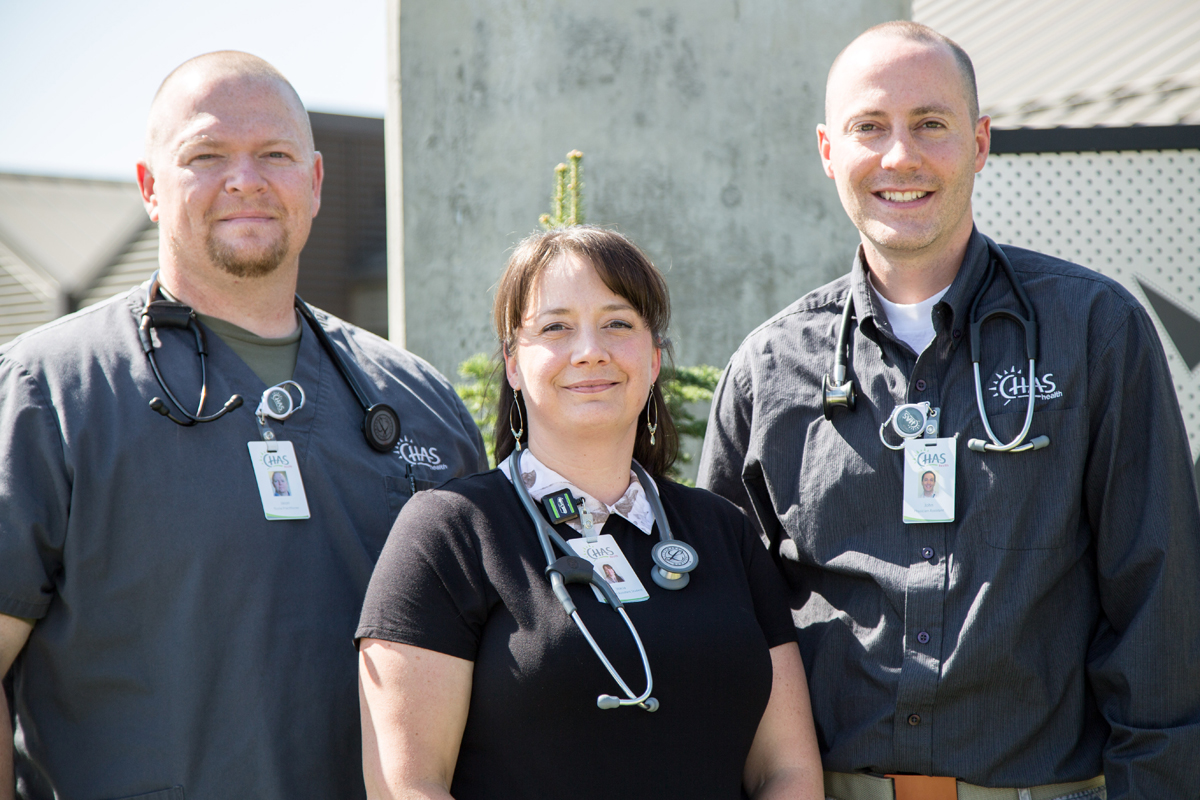 Stacia Reagan is flanked by her CHAS preceptors, Jason Wright, ARNP and John Colver, PA-C.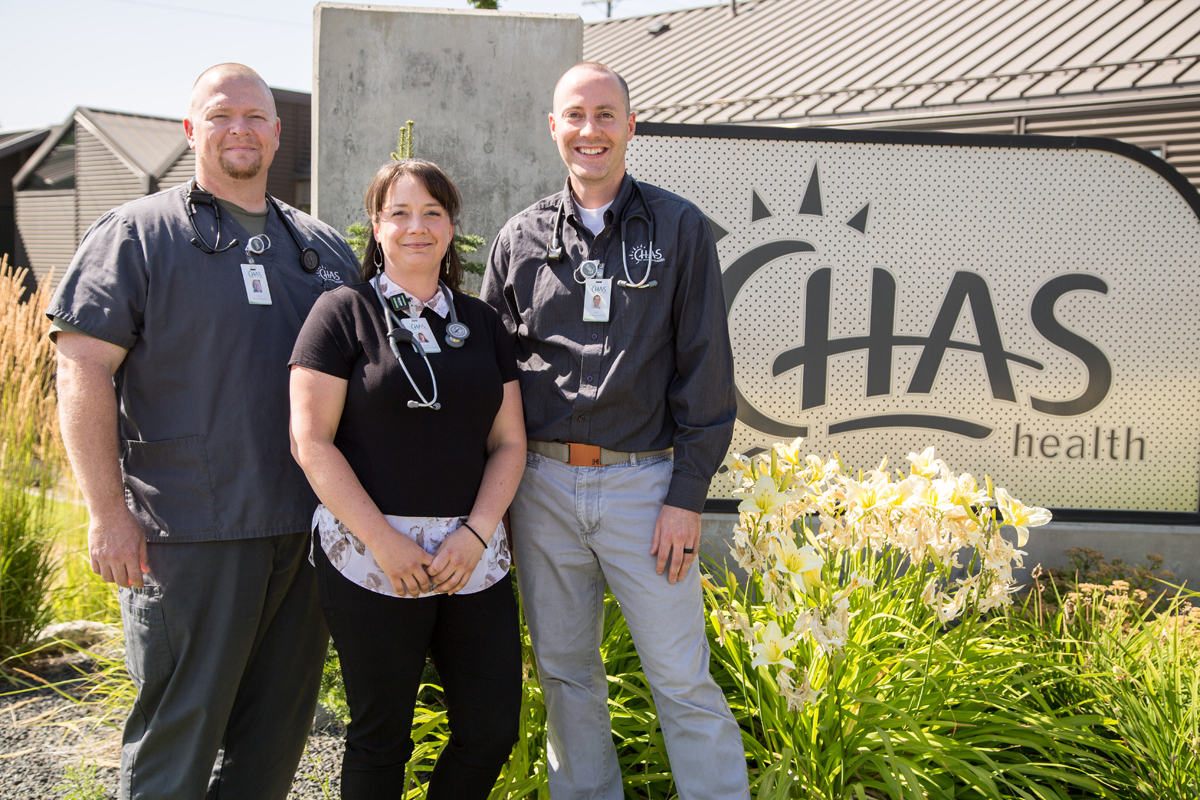 We visited with Stacia this past summer during the final days of her clinical year with MEDEX Northwest. At the time, she was completing her family practice preceptorship at CHAS Maple Street Clinic in Spokane.
"I feel like the patients here get the top level of care," she says.
CHAS Health is a non-profit, federally qualified health center (FQHC) providing high-quality medical, dental, pharmacy, and behavioral health services to families and individuals of all ages, regardless of ability to pay.
"The providers here are phenomenal," Stacia says. "They're very welcoming and have a gift for teaching—very encouraging. They let you stumble through things and figure things out on your own, but they're still there to catch you, so to speak, when you get stuck or there's something that's confusing. They really are a mission-fit for CHAS, and you can see why they're providers here."
Stacia is keenly aware of how resource challenged some of the CHAS Maple Street Clinic patients can be.
"A lot of them might spend their last dollar to get here on a bus," she tells us. "My preceptors taught me that, when I enter the exam room, the patient needs everything we've got in that 15-minute appointment. They need every resource we can pull. They need our undivided attention. They need the highest level of care we can give them, because we might not get another chance with that patient. Due to financial reasons or otherwise, they might not be able to make it back for a follow-up appointment."
Despite this, the level of care available to a largely underserved or uninsured patient population is top notch. CHAS Maple Street Clinic has a pharmacy onsite, full medical staff, dental, mental health services and women's health. "If I see a patient with a tooth abscess, I know I can also get a hold of a dentist here in the same building that would help me with that," says Stacia.
Going back to an earlier time, we wondered what became of Stacia's degree in Criminal Justice.
"It was more of an extra chip," she explains. While in school, there was a brief placement at the Spokane Prosecutor's Office. "But I loved healthcare. As soon as I graduated, I ended up staying with medical assisting because I loved it so much."
For a total of ten years, Stacia worked as a medical assistant for only one physician, Dr. Lambert, right through her teaching role with Spokane Community College. During her clinical year at MEDEX Northwest, she encountered no less than nine of her former medical assistant students at various clinical facilities in Spokane. "In every rotation MEDEX has put me on, I have been with some of my graduates," she says. "They worked for other providers, and they'd stop by and say, 'Hey, that was my teacher'. I couldn't be more pleased to see my graduates.  They are incredible, dedicated Medical Assistants. Now, they're helping me, showing me the ropes at the clinics I work in."
In order to attend MEDEX, Stacia took a sabbatical as program director of the Medical Assistant program at Spokane Community College. Her decision to move forward and train to become a physician assistant was driven by a desire for deeper hands-on patient care.
"Over the course of a few years, I realized that I missed that patient care," says Stacia. "I wanted to get back to serving the community." Her own MA program graduates were out in the field involved in homeless outreach, diabetes day and other great outreach medical services to their communities. "I thought, 'Gosh, I want to be part of that, but I'm kind of removed from direct patient care, because I'm in teaching'."
Stacia's decision to move from medical assistant to physician assistant was also a matter of educational growth.
"I felt like I did the MA thing for a while," she says. "It's a phenomenal career, an amazing career, but I felt like I'd grown in a way that wouldn't support me doing that exclusively any longer. I needed to continue to grow."
Stacia was an accreditation surveyor for MAERB—the Medical Assisting Education Review Board. This gave her insight into how to thoroughly research PA schools, including MEDEX Northwest.
"I knew what their scores were," she says. "I knew what their standards were. I looked into the entire faculty, the locations, and the rotations. I did a lot of research. Turns out they were the school. So I did one application with one school. I was going to either make it into MEDEX, or keep trying."
We wonder what the MEDEX didactic year was like for Stacia.
"Rough," she says without hesitation.
"It's hard to go on the other side of that desk," she says, referring to being a student in the Spokane MEDEX classroom. "Also, it's a different model of learning. It just demands a different level from you. And, of course, you know, I'm an older student. I've been married for 18 years with two kids at home. It demands a lot more than I think I realized, but I adapted pretty quickly."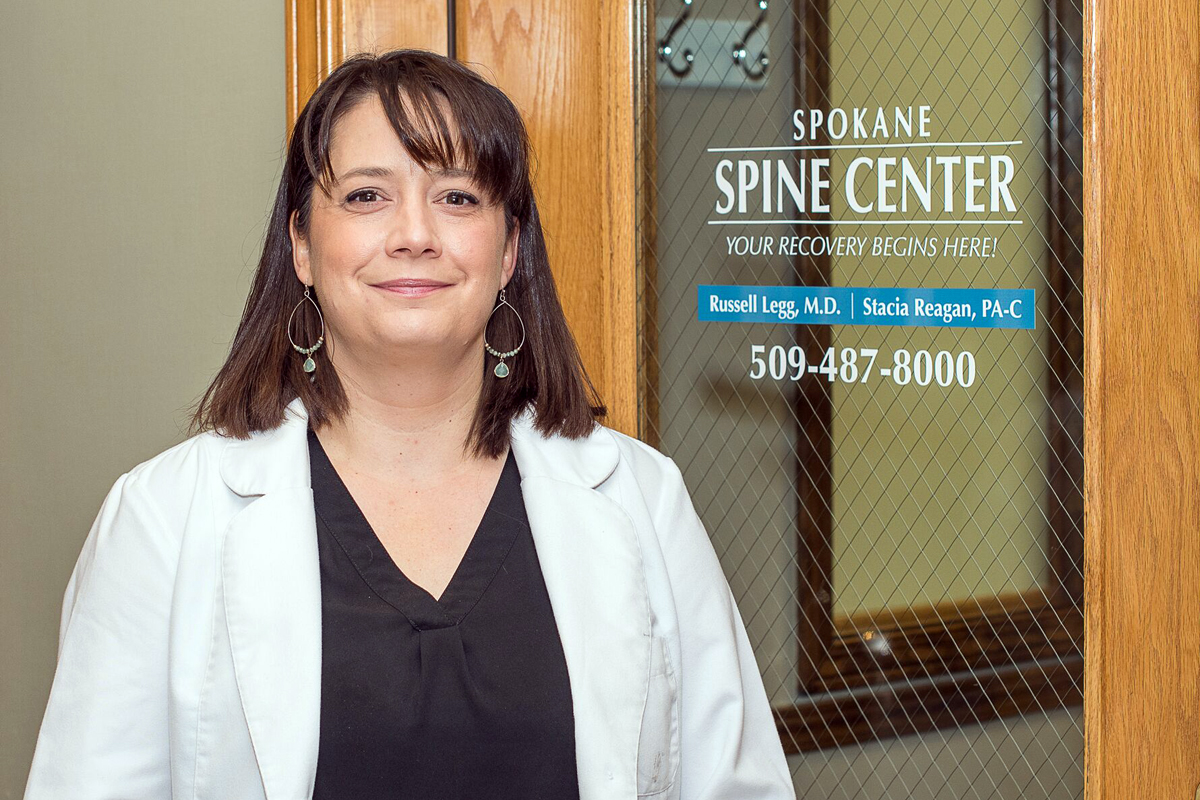 Stacia Reagan, PA-C with her name on the door of Spokane Spine Center.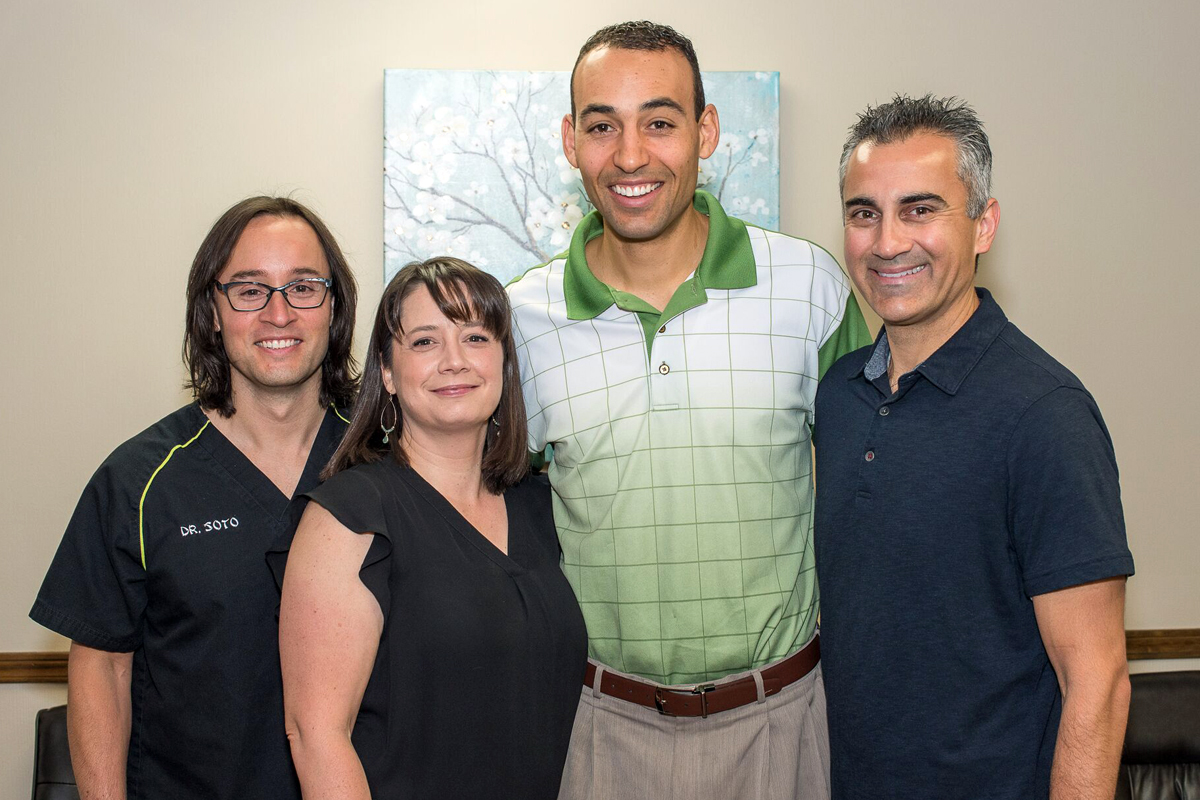 Left to right: Dr. Patrick Soto, Stacia Reagan, PA-C, Dr. Russell Legg, and Dr Robert Haddad, DC of Spokane Spine Center.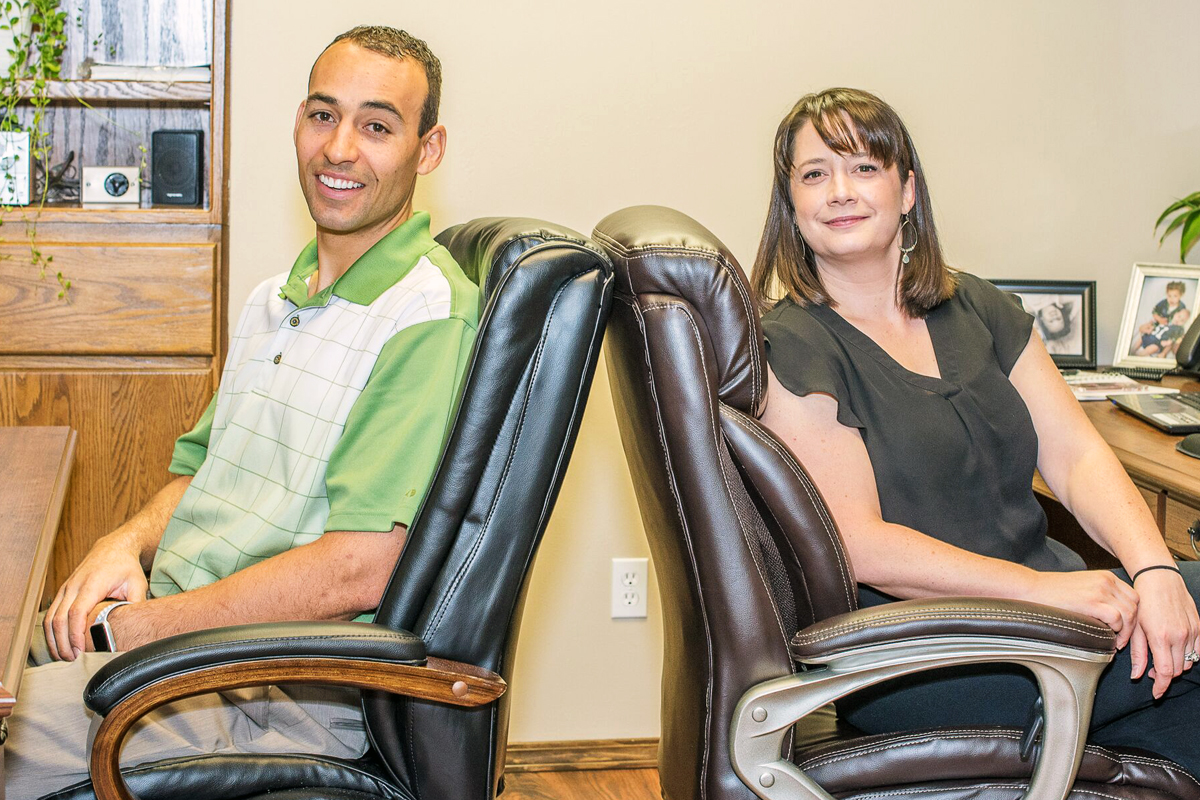 Dr. Russell Legg with Stacia Reagan at Spokane Spine Center.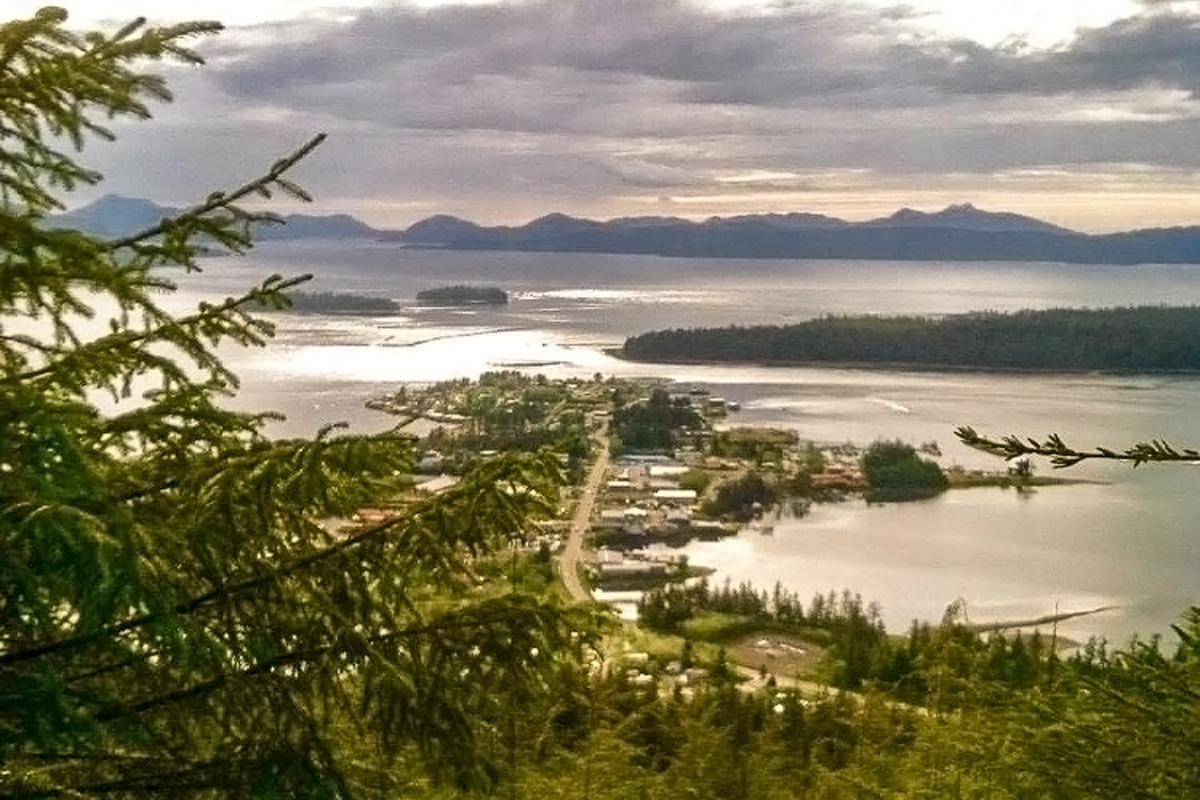 The view of Craig, Alaska where Stacia spent her formative years.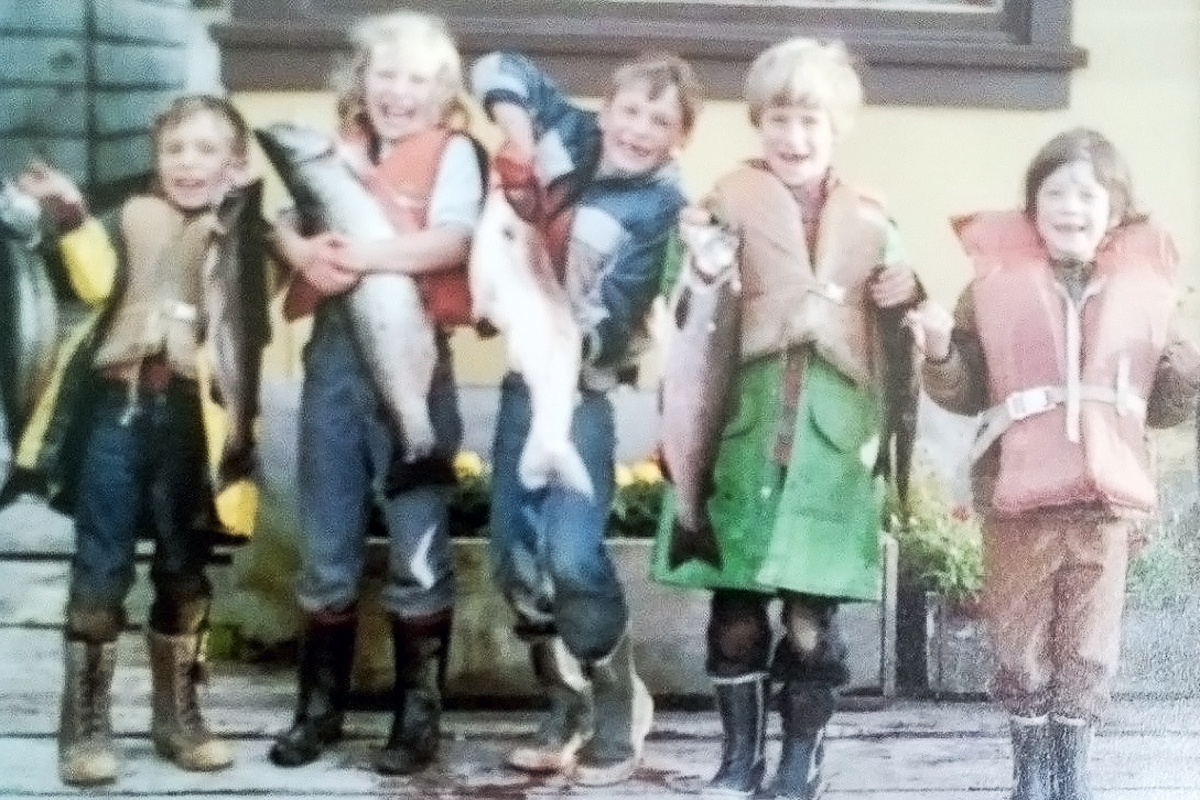 Stacia as a young child (far right) with her siblings showing off their fishing catch in Craig, Alaska.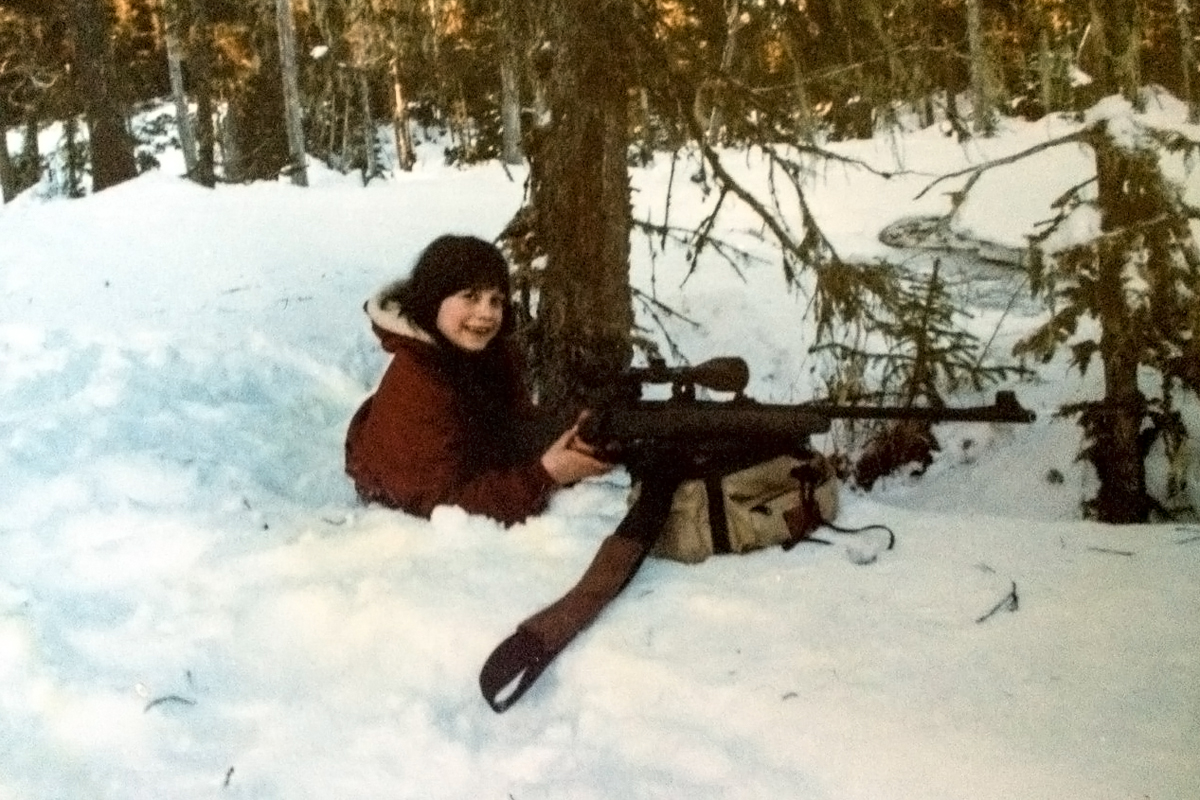 Stacia in third grade on an Alaska hunting excursion.
Soon after her graduation from MEDEX Northwest Spokane Class 19 in late August, Stacia Reagan took the Physician Assistant National Certification Exam, or PANCE. By early September, her PA-C license went active, and she started a new job as a physician assistant at the Spokane Spine Center.
"It's very exciting," exclaims Stacia. "I actually have my own office.  My name is on the door, and I have my own office staff. It's really started to sink in that this is my new career."
The primary focus of the clinic is interventional pain management, including consultations and evaluations, ultrasound guided interventional procedures, exercise therapy, fluoroscopically guided procedures, spinal cord stimulation, medications and EMGs.
At Spokane Spine Center, Stacia works with Dr. Russell Legg, Dr. Patrick Soto, Dr. John Long and Dr. Robert Haddad, and is the first PA-C in their practice. "This place is very pro-education, as Dr. Soto and Dr. Legg both teach for UW and other medical schools," she says. "They've already told me that as soon as I feel comfortable in my role as the PA, I am welcome to start taking PA students from MEDEX for a specialty rotation."
Her employer also allows Stacia to continue teaching in the Medical Assistant program at SCC in the evenings. True to her upbringing, it appears that education will always be a part of Stacia's wheelhouse.
"I'm really thankful for MEDEX giving me a shot," she says. "Clearly, I'm not the traditional student. I'm not an Army medic, a paramedic, or an EMT. I'm not like 99.9% of my classmates who came directly from clinical practice. They took a shot on a teacher, and I'm really thrilled and grateful for that."