Dustin Hurter traces his earliest interest in medicine back to his junior high school days in Bonney Lake, Washington. He was helping some friends on a home construction site near Mt. Rainier when a car went roaring by along a rural road and missed the turn.
"I rushed to the scene and pulled some people out of the cars," Dustin tells us. "Some made it, some didn't."
EMS and helicopters responded, airlifting the survivors out. Through it all, Dustin noticed that he wasn't freaked out by what was happening. This seemed like something he wanted to do. At that point he felt an instant draw to pursue medicine, perhaps with a fire department or as a paramedic.
"I didn't know which. But I felt a draw to become involved in some aspect of emergency services."
Eventually, Dustin became an EMT and worked out of the downtown Tacoma area for a couple of years. But he knew that he wanted to do more. He received his bachelor's degree in paramedicine from Central Washington University, and worked as a paramedic in the Yakima area for two years.
"I got to help a lot of people, from wealthiest to the lowest of social economic status, as you could imagine."
Dustin's next move was to the Tri-Cities area and a job with the Hanford Fire Department as a full-time firefighter/paramedic in a very rural setting.
"I was also active with the WA State Department of Natural Resources Helitack Wildlife Fire crew as a firefighter doing airlift medivacs operations. Then I ended up transferring to a county-based EMS agency out of Cle Elum, Washington."
Through all that, Dustin always wanted to do more—to be more involved with his patients.
"I wanted to play a larger role in keeping them out of the emergency room as best I could," he says. "And realizing what my goals were with my life, my lifestyle and my family, PA was the clear choice. There was no other option. It's exactly what I was meant to do."
Dustin admits that anyone coming from emergency services will miss certain aspects of it.
"Probably all of us have a bit of an adrenaline junkie behind us," he adds. "That won't come as any sort of shock to anybody. But, when you only encounter a patient for 10 minutes and have a deep desire to truly help the community as a whole, there are other ways to go about doing that. I thought that becoming a physician assistant was the solution to keeping them out of the ambulance."
And that's what brought Dustin Hurter to enter the MEDEX Spokane Class 19 cohort in 2015.
Even as an EMT, Dustin worked side by side with PAs.
"There were PAs involved in everything I did. We had doctors and PAs who taught my EMT classes, who taught my paramedic classes. I've had other friends who've gone on to become PAs. I'm so young I've never known a world without PAs. They've just always been there. It's always been a crucial part of medicine for me. I know nothing different."
A resident of Ellensburg, Washington, Dustin Hurter and his wife have called this community home for 10 years now. The population size is around 18,000, but that includes the Central Washington University student body of around 10,000 to 11,000.
"There was an article published last year that counted more elk in Kittitas County than people."
"There was an article published last year that counted more elk in Kittitas County than people. But this is where we see ourselves in the long run. We're people meant to live in a more rural area. It's clearly been our calling and it's where we're meant to be."
"There's a variety of people that live here," Dustin explains. "Agriculture is a large base of industry. Ellensburg is the nation's leading exporter in hay. You have farmers who are fully funded in hay, cattle or some other crops. So along with that comes a migrant workforce. You're dealing with farmers who are working long hours. Taking a day off to come in and see a doctor is hard to do. And then you manage that with a full-on university with Ph.D. educated professors who provide a different dynamic in what they want from their healthcare."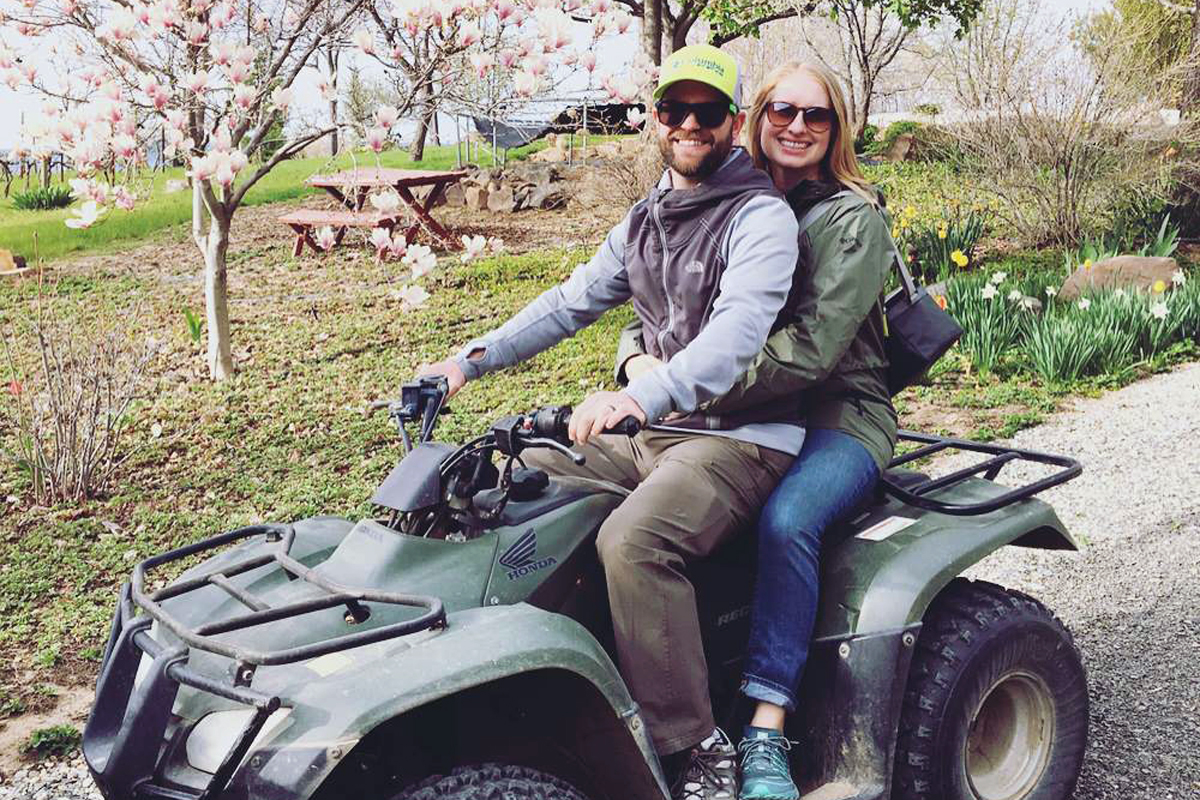 Dustin Hurter and his wife Jamie enjoying a ride on an ATV.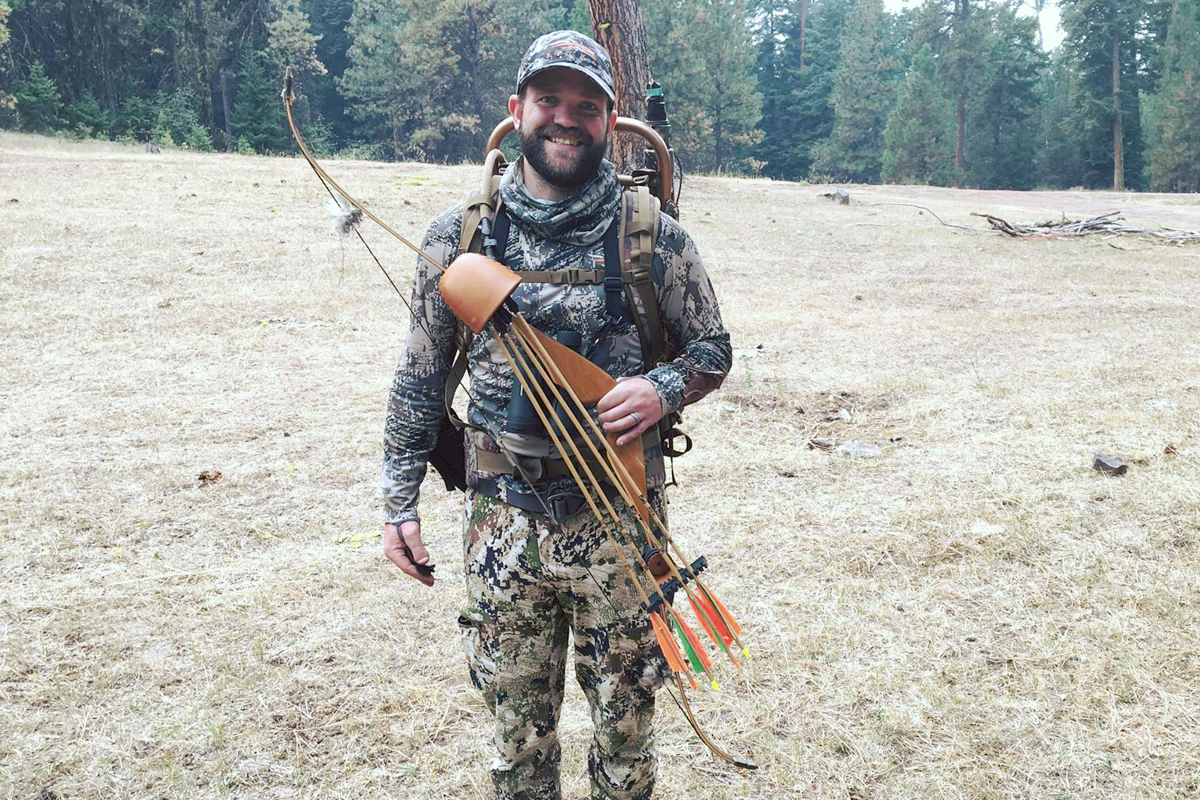 Dustin all geared up for hunting season in Eastern Washington.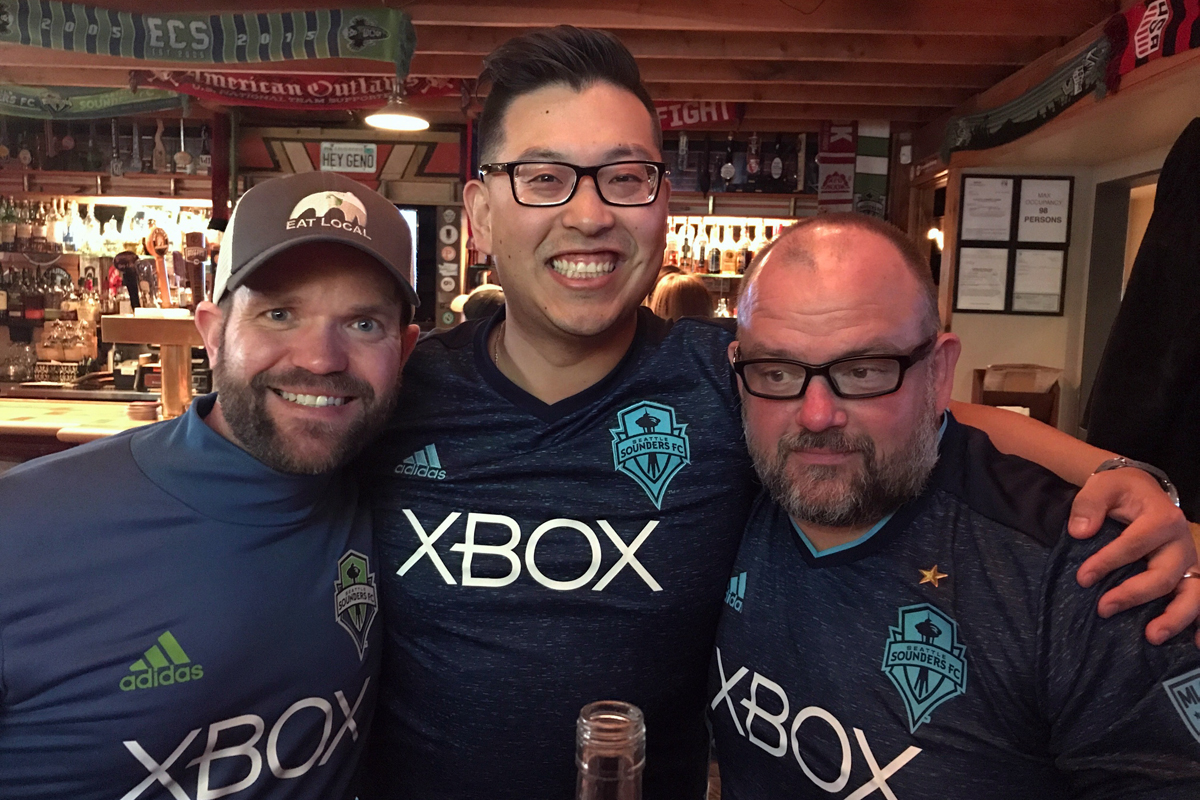 Dustin with his MEDEX Spokane 19 classmates Lio Ryu & Leigh Gilliver.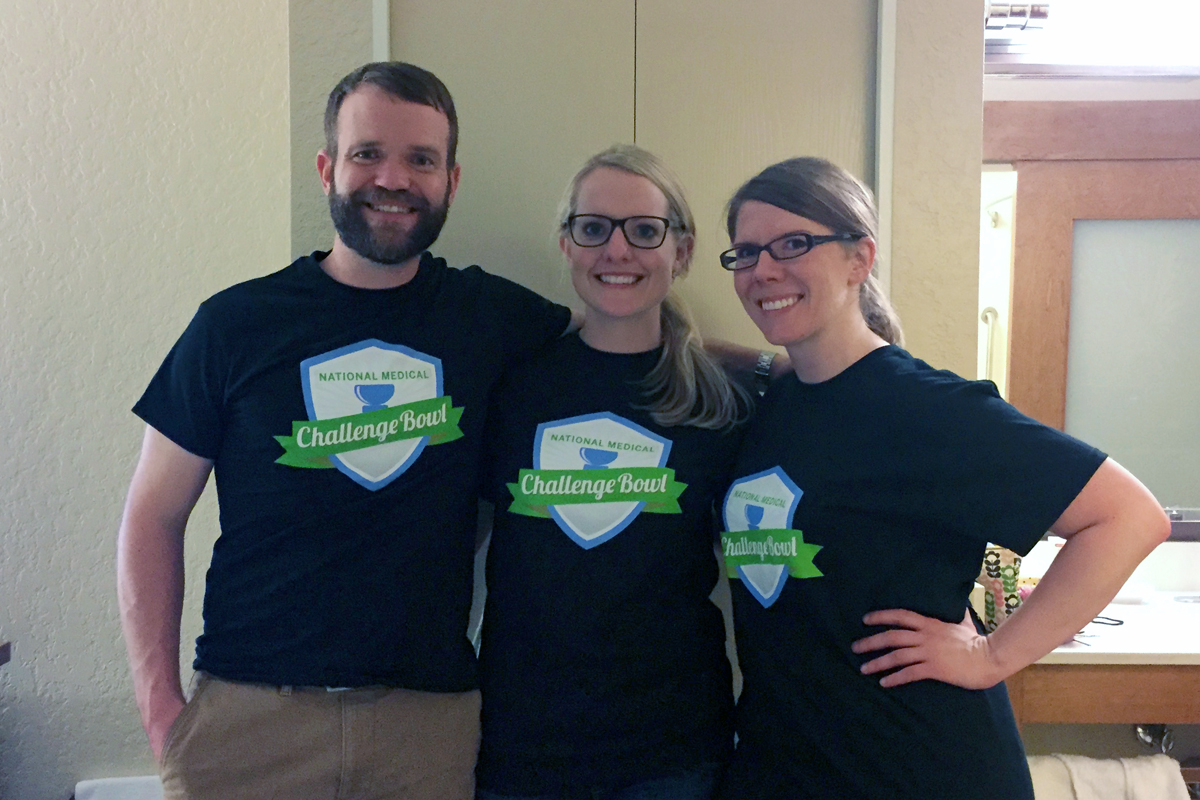 Dustin with MEDEX Spokane 19 classmates Casey Deal and Jessica Orsulak at the 2016 AAPA Conference Knowledge Bowl.
Managing the expectations of such a diverse population can be challenging for a rural healthcare provider.
Dustin has strong opinions about the practice of rural medicine.
"It's great that we have programs that incentivize providers to go to rural areas," he says. "But one of the problems I see in my own community is providers who arrive for two or three years. It's appreciated, but then they leave. It's that continuity of care—the long-term development with your patients—that is lacking in rural settings."
Dustin cites a small Eastern Washington community like Waterville—population 1,181. The town has a provider who's from there, who is dedicated to being there, and is changing the community.
"In a rural setting the problem is long-term patient relationships. That's what's hard to get. It can be hard to draw people into these communities for a long-term position as opposed to the quick stop by and say 'hi', get my loan repayment, and 'see you later'."
Dustin specifically came to MEDEX because it was in the Pacific Northwest and was focused on rural underserved.
"When you start out you can't help but think you're going to be in school forever," says Dustin. His wife supported him for the duration of the 2-year program while maintaining the home front and her job as a teacher. Now the real learning continues in his first job as a PA.
Since graduating from MEDEX Northwest Physician Assistant Program in August of 2017, Dustin has taken on the role of a rural provider in the neighboring community of Moses Lake, about an hour's drive from home. He's employed at the Moses Lake walk-in clinic with Confluence Health.
As a student, Dustin did his 4-month family medicine preceptorship at the Confluence Health East Wenatchee Clinic under Dr. Kathryn Eren.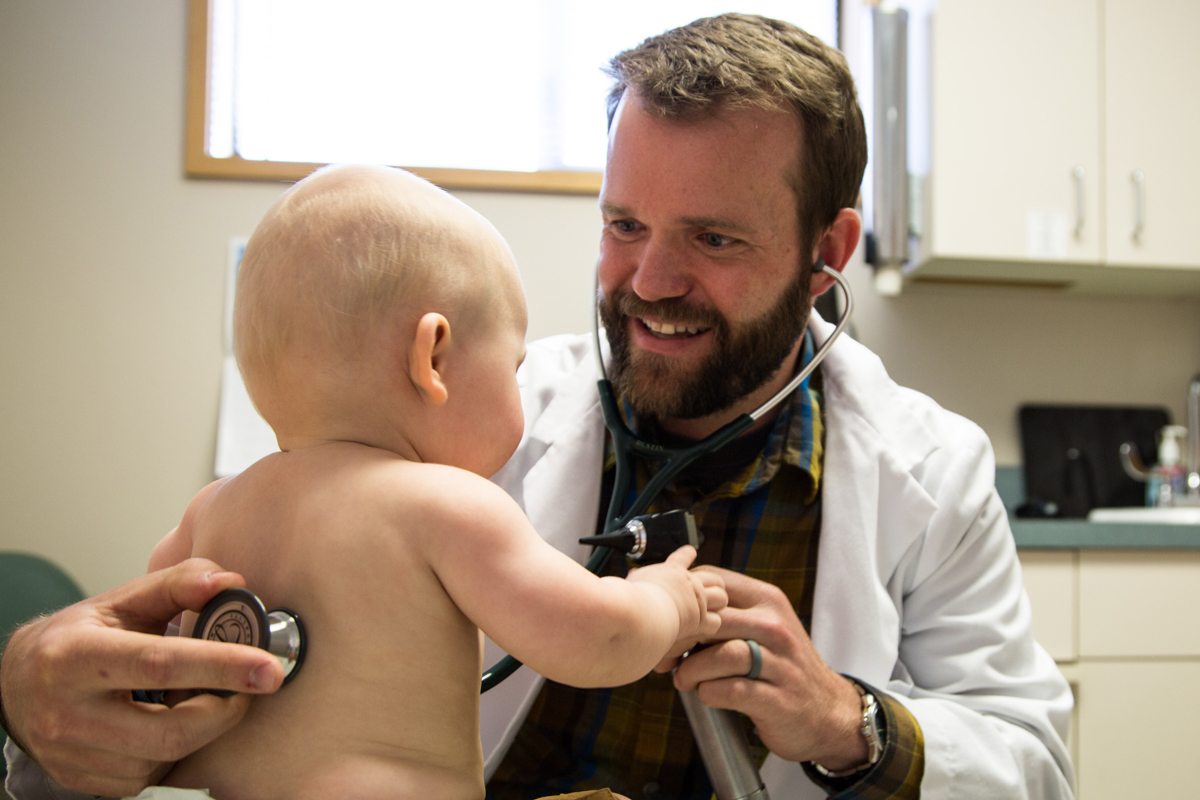 Dustin Hurter, PA-C conducting a pediatric exam during his family medicine preceptorship at Confluence Health East Wenatchee Clinic.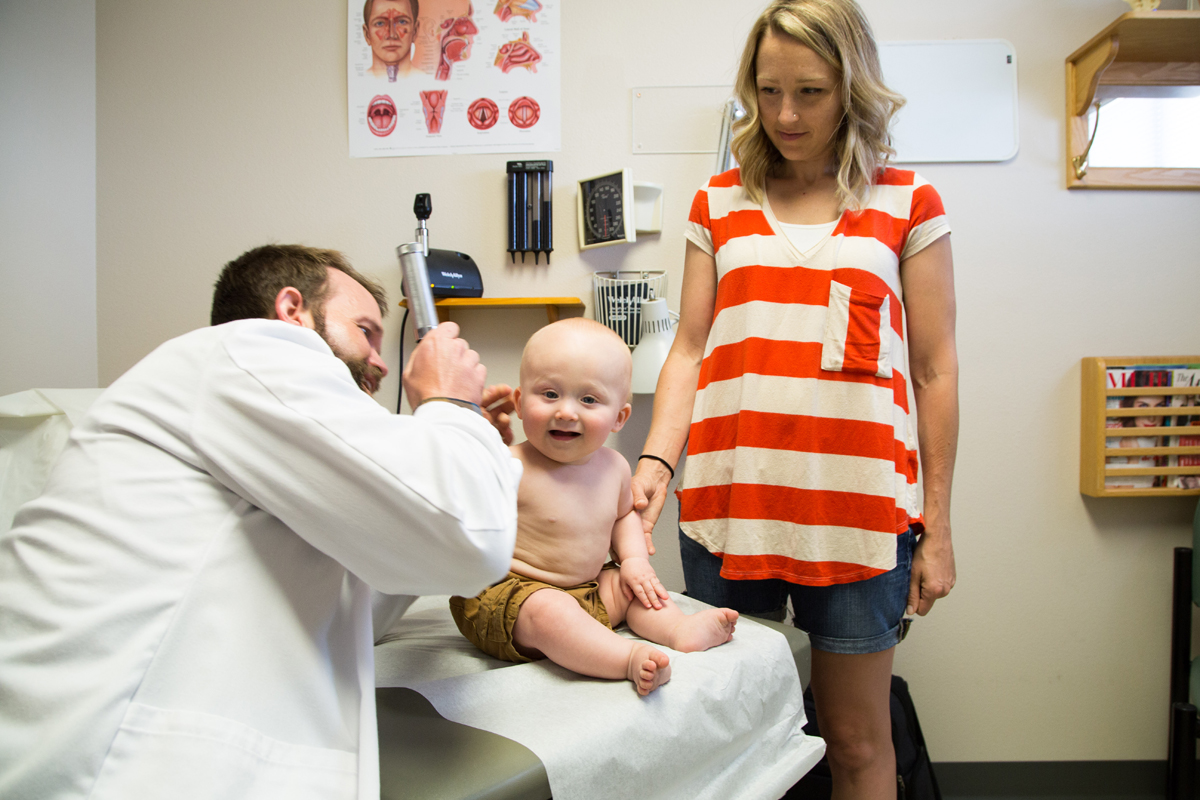 Dustin checks the child's ears while the mother looks on.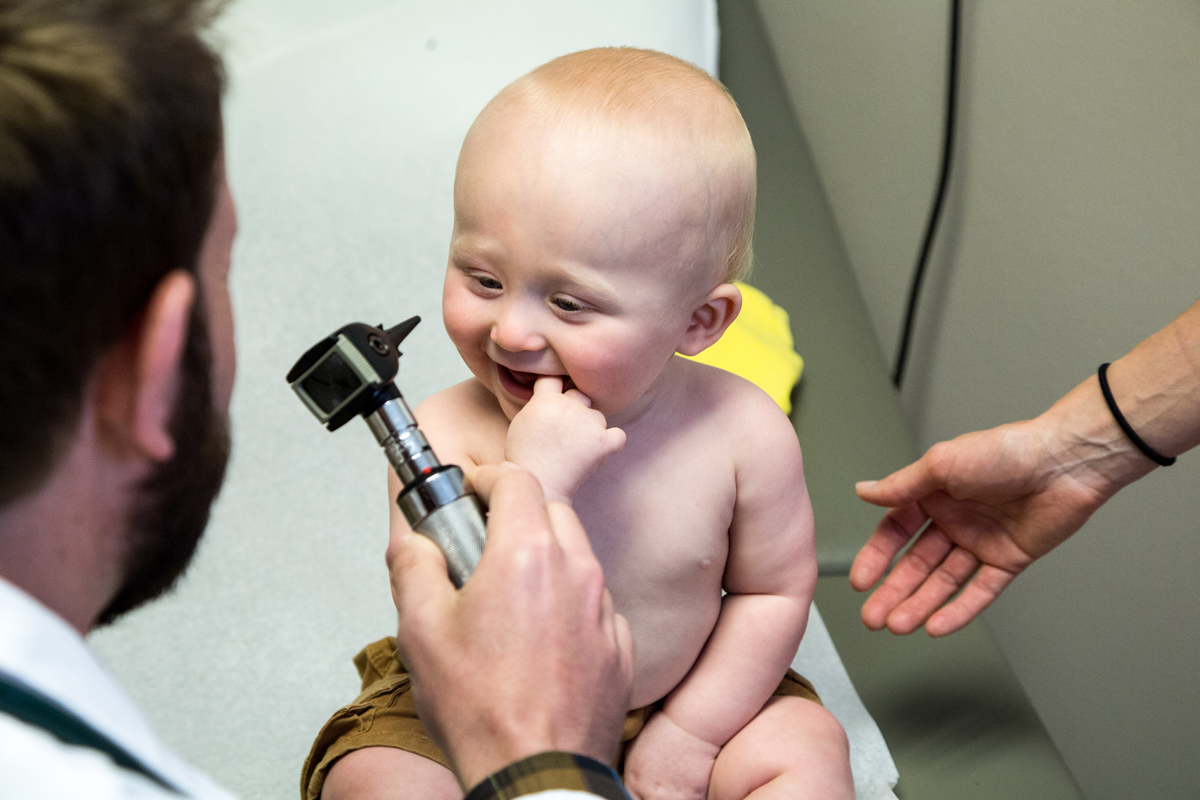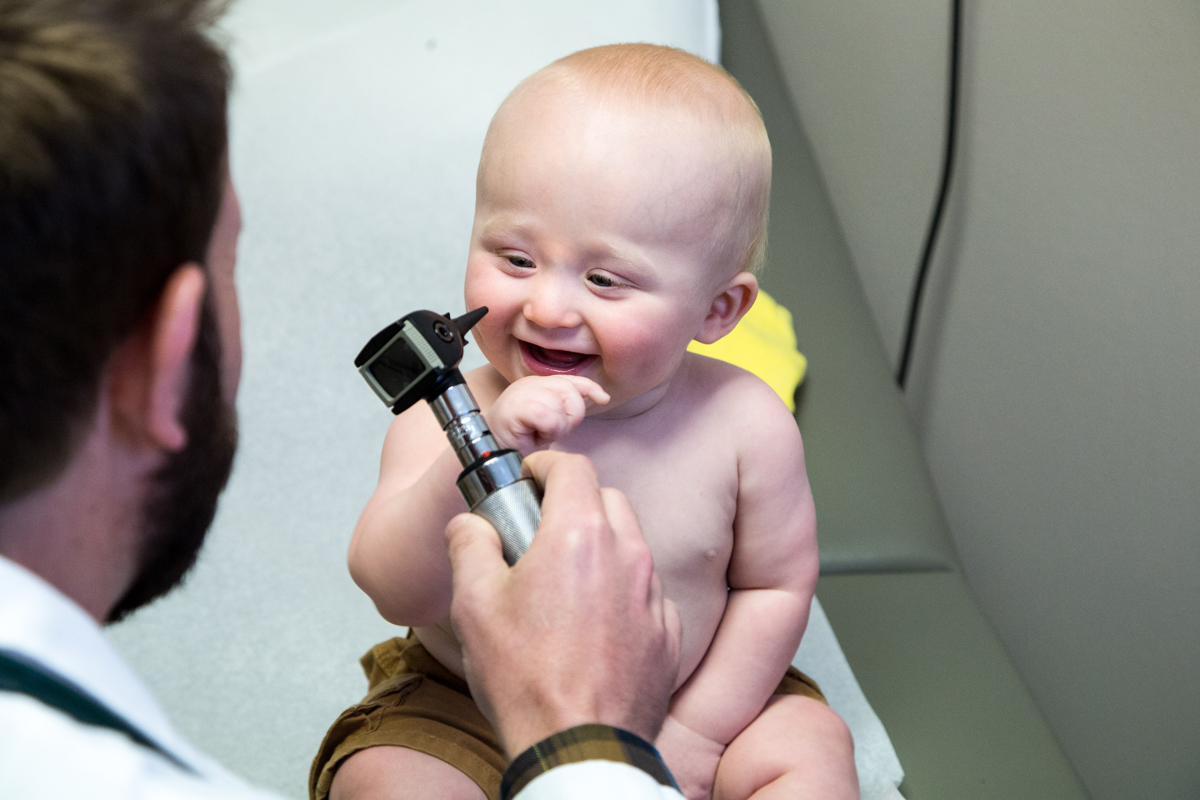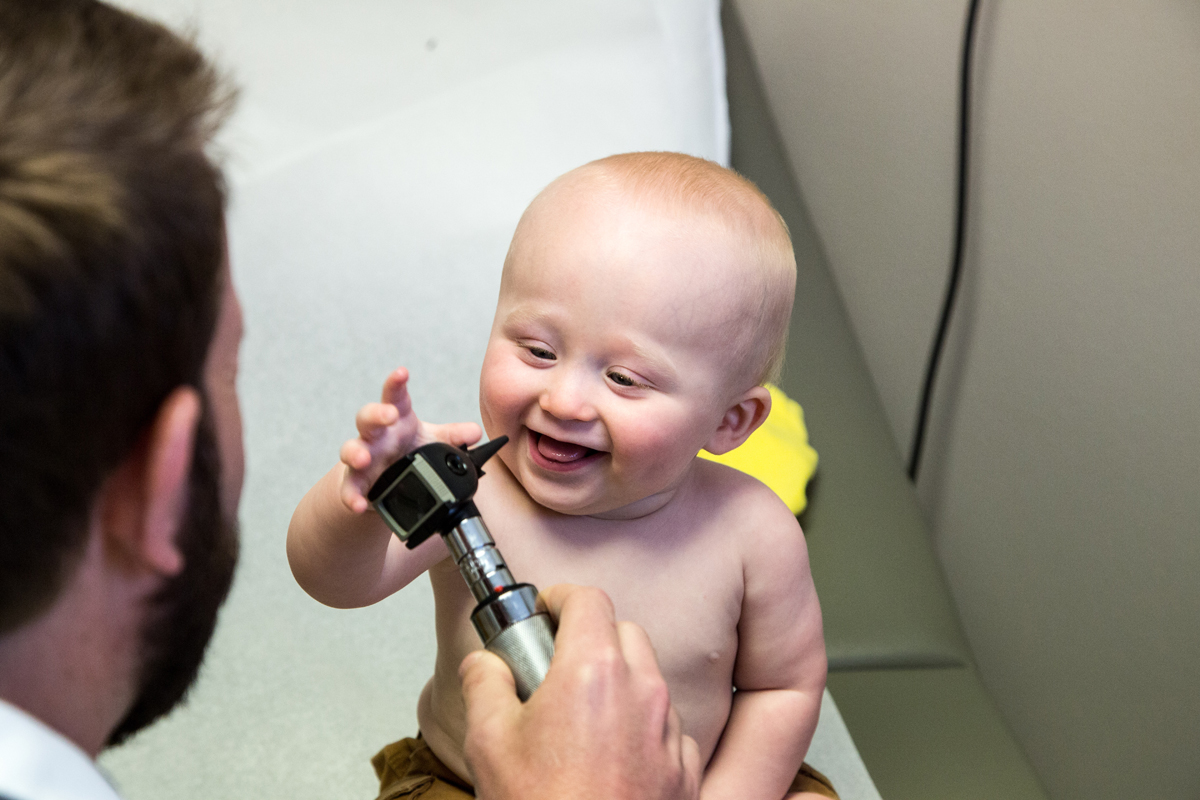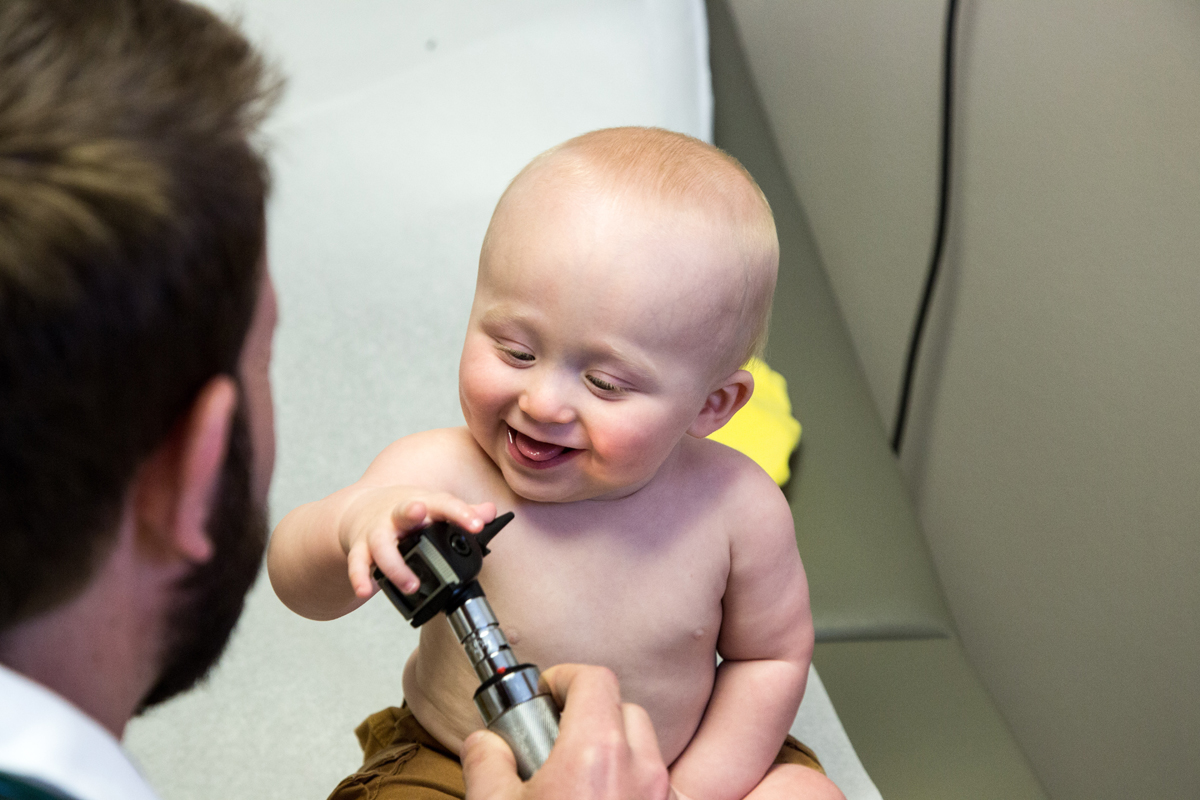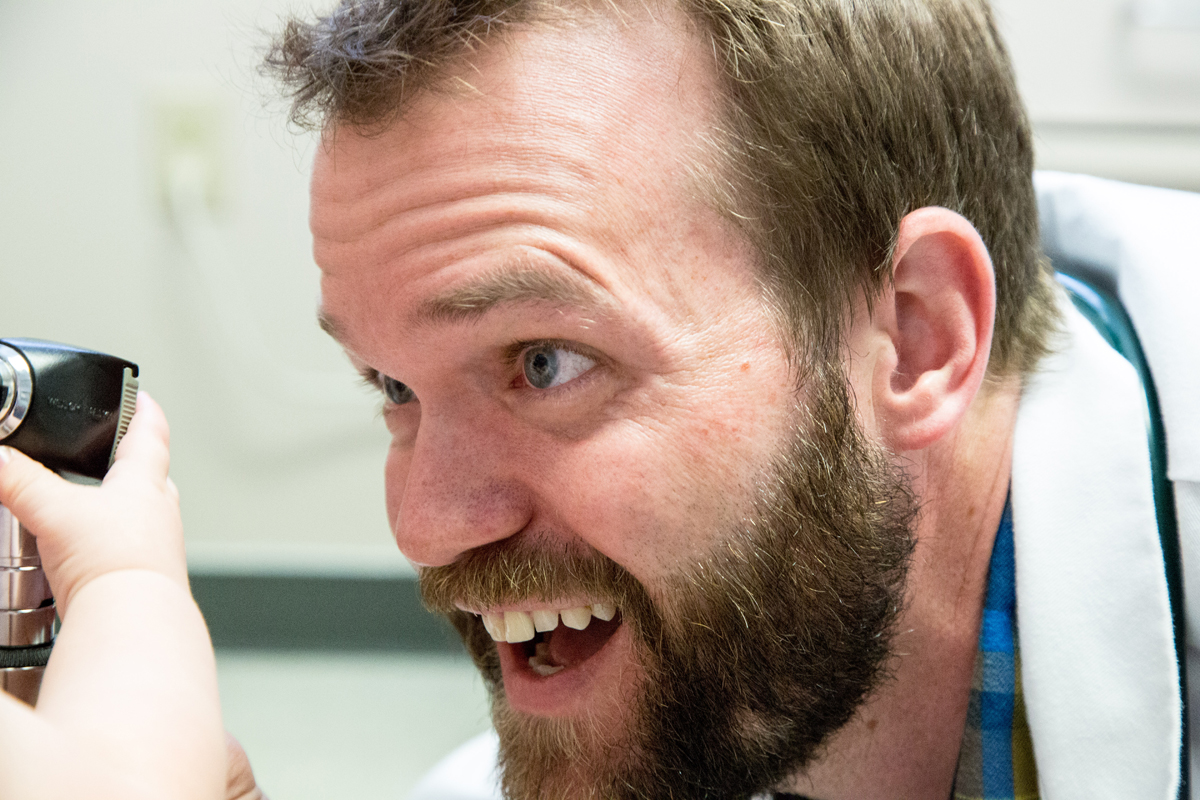 Dustin Hurter, PA-C graduated from MEDEX Spokane Class 19
"When I started with Confluence during my student rotation, I spoke with their recruiter and told her I was interested in family practice or a walk-in clinic." After his graduation from MEDEX Spokane Class 18, the Confluence recruiter reached out to Dustin with a great fit: the Moses Lake position with an alternating schedule and excellent colleagues. He works 12 to 13-hour days, 12 to 13 days a month.
"I'm not commuting every day, so it's a real nice schedule for us."
As in his home town of Ellensburg, the patient population in Moses Lake is decidedly rural.
"I would say at least 70% of the patients we see are on state-sponsored health insurance," says Dustin. "We get the standard walk-in clinic patients for minor trauma and fractures."
They are part of a range of underserved, including migrant workers and rural locals. "Of course, we see the farm owners and migrant workers that provide manual labor on the farm," says Dustin.
What many people don't know is that the rural population involved in industrial and tech. Beyond farm workers, there are general laborers that are the workforce for industrial companies like Mitsubishi and BMW.
"There's a lot of empty land out here, and it's not taxed as highly," says Dustin. "These companies are more than happy to have people come out here and set up shop. They have huge plants that are staffed by general labor."
In this community, the walk-in clinic serves as a stop gap in the absence of sufficient primary care providers.
"We spend a lot of the day taking care of patients who can't get in to see a primary care provider for two to three months at a time. Among all of the primary care doctors and PAs, none are accepting new patients because they're already full. Some of these patients have recently moved to Moses Lake where there are no openings in primary medicine. So, our walk-in clinic takes on that role for the duration until they can get established at some point."
Historically, this is the typical situation in a rural environment. There are too few practitioners. Dustin notes that Moses Lake lost a number of providers last year, and there haven't been replacements.
In the meantime, Dustin has been adjusting to becoming a medical provider himself.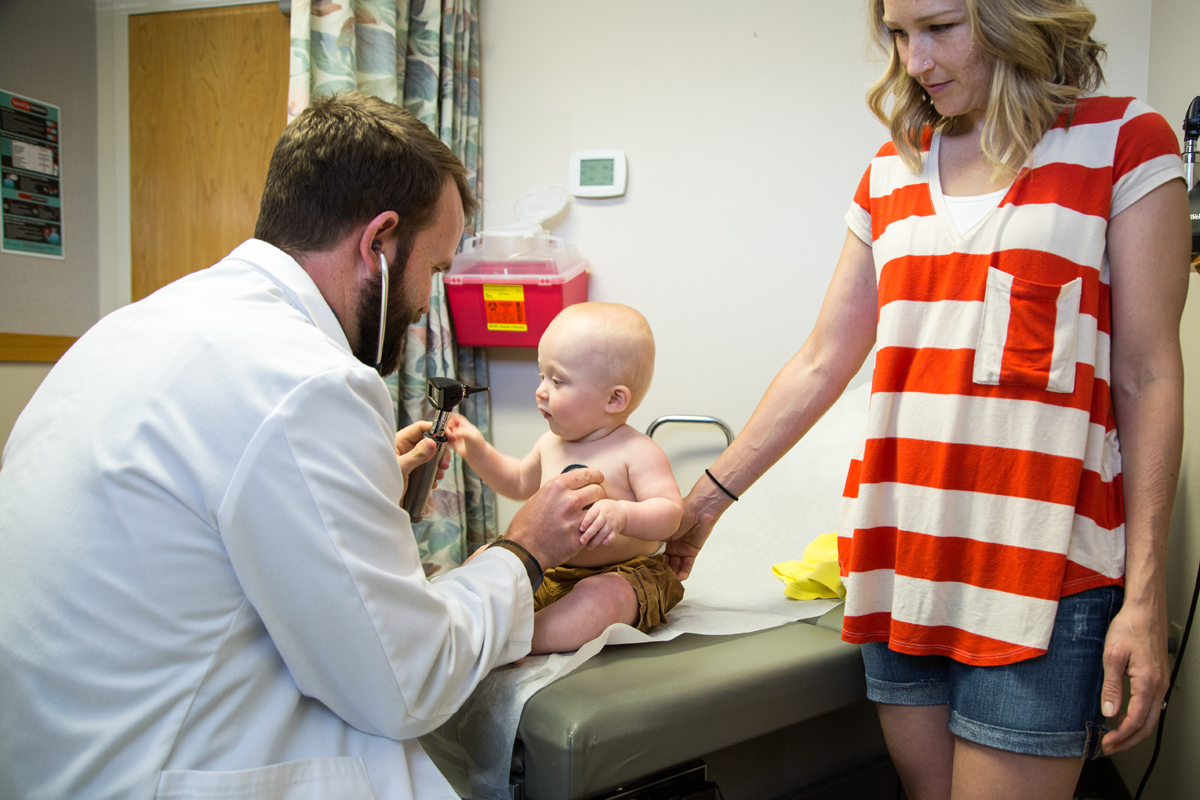 Dustin listens to the child's heart while keeping him distracted.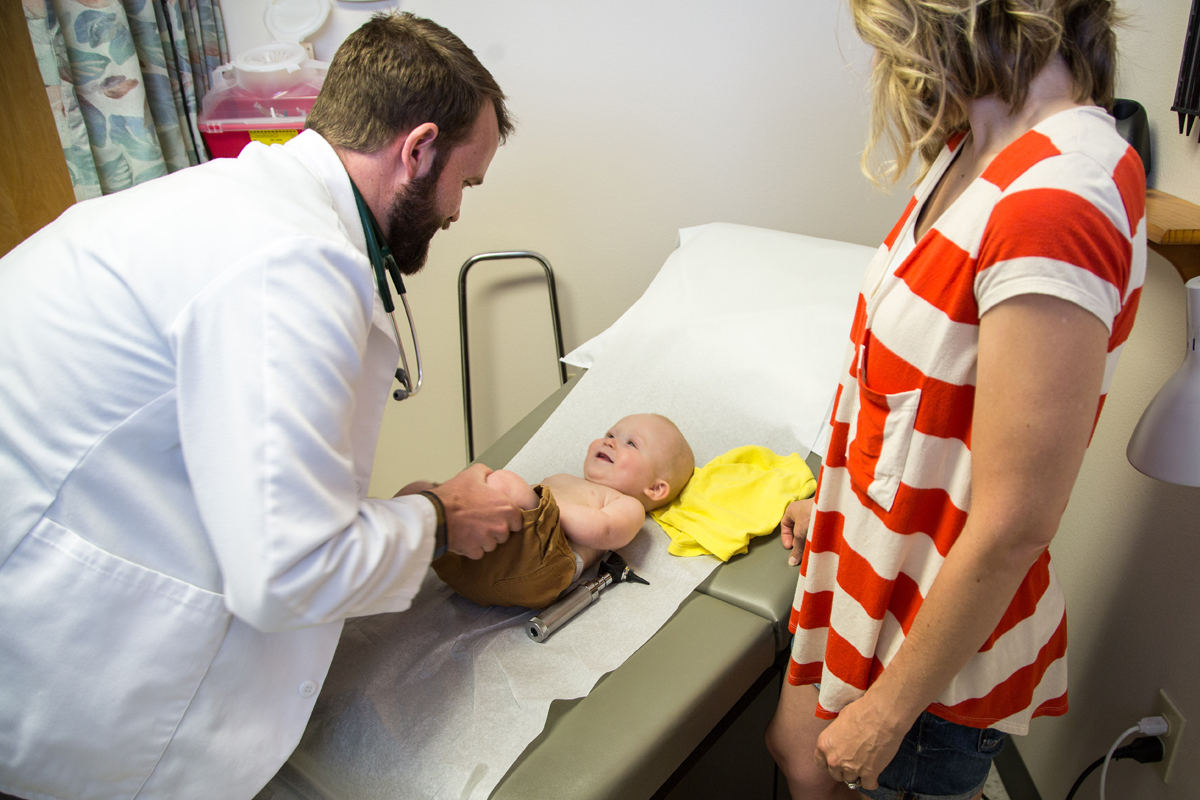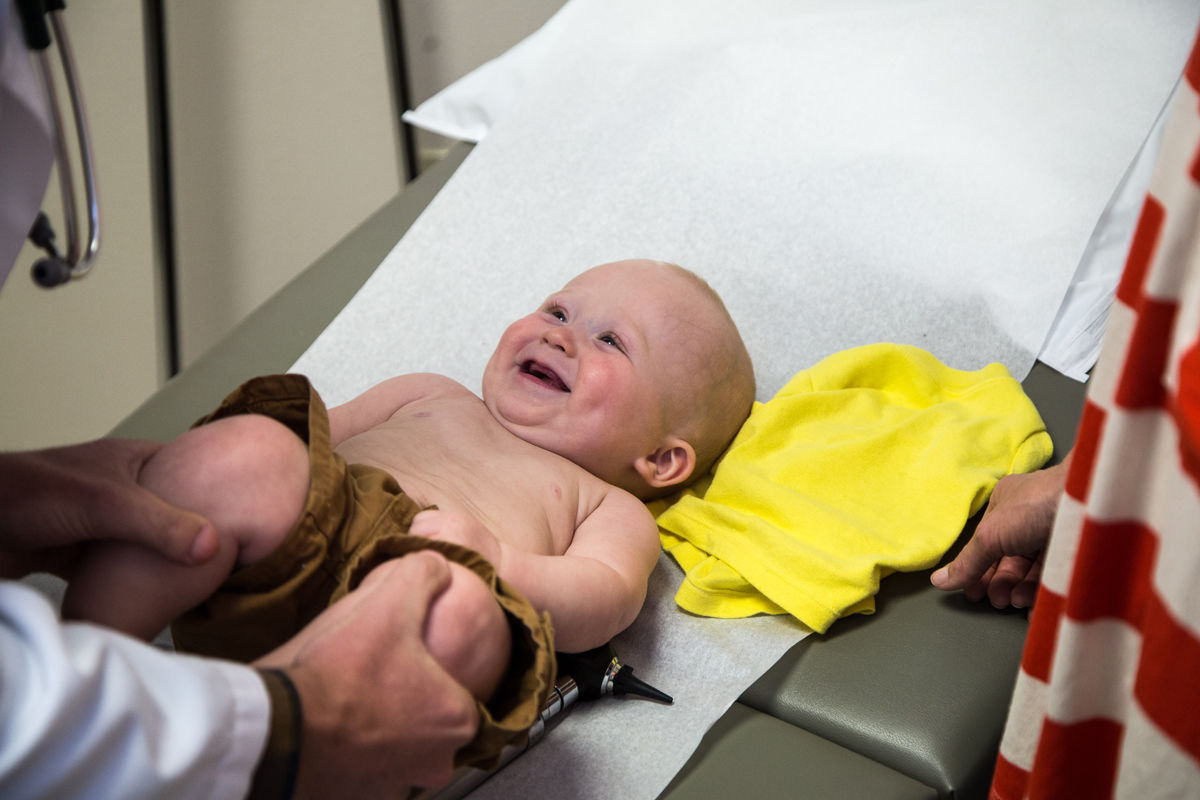 Dustin rules out developmental dysplasia of the hips.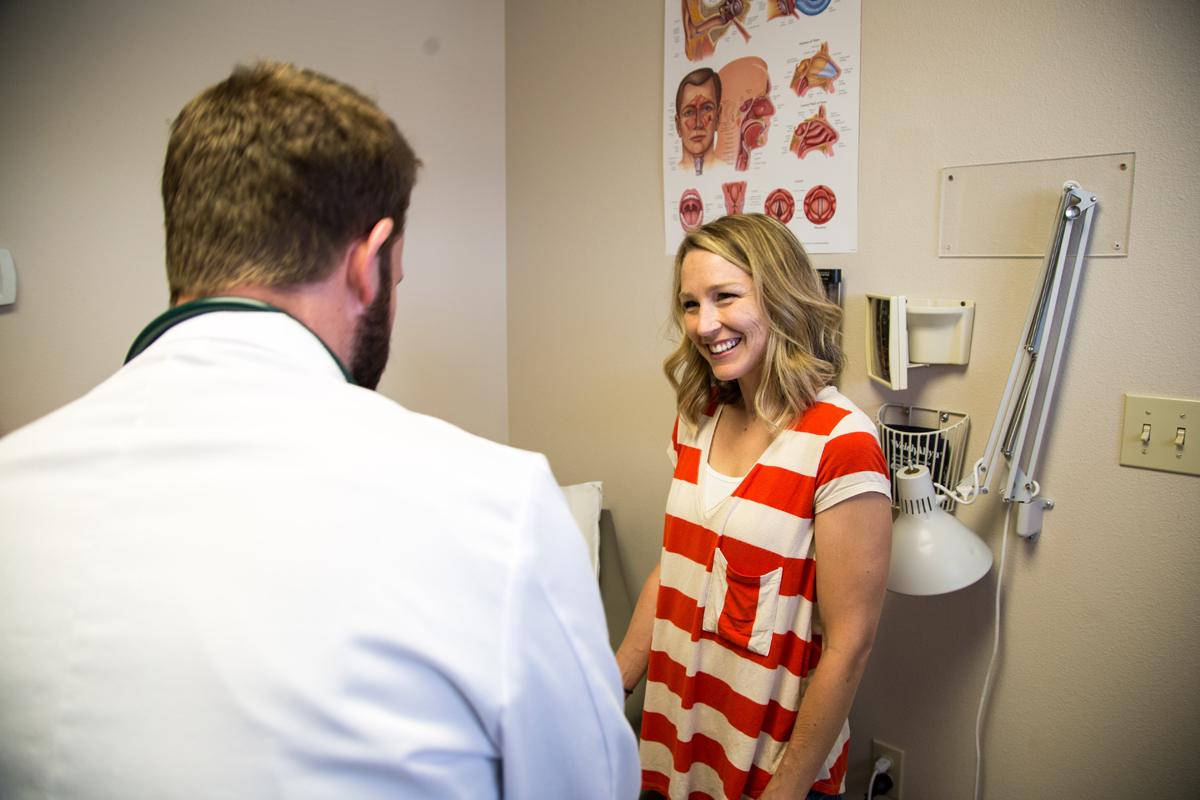 Finally, Dustin reports on his findings to the child's mother.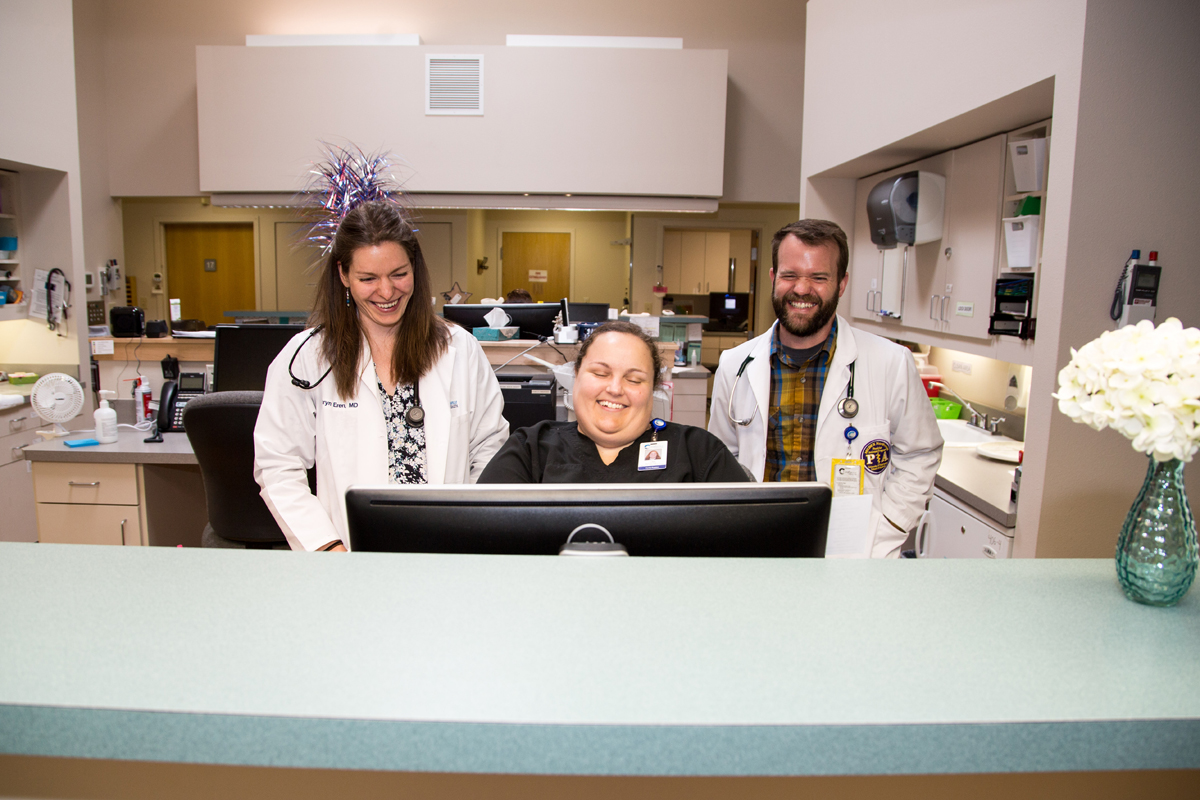 Dustin Hurter with his preceptor, Dr. Kathryn Eren and medical staff Lisa Andrews at Confluence Health East Wenatchee Clinic.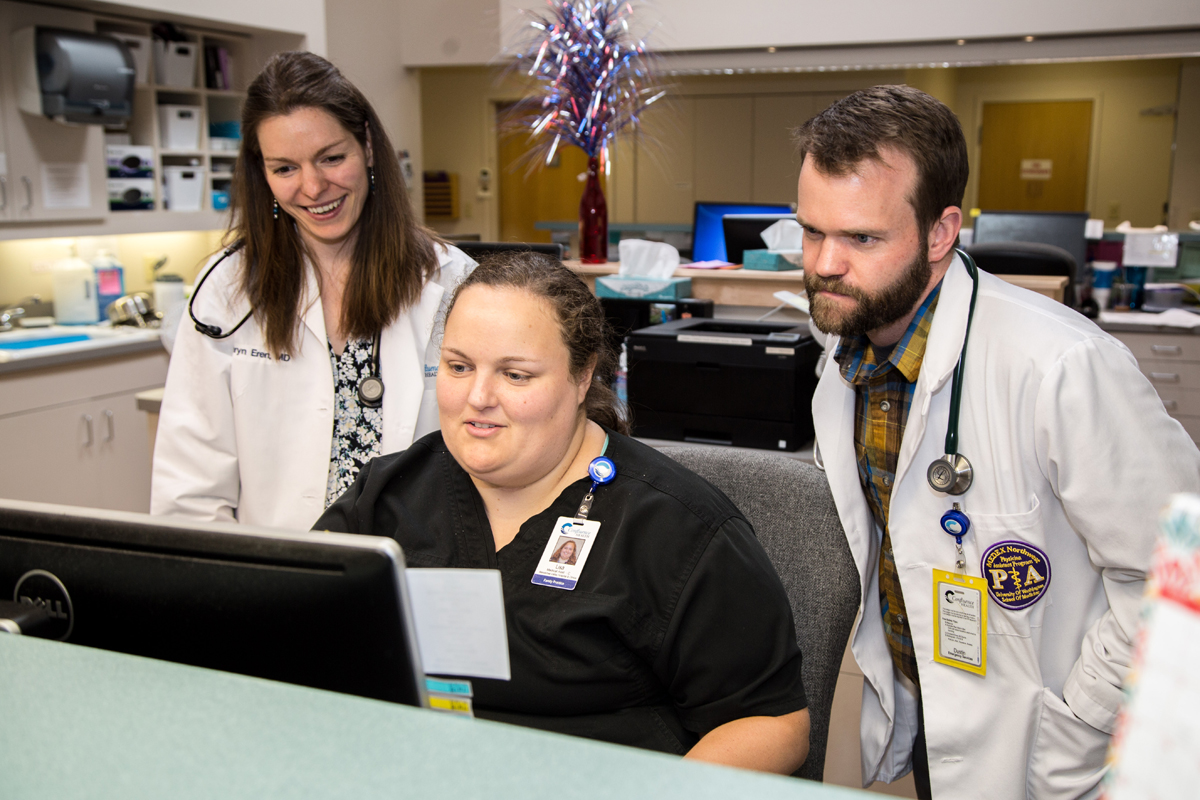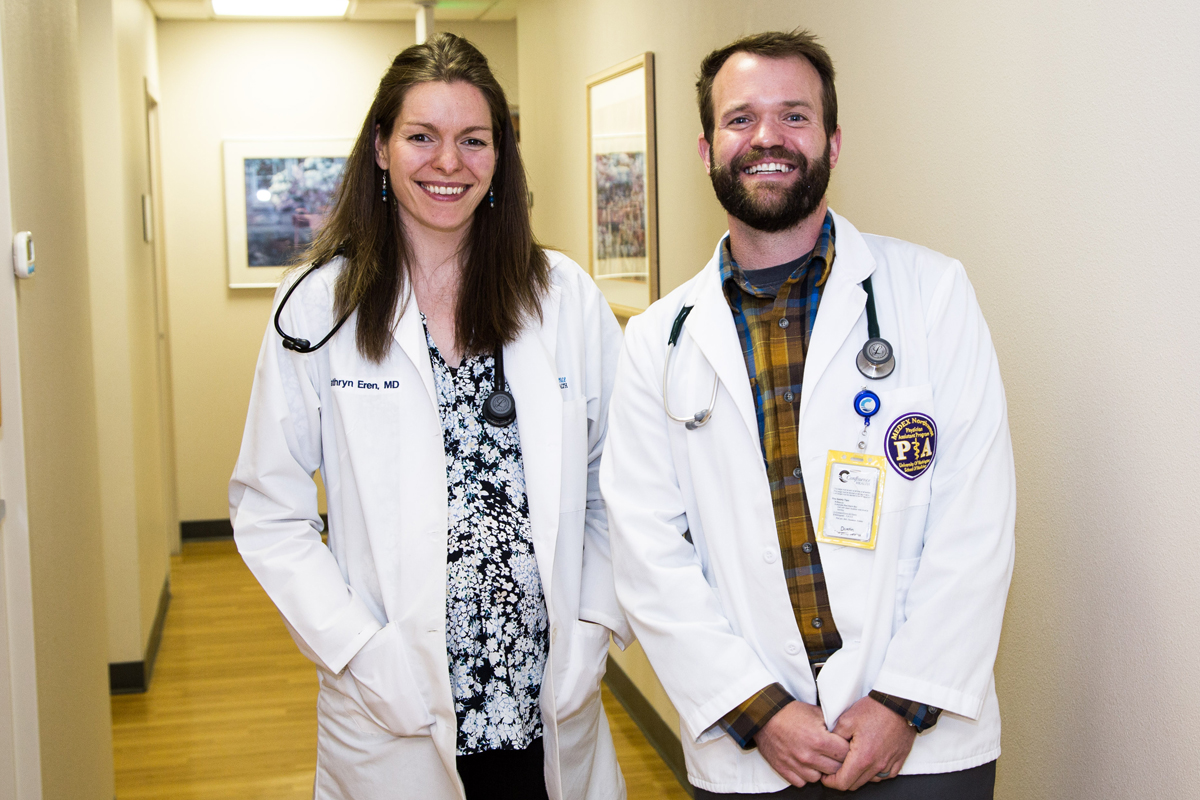 Dr. Kathryn Eren with Dustin Hurter, PA-C.
"It continues to happen every day," he tells us. "Some days I feel like things are going pretty well and then the next day I can't help but ask what I got myself into … I probably made a huge mistake. Some days I'm frightened and scared, and other days I think I'm actually helping people. So, it's still day by day. But it's gotten better over the past couple months. And I feel really good that I have strong relationships with the physicians I work with. They'll take a lot of time to either tell me something new or they spend a lot of time just reassuring me that I'm doing the right thing and not messing up."
In the end, Dustin Hurter is thankful.
"I'm thankful for the opportunity," he says. "I'm thankful that MEDEX got me a rotation with an organization that interested me. In the end, it was the best scenario that could have gone down. For those looking for jobs, I understand. It's important to find the right fit. Some of my classmates have already had to leave a position because it wasn't good. So, if you have the ability to find a job that will be a good fit, it might be worth the extra couple of weeks of searching before you commit."