With his mother a nurse and his father employed as a social worker, Joe Kreilkamp was well disposed towards a career in a helping field. A naturally sociable and talkative person, Joe always had an idea that he might do something in medicine.
During his adolescent years at Cheney High School in Eastern Washington, Joe was injured playing basketball, and worked with the school's athletic trainer.  Joe saw firsthand how the athletic trainer worked with athletes, helping them to get better. This same athletic trainer helped Joe get into the athletic training program at Eastern Washington University.
"It's a four-year degree and, about halfway through that program, I realized that I really liked what I was doing," he tells us. "I liked working with the athletic population."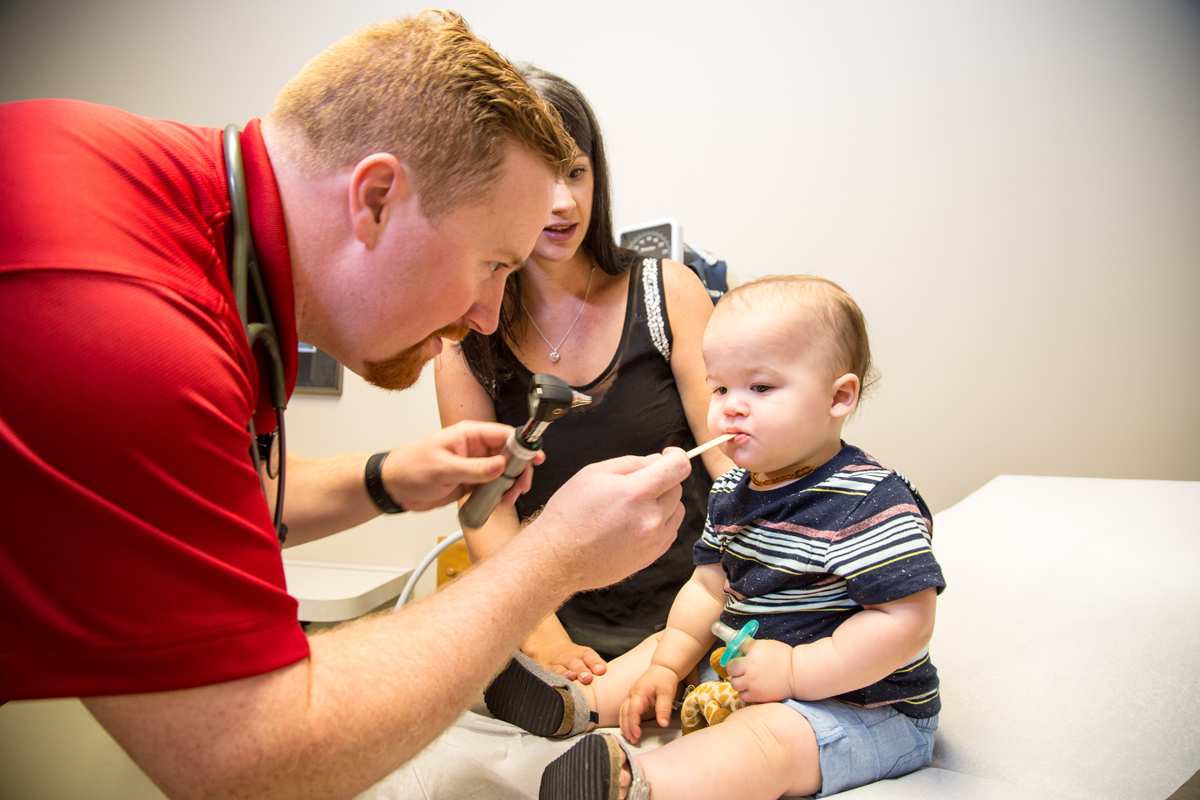 Joe Kreilkamp performs a pediatric exam at Rockwood/Multicare Cheney Medical Center during his clinical year at MEDEX.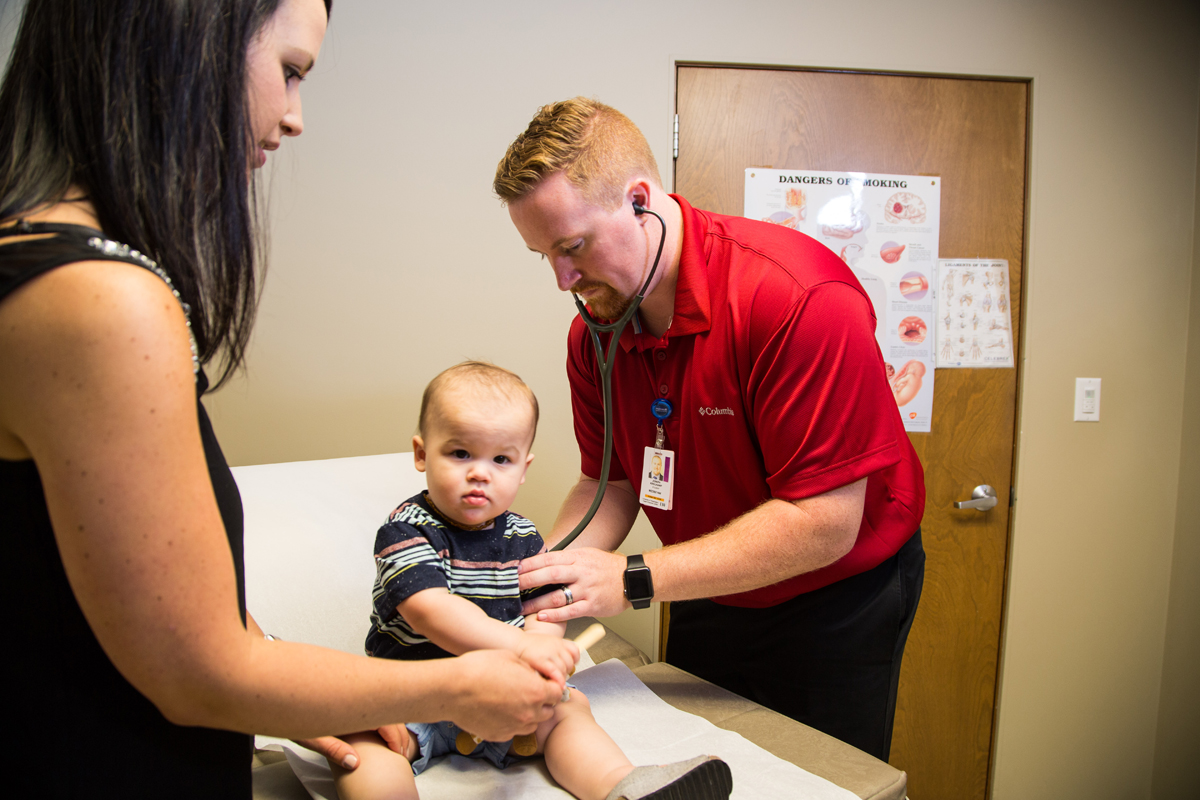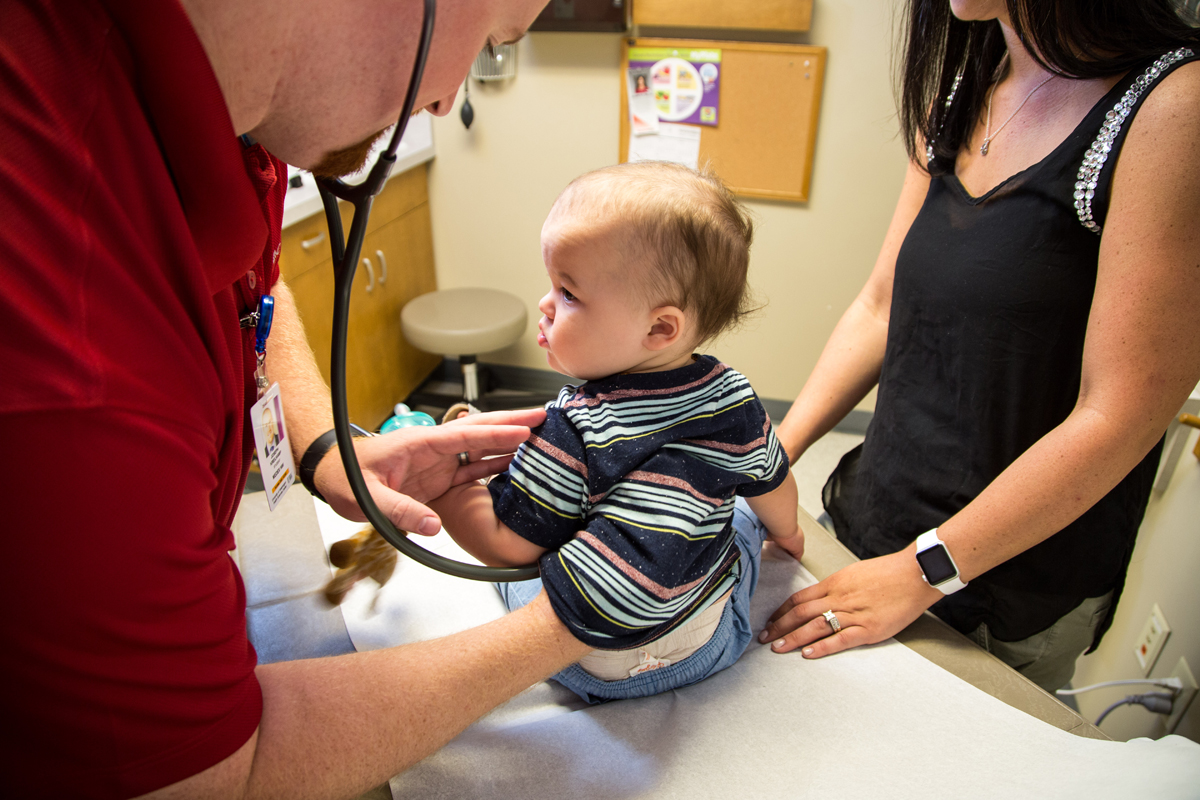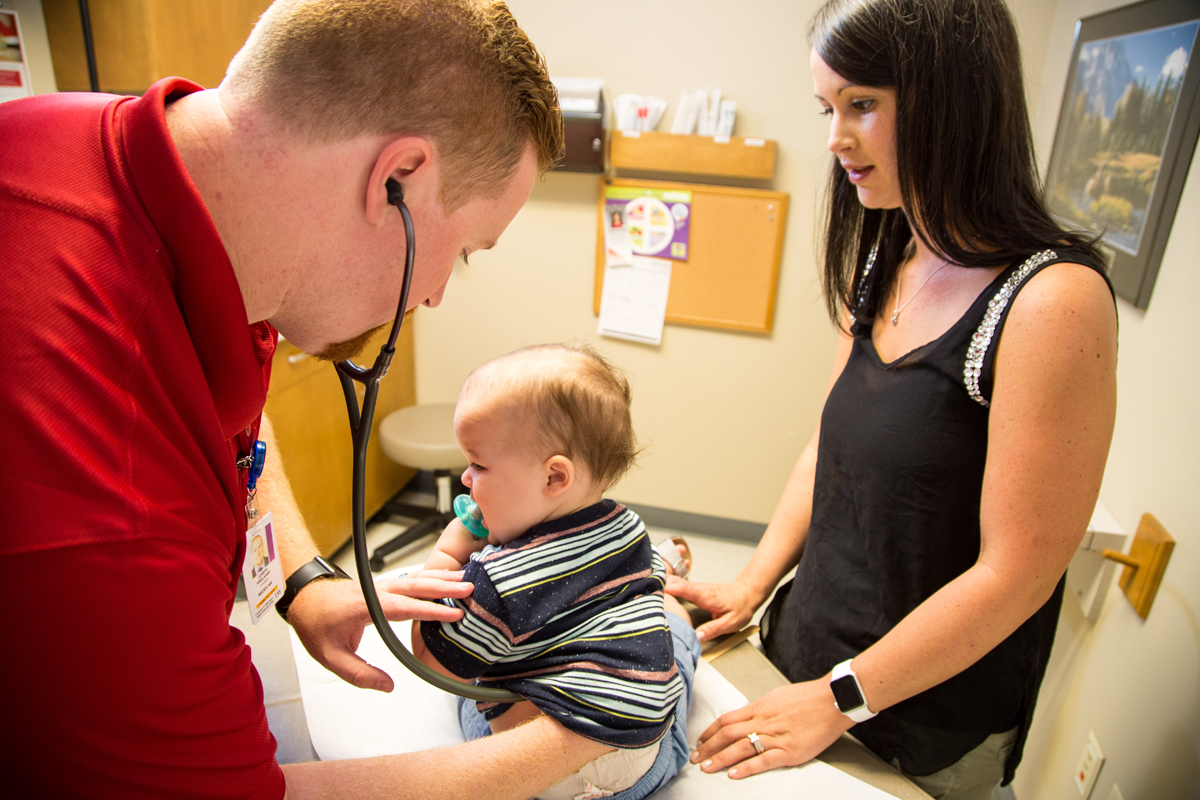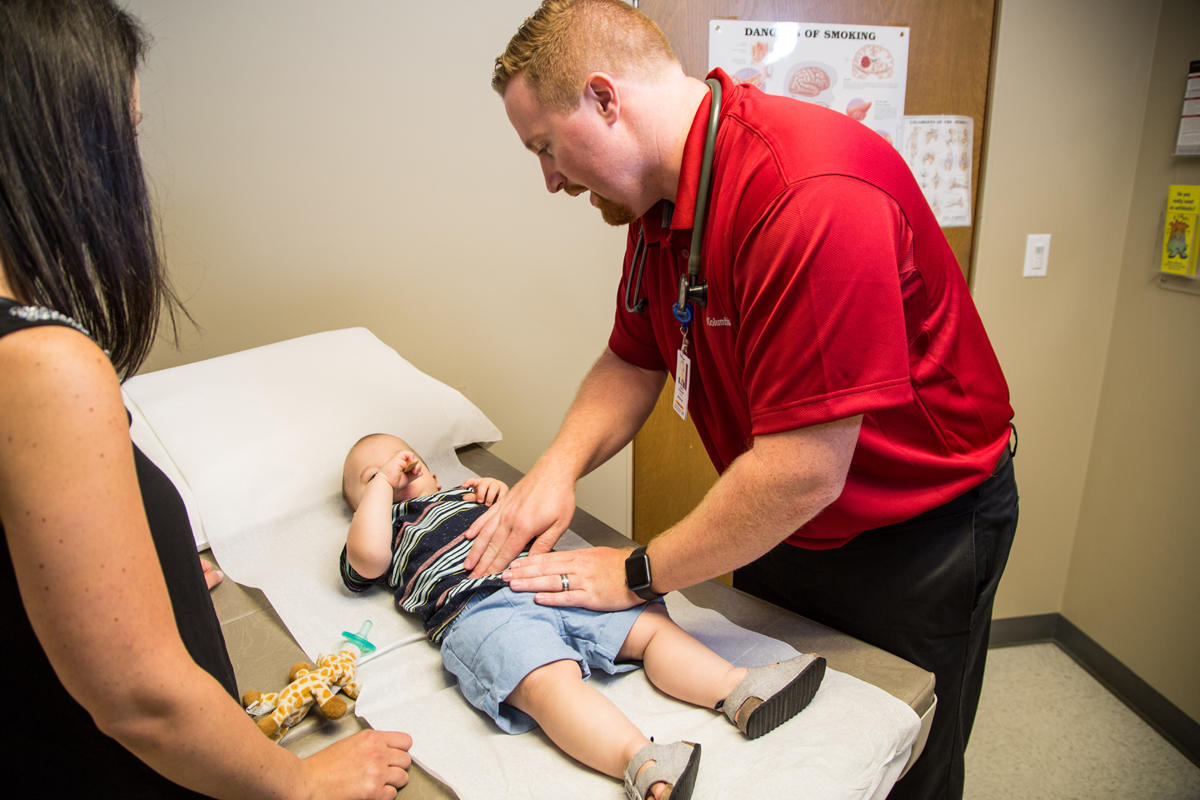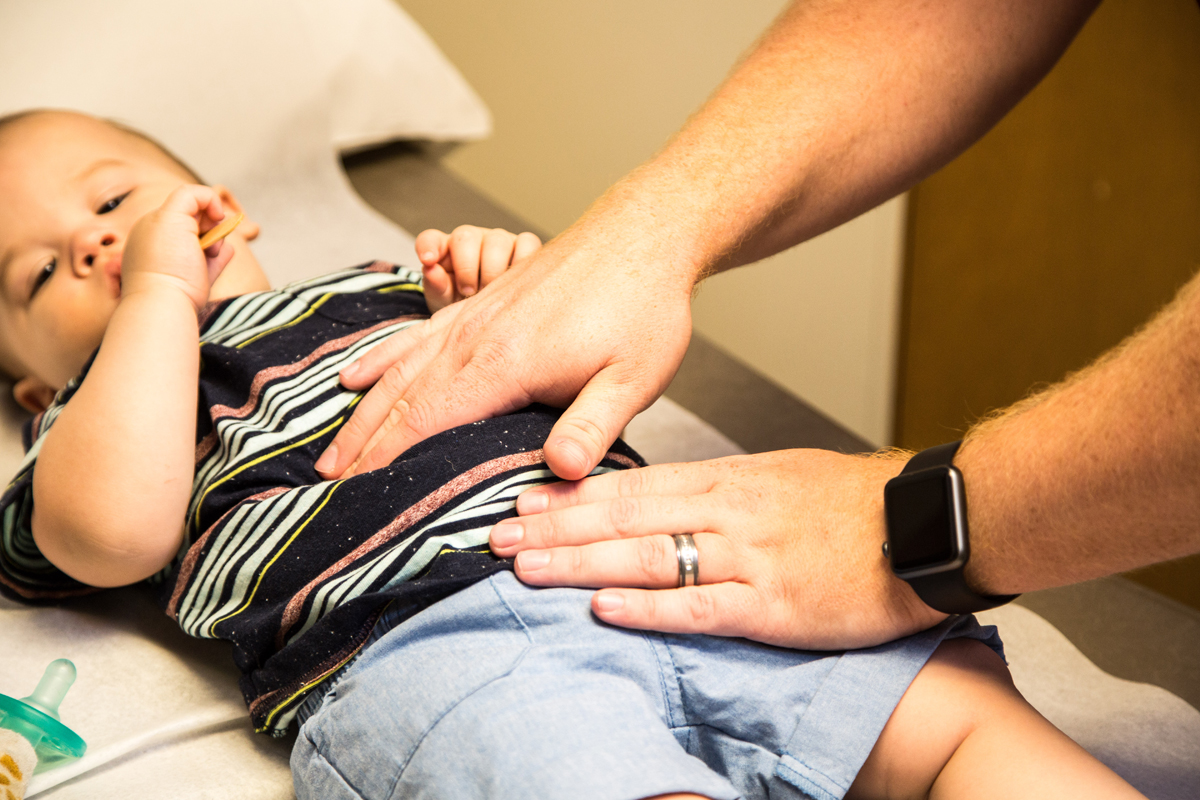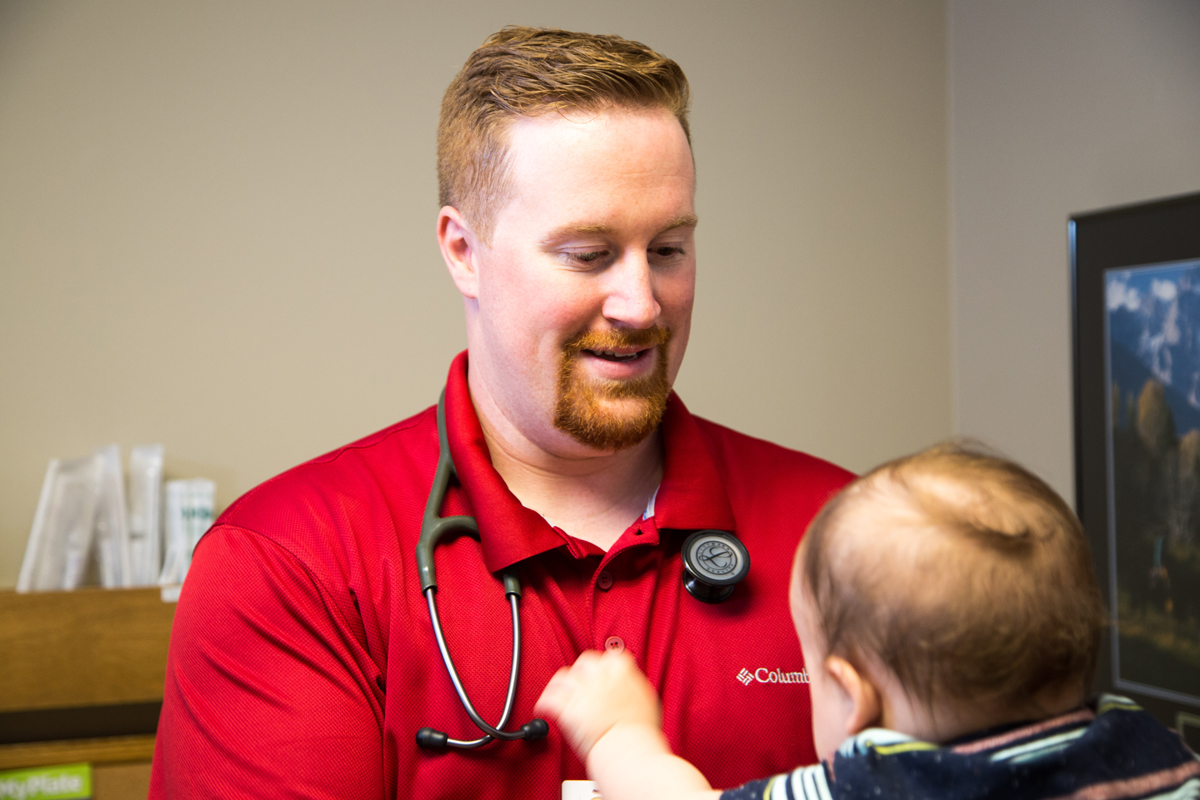 At the same time, however, Joe felt that the scope of his practice as an athletic trainer would be limited. "We were mostly involved with sports injuries," Joe says. "We'd often refer people away who exhibited colds or other medical problems. We really didn't have the knowledge, as we were all about sports injuries and orthopedics."
At the invitation of Eastern, some of the PAs from the nearby Rockwood Clinic would come by to address other medical issues, and Joe would work in conjunction with them for referral. That's when he learned what the scope of a physician assistant was all about.
After graduating with an athletic training degree from Eastern Washington University in 2012, Joe started looking at the application process for PA schools. "I knew I needed clinical hours," he says. "I couldn't find a local job for athletic training that would have met the required hours. So, I got my NAR, or nursing assistant registered, and began working with the mental health population at Eastern State Hospital."
Eastern State is one of the two state-run psychiatric hospitals in Washington State, the other being Western State Hospital located in Seattle. Behavioral medicine is far afield from athletic training, so we wondered how Joe fared.
"I was doing direct patient care at Eastern, and it was a complete 360 from my previous experience," Joe tells us. "At first, I didn't like it. I was doing this to get my hours. But the more I worked there, the fonder I grew of that population, and I really wanted to help them. I saw that there was a big need."
Most of the patients he saw at Eastern were acutely, psychiatrically ill—patients that couldn't be out in the community because their behaviors were so erratic. "A lot of times, that's because they're either off their medications, treating with illicit substances, or other reasons," says Joe.
But what really changed Joe's attitude was seeing individuals that were deeply mentally ill transform with treatment into what he calls "a regular person who was nice, cordial and conversational." Once they were treated and no longer acutely ill, the patients often would have remorse about their actions. "They'd feel bad that they'd burned bridges with their families," he says.
Joe's role as a NAR was to help them get back on their feet so they could return to community as participating members of society. Witnessing the process of healing and reintegration changed Joe's initial attitude about working with this population.
There were the frustrations too. Some patients kept living their lives as had become habit, resulting in readmission to the hospital. "Yes, that was the frustrating part," Joe says. "But it was really rewarding to see those patients that got better."
With the requisite hours under his belt, Joe applied to MEDEX. He was turned down because he had only met the minimum qualification for 4,000 hours of patient contact. (That has since been revised to 2,000 hours, along with more rigorous prerequisites.)
"I applied knowing that it would be a long shot," Joe says. During that initial interview process in Spokane, he was up against people with lots of experience and impressive backgrounds. "It was disappointing to not get in my first year because I wanted to get going on my future career."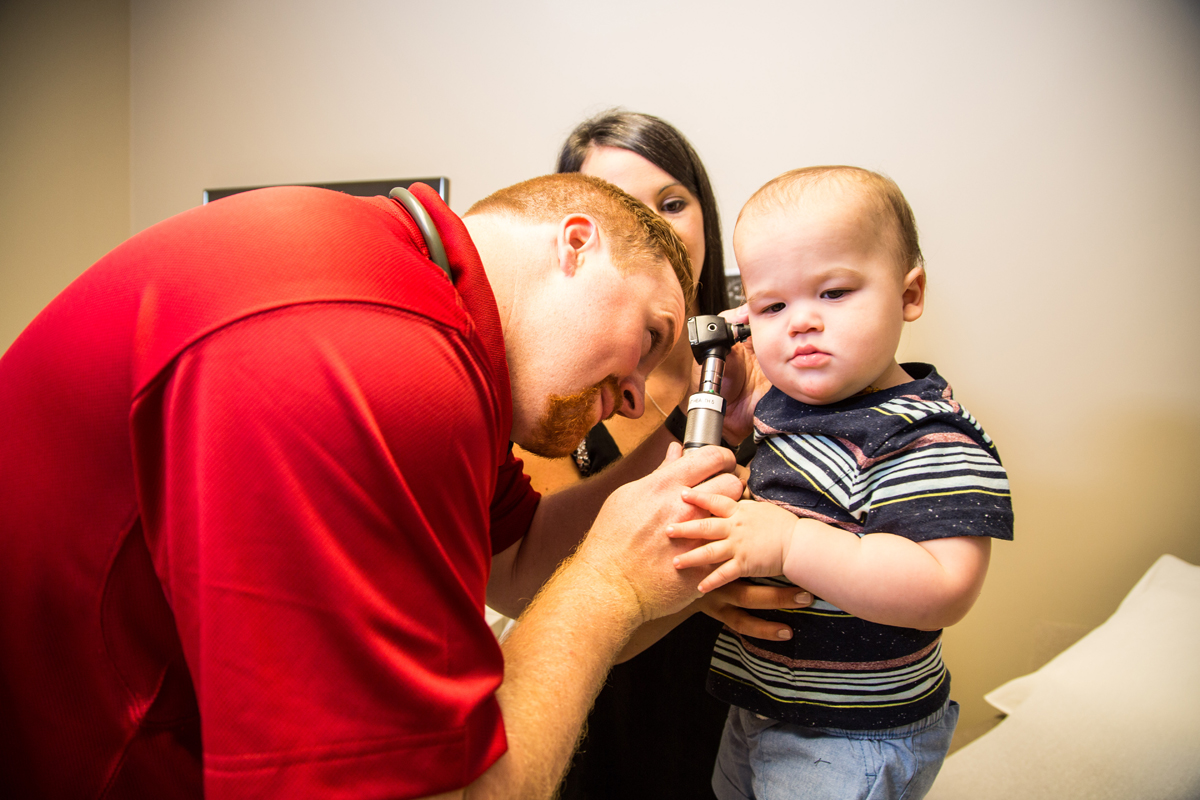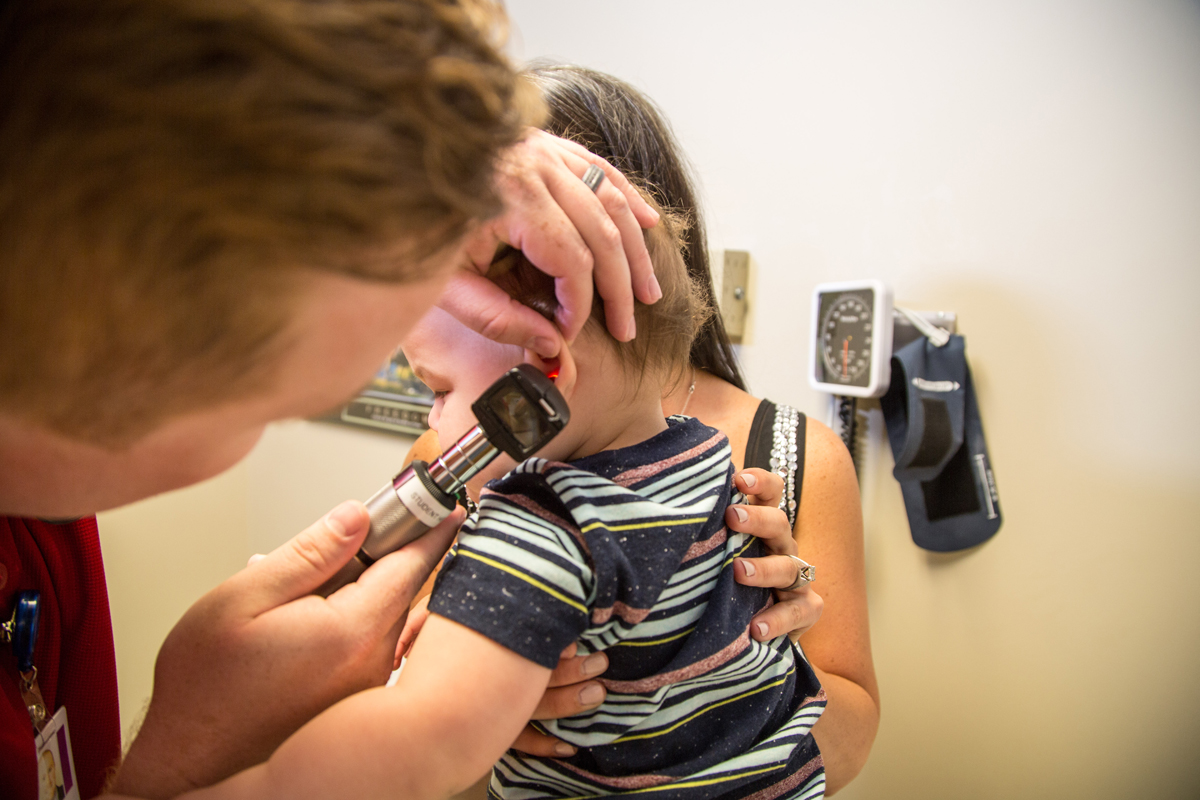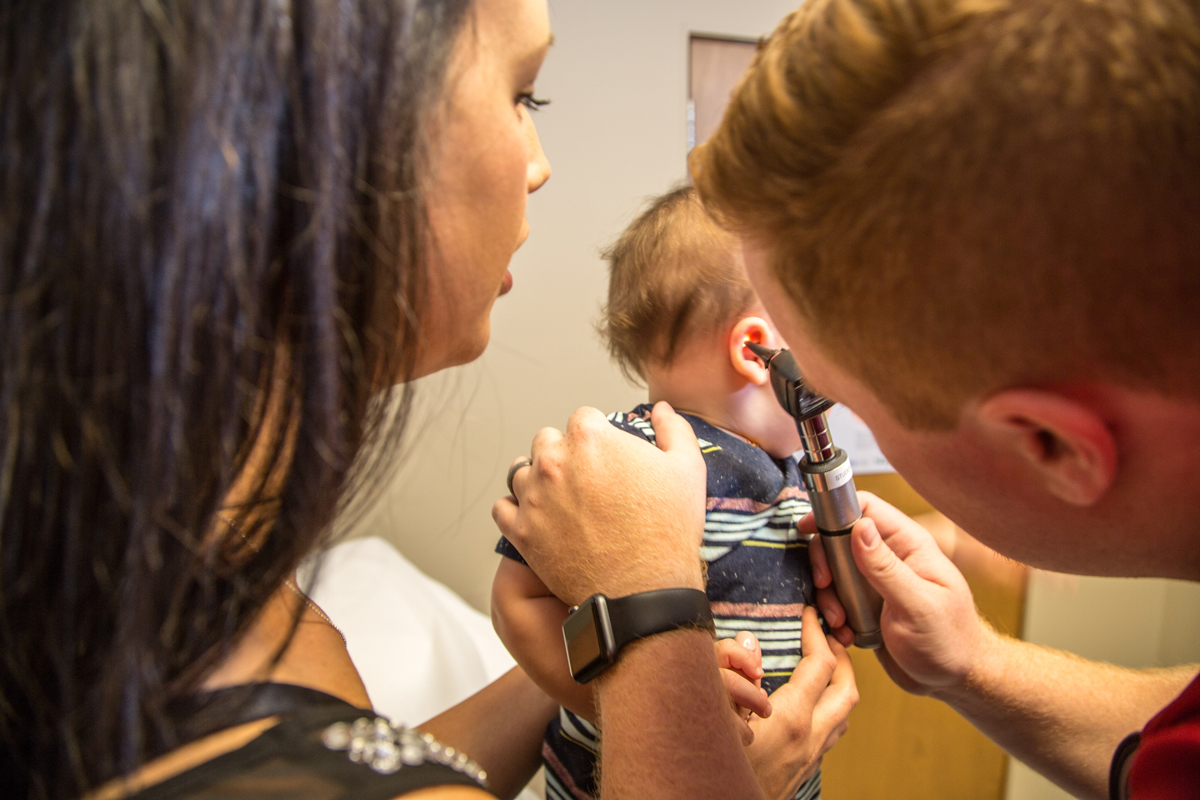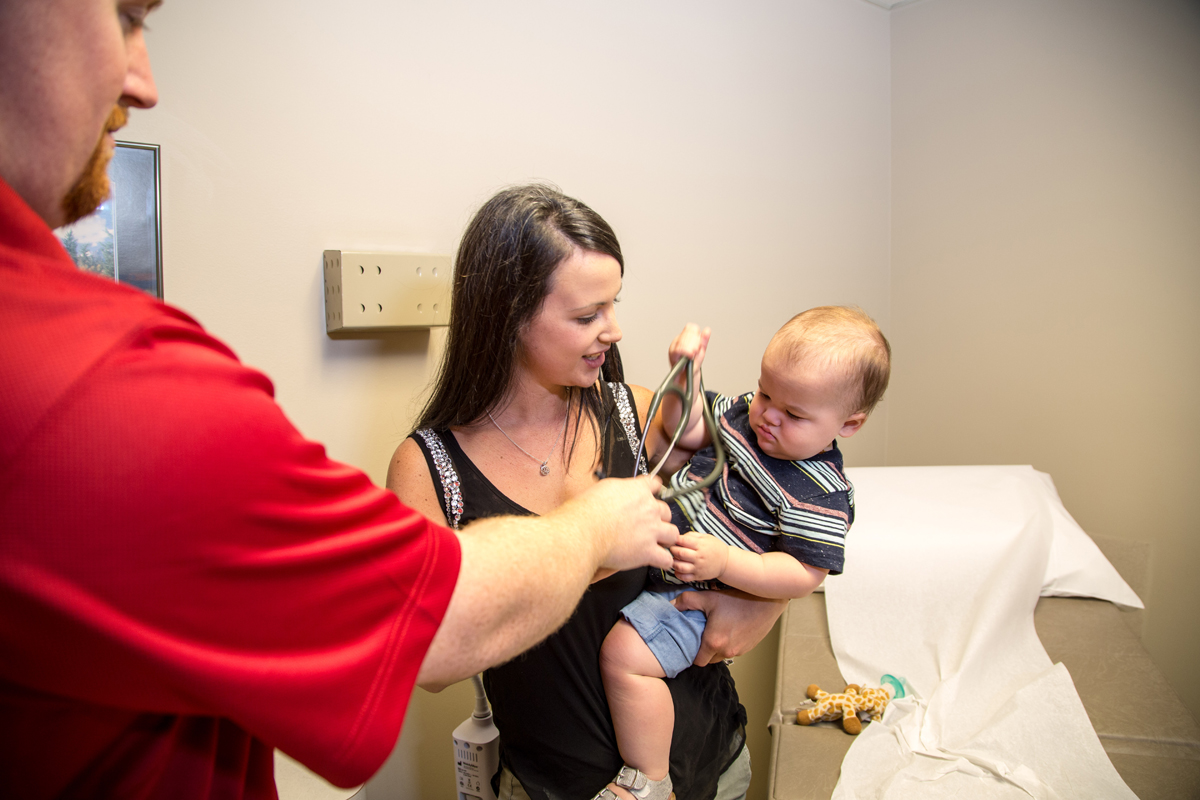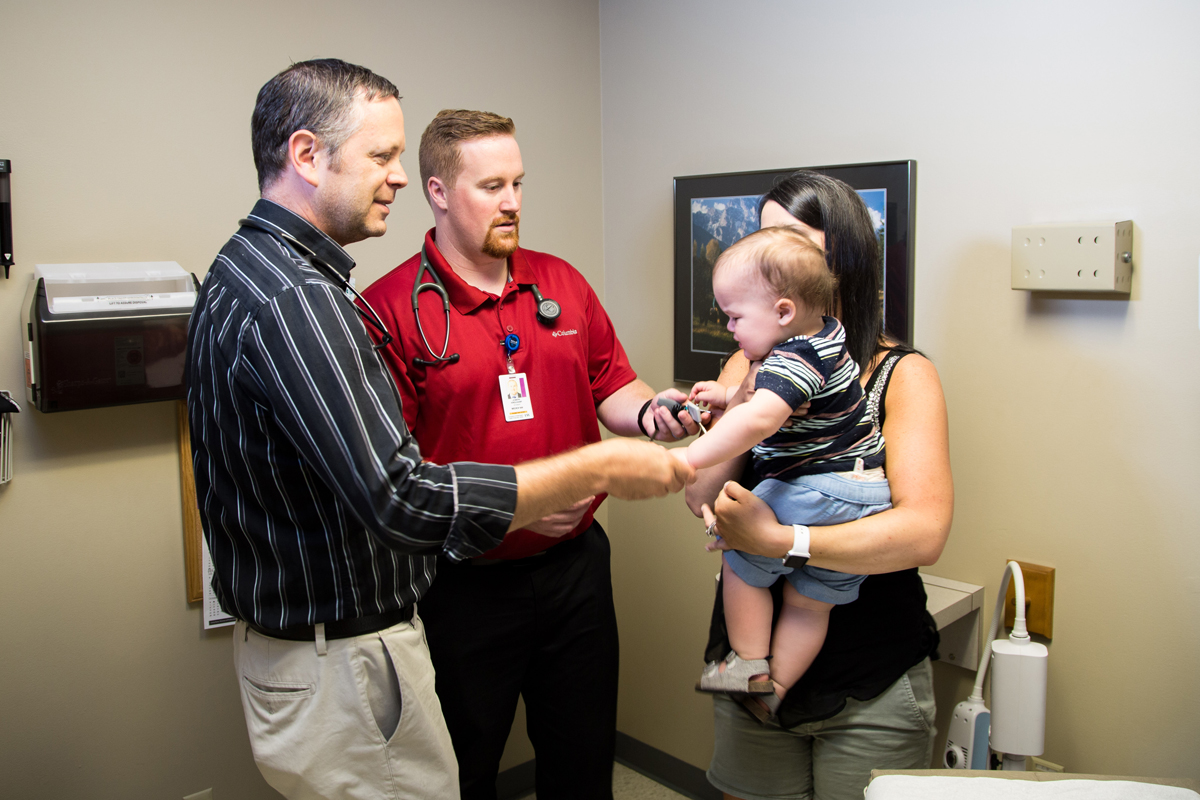 Joe is joined in the exam room by his precepting physician, Dr. Jonathan Staben of Rockwood/Multicare Cheney Medical Center.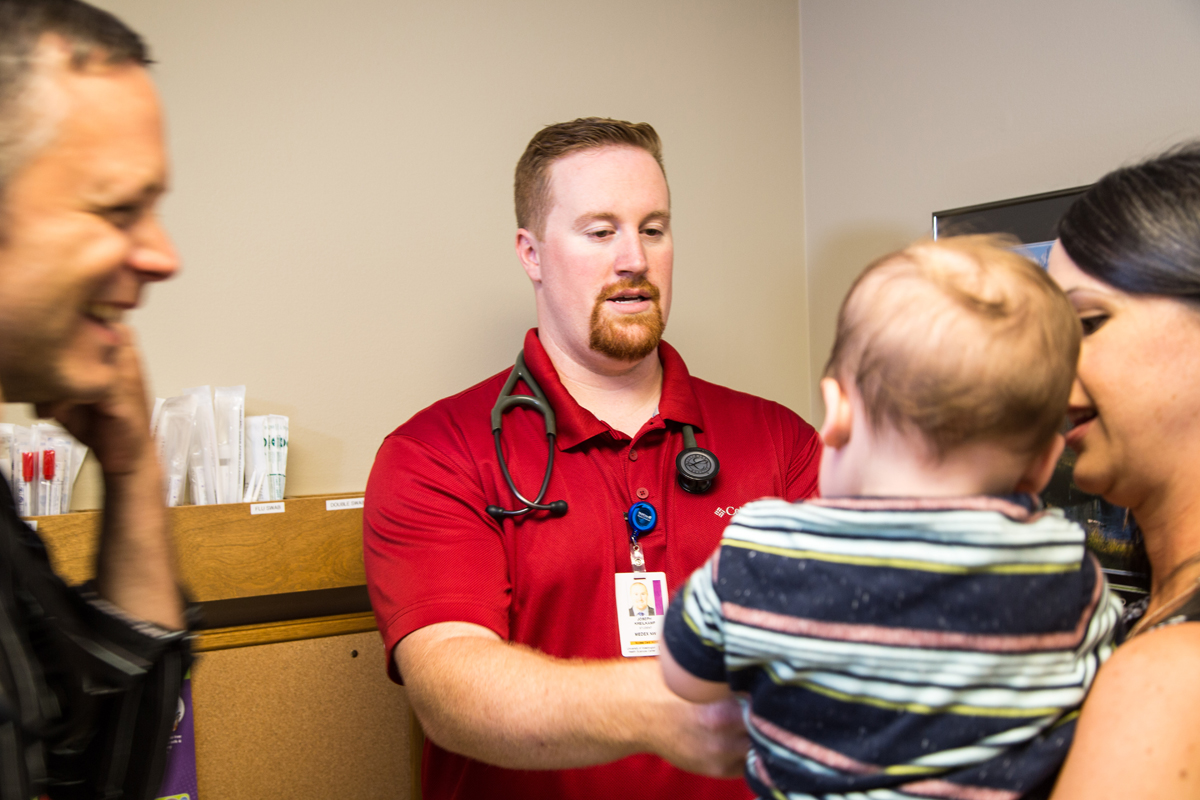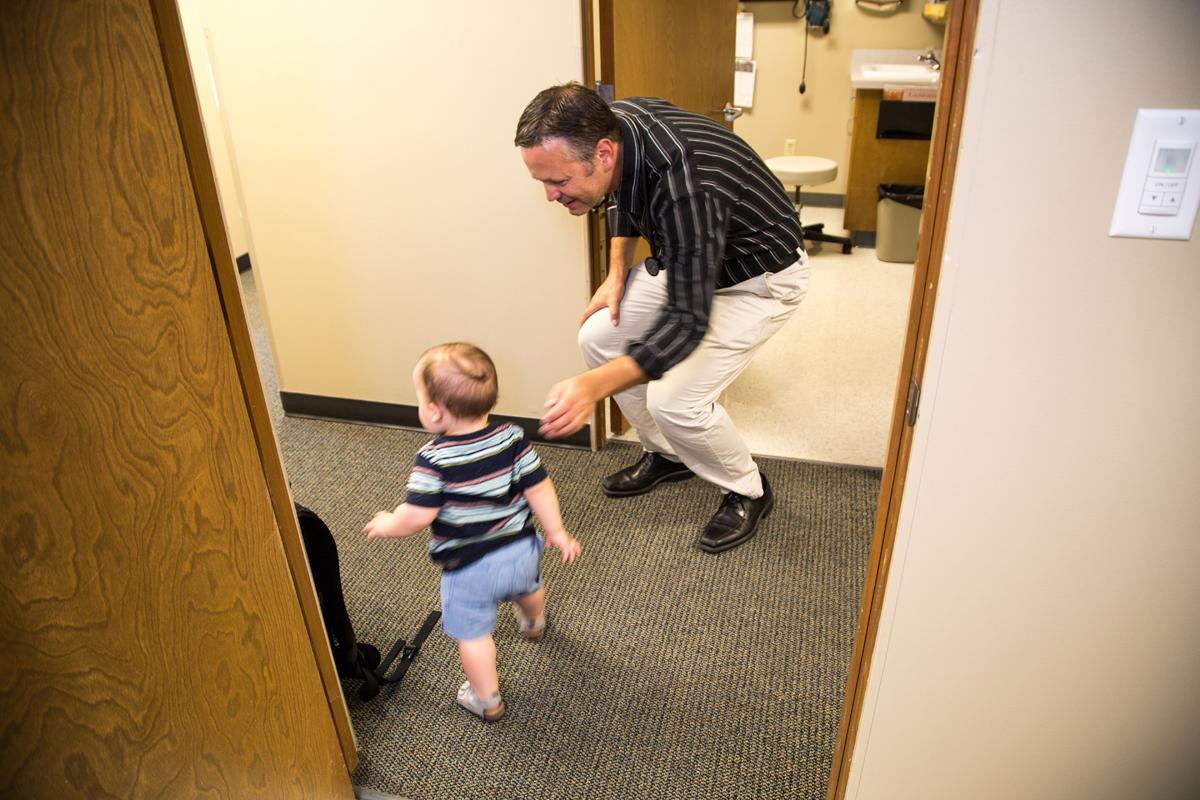 The patient makes a break for it with Dr. Stabin in pursuit.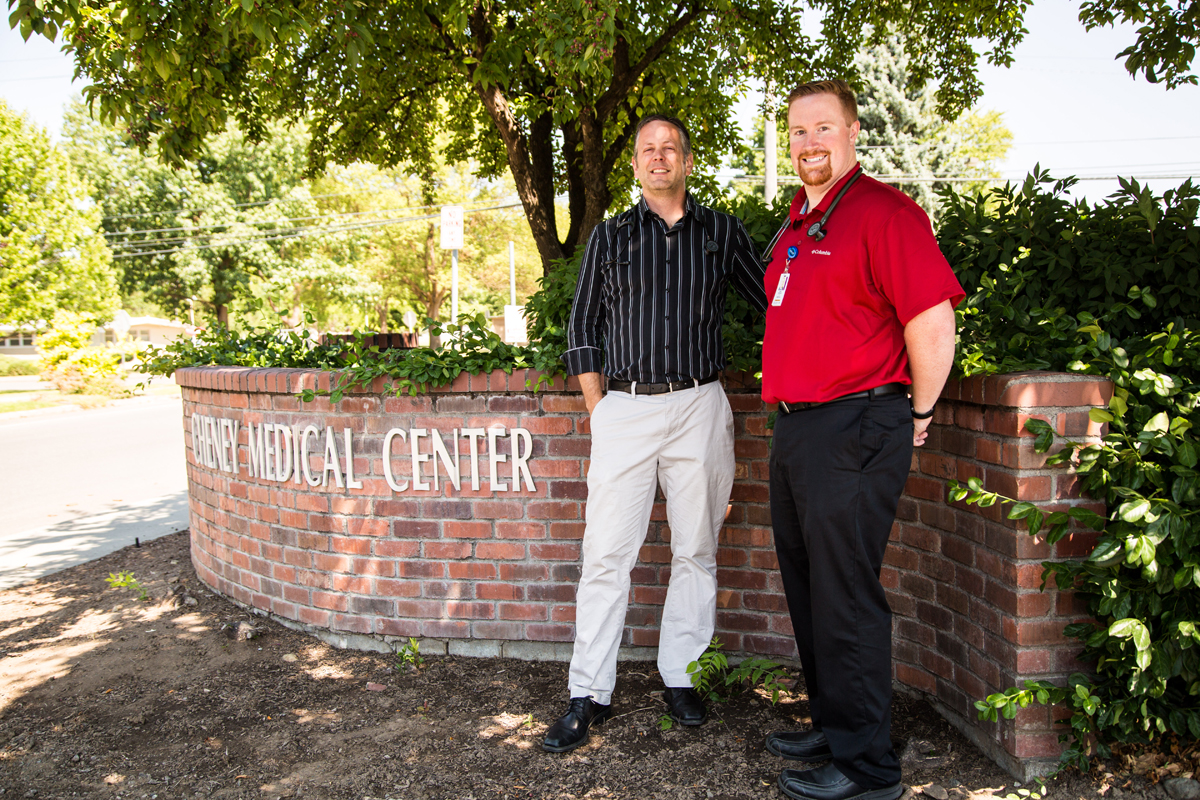 Dr. Jonathan Stabin with Joe Kreilkamp outside the Rockwood/Multicare Cheney Medical Center.
Joe applied to PA schools all over the country, but MEDEX was really where he hoped to go. "I wanted to stay local, because this is the community that I grew up in and I wanted to help serve," he says.
Joe applied again to MEDEX for the 2015-2017 academic cycle. Bolstered with additional patient hours from Eastern, he was accepted into MEDEX. Looking back, Joe came to see this second shot as a blessing, "because I really liked Class 19." He's referring to his cohort of 29 students from the MEDEX Spokane site that he eventually joined, collectively called Spokane Class 19.
When we caught up with Joe, he was in the midst of his 4-month family medicine preceptorship at Rockwood/Multicare Cheney Medical Center, located 25 minutes outside of Spokane.  "Actually, we see a lot of mental health issues in family medicine," Joe says. "A lot changed with Obamacare when more people got access to healthcare."
Now required to have insurance, individuals were seeking out care. Providers saw an influx of the mental health population showing up at primary care in search of help. "The people that have mental health issues usually are lower social economic status," says Joe. "And primary care catches everything, then gets referred out."
Joe's Capstone Project at MEDEX—the equivalent of a Master's Thesis—explored how PAs working in primary care can bridge the gap in mental health services. For many patients entering the healthcare system, access to resources or obtaining appropriate treatment is challenging.
It's clear that Joe's time at Eastern had a big impact on him.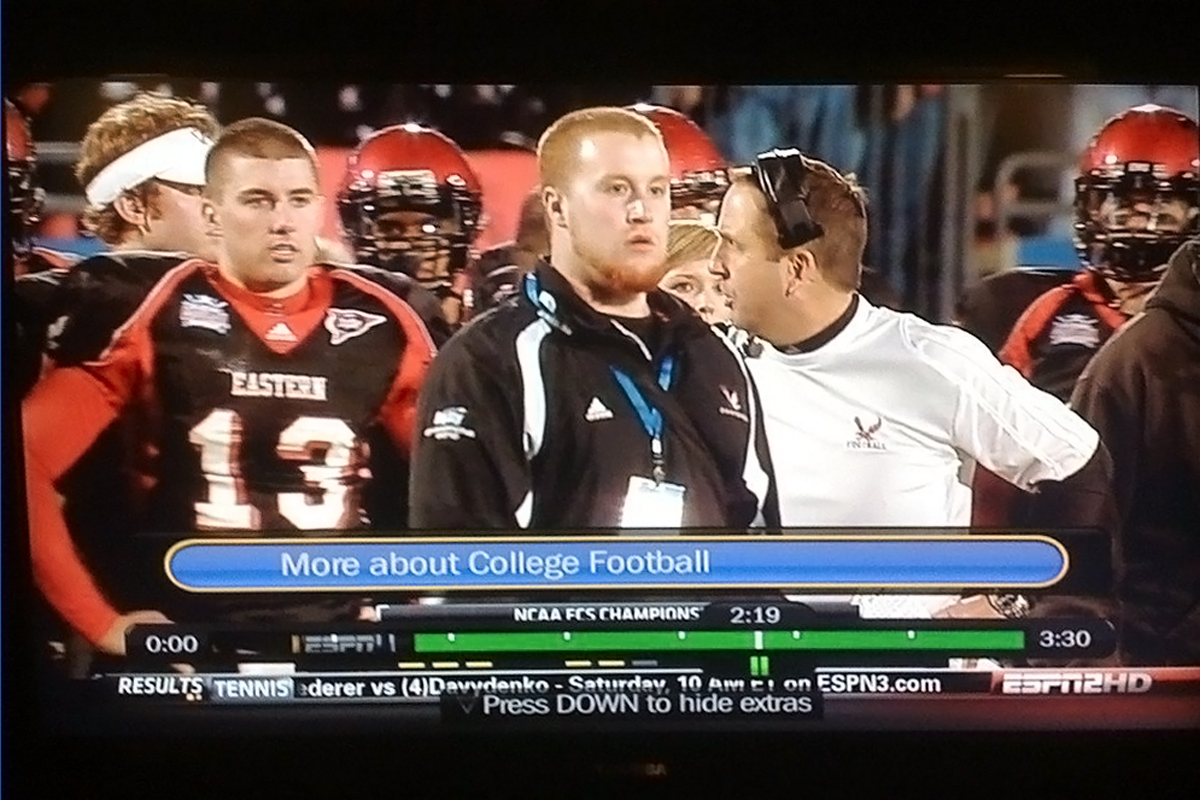 Joe seen on an ESPN broadcast during the National Championship game. To the right is the EWU head football coach Beau Baldwin.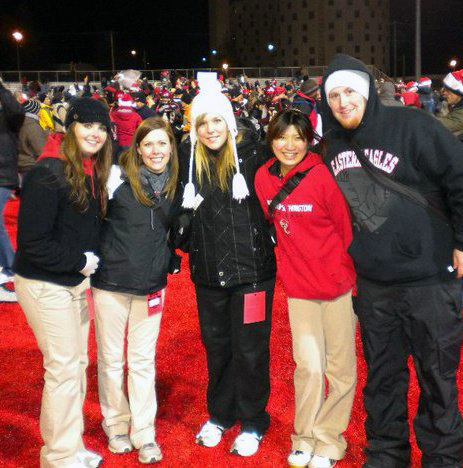 Joe Kreilkamp (left) in 2010 is pictured with other student athletic trainers that worked football.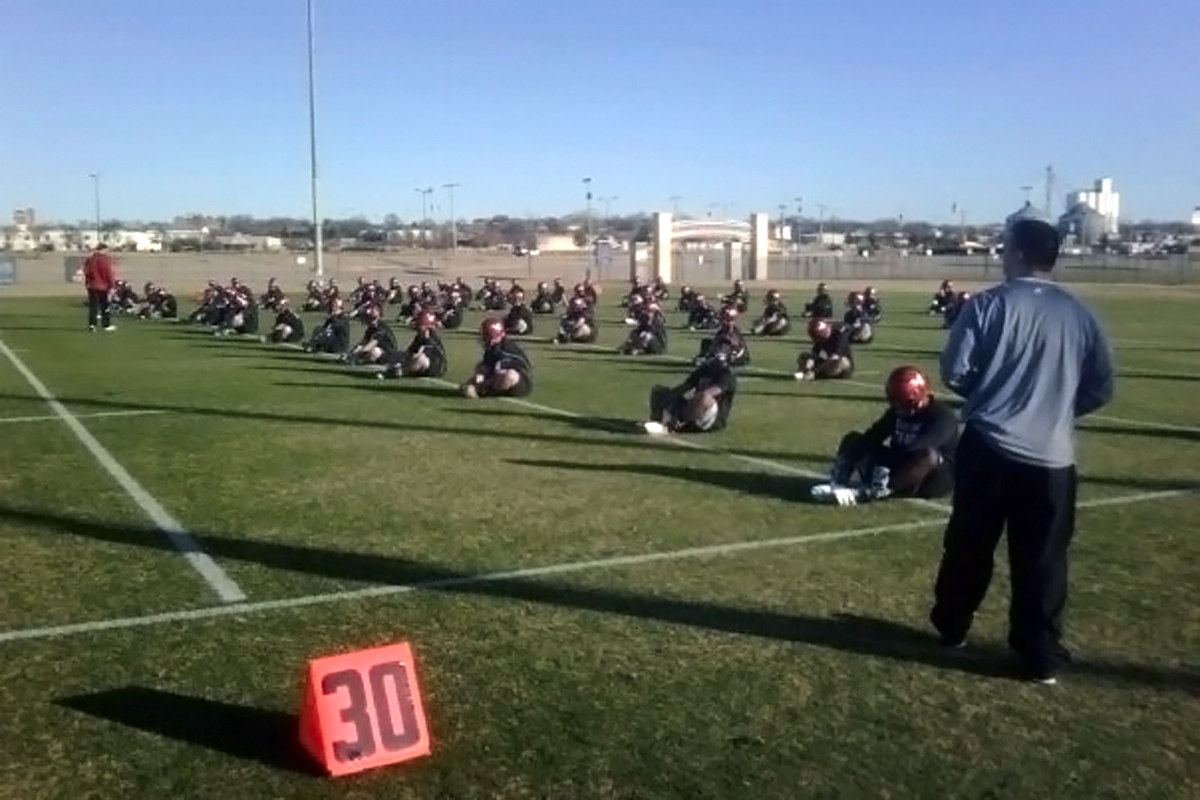 Joe (foreground) at a practice session in Frisco, Texas when the EWU Eagles won the FCS National Championship.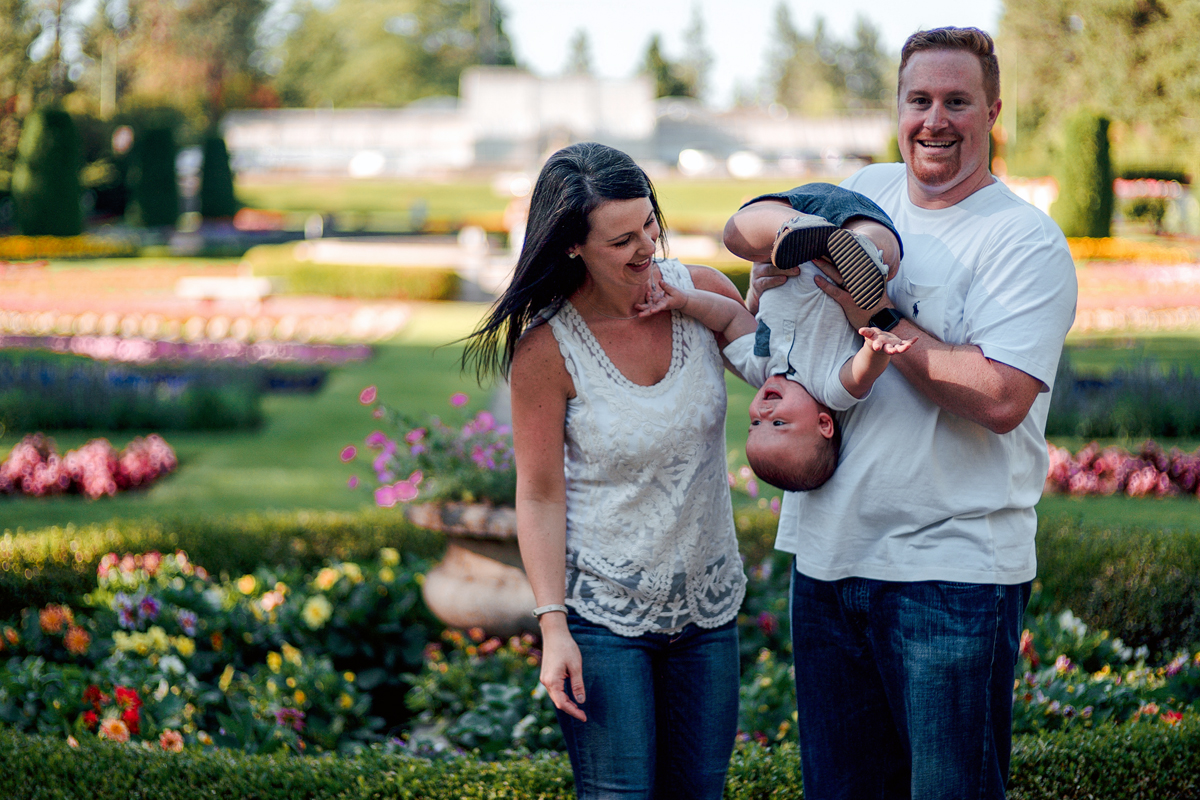 Joe Kreilkamp, PA-C with his wife and son.
"I think there still is a stigma associated with mental health," Joe says. "We don't really talk about it. People look down on those with mental health issues when really, it's just another medical issue, similar to somebody with heart disease. It's just another medical issue that they're dealing with."
MEDEX also requires six 1-month specialty rotations during the students' second year. For Joe, this included an orthopedics rotation that aligned with his background as an athletic trainer. It was during this rotation that Joe was exposed to the sort of aggressive orthopedic surgeries that he had only heard of to that point.
For a total hip replacement, a surgeon hammered into the patient's femur to create a hollow for the hip replacement prosthetic. The doctor needed help extracting the chisel from the bone, and Joe was asked to step in. The surgeon's instructions to Joe were, "Hold this leg really good, and then hit on the end of this hammer."
So Joe hit the hammer. This was followed immediately by, "No, you gotta do it way harder than that!"
"I felt like was hammering on something that I was going to break," Joe says. "Now I know why people are so sore after surgery."
Joe graduated from MEDEX Spokane Class 19 in August of 2017. During the two years of his PA training, a son was born to him and his wife. "I practiced all my physical exam techniques on him," he says. "I'm comfortable around kids."
Some people postpone the Physician Assistant National Certification Exam after graduation to give themselves a bit of a break after two years of studies. But Joe signed up for the first available PANCE exam slot.
"While I felt like I was well prepared by MEDEX, it was still a tough test," he says. "I walked out of it convinced that I did not pass. As the waiting for results went by, and I analyzed the questions in my head, the more I doubted that I had passed."
But on September 7th, Joe got the news that he had passed.
"Relief and joy overcame me knowing that there was finally an ending to the long MEDEX journey, and it was a positive one," he says.
Since passing the PANCE certification exam, Joe has started work for Rockwood/Multicare at their West Plains clinics. Most of his time has been spent at the Airway Heights clinic just west of Spokane. At that site, he's helping to open a walk-in clinic within the family practice building. This allows patients to be seen for urgent issues, an alternative to traveling out-of-area.
"They have a very successful model of this in Cheney, and the hope is that we can provide the same type of urgent care service for the Airway Heights and rural communities," Joe says. "Since starting, I have enjoyed every minute, and know that this is what I am meant to do."
In addition to his clinic work, Joe has also begun working with the EWU Men's Basketball team as the team provider. "Rockwood has a few providers that offer Sports Medicine coverage, and I am very excited and honored to be able to be back helping out at my alma mater," he says. Joe has also been given the opportunity to help out the Athletic Training Education Program by allowing some of their students to observe his clinic work, which is a requirement of their degree.
Reflecting on his Spokane Class 19 cohort, Joe has nothing but praise for his fellow classmates.
"It was a very diverse group of people with a lot of different interests," he tells us. "We all brought something to the table, and we were able to help each other out. We were very collaborative. Getting through the program, it's hard, it's long, it's rigorous, it's not easy inside. We banded together to help each other out. There were, of course, quarrels and everything, but when you sit in the classroom for eight hours with the same people, you're going to have that. Overall, we were a good group. We were well integrated. That's one of the reasons that I'm glad I got accepted during my second application year, because I can't picture myself going through without the rest of that class."
Joe has stayed connected to MEDEX by assisting with proctoring clinical skills exams and acting as a model patient for the current didactic Class 21 in Spokane.
"I think it's a great program," Joe says. "I really liked the Spokane campus. It's a bit smaller, and so you get a little bit more intimate with the faculty. They're very available. All the professors out here are excellent instructors, and I would recommend this program to anybody that's looking or thinking about PA school. I think MEDEX Northwest is top-notch, and their clinical rotations are very, very good, especially in Spokane area."
MEDEX Northwest is confident that Joe Kreilkamp, PA-C will contribute significantly to his community as a physician assistant.