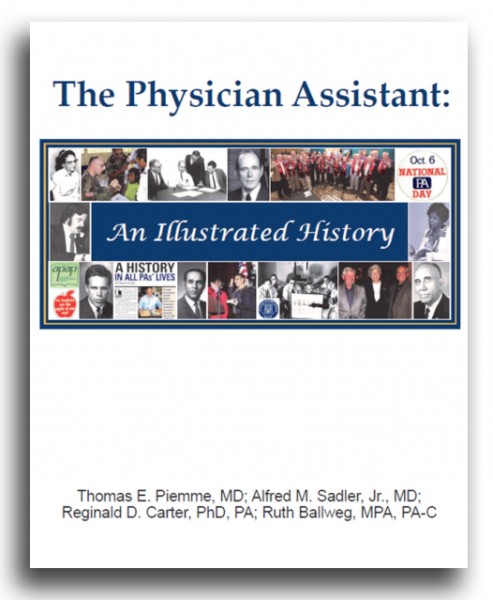 The Physician Assistant: An Illustrated History was recently published by the PA History Society. Ruth Ballweg, our own MEDEX Northwest Section Chief, is one of the four authors of this book.
This is a timeline handbook, punctuated with images and brief biographies of the major contributors and events central to the PA profession over the past half-century.  It is essential reading for students and those deeply involved in the PA profession. The 113-page softcover book is available for purchase from Amazon.com and the PA History Society at http://www.pahx.org/pa-history-book.
The book opens with this compelling paragraph:
"How did it come to pass that, in less than 50 years, there have been more than 105,000 physician assistants (PAs) certified to practice medicine, when none existed before. More than 90,000 are actively practicing today. There are more than 170 accredited educational programs. The PA Master's degree is regarded as the most valuable Master's degree in the economy. PAs consistently report high job satisfaction. In studies of quality of care and patient satisfaction PAs, after two years of intensive training, perform favorably when compared with house officers and practicing physicians. Who are the people who make up this remarkable new profession? How did it happen? Although there have been scattered precedents for the use of non-physicians to provide care in other countries, and rare instances in the United States, the following story describes the unfolding of a new health profession that many claim to be one of the greatest innovations of the last half of the 20th century."
Authorship is shared between Ruth Ballweg, MPA, PA-C; Thomas E. Piemme, MD; Alfred M. Sadler, Jr., MD; and Reginald D. Carter, PhD, PA.  Dr. Sadler, founder of the Yale Physician Assistant Program, recently delivered the keynote speech at the 2013 MEDEX graduation programs for both the Seattle 45 and Yakima 18 classes.