Hippocampal Place Fields - Edited by Sheri J.Y. Mizumori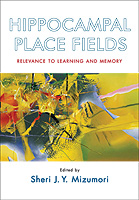 Hippocampal Place Fields
Relevance to Learning and Memory
Edited by Sheri J.Y. Mizumori

Oxford University Press
ISBN13: 9780195323245 ISBN10: 0195323246
Hardback, 432 pages
Feb 2008
Reviews:
"Someone peering in from another scientific field might appreciate the attraction to place cells but also might ask why a mere firing correlate is the subject of an entire book. The answers are found throughout the book. Put simply, place cells are now an important reference point from which to address a host of issues in neuroscience...The book's organization reflects Sheri Mizumori's deep understanding of the fact that place-cell research is much less a specialization than a field that adeptly speaks to scientific questions ranging from molecular biology to cognition. Ranging from historical background to the current leading discoveries and theories concerning place cells, this book is well-situated to be a resource for graduate- level students of the field as well as for nonspecialists."--Nature Neuroscience (Read Full Review by Doug Nitz >>)

"This book combines theory and research quite nicely. The editor and contributors are the movers and the shakers in the field and they have created a book which stands alone, given its depth and its breadth."--Doody's

Description:
Data from neuropsychological and animal research suggest that the hippocampus plays a pivotal role in two relatively different areas: active navigation, as well as episodic learning and memory. Recent studies have attempted to bridge these disparate accounts of hippocampal function by emphasizing the role that hippocampal place cells may play in processing the spatial contextual information that defines situations in which learned behaviors occur. A number of established laboratories are currently offering complementary interpretations of place fields, and this book will present the first common platform for them. Bringing together research from behavioral, genetic, physiological, computational, and neural-systems perspectives will provide a thorough understanding of the extent to which studying place-field properties has informed our understanding of the neural mechanisms of hippocampus-dependent memory. Hippocampal Place Fields: Relevance to Learning and Memory will serve as a valuable reference for everyone interested in hippocampal function.