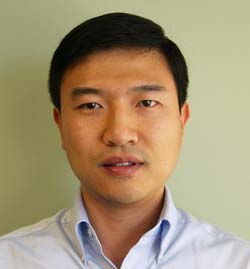 Researcher, Mitochondria and Metabolism Center

Associate Professor, Anesthesiology and Pain Medicine

Adjunct Associate Professor of Pathology
Research Interests
Cardiovascular bioenergetics and mitochondrial function regulation
Metabolic pathways and therapeutic targets in heart failure
Mitochondrial dysfunction in neurodegenerative disease
Confocal imaging and in vivo evaluation of mitochondrial function
Awards
National Institutes of Health, Fellow Award for Research Excellence (2003 & 2004)
International Society for Heart Research (ISHR), Richard J. Bing Award for Young Investigators (2007)
The Academy of Cardiovascular Research Excellence (ACRE) Young Investigator Award (2011)
American Diabetes Association (ADA) Gail Patrick Innovation Award
 Current Memberships
 American Diabetes Association
American Heart Association
American Physiological Society
American Society for Biochemistry and Molecular Biology
Biophysical Society
International Society for Heart Research
 Current Funding
National Institutes of Health (R01): Mitochondrial Respiration and Superoxide Production in Healthy and Failing Heart.
American Diabetes Association (Innovation award): Source and Sites of Action of Hydrogen Peroxide in Mitochondria and Cytosol of Pancreatic Islets.
Recent Publications
Huiliang Zhang, Pei Wang, Sara Bisetto, Yisang Yoon, Quan Chen, Shey-Shing Sheu, Wang Wang. Novel role of DRP1 in cardiac mitochondrial respiration. Cardiovasc Res. 113, 160-170, 2017.
Shangcheng Xu, Pei Wang, Huiliang Zhang, Guohua Gong, Nicolas Gutierrez Cortes, Weizhong Zhu, Yisang Yoon, Rong Tian, Wang Wang. CaMKII induces transient permeability transition through Drp1 phosphorylation during chronic b-AR stimulation. Nat Commun. 7, 13189, 2016.
Wang Wang, Guohua Gong, Xianhua Wang, Lan Wei-LaPierre, Heping Cheng, Robert Dirksen, Shey-Shing Sheu. Mitochondrial Flash: Integrative ROS and pH Signals in Cell and Organelle Biology. Antioxid. Redox Signal. 25, 534-549, 2016.
Wang Wang, Georgios Karamanlidis, Rong Tian. Novel targets for mitochondrial medicine. Sci Transl Med. 8, 326-333, 2016.
Guohua Gong, Xiaoyun Liu, Huiliang Zhang, Shey-Shing Sheu, Wang Wang. Mitochondrial flash as a novel biomarker of mitochondrial respiration in the heart. Am J Physiol Heart Circ Physiol. 309, H1166-1177, 2015.
Guohua Gong, Xiaoyun Liu, Wang Wang. Regulation of metabolism in individual mitochondria during excitation-contraction coupling. J Mol Cell Cardiol. 76, 235, 2014.
Jin O-Uchi, Bong Sook Jhun, Shangcheng Xu, Stephen Hurst, Anna Raffaello, Xiaoyun Liu, Bing Yi, HuIliang Zhang, Polina Gross, Jyotsna Mishra, Alina Ainbinder, Sarah Kettlewell, Godfrey L. Smith, Robert T. Dirksen, Wang Wang, Rosario Rizzuto, Shey-Shing Sheu. Adrenergic signaling regulates mitochondrial Ca2+ uptake through Pyk2-dependent tyrosine phosphorylation of the mitochondrial Ca2+ uniporter. Antioxid. Redox Signal. Antioxid Redox Signal. 21, 863, 2014.
Georgios Karamanlidis, Chi Fung Lee, Lorena Garcia-Menendez, Stephen C. Kolwicz, Jr., Wichit Suthammarak, Guohua Gong, Margaret M. Sedensky, Philip G. Morgan, Wang Wang, and Rong Tian. Mitochondrial Complex I Deficiency Increases Protein Acetylation and Accelerates Heart Failure. Cell Metab. 18, 239-250, 2013.
Wang Wang, Matthew S. Barnabei, Michelle Asp, Frazer Heinis, Erik Arden, Jennifer Davis, Elizabeth Braunlin, Qi Li, Jonathan Davis, James D. Potter, Joseph M. Metzger. Noncanonical EF-hand Motif Strategically Delays Ca2+ Buffering to Enhance Cardiac Performance. Nat. Med. 19, 305-312, 2013.
Contact Information
Mitochondria and Metabolism Center

850 Republican Street, Room N121
University of Washington, Box 358057
Seattle, WA 98109-8057
Phone: 206-685-4765
Fax: 206-616-4819
Email: Wang Wang