Research Description
 
Mitochondria play a central role in cell bioenergetics, free radical signaling, redox homeostasis, ion regulation, and cell fate determination. Mitochondria dysfunction often accompanies and underlies the pathogenesis of disease. Our lab is currently utilizing multiple approaches, including confocal imaging and in vitro and in vivo gene overexpression and knockdown models, to elucidate how individual mitochondrion integrates respiration, reactive oxygen species (ROS) production, calcium regulation and dynamics under physiological conditions. Further, we are studying whether dysregulation of these functions in individual mitochondria contributes to cardiovascular, neurodegenerative and metabolic diseases.
One focus of the lab is the characterization of single mitochondrial flash events, which are transient and reversible changes of multiple signals in the matrix of individual mitochondrion of live cells and animals. We show that the flashes are arising from the reversible and transient openings of mitochondrial permeability transition pore and accelerated mitochondrial electron transport chain activity. Using flash as a biomarker, we have evaluated the role of mitochondria in the heart, skeletal muscles and neurons under healthy and disease conditions. Flash frequency is a useful biomarker for evaluating mitochondrial function in vivo. This digital mitochondrial ROS signals (frequency mode) could be a new form of intracellular ROS regulation besides the constitutive (amplitude mode) ROS signals.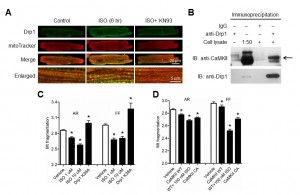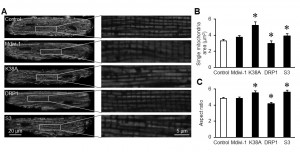 Another direction in the lab is to dissect the novel roles of mitochondrial dynamic proteins in the adult heart. Mitochondrial dynamism in the adult cardiomyocytes is relatively less active compared to that of other cell types, yet mitochondrial dynamic proteins such as MFN1/2, OPA1 and DRP1 are highly abundant in the heart. Genetic disruption of these fission/fusion proteins exerts strong heart phenotype. We have developed imaging approaches to quantify the role of mitochondrial fission and fusion proteins in regulating mitochondrial morphology in the adult cardiomyocytes. Further, DRP1 is an early responsive factor for the detrimental effects of various stresses, such as myocyte death induced by chronic adrenergic receptor activation.
Other ongoing projects include the roles of defective mitochondrial ETC in the development of cardiovascular and neurodegenerative diseases, metabolic remodeling of the myocardium in obesity and diabetes, mitochondria ROS in islets function, and mitochondrial calcium regulations.
Current Lab Members
Huiliang Zhang PhD Senior Fellow
Pei Wang PhD Senior Fellow
Previous Lab Members
Eric Smith PhD
Nicolas Gutierrez Cortes PhD
Shangcheng Xu PhD
Guohua Gong PhD
Xiaoyun Liu PhD
Yan Wang MD
Zhen You, MD
Contact Information
Mitochondria and Metabolism Center
850 Republican St., Room N121
Seattle, WA  98109-8057
Phone: 206-685-4765
Fax: 206-616-4819
Email: Wang Wang