Graduate Program in Neuroscience
#MeTooSTEM Seminars and Workshops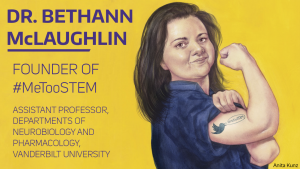 Founder of #MeTooSTEM, Dr. BethAnn McLaughlin, will be hosting multiple seminars on April 17th and multiple workshops on April 18th. Please check out these opportunities down below:
Wednesday April 17th:
Scientific Seminar:
12:00 pm,  Hitchcock (HCK) 132
Seminar Title: "Chaperone Determinants of Neuronal Survival"
#MeTooSTEM Seminar:
4:00 pm, Hitchcock (HCK) 132
Seminar Title: "Ending Sexual Misconduct and Discrimination in STEM One Harasshole and Chili Pepper at a Time"
Thursday April 18th:
#MeTooSTEM Workshops:
Building Healthy Academic Workplaces
9:00 – 11:00 am, Health Sciences G-328
Strategies to prevent and respond to sexual harassment and gender discrimination at the University of Washington. The training is an interactive, research-driven session that provides individuals with skills in bystander intervention, micro-affirmations, and allyship. There will be time to consider the structural factors in academia that produce sexual harassment, and actions steps we can take to mitigate those factors and create a workplace culture in which everyone can flourish. UW campus resources will be shared.
This training will be co-facilitated by a UW staff member, Kiana Swearingen,  and a UW graduate student, Paige Sechrest, who both work on the Prevention of Sexual Harassment and Discrimination program through SafeCampus.
A MeTooSTEM Action Workshop *(Registration Required)
"End Campus Rape Insurance": (REGISTRATION REQUIRED)
11:00 am – 2:30 pm, Samuel K. Kelly Ethnic Cultural Center, Unity Suite
To register, visit: MeTooSTEM Action Workshop
#WeToo – Taking on harassment & discrimination through collective action & collective bargaining
3:00 – 5:00 pm, Health Sciences G-328
In an unsurprising finding, the latest report of the National Academies concluded that the existing Title IX-based structures meant to reduce the incidence of sexual harassment are grossly ineffective.

In response, academics are organizing to secure protections against harassment and discrimination.

Unions are a particularly effective vehicle for organizing, providing several avenues of redress. They provide stronger contractual protections against discrimination; they provide neutral third party arbitrations; they are a vehicle for collective action  & public storytelling; and they are a tool for doing political advocacy & building community support.

We will discuss and explain the existing ASE grievance procedures, and examples of collective actions and political advocacy.

We will workshop scenarios about how we can take collective action against harassment and discrimination at UW
Peer Supporter Training *(Registration Required)
3:00 – 5:00 pm, Health Sciences G-417
To register, visit: Peer supporter training
This event will be sponsored by The University of Washington Neuroscience Graduate Program, the UW Institute for Neuroengineering, the Departments of Biology, Physiology & Biophysics, and Psychology, the School of Medicine, UW ADVANCE, the Graduate Program in Molecular and Cellular Biology, the Division of Natural Sciences of the College of Arts and Sciences, and the Allen Edwards Lectureship Fund