Graduate Program in Neuroscience
Joseph Sisneros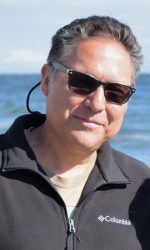 Phone: 206-543-8893
Email: sisneros@uw.edu
Dept.: Psychology
Neuroscience Focus Groups:
Lab Link
Research:
My research examines steroid-dependent plasticity in the adult auditory system of the plainfin midshipman fish (Porichthys notatus). The vocal midshipman has become a model for identifying the mechanisms of auditory reception, neural encoding and vocal production shared by all vertebrates. Vocal communication is essential to the reproductive success of the seasonally breeding midshipman, which migrates during the late spring and summer from deep ocean sites into the shallow intertidal zone to spawn in nests under rocky shelters. Males produce long duration advertisement calls or 'hums'( to attract gravid females to their nest. The seasonal onset of male advertisement calling in the midshipman fish coincides with a dramatic increase in the range of frequency sensitivity of the female's sacculus, the main peripheral organ of hearing, thus leading to increased encoding of the advertisement calls & upper harmonics that can, in turn, improve a female's ability to detect and locate nesting males in shallow water environments like those where males acoustically court females (Sisneros and Bass 2003; J Neurosci. 23:1049-1058). Approximately one month before spawning, midshipman females undergo ovarian recrudescence and like many other teleost fish show seasonal peaks in circulating plasma levels of both testosterone and 17B-estradiol (Sisneros et al. 2004; Gen. Comp. Endocrinol. 136:101-116).
We now show that non-reproductive females treated with either testosterone or 17R-estradiol exhibit an increase in the sacculus' frequency sensitivity that mimics the reproductive auditory phenotype (Sisneros et al., in press; Science). A likely site where such steroid-dependent changes in auditory tuning occur is at the level of the hair cell receptor. Thus, the principal goal of my current research is to characterize the frequency response dynamics of midshipman saccular hair cells and determine via behavior experiments how reproductive female midshipman localize behaviorally-relevant auditory stimuli such as the male's advertisement (mate) call.