The Rural Medical Home
February 2017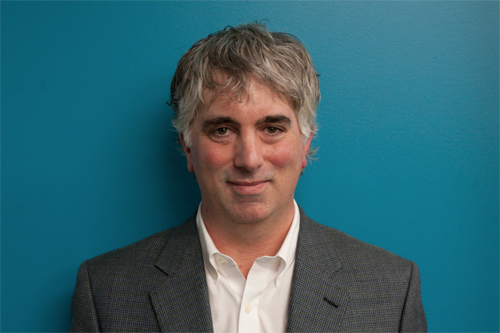 Matthew Hirschfeld, Medical Director of Maternal Child Health Services at Alaska Native Medical Center (ANMC) explains the challenges of implementing a medical home in rural Alaska.
The patient-centered medical home (PCMH) has been slow to take hold in Alaska, where less than 40% of children with special needs receive care consistent with a medical home approach.
Staff from the Alaska Division of Health are aware of only one private pediatric clinic in Alaska that is a nationally recognized PCMH and the Alaska Primary Care Association just recently began to offer support and technical assistance to Federally Qualified Health Centers for implementation.
Most PCMH organizations are located in Anchorage, the largest city in the state. At Alaska Native Medical Center (ANMC), the tertiary medical center for Alaska Native people, each family works with one primary clinic team that includes a provider, a nurse case manager, case management support, a behaviorist, a pharmacist, and a nutritionist. 
"The whole family is with the same provider," said Matthew Hirschfeld, Medical Director of Maternal Child Health Services at ANMC. "So the team really knows what's happening with them from a multigenerational standpoint."
Outside the Anchorage area, Alaska tribal health organizations are all moving toward the transition to patient-centered medical homes.  
THE CHALLENGE TO MEDICAL HOMES IN ALASKA
One of the challenges to implementation of the PCMH in rural communities is that many Alaska Native people receive care at more than one site throughout the state. This not only makes it difficult for the providers to actively manage care across locations, but also for the patient and their families to travel to each site.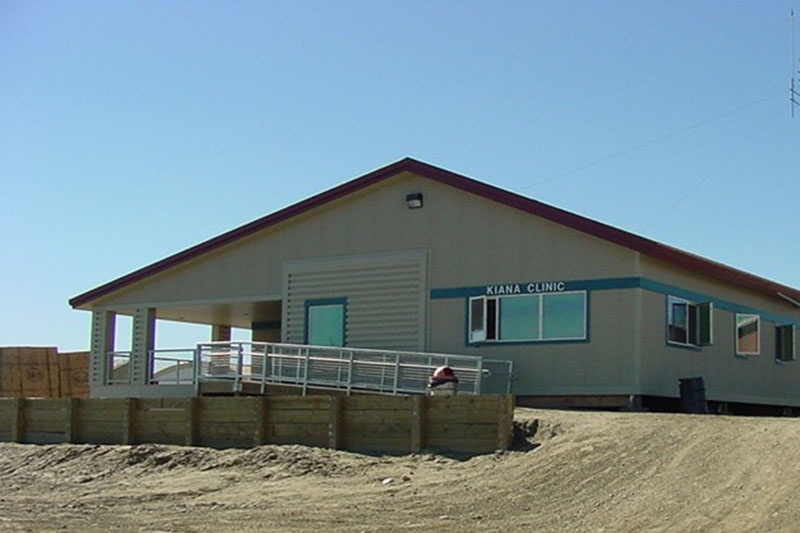 In the Alaska tribal health system, village clinics are staffed by community health aides who work closely with primary care providers in hub cities.
A child with special healthcare needs who lives in a rural village receives care in the village clinic, at the regional medical hospital that serves as a hub for the village clinic, and at ANMC for pediatric subspecialty care. 
In Alaska, where many communities are not connected to primary rural roads, a visit to a specialist in Anchorage might be a three-day journey with multiple flights on propeller planes. Travel can be thwarted by harsh weather and unsafe flying conditions. Caregivers of children who require assistive equipment, must move the child and accompanying equipment in and out of planes and taxis until they arrive at the ANMC campus.
A RURAL MEDICAL HOME MEANS THE SPECIALISTS COME TO YOU
To overcome geographic isolation and travel barriers, Hirschfeld said that part of providing a patient-centered medical home means bringing the medical care to the patient. ANMC specialists spend part of each month at hub clinics throughout the state.
Hirschfeld works out of Norton Sound Regional Hospital in Nome for a week every other month and treats about 35 children a day. He helps oversee the care of 350 children with chronic medical conditions ranging from eczema to cerebral palsy, developmental delays, hearing and eyesight problems and children who have severe neurological issues, as well as many others. He works closely with Stephanie Killingsworth, the pediatric case manager at Norton Sound, to ensure a medical home for his patients.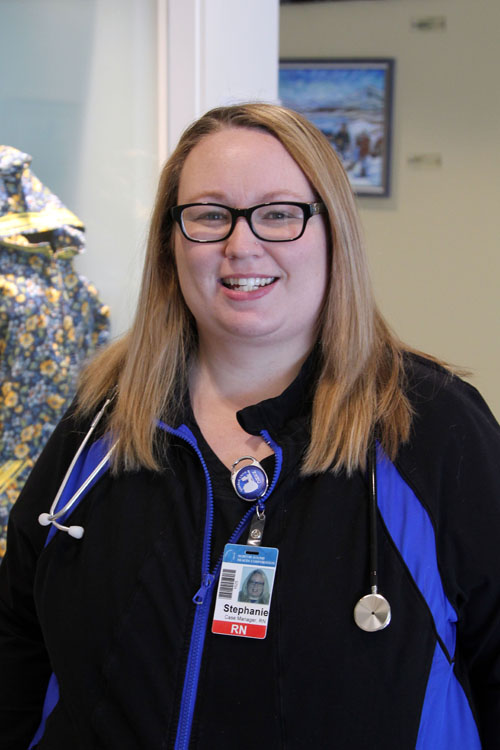 Stephanie Killingsworth, the pediatric nurse case manager at Norton Sound Health, links the patient with providers and specialists.
Killingsworth links all parts of the patient's care. She is the hub within the hub clinic. She works with the pharmacist to be sure patient medication is filled, she checks in with front office staff to make sure patients attend their follow-up appointments and she is available by phone to answer mothers' frantic questions.
Killingsworth also has to understand the unique travel challenges posed by each of the fifteen villages served by Norton Sound. Families who live in villages close enough to take "round robin" flights (fly into Nome in the early morning and back out the same day) get midday appointments.
Families from Little Diomede, an island off the Russian coastline so tiny there is no plane runway, have to rely on the twice-a-week helicopter flights. For families who need to stay overnight, Killingsworth arranges rooms in a nearby hostel or hotel that always has a few space set aside for hospital outpatients.
But those carefully arranged plans are many times undone by the rain, snow, or winds of the Norton Sound. "We have had a whole day cancelled because no one from the villages could fly in," explained Killingsworth. "You just never know. We have had patients stuck in Nome and not be able to get home."
MORE MEDICAL HOMES IN RURAL ALASKA
Tribal health doctors are not the only travelling medical specialists. The State of Alaska and University of Alaska's Center for Human Development coordinate itinerant pediatric specialty clinics to offer care for children closer to home. Like the tribal health hub clinics, patients often travel from rural communities to the regional centers where the specialists hold appointments. 
"We provide 'medical home-ness' in our consultations," said Beth Ellen Davis, one of the pediatric neurodevelopmental specialists from Seattle Children's Hospital. She travels to a five small towns in Alaska every year to treat Native and Non-Native Alaskans. "There is a ton of family-centered care, interdisciplinary care coordination, continuity with school and other community providers," she explained.
One way Davis ensures continuity of care with families from rural villages is to invite a Stone Soup Group parent navigator to the appointments. The Stone Soup Group (SSG) is an Anchorage-based non-profit that helps children with special needs throughout the state.  SSG Parent Navigators work closely with primary care providers and specialists.
"Our primary role is communicating with families," said Natalie Van Hatten, a parent navigator who spends a lot of her time on education and application assistance for developmental delay-related services. "By having us there from the beginning, families are able to recognize us as a 'translator' for some of the medical jargon," she explained.
BRINGING SPECIALISTS EVEN CLOSER TO HOME
Until recently, the only telemedicine available in village clinics was a "store and forward" process – where clinic staff would send a photograph and a question to a subspecialist and wait to receive a response.   "We didn't have the bandwidth to do live internet based visits in the villages," said Hirschfeld. "That is no longer the case. We are wiring those villages with broadband as fast as we can."
GCI, a local cable company, launched the Terra Project in 2011 to provide high-speed internet access to rural communities in Alaska.
According to Hirschfeld, many specialists are already using live telemedicine to provide care to rural families. Pediatric speech pathologists at ANMC are able to work on speech and swallowing issues with children in the villages.
 "Our goal is to provide care as close to home as possible," Hirschfeld explained.
Technology that effortlessly brings medical specialists inside the villages decreases the need for families to travel and makes it easier for children with chronic conditions to receive the care they need. Hirschfeld would like to reduce in-person specialty appointments to only once or twice a year and use telemedicine for the interim visits.  
"It should be based upon what the patient needs and not what the medical system needs," said Hirschfeld. "The families are the most important."