volume 28 number 2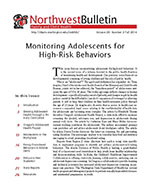 Monitoring Adolescents for High-Risk Behaviors
The fall 2014 issue of the Northwest Bulletin focuses on monitoring adolescents for high-risk behaviors. It is the second issue of a volume devoted to monitoring health and development. Our previous issue focused on developmental screening of young children and the role of public health.
Who is an "adolescent" and who is a "young adult"? As Trina Anglin, Chief of the Adolescent Health Branch of the Maternal and Child Health Bureau, points out in her editorial, definitions are based on developmental stages but correspond roughly to ages 10 to 19 years for adolescence and 20 to 26 years for young adulthood. However, the age of legal majority is 18 years so that society regards 18- and 19-year-olds as young adults, even if they are still in high school. Dr. Anglin also observes that as the Affordable Care Act has expanded access to health care insurance, legal issues relating to the confidentiality of health data for adolescents and young adults, whose parents may add or keep their children on their health insurance policy through age 25 years, have become more complex.
The article by Elizabeth Thorne describes Oregon's Adolescent Health Project, a state-wide effort to increase screening for alcohol, substance use, and depression in adolescents during annual well visits. The article by Catherine Karr and Mary Miller discusses current working conditions for adolescents, issues that were of concern to the Children's Bureau (forerunner of the federal Maternal and Child Health Bureau) in 1912. The authors recommend primary care providers ask and advise adolescents about workplace safety. The article by Alicia Dixon Docter discusses the latest on screening for and preventing eating disorders. She encourages readers, regardless of discipline, to re-consider their food and nutrition messaging to avoid promoting disordered eating.
Reports from Region X states illustrate how each is using state-specific data to implement programs to identify and address risk-taking behaviors among adolescents. The Alaska Division of Public Health is leading a grant-funded trial of a classroom-based curriculum to help youth learn healthy relationship and decision-making skills. In Idaho, the Children's Healthcare Improvement Collaboration is offering state-wide learning collaboratives, including one on adolescent depression screening. In Oregon, a collaboration to provide training and technical assistance has increased adolescent depression screening in primary care practices. The Washington State Department of Health has several multi-program and interagency projects to prevent sexually transmitted diseases and unintended pregnancies in youth.