volume 28 number 1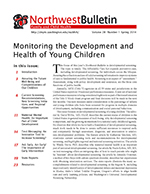 Monitoring the Development and Health of Young Children
The spring 2014 issue of the Northwest Bulletin focuses on developmental screening for young children. It is the first of a two-part series: the fall issue will focus on developmental screening for school-aged children and adolescents.
The editorial by Dr. David Willis, director of the Division of Home Visiting and Early Childhood Services, Maternal Child Health Bureau, provides an overview of where we are at with developmental screening nationally. The United States still ranks low on measures of child well-being, compared to other development nations, but "…we are witnessing an expanding public discourse and a growing public expectation of assuring the future well-being and competitiveness of our children. Universal, standardized, and sequential developmental screening seems to be taking hold across the nation, not only in medical homes, but also in early childhood programs."
Dr. Katherine A. TeKolste, a developmental-behavioral pediatrician at the University of Washington School of Medicine, provides an overview of current developmental screening recommendations and tools, and gives examples of regional and national screening initiatives. She observes that "…the difficulty ahead remains in breaking down the barriers between early childhood systems and providers, enhancing cross-system communication, and assuring access to support and services." She lists at the end of her article opportunities for collaboration in Region X.
Wendy Davis, PhD, executive director of Postpartum Support International, argues that screening for maternal depression should be integrated with developmental screening. She briefly overviews the effects of maternal depression on child development and highlights the recommendations of the Helping Families Raise Healthy Children, an initiative in Pennsylvania successful at helping families at risk for both parental depression and early childhood developmental delays.
The body of evidence on the success of text messaging in health-related interventions is growing. Based upon her review of the literature, Paula Kobos, MN, RN, provides a list of ideas to consider when developing a text messaging intervention. She also offers intriguing ideas on how text messaging might be incorporated into screening programs for families.
Amanda Crawmer, a mother of two boys with autism spectrum disorder, describes her experiences with obtaining intervention services.
In 2011, Healthy Child Care Washington, the primary source of funding for child care health consultants, was terminated. Catherine Dewar Paul and Peggy King illustrate the importance of trained child care health consultants and argue that Washington needs to reinstate its Healthy Child Care Washington program.
The Region X state reports illustrate the many activities related to developmental screening, including improved early identification of developmental delays and maternal depression in Alaska, Idaho's Infant Toddler Program, efforts to align health care and early learning policies in Oregon, and Washington's Universal Developmental Screening Partnership.