volume 29 number 1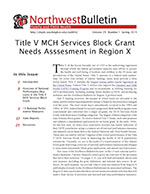 Title V MCH Services Block Grant Needs Assessment in Region X
The spring 2015 issue of the Northwest Bulletin focuses on the 15 new national performance measures that are part of the Title V Maternal and Child Health (MCH) Services Block Grant.
In this issue you will find:
an article by Carolyn Gleason, MCH Consultant for Region X, Maternal and Child Health Bureau, providing an overview of the processes that led to the selection of the these new measures
information about each measure, including the goal, definition, and national data source. In addition, for each measure, we provide links to relevant material from Region X published previously in the Northwest Bulletin and its associated webinars
reports from the states of Alaska, Idaho, Oregon, and Washington describing their current needs assessment activities that will lead to their choice of priorities and national and state performance measures
Title V of the Social Security Act of 1935 is the authorizing legislation through which the federal government supports state efforts to protect the health and well-being of mothers and children in the 59 states and jurisdictions of the United States. Title V operates as a federal-state partnership: for every four dollars of federal funding, states must provide a three dollar match. Title V remains the longest lasting public health legislation in the United States. Federal Title V dollars also support the University of Washington's MCH Training Program and its investments in lifelong learning for MCH professionals, including training future leaders in MCH, and producing webinars and the Northwest Bulletin for Region X professionals.
Title V funding priorities, the manner in which funds are allocated to the states, and the federal requirements for receipt of funds by the states have changed over the years. The most recent major amendments occurred in the 1980s and 1990s. In 1981, federal funds for several categorical child health programs were consolidated and converted into a single program, the MCH Services Block Grant, with three major funding categories. The largest of these categories is the state formula block grants. To receive federal Title V funds, each state prepares and submits a standardized application for its block grant. In the early 1990s, for the first time, all states were required to monitor key health indicators of their MCH populations using a common set of national performance measures and annually report these data to the federal Maternal and Child Health Bureau. These data are used to inform Congress of the overall performance of the Title V MCH Services Block Grant in improving the health of MCH populations nationwide. Currently, we are in the midst of a transformation of this federal block grant that brings a new set of national performance measures and changes to state needs assessment, block grant application, and annual report processes.