University of Washington Medical Center (UMWC)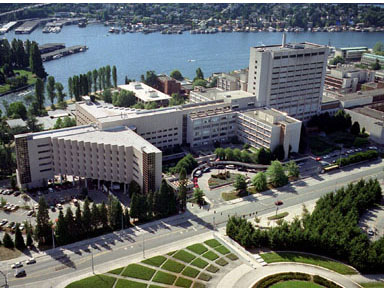 The University of Washington Medical Center (UWMC) is the primary institution for residency training. It is a 450-bed teaching and research hospital that offers comprehensive medical care, including complete medical, surgical, obstetric, gynecologic and psychiatric services. In addition, there is a Neonatal Intensive Care Center, a Primary Care Center, and a unique Institute for Simulation and Interprofessional Studies (ISIS). The Medical Center has joined with the Fred Hutchinson Cancer Research Center and Seattle Children's to create the Seattle Cancer Care Alliance (SCCA), an integrated ambulatory and inpatient cancer care center. UWMC offers residents a wide mix of inpatient and ambulatory patients from primary care to specialized tertiary care. UWMC also offers abundant opportunities to conduct research.

The Obstetrical Unit at UWMC is a referral center for a large geographic region ranging from Alaska to Montana, including most of the State of Washington and serving a large number of high-risk deliveries and high acuity antepartum patients. Approximately half of the 2,300 annual deliveries at UWMC are direct hospital-to-hospital high-risk transfers and patients cared for in UW maternal-fetal medicine subspecialty clinics. In the Obstetrical Unit, residents are the center of the care model and provide direct care for a wide variety of medically complicated pregnancies. Milliman & Robertson (a national actuarial firm), rated the acuity of the service at 1.98, the highest they ever calculated.

The Gynecologic Oncology service at UWMC cares for a wide variety of gynecologic conditions with over 850 diagnosed cancer patients per year. Residents operate at least three days per week on the service. Residents regularly are exposed to gynecologic malignancies, complicated pelvic surgeries, intensive care medicine, and perioperative complications due to patients with many co-morbid conditions. A four-year gynecologic oncology fellowship began in 2005; fellows rotate on the UWMC and Swedish Hospital Medical Center (SHMC) oncology services.

The Gynecology services at UWMC care for a wide variety of gynecologic conditions, with 1200 new patients seen in clinic per year. A busy surgery schedule of two days a week of inpatient and outpatient surgery, including urogynecology, exposes residents to a breadth of gynecologic procedures in a setting of high patient comorbidities. The 1st and 4th year residents on the Gynecology service and the 4th year on the Urogynecology service cross cover the UWMC Emergency Department and inpatient gynecology consultation requests. The Gynecology service residents also gain valuable ambulatory experience at the Roosevelt Women's Clinic where they provide routine and specialized gynecologic care. Specialty clinics, such as Vulvovaginitis Clinic and Dysplasia Clinic, add to their clinical experience.

As UWMC is primarily a tertiary care facility, rotations at SHMC, HMC, VMMC, the VA and YVMH are valuable to provide different practice models with populations of broad ethnic diversity and an extensive range of obstetrical and gynecological experience. At all institutions, an attending physician is present for all surgeries and deliveries, and is available in all resident continuity clinics to supervise clinical care and provide teaching.