Residency Program
2016-2017 Residency Program
Seine Chiang, MD, Professor and Residency Program Director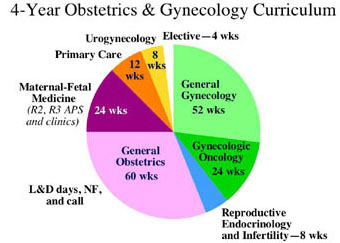 The Residency Training Program in Obstetrics and Gynecology is a fully approved, integrated, four-year program fulfilling the requirements for board certification in this specialty. It is structured so that residents assume increasing responsibility as they progress through the program with specified objectives to be achieved on each rotation. Inpatient and outpatient facilities at the University of

Washington Medical Center, Women's Health Care Center (Roosevelt), Harborview Medical Center, Virginia Mason Medical Center, Swedish Hospital Medical Center, Seattle Cancer Care Alliance, VA Puget Sound, and Yakima Valley Memorial Hospital are utilized for residency training.

In addition to a broad clinical experience in obstetrics, gynecology, and primary care, residents receive training in perinatology, gynecologic oncology, ultrasonography, sexually transmitted diseases, reproductive endocrinology, infertility, gynecologic pathology, breast disease, family planning, urodynamics, and pediatric gynecology.

An elective rotation is available in the third year which allows residents to obtain additional training in areas of special interest, including research and global health.

The training program promotes continuity of patient care, and residents are responsible for the care of selected patients over an extended period of time. Residents receive in-depth training in primary care at the Women's Health Care Center (Roosevelt) and Harborview Medical Center Woman's Clinic.

All residents are required to conduct a research project. This will be presented during the third year at the Resident and Fellow Research Day in the spring.