Contraception and Birth Control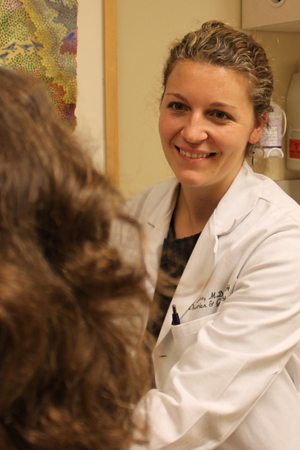 The goal of birth control is to prevent unintended pregnancy. Many types of contraception are available to women. In deciding which method is best for you, it is important to consider many factors including the amount of time you wish to avoid pregnancy, the effectiveness of the method, ease of use, cost, side effects, protection from sexually transmitted infections, medical conditions, and interactions with other medications.
UW Medicine women's health specialists counsel all patients about contraception and birth control, including those with complex medical conditions.

Common methods are listed here. Remember, there is no one method that is best for every woman. Even when relying solely on methods that do not require a prescription, it is best to talk with a health-care provider to ensure that they are being used most effectively. Keep in mind that a barrier method such as condoms must be used for protection from sexually transmitted infections.
Most effective options (less than 1 pregnancy per 100 women each year):
Intrauterine device (IUD) (Mirena, ParaGard, Skyla)
Under-skin implant (Nexplanon)
Effective options (2-9 pregancies per 100 women each year):
Transdermal patch (Ortho Evra)
Vaginal ring (NuvaRing)
Breastfeeding (Lactational Amenhorrea Method)
Shot (Depo-Provera)
Less effective options (15-24 pregnancies per 100 women each year):
Male condom
Female condom
Cervical cap
Sponge
Diaphragm
Spermacides
What is LARC?
LARC is short for "long-acting reversible contraception." The IUD and implant are LARC methods. In a recent large clinical study, LARC methods were found to be 20 times more effective than the pill, patch, and ring, for both older and younger women. A woman taking birth control pills must take over 1,000 pills in order to avoid pregnancy for just 3 years. This can be difficult and burdensome for many women. In contrast, the IUD or implant provides increased protection from pregnancy for the same amount of time, and requires only one short procedure in a doctor's office. LARC options are safe for most women, including adolescents. Click here for more information about the advantages of LARC methods and why their use is increasing.
Helpful Resources
Interactive website about birth control methods: Bedsider.org
Do you know your family planning choices?
How hormonal methods work to prevent pregnancy
Myths and facts about intrauterine contraception (the IUD)
Facts about menstrual suppression
Benefits of Contraception in the United States
What to expect at your appointments for Essure placement
More information about what to expect and how to prepare for your Essure placement
FAQ about birth control
The IUD
Birth control pills
Emergency contraception
Sterilization for women and men
Postpartum sterilization
Spermicide
Barrier methods
Natural Family Planning
Implants, Injections, Rings, and Patches
Questions about birth control?
To schedule an appointment, click here or call 206-598-5500 and push option #4. Please do not hesitate to contact us if you have any questions or need further information about our services.