Maternal-Fetal Medicine



Division Summary:
Twelve Maternal-Fetal Medicine faculty, five mid-level providers, and six MFM fellows care for women at the Maternal and Infant Care Clinic at the University of Washington Medical Center in Seattle, the Maternal-Fetal Medicine Clinics at Arlington, Yakima, and Valley Medical Center, and the Prenatal Diagnosis and Fetal Treatment Program at Seattle Children's Hospital. The faculty in the Division of Maternal-Fetal Medicine has individual expertise in subspecialty areas in MFM such that the division as a whole has clinical breadth and depth across the entire spectrum of Maternal-fetal medicine. Our strong relationships with other specialties allow us to provide quaternary and seamless care to our patients. The division is committed to service, education, and research and is known nationally for the high acuity of the service and quality in resident and fellow education.

Mission
To provide access to the best healthcare for all women and their fetuses in the state of Washington and the WWAMI region
To be leaders, to innovate, adapt, and find new ways to improve maternal and fetal outcomes
To export new clinical knowledge to the UW Medicine community and WWAMI region
To educate and be mentors for the next generation of physicians and health care providers
To engage in creative interdisciplinary clinical care and cutting edge research

Vision
To be a Center of Excellence in critical care obstetrics, complex maternal conditions, perinatal/prenatal diagnosis, and obstetrical imaging:

To be the program of choice in the WWAMI region for referring providers, patients, and insurers
To be leaders in best practices and translational research
The faculty of the Division of Maternal-Fetal Medicine practice at several sites across Washington, and are continuing to expand their care and services to patients throughout the region.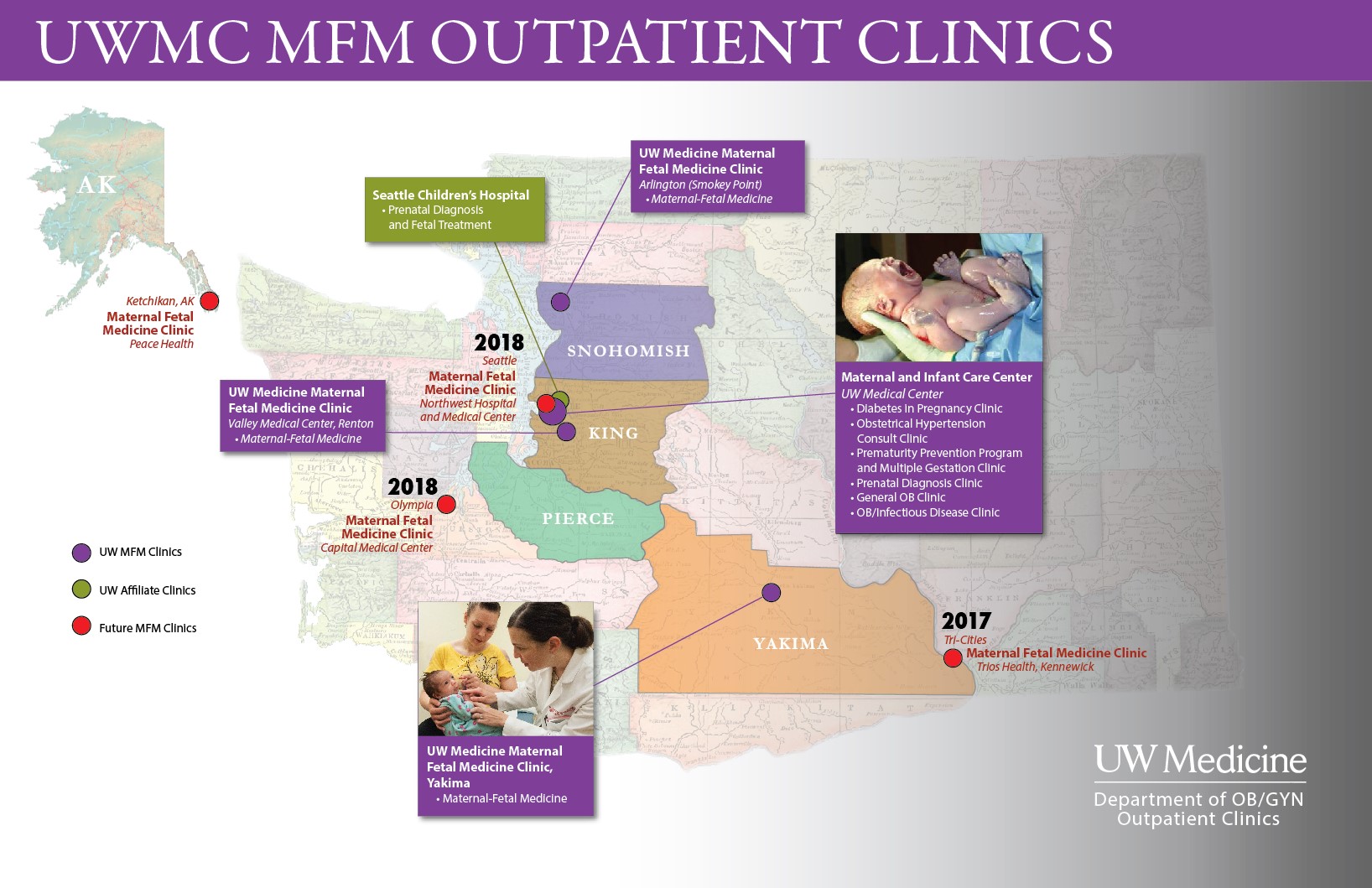 University of Washington Medical Center (UWMC) is the primary Maternal-Fetal Medicine (MFM) practice site with approximately 1900 deliveries annually. MFM faculty have outpatient clinical practices at the University of Washington Medical Center (UWMC-Maternal and Infant Care Clinic) where the most complex maternal and/or fetal medical conditions are referred for care. MFM providers have both consultative and full obstetrical care practices. Two general OB/GYN practitioners and our nurse practitioners have a low-risk practice at the UWMC Clinic as well. Call 206.598.4070 for an appointment.

Services: Full and consultative obstetrical/maternal-fetal medicine care, obstetrical ultrasound, antepartum testing (NST), psychiatry support, lactation support, Telemedicine with Yakima MFM Clinic.

All of the subspecialty MFM programs are located at the UWMC Maternal-Infant Care Clinic (MICC):



Infectious disease, HIV in pregnancy (with newborn medication supervision)


Perinatal genetics counseling: 3 board certified genetic counselors



Complex maternal diseases (solid organ transplantation, maternal genetic disorders, cystic fibrosis, adult congenital heart, autoimmune, hematologic, etc.)

Second-trimester termination program for fetal anomalies and complex maternal conditions




Highlights of some specialty programs:





The significance of the Diabetes in Pregnancy Program (DIPP) founded and lead by Dr. Zane Brown cannot be underestimated. He has trained 40 years of residents in OB/GYN and fellows in Endocrinology in the WWAMI
region with his teaching, dedication to meticulous patient care, and creative strategies for glycemic control which only comes from having a deep understanding of the pathophysiology of diabetes in pregnancy and the pharmacology of anti-glycemic medications.



Hypertension and Pregnancy Program founded and lead by Dr. Thomas Easterling has also changed the way in which the pathophysiology and management of hypertensive diseases in pregnancy are approached. This is a high volume, high acuity consultative program that supports community physicians to retain their patients in their care while being safely supported by MFM, implements creative and adaptive treatment strategies for exceptionally high risk pregnancies that other MFM practices would not necessarily manage, and teaches residents and fellows to think and ask critical questions in pathological processes. Dr. Easterling's expertise in hypertension and dedication to this program has allowed UWMC MFM to be represented in research supported by the NIH, The Bill and Melinda Gates Foundation, MERCK for Mothers Gynuity Health Projects, and the Preeclampsia Foundation.



Infectious Disease/HIV and Pregnancy lead by Dr. Jane Hitti is the comprehensive prenatal program for the care of seropositive women. Dr. Hitti is the regional expert in perinatal infectious diseases and HIV. ARNP students, fellows from Infectious Disease, residents in the Department of Pharmacy, Maternal-Fetal Medicine fellows from the Division of Maternal Fetal Medicine at Madigan Army Medical Center, and visiting international scholars rotate through this clinic.



The Prenatal Diagnosis and Fetal Therapy Program is a high volume, high fetal/genetic acuity practice that integrates all of the components necessary to shepherd a pregnancy complicated by fetal anomalies to term. It has become the program of choice for many providers locally and in the WWAMI region to refer to for the management of complex fetal anomalies because of quality, consistency, outcomes, and fiscal responsibility in antepartum surveillance. The success of the program reflects the interdisciplinary team work, the unique clinical expertise available at UWMC, and the specific expertise of UW MFM division members. This is the only program in the region that has been successful in implementing this comprehensive model of care.



Pregnancies with highly complex maternal conditions are preferentially referred to UWMC MFM because of the known individual expertise within the division, the interdisciplinary expertise at UWMC, and the comprehensive care provided by UWMC MFM. The most exciting frontier is in the management of pregnancies complicated by complex maternal congenital heart disease and rare maternal genetic conditions. The UWMC MFM division is partnered with the Adult Congenital Heart Disease Section in providing seamless and expert care in this new population of young women. Drs. Cheng and Easterling are on the ACHD Fellowship committee. We are also beginning to experience pregnancies in women with rare genetic conditions (maternal mitochondrial myopathy, rare skeletal dysplasias, and metabolic diseases). A longstanding successful program is the Pregnancy and Cystic Fibrosis program.



UW Medicine MFM at Valley Medical Center is affiliated with the UW Medicine system. This site has approximately 4000 deliveries and is currently supported by 1 MFM, 1 ARNP, 1 RN, 1.5 board certified genetics counselor, 3.5 sonographers, 1 MA, and 2 clinic staff members. High-risk pregnancies are supported by the UW Medicine – Valley Medical Center MFM clinic. Only the highest acuity mothers or fetuses are transferred to UWMC for care. Call 425.656.5520 for an appointment.



Seattle Children's Hospital is 3.2 miles north of UWMC and is the site of a combined Prenatal Diagnosis and Fetal Treatment Program that officially began in 2008. Three MFM faculty with interest and subspecialty expertise in fetal anomalies imaging and prenatal diagnosis rotate and participate in an interdisciplinary consultative service for women with pregnancies complicated by complex fetal anomalies with anticipated surgical and medical care at SCH after delivery. This is a regional comprehensive site that receive referrals from the WWAMI region, but specifically from Alaska, Montana, and Idaho. Seattle Children's Hospital does not have a delivery suite/program. All of the pregnancies are delivered at UWMC and the neonates are transferred to SCH. There is a strong commitment to alignment and coordination among the providers for a smooth transition of these families and neonates. Call 206.987.5629 for an appointment.



UWMC MFM at Arlington is located about 41 miles north of Seattle along the I-5 corridor. The clinic is staffed by 1 RN, 1 MA, 1 sonographer, and 1 Patient Care Coordinator. The clinic is operational 5 days a week with obstetrical imaging, 3 days a week with genetic counseling (without MFM), and 2 days with on-site MFM consultation. On the days that MFM is not at Arlington, the obstetrical ultrasounds are "read" remotely from UWMC. This clinic location was strategically placed to provide patient and referring provider satisfaction in receiving UW MFM consultation without driving to Seattle. The success of this clinic is in the provision of continuity of consultative care of high-risk pregnancies within the MFM practice (division members rotate to Arlington) without having the patient travel to Seattle until the time of delivery; thus, the high-risk pregnancies are "virtually" followed at UWMC. Call 844.657.4532 for an appointment.



UWMC MFM at Yakima Memorial Hospital is located in eastern Washington, 150 miles east of Seattle. The Maternal-Fetal Medicine division of the University of Washington has been providing on-site consultations in Yakima since 1995 which began as a 1 day/month visit. In 2012, UW Medicine and Yakima Memorial Hospital partnered to build the Central Washington Regional Maternal Fetal Medicine Program with the opening of a dedicated 2000 square foot office for MFM consultations. The clinic is staffed by 1 RN/Nurse Manger, 1.5 MAs, 1.5 board certified genetics counselor, 3 sonographers, and 1 Patient Care Coordinator all of whom live in Yakima. The clinic is operational 5 days a week with 2 ultrasound rooms, fetal antepartum monitoring with NST (NonStressTest), and genetics counseling services. The UWMC MFM Division provide onsite consultation and ultrasound interpretation 2.5 days a week (5 sessions). Consultation through telemedicine is provided for 1 additional day (2 sessions) and this is usually for return consultations for glycemic surveillance and insulin adjustments of patients in the Diabetes and Pregnancy Program. All of the ultrasounds can be "read" remotely at UWMC. During the winter months when the weather prevents MFM faculty from traveling to Yakima, we continue to provide consultations and obstetrical imaging services remotely through telemedicine. Call 855.464.6298 for an appointment.



Research:
The Division of Maternal-Fetal Medicine faculty and engaged in a broad range of research subjects from hypertension in pregnancy, to microchimerism and preeclampsia, and preterm labor and birth. To read more about our varied research efforts you can visit our pages here, and read more about each faculty's pursuits on their biography pages.