Practice Cases
Bone Density Measurement Basics
Mary B. Laya, MD, MPH
Literature reviewed July 30, 2006. Updated March 30, 2009
A 66-year-old woman presents to you for an annual examination after newly moving to the area. She brings a copy of a forearm bone density report she obtained at a local drug store (see image below). The report states she has osteopenia; she is concerned but also wonders about the accuracy of the test.
She is a postmenopausal woman taking estrogen replacement therapy and atenolol for hypertension. She has no personal or family history of fracture and is a non-smoker. She weighs 158 pounds.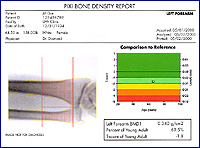 Click to see a larger image.
Click an answer under each question.
What kind of peripheral bone density testing does her report represent?

Which of the following statements about this type of peripheral bone density measurement is true?

Option A Peripheral bone density readings are inaccurate in women without risk factors and should be disregarded
Option B Peripheral bone density testing strongly predicts fracture risk at the hip and spine, and she should start on treatment based on the result.
Option C Peripheral bone density testing results should be confirmed by another testing modality at more central sites

What is the best technique for measuring her bone density at this time?

Which of the following statements about Medicare reimbursement for bone density testing is true?

Option A Medicare will reimburse only for bone density testing every year for women at risk for osteoporosis
Option B Medicare will not reimburse for a confirmatory test since the patient has had one this year
Option C Medicare will reimburse for a confirmatory test and repeat testing to monitor therapy every 2 years

Her confirmatory DXA shows total hip bone mineral density 0.93 SD above the 66-year-old mean and 0.36 SD below the 25-year-old mean. Which of the statements concerning her report is correct?