Common Questions
How can you screen a patient for unsteadiness on physical exam?
Ask the patient to do these maneuvers (make sure that the patient is well supported while doing this):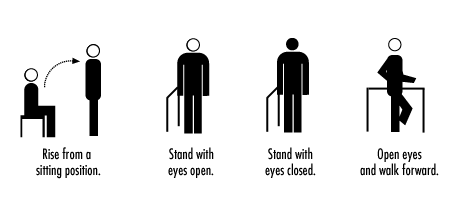 If you notice unsteadiness with any of the above, refer patient to physical therapy for formal gait testing to evaluate whether she or he would benefit a cane, a walker, or balance training (1).
Mathias S, Nayak US, Isaacs B. Balance in elderly patients: The "get-up and go" test. Arch Phys Med Rehabil 1986; 67: 387-9.